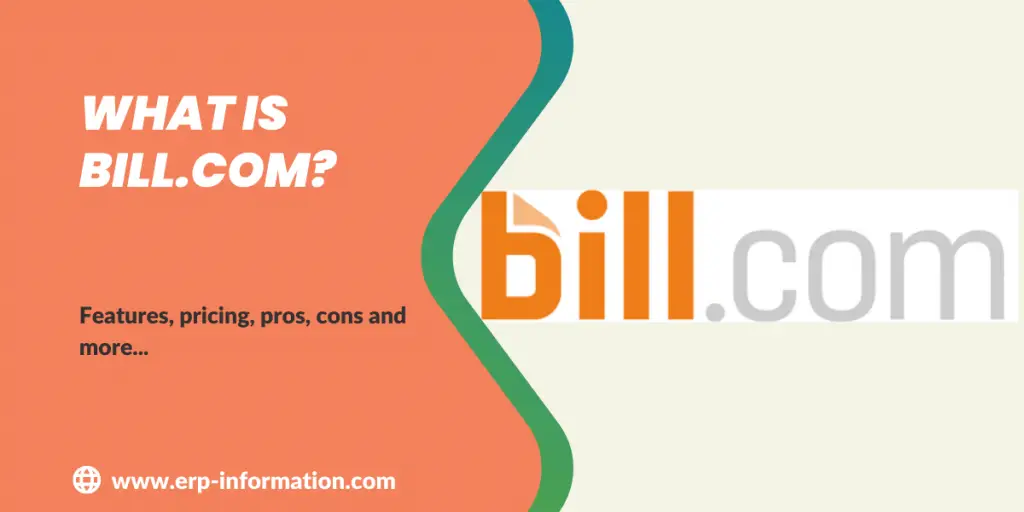 Small businesses need a way to manage their finances, but traditional methods like using a checkbook or Excel are no longer feasible due to the advent of new technologies. 
Businesses have had to adapt and change, including managing their finances. Paper-based methods like checkbooks and Excel spreadsheets just don't cut it anymore- they're slow, inefficient, and can leave you open to fraud.
Bill.com is the perfect solution for small businesses looking for an online way to manage their finances. With features like invoicing, payments, and approvals, Bill.com makes it easy to get a quick overview of your company's financial health.
This article provides in-depth details about Bill.com software, including its features, pricing, pros, and cons.
What is Bill.com?
Bill.com is a cloud-based software that helps businesses automate their financial operations, like accounts payable and receivable.
It makes it easier and faster for companies to pay their bills, get paid by customers, and track their finances. Millions of businesses around the world use Bill.com.
More details about Bill.com
The software is trusted by over a 4.7million network members, including TED, Quicken, Thumbtack, Fortis, and Wag.
BILL helps businesses connect to a network of millions of people. This allows them to get paid and pay others faster. BILL's tools help small businesses manage their money better so they can do well in business. BILL works with big banks, accounting companies, and software providers in the U.S. It is based in San Jose, California. To learn more, go to bill.com
Products
Accounts Payable 
You can easily enter the bills.
Automats approval process
Accounts Receivable
It enables you to create professional invoices by allowing you to customize fields.
Provides various ways to send invoices like email
You can track your invoice status easily
You can get faster payments
Credit and Expense Management
Provides business credit, expense management, and spending management.
Features
Payments
The software allows you to make payments with various methods. They are
ACH
It offers less processing time. It takes almost two to five days to deliver. It provides more flexibility and control over cash flows. It offers digital payments and hence reduces the risk of paper check theft. It is a cost-effective solution.
Virtual cards
It offers one-time use of the account number and is used to facilitate payment of a single supplier invoice.
Pay by card
If you use credit cards, it offers rewards and reduces manual errors.
International wire
You can make international and domestic payments in over 130 countries with the help of an international wire.
Print and mail services
It enables you to pay your vendors with paper checks.
Faster checks
It allows you to process payments fast.
Approvals
This feature allows you to have control over your entire accounts payable process.
You can track and monitor approvals in each step.
The feature helps to control fraud.
No need to take physical signatures. You can request and accept approvals digitally.
It allows you to send invoices to the right person at the right time.
It enables you to do approvals using mobile apps.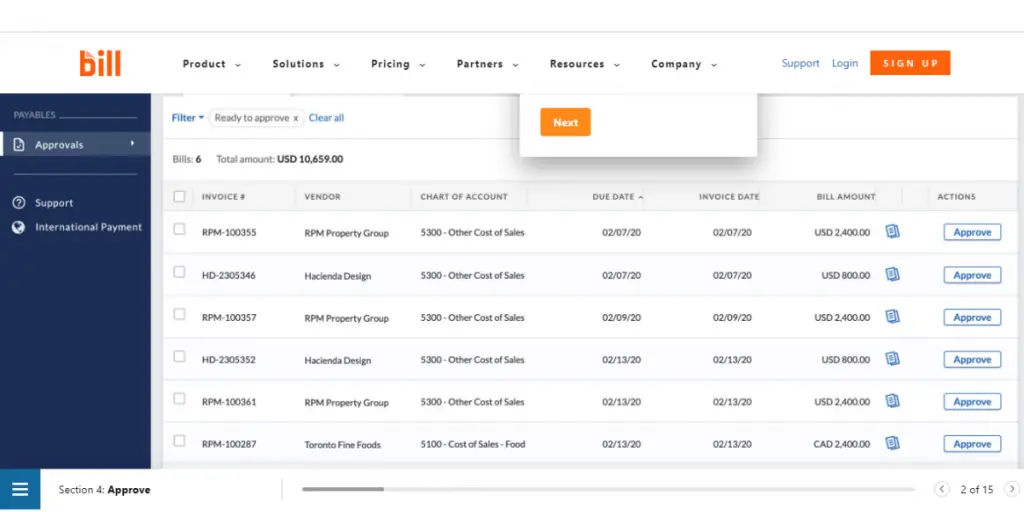 Controls
Provides transparency into your AP workflow
Provides a 360-degree view of payments
Provides comprehensive vendor details
Easy tracking of approvals and payment status
Invoicing
It enables you to create invoices automatically.
Enables customers to make payments easily through credit cards and ACH
It provides professionally designed templates
You can customize the invoice with your logo and organize the fields.
 API
This feature allows you to process high volumes of payments, and all information is coded using Transport Layer Security (TLS).
Allows you to build syncs and integrations to automate accounts payable and receivables.
It provides robust documentation.
Integrations
Security
Its multi-layered security technology avoids payment fraud, network security breaches, and unauthorized account access. It also protects customer data.
It adheres to AICPA (American Institute of CPAs)SOC 2 compliance
The software does not use third-party services to issue payments, giving you more control over your payments.
Mobile Apps
The software provides mobile apps for reviewing and approving bills.
You can get real-time messages/alerts.
Artificial intelligence
With the help of AI, you can upload and extract the invoice within a second.
You can separate multiple documents and detect duplicates.
Pricing of Bill.com
The software offers different pricing plans for Businesses and Accounting firms.
Pricing plans for Accounting firm
It offers a cost of $49 per month.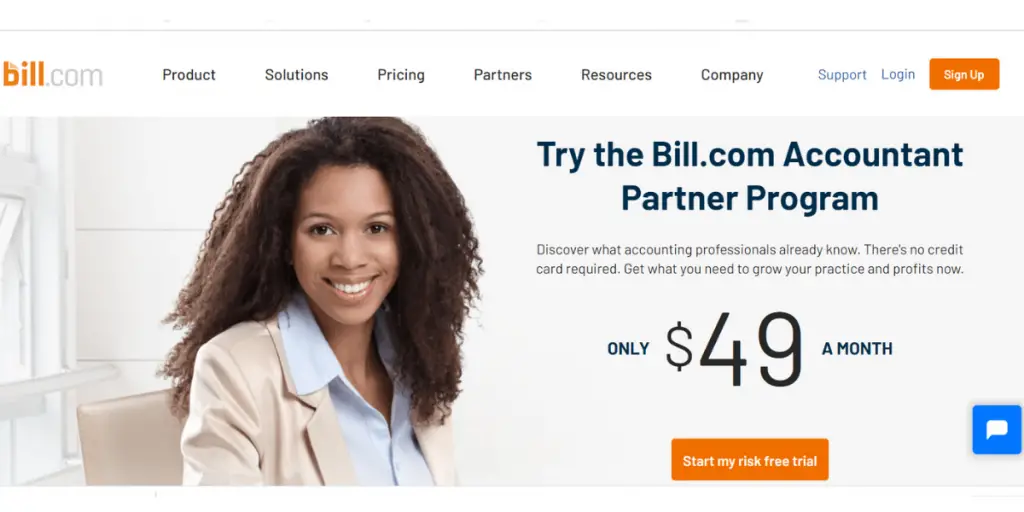 Pricing plans for Businesses
It offers three different plans for businesses.
| | | |
| --- | --- | --- |
| Pay bills & get paid | Pay bills | Get paid |
| Corporate plan– It starts at $79 per user per month | Essentials – It starts from $45 per user per month. | Essentials – It starts from $45 per user per month. |
| Enterprise plan – You need to contact the vendor for pricing details. | Team – It starts at $55 per user per month | Team – It starts at $55 per user per month |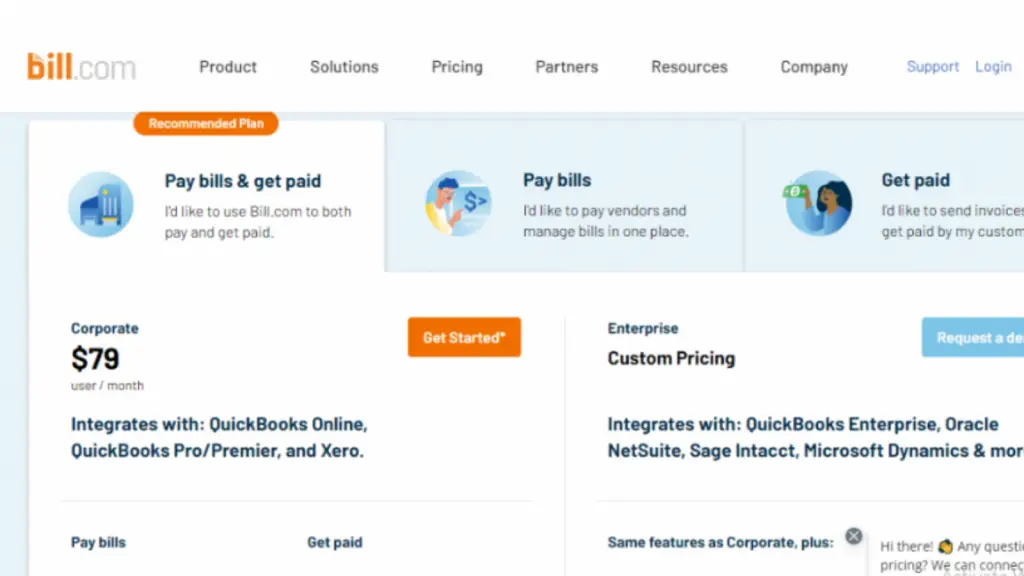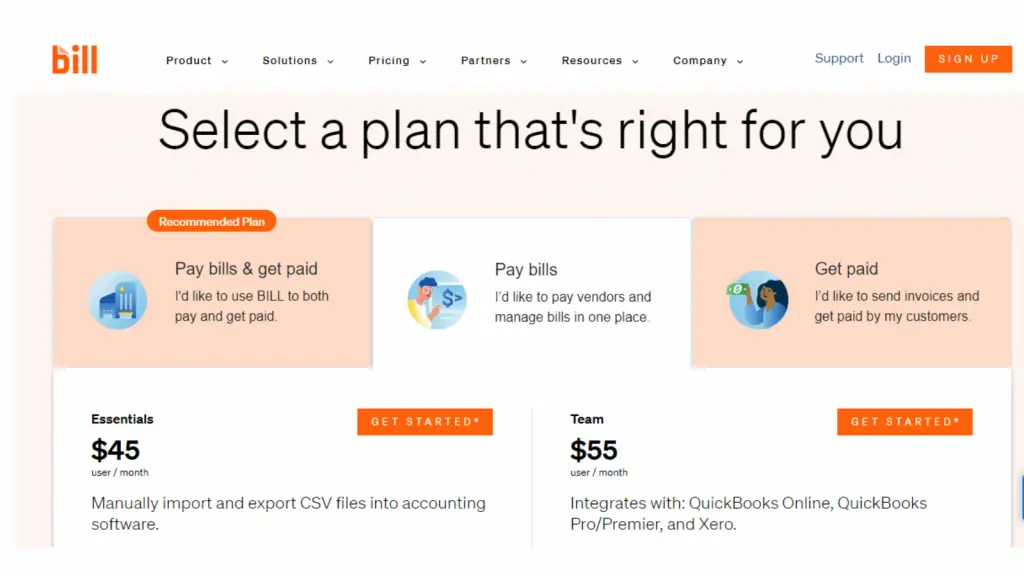 Other pricing details
Apart from pricing plans, have a look at the transaction service prices.
They are as follows.
ePayment/ACH processing fee
$0.49/send & receive
We mail your checks
$1.69/check payment
We mail your invoices
$1.49/invoice
Pay by credit or debit card
2.9% transaction fee/payment (fees apply to payer)
Get paid via a credit card payment
Merchant Fees: Level 3 processing rates are available
International wire transfer (local currency)
$0 fee per payment and competitive exchange rates
International wire transfer (USD)
$14.99
Vendor direct virtual card payment
$0 per payment
Pay faster by ACH
Same or next day: $9.99
Pay faster by check
Overnight: $22.99
Two days: $17.99
Three days: $11.99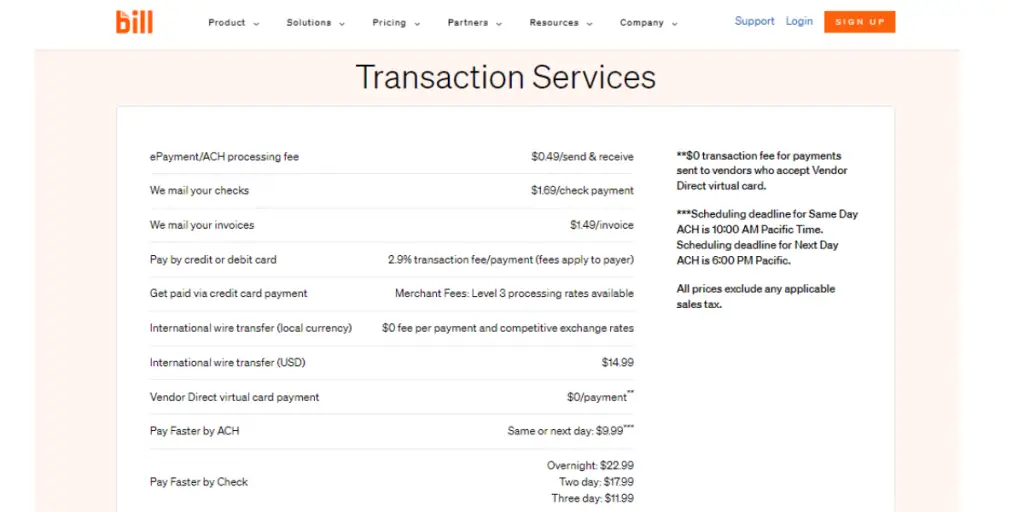 Supported industries
Accounting Firms
Healthcare
Hospitality
Manufacturing
Nonprofits
Professional Services
Retail and E-commerce
Software and Technology
Wealth Management
Pros
The software provides almost all features to automate your financial operations.
It integrates with Quickbooks, Xero, Oracle Netsuite, Sage Intacct, and MS Dynamics.
You can change the permissions for each user.
It provides expense and spend management.
Cons
Customer service is very poor.
It will not allow you to save templates sent to vendors, customers, or subscriptions.
Sometimes, it sends phishing emails to vendors. And customer service does not give any advice to stop it. 
There is no way to turn off automatic payment reminders.
Bill.com sends emails with its product offerings to your vendors without your consent.
Other details
| | |
| --- | --- |
| Deployment | Cloud, SaaS, Web-Based |
| Headquarters | San Jose, California, United States |
| Supported device | Android, iPhone, iPad |
| Support | Email/Help Desk, FAQs/Forum, Knowledge Base, Phone Support, Chat |
| Training | In-Person, Live Online, Webinars, Documentation, Videos |
| Customer ratings | Capterra: 4.2 (422+reviews), G2: 4.5 (395+reviews) |
Conclusion
If you are looking for a comprehensive software solution to automate all your financial operations, bill.com is the answer. It offers a wide range of features at an affordable price and has a user-friendly interface.
However, it lacks customer support. This blog post has covered its products, features, pricing details, and pros and cons.
Reference