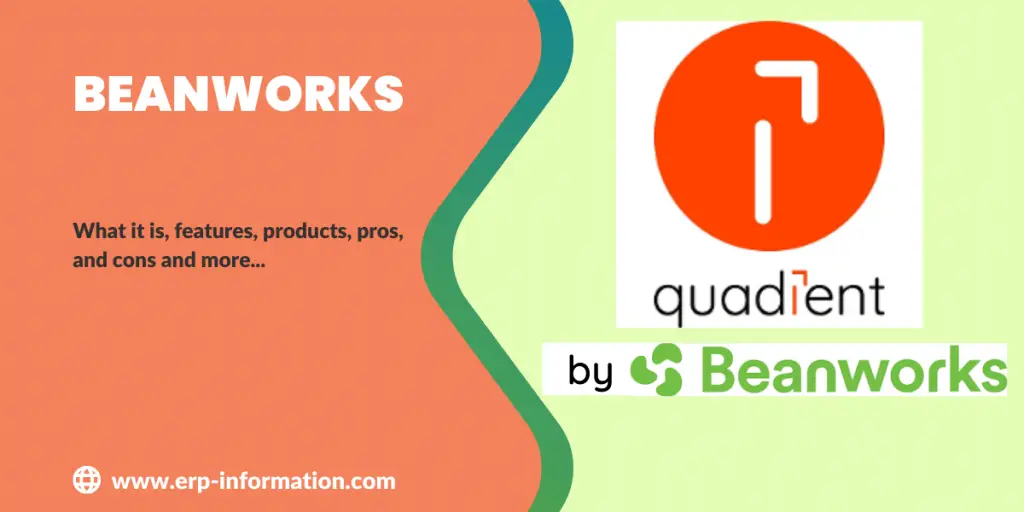 You may have many account payable software, but you might be confused about which one is affordable and suitable for your business.
Regarding paying your suppliers, getting the right software can make all the difference. Beanworks account payable software makes it easy to pay your bills quickly and keep track of your expenses. With this software, you'll be able to manage your payments easily and stay organized. 
Here we are with a discussion of quadient accounts payable by Beanworks. We discuss, what it is, its features, and its pros and cons. We also disclose its accounts receivable features and modules.
What is Quadient by Beanworks?
This software is the most effective account payable, accounts receivable, and cost-friendly software.
Reduces the manual data entry
Easy follow-up of accounting operations
Cost-effective
It avoids errors and fraud
Beanworks Pricing
Plans
Beansprout: Starts for free. For the below other planning prices, you need to contact them directly.
Purchase orders
Invoices
Payments 
Expenses
Features
Automate the account payable process
It helps to route the purchase orders, invoices, and approval for the payment orders at the right time to the right person.
Complete and real-time visibility
It provides more efficient ways to manage your finances with accurate reporting and real-time accruals.
Your company's cash flow is automatically monitored, so you know how much money has been spent on what projects or clients without any interference from yourself.
Cost reduction
AI-powered data entry is much cheaper than manual work.
Real-time AP insights
The ability to see how much time AP will take to approve and pay invoices helps you understand the real position. Dashboards also show this information in an easy format for understanding.
Quadient Beanworks Accounts Payable
Purchase Orders
It controls the overall PO process simplifying the work, reducing time consumption, visualizing the payment, etc.
Budgetary control
Control how much your department spends by limiting what they can buy and who they can buy from. You can also set budgets for specific managers to keep track of spending.
Matching PO
Speed up approvals and reconciliations with two or 3-way matches. Purchase orders to invoices can automatically match this.
Integrated purchase requisition
You can save time by creating direct purchase requisitions in Beanworks and automating the approval process. That will help reduce the number of spreadsheets and duplicate data entries.
Reduces the approval delay
Use the custom approval channels for POs, whether created in Beanworks or imported from your accounting system.
Invoice Automation
Helps to smooth running of invoice approval management and speed up the workflow
Gain accuracy
Invoice automation helps to get accurate and real-time reports. For example, this will help you see how much money you are getting and where it comes from.
Instantly find any device
You can save time by storing your invoices digitally. Then, you can search for them by vendor, GL code, amount, etc.
Reduces the risk
It reduces the AP risks like duplicate entries, errors, fraud, etc. It ensures payment at the right time with the right amount.
Reduce data entry
GL smart coding feature helps to automate code invoices based on earlier invoices.
Easy Integration
Beanworks easily integrates with earlier accounting systems.
Quick digital invoices
With an easy-to-use drag-and-drop interface, you can quickly batch-scan your paper invoices and automatically split them into separate invoices.
Electronic audit trail
Easy to update workflow history with documentation date, comments, steps, etc
Reduces delay
See a summary of how your work is going. That will help you see where there are delays in the process so that you can fix them. You can also see a dashboard with all your legal entities.
Payment Automation
Automating the payment process can reduce time consumption, Eliminates duplicate payments, and takes overall control.
Reconciliation
This software helps to connect your accounting system to your bank account and pay from bank to vendor. 
Instant payment
This automatically matches the invoices, payments, purchase orders, and backup documents, helping to generate instant payments.
The payment method choice
Cost-effective e-checks, ACH, and virtual credit cards can be used.
Expense Management
Real-time expense management to improve your AP workflow.
Gain visibility
Creates expense report anytime from anywhere
Speedy approval
No delay in approval with online and mobile access
Integrates with ERP
Expense reports automatically transform into invoices, so easy to sync with other ERPs.
Save time
Create categories for your expense receipts that match your team's accounting codes. This is easier for them to code the receipts automatically.
Quadient Beanworks Account Receivable
Quadient AR is the latest tool in our line of innovative solutions to streamline your collection process, cut down manual work and reduce the number of days to collect the payment (Days sales outstanding). Some of the AR features are as below.
Features
Credit assessment
They have good customer relationships and offer customizable buying power and credit options. They also work with credit rating partners to calculate customer creditworthiness.
History of CRM In one place
You can get all the information on customer conversations, payments, and collections which helps internal coordination and strategic thinking.
Flexible payment options
Customers will have more options to pay and have control over the payment.
Modules
AR Dashboard
The dashboard is designed for your day-to-day AR management and board data management. It provides real-time DSO, Payment prediction, Automated collection activity, Dynamic current AR aging, etc.
Business intelligence module
This module creates powerful custom reports for better business decisions. It customizes the messages in seconds and powerful presentations with graphs and charts—auto email notifications for scheduling the reports and combining reports in the dashboard.
Advanced credit module
This module helps to mitigate credit risk and drive reliable sales.
This module helps to better business planning, forecast customer behavior, and onboard new customers.
AR collection management
They use data from your ERP, CRM, and other data sources to keep you updated in real-time. So you will always have the latest information.
Automated communication
They automate sending communications to people who owe you money, such as reminders to pay, invoices, and payment requests. 
This way, you can be more productive without needing more resources. And better communications will lead to faster payments.
Supported Industries
Financial service
Healthcare
Insurance
Public sector and government
Tele communication
Utilities
Service providers
Pros
Flexible workflow
Able to manage a multi-company or locations
Digital storage and unlimited users
Easy implementation and mobile-friendly
Cons
Some users are finding difficulty in integration. Sometimes, it brakes and needs to be repaired.
Not able to process USD invoices with Beanworks and sync with great plains.
There is a possibility of using the wrong accounting code.
The export module cannot export data and PDF(it can only attach manually).
Some repetitive and redundant steps are irritating.
Only 80 invoices per page that are less for large-scale businesses.
Other details
Deployment
Cloud, SaaS, Web-Based
Supported device
Linux, Windows, Mac, Android, iPad, iPhone
Support
Email/Help Desk, FAQs/Forum, Knowledge Base, Phone Support, Chat
Training
In-Person, Live Online, Webinars, Documentation, Videos
Supported languages
English, French
Customer ratings
Capterra: 4.6 (36+reviews)
G2 : 4.5 (129+reviews)
Beanworks Alternatives
Conclusion
We hope this blog post has provided you with sufficient information about Beanworks.
After considering Beanworks software features and benefits, you can choose this software, but we suggest you also compare it with its competitors. Likewise, it would be best to consider its drawbacks before making a final decision.
Reference