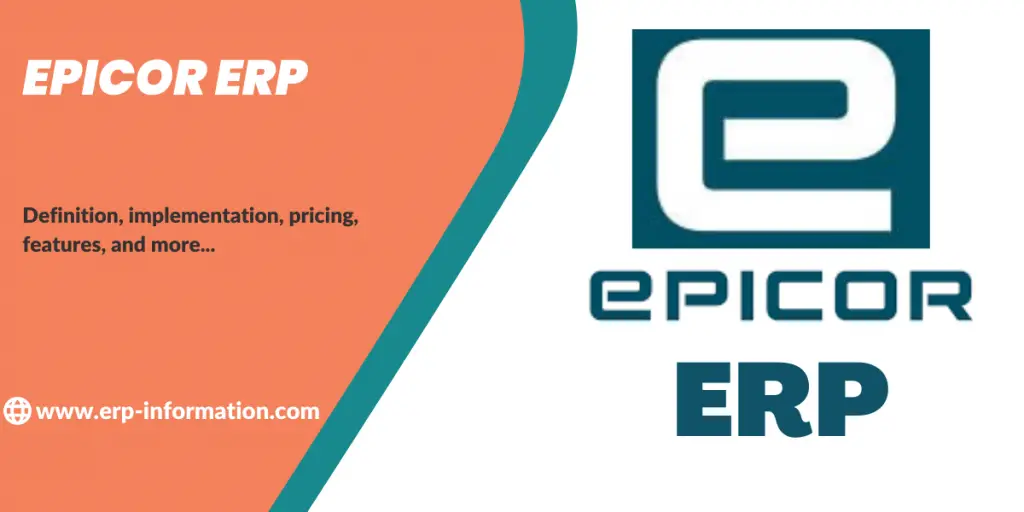 Nowadays, cloud ERP is changing the way we do business. With the introduction of cloud ERP solutions, companies can manage their entire information in one place and streamline the flow of information from one end of the organization to another.
It's no wonder that Epicor ERP has been chosen as the leading cloud ERP provider for distribution and manufacturing businesses.
New version: Epicor 10.2.700
Released date: November 18, 2020
What is Epicor ERP?
Epicor ERP is a complete ERP solution that helps you transform your existing infrastructure into an efficient, enterprise-grade solution.
That means you'll be able to manage and streamline the entire process of managing your business.
Epicor ERP Pricing
Epicor does not give pricing information. You need to contact them directly to get pricing information.
Implementation
The implementation process is divided into five sections.
| | |
| --- | --- |
| Prepare | In this beginning stage, the consultant team of Epicor lines up the implementation plan expectations with the software suite of the customer company. |
| Plan | In this stage, the team establishes the project foundation by creating a blueprint that includes resource, system, and time requirements per the customer company's budget and needs. |
| Design | In this stage, the company's project team starts using the software and documents to check whether the system meets its business needs and goals or not. |
| Validate | In this stage, validation of the system takes place. The customer company ensures that all its business procedures are documented accurately, and business processes flow correctly through the system. |
| Deploy | In this stage, the Epicor consultant team gives training to end-users and helps the customer company develop its plans. |
While moving from one stage to another, a series of inputs, tools, and techniques will be used.
Supports and Services
Epicor Software provides support through service centers that are located all around the world. These service centers offer support for both On-premise and Cloud deployment.
It offers additional support through an online support portal, EpicCare, and Epicor University.
Epicor Software is a cloud-hosted customer support portal. It provides support as per customer feedback.
Epicor University supports the customer by providing complete training tools.
Available Features in Epicor Kinetic Platform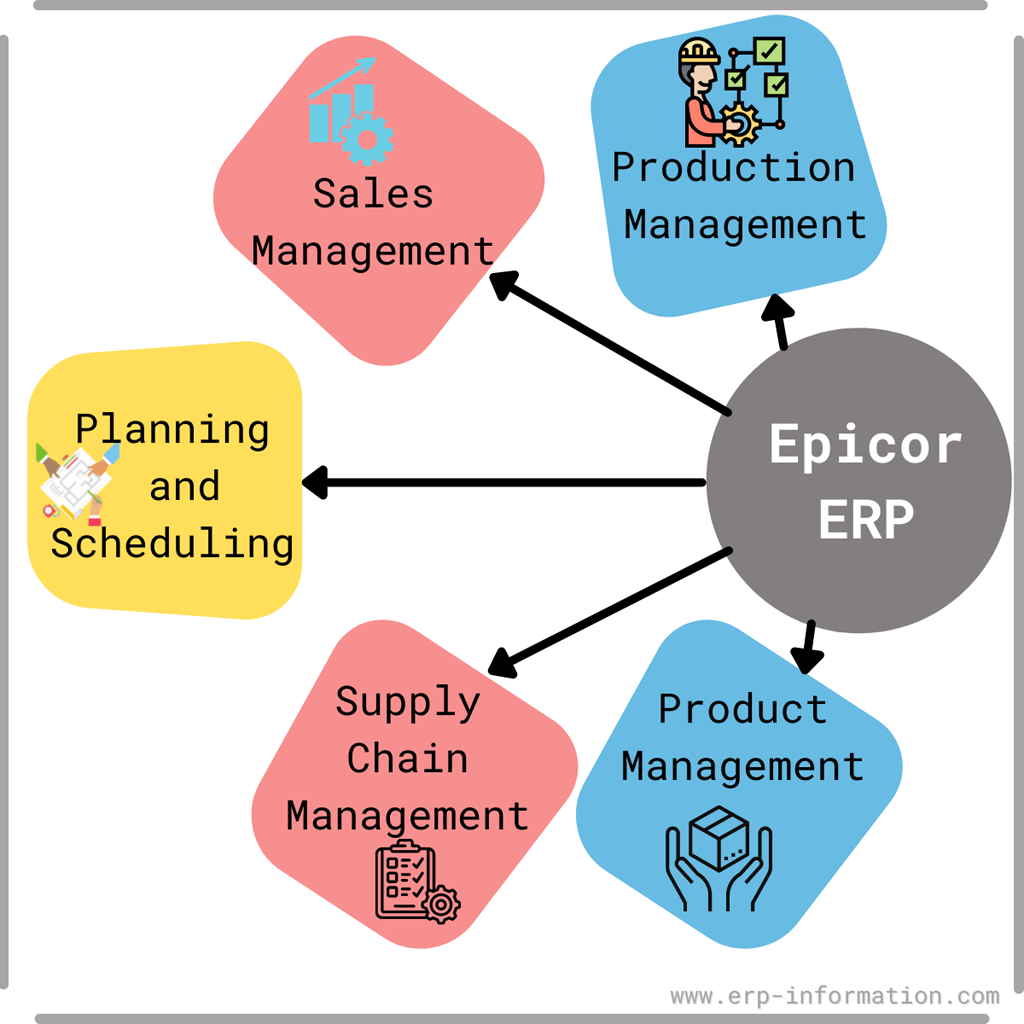 Production management
Social collaboration
Mobile workers
Business intelligence
Sales management
Estimation and Quotation management
Demand management
Order management
Customer connection
Planning and scheduling
Forecasting
Demand planning
Material requirement planning
Scheduling and HR management
Supply chain management
Purchase management
Demand and inventory management
Shipping and warehouse management
Product management
Technical data management
BOM management
Kinetic Integration
CAD data and multi-CAD management
Some Screenshots of Epicor Features
Quality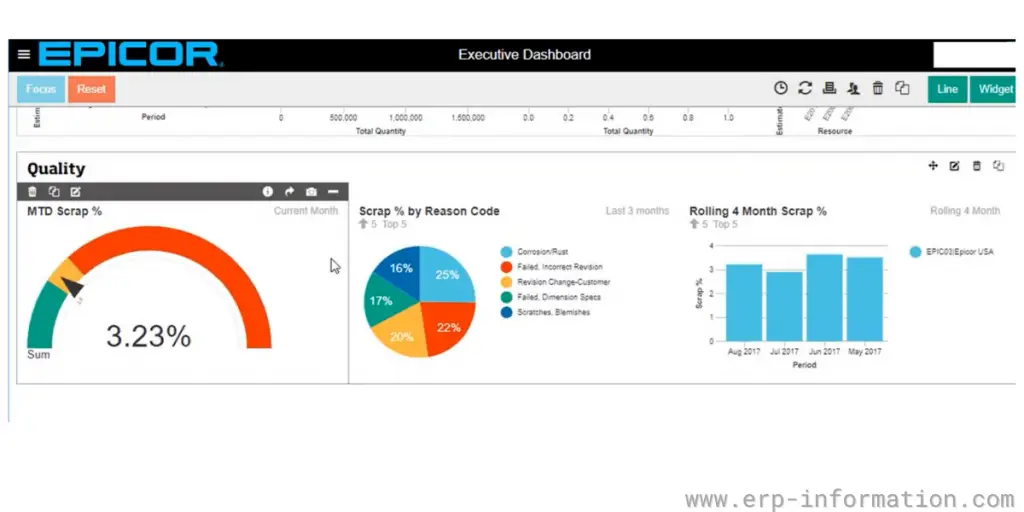 Production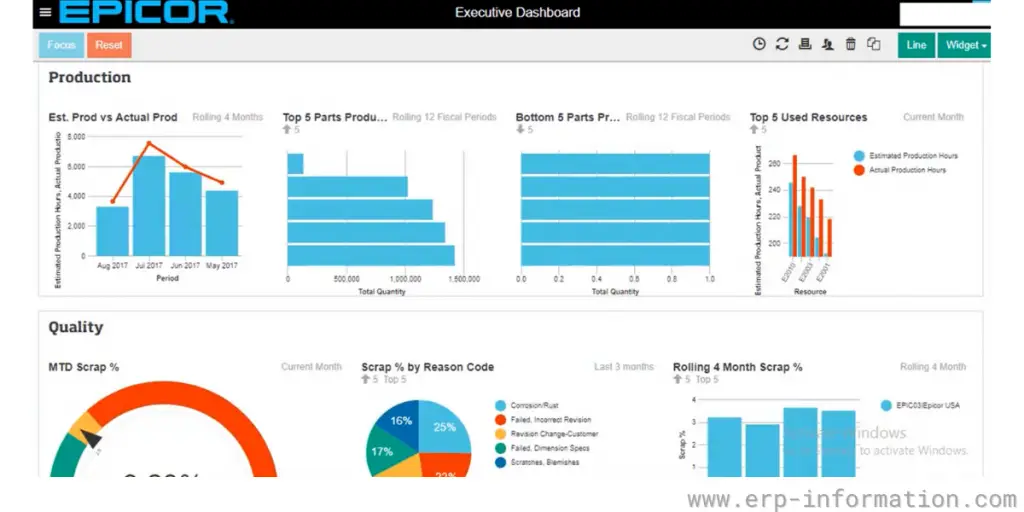 Orders, Quotes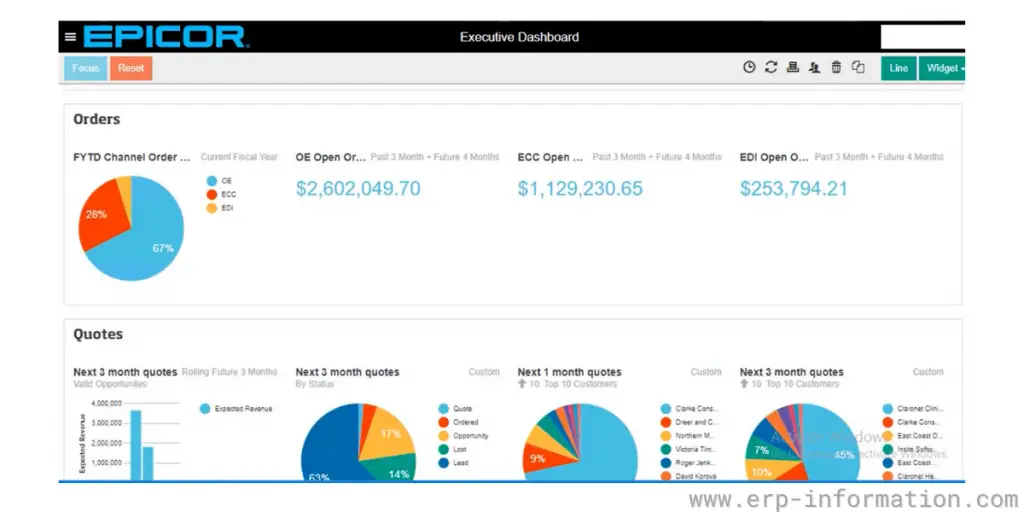 Kinetic is the new name for Epicor ERP. It is a multi-tenant cloud solution. It offers features like
Employee Experience
Manufacturing Operations
Global Supply chain
Customer Focus
HR and Finance
Product Management
Services and Assets
Risk and Compliance
Advantages of Kinetic
It provides modules to handle your business processes from accounting to CRM and project management to HR. In addition, this software allows you to choose the module you want.
It provides a fully-featured accounting and financial management module. With its help, you can take various reports and statements.
Disadvantages
Its implementation and customization are complex.
It needs an expert team/user to maintain the software.
You will not get support on time.
What Industries Does It Support?
Epicor is mainly dedicated to manufacturing and distribution.
Epicor for manufacturing
Under manufacturing, it supports the following businesses
Aerospace and defense
Automotive
Electronics and High tech
Fabricated Metals
Furniture and Fixtures
Industrial Machinery
Medical Devices
Process Manufacturing
Rubber and Plastics
Epicor for distribution
Under distribution, it helps businesses such as
Consumer Goods
Electrical
Fasteners
HVAC
Industrial
Irrigation
Janitorial
Medical Supply
Paper and Packaging
Petroleum
Plumbing
Tiles
Welding, Pipes
Valves and Fittings
Apart from these two industries, it also serves the Retail sector and Lumber and Building materials.
Alternatives
Following are a few top alternatives for Epicor ERP.
Epicore Kinetic Customers
PhRMA
BHP Groups
Reece Group
Syneos Health
Boral Roofing Pvt. Ltd
Hallmark Building Supplies Inc.
Omega Plastics
AIM Aerospace
Conclusion
Epicor ERP is a revolutionary software that will change the way you do business. It has been designed to provide value and convenience while being easy to use for any industry or company size!
With its powerful features like kinetic mode – which allows users to access their data in seconds instead of waiting minutes when using other platforms-this program's versatility makes it one not be overlooked by marketers looking forward to tomorrow."
References: