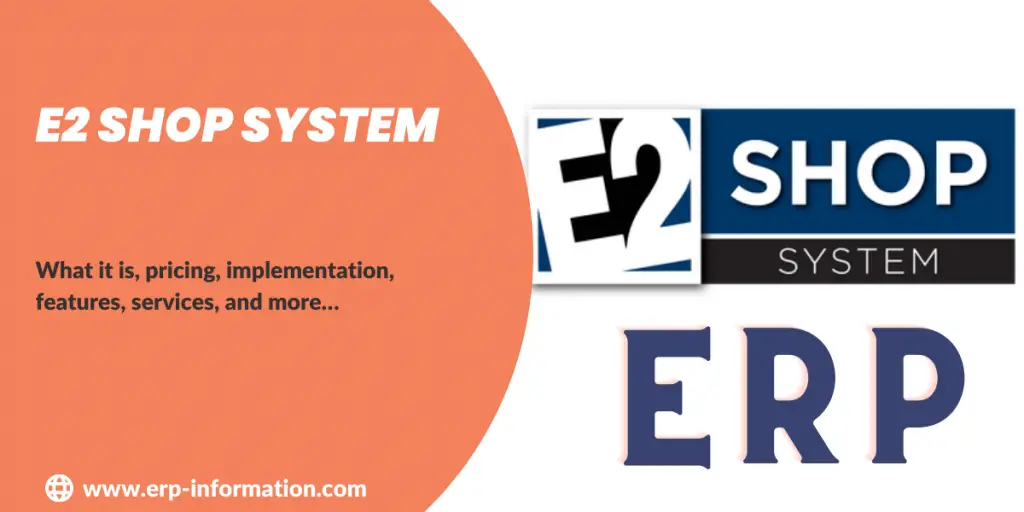 In the fast-paced world of manufacturing, efficiency, accuracy, and adaptability are vital factors that can make or break a company's success. With the ever-growing complexity of operations, manufacturers require a robust and comprehensive solution to manage their workflows seamlessly.
E2 Shop System ERP software is designed specifically for small to mid-sized manufacturers. This ERP software provides a centralized platform that integrates various aspects of manufacturing, including inventory management, scheduling, accounting, and customer relationship management (CRM).
This article provides valuable information about the E2 Shop System including its features, price, implementation, and support to help you choose your company's ERP system.
Latest version: E2 shop system 7.2
Release date: As of October 2022
What is the E2 Shop System?
E2 Shop System Software is a cloud-based enterprise resource planning (ERP) solution for job shops and make-to-order manufacturers. It provides comprehensive features to help businesses manage their production process, from estimating and quoting to scheduling and shipping.
The E2 shop system is a leading ERP system with a cloud-based or on-premise backend, allowing businesses to interface with their databases securely.
So, it reduces costs, improves efficiency, and allows for innovation independent from the traditional business models that often fail to keep pace with technological change.
This software solution enables your business to meet new clients, increase sales, boost productivity, and beat the competition.
E2 Shop System Price
Its starting license price is $4995. For more details and price quotes, contact Shop Tech. Unfortunately, the free version and free trial are not available.
Implementation
E2 software provides an implementation expert for six months to its customers. That person synchronizes the whole implementation process from installation to creating custom reports.
The customer can hire a team of experts to help them locate the source and extent of their problem.
It also provides audits for starting E2 implementation, process implementation, and advanced implementation.
Services and E2 Shop System Supports
In the beginning, new customers and their contracts will get an implementation specialist for six months.
It also provides live support through phone, chat, and email on working days within working hours.
Customers can join its customer community for 24/7 support, such as knowledge-based tutorials, guides, virtual or classroom training sessions, and group discussions.
Features
Estimating
This software is designed to give users quick and easy access to information about materials, labor, waste, overhead, and more, from which they can quickly build and send accurate quotes.
E2 ERP shop system also includes a powerful quotes module that allows users to trace wrong estimates and then follow up to upgrade future forecasts.
Orders
Users can set dates and times on materials and jobs and change any aspect of a job with a few clicks. In addition, each order can be traced from the estimation level to the completion level with involved staff and noticed automatically if there are any changes in scheduling or inventory.
Purchasing
E2 software controls the purchasing process, which includes material ordering for a job, vendor quote requests, tracing vendor delivery, and sending immediate notifications to involved staff.
The E2 shop system also consists of a scrap analysis tool and production history to help manage inventory. As a result, the E2 shop system is a powerful tool that can help any business streamline its purchasing process and improve its bottom line.
Scheduling
The built-in whiteboard with scheduling and planning features helps users manage their time by showing them when the machines are available and how to allocate work accordingly.
Data collection
With this software, you can see your current activity and completion history. It also has an easy-to-use time tracking feature that records all the work centers' employees' job descriptions and their duration so that it will be easier for them in the future!
It facilitates quality assurance by addressing the different needs of vendors, customers, and employees.
It also helps to ensure that all work centers follow a standard procedure for their respective tasks while keeping control over tooling numbers which are essential in documenting processes.
Shipping
With the shipping feature, you can create a waybill and avoid the inconvenience of sending out packages.
Accounting
Account receivables
Account payables
Cash flow analysis
Bank reconciliation
Budget analysis
Auditing
Advantages
E2's estimating module helps enhance sales by tracking old estimates and mistakes, ensuring you don't overpay for services or materials.
It offers a flexible search option that helps users find the details effortlessly.
It allows users to create quotes rapidly.
You can control data viewing by each user because it has user security.
To get accurate estimation, users can customize the variables, such as efficiency rates and scrap percentages.
Disadvantages
E2 software is not suitable for a shop that uses batch or continuous flow processes.
Yearly maintenance costs, such as updates and support, are very high.
Maintenance of the desktop version is expensive, and there will be a chance of crashing the system.
Customization of the software as per your needs is difficult and expensive.
Alternatives
Global Shop solution
Proshop
DELMIAworks
Customers of E2 Shop System
Fabwest Manufacturing
Logic Manufacturing
Quality tool and Die Inc
Marin Mold and Tool Inc.
Deking
FAQs
Which type of business uses the E2 shop system?
Companies of all sizes can use the E2 shop system. For example, Fabrication shops, Assembly shops, Manufacturing builders and shops, Job shops, Mold and plastic injunction molding, repair and screw shops, Spring manufacturers, stampers, and many more…
Conclusion
ERP systems are essential for businesses in today's digital age. They help to streamline operations, improve efficiencies, and provide real-time data visibility. However, not all ERP systems are created equal.
The E2 shop system is a business-grade platform designed for small to mid-sized companies. It is simple to use and easy to implement yet offers powerful features.
Perhaps most importantly, E2 provides outstanding implementation support if you're looking for an ERP system.
You can find more cloud ERP software similar to E2 Shop System.
References: