Going to market with the right strategy and knowing your customer is crucial for success in any endeavor.
FinancialForce technology is designed to help small businesses break into the big leagues with its award-winning cloud ERP systems. Please go through the article to get complete details about it.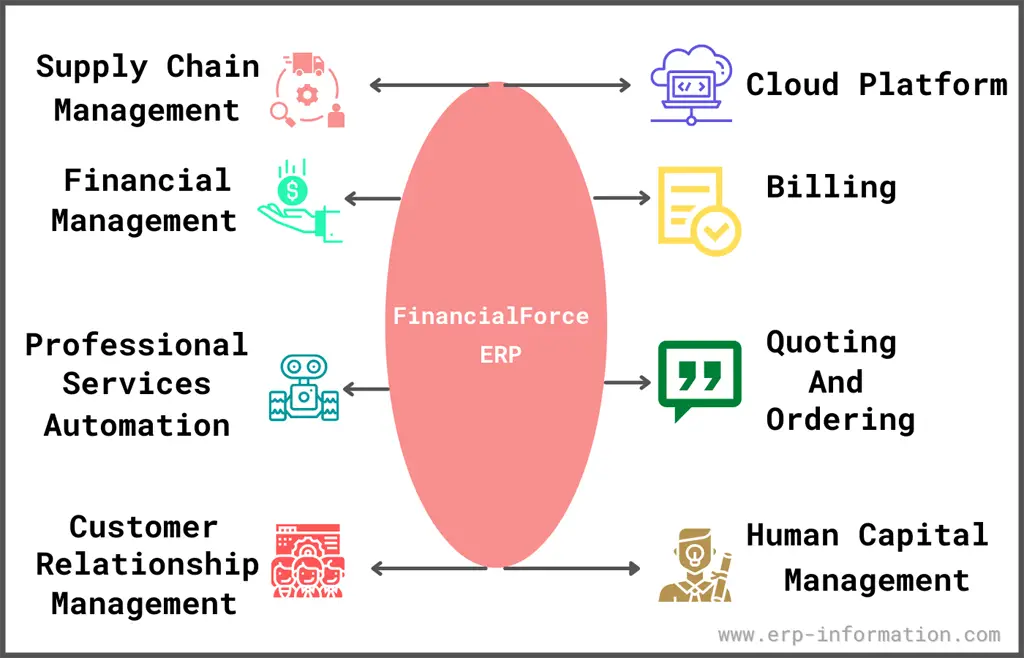 What is FinancialForce?
FinancialForce is a leading ERP provider with over 11 years of experience in providing enterprise-grade cloud ERP solutions.
It is powerful financial management software and built on the Salesforce platform.
It offers clients a full range of software and services designed to enhance business efficiency and productivity.
FinancialForce Pricing
(As of writing this article, pricing details are as follows. For more updates, visit its official website).
Its pricing plan is based on the license type, modules, and wide varieties of available discounts. However, you can expect fees of around $9000 annually for small business organizations.
The starting price for core users is &175 per user per month. All features are accessible.
For executive users, the price is $125 per user per month (Read-only access).
For sales users, it costs $10 per month. Viewing some data is accessible.
Implementation
It is a cloud deployment software solution that consists of product specialists and well-experienced managers who direct the customer through the implementation process.
Some authorized service providers of this ERP also help to do the successful implementation of apps.
These service providers have access to the latest implementation tools and training materials, so they help the users to implement new releases.
It also provides a wide range of adoption tools like FinancialForce click links, a deployment tool kit, and QuickBooks data migration help.
Supports and services
It offers three types of support plans.
Standard Success Plan – Users need to submit online tickets through the FinancialForce community or phone. Then it contacts the user within 48 working hours.
Premier Success Plan – In this type of subscription, users will get the response within one hour for a business standstill case. For critical issues, they respond within 2 hours and for major problems, they respond within 6 hours after the ticket submission.
Signature Success Plan – With this plan, the user will get a response within 15 minutes for a simple problem. For critical problems, users get response within 1 hr and for major problems users get response within 2 hours after the ticket submission.
FinancialForce Features
Some Screenshots of FinancialForce Features
CFO Dashboard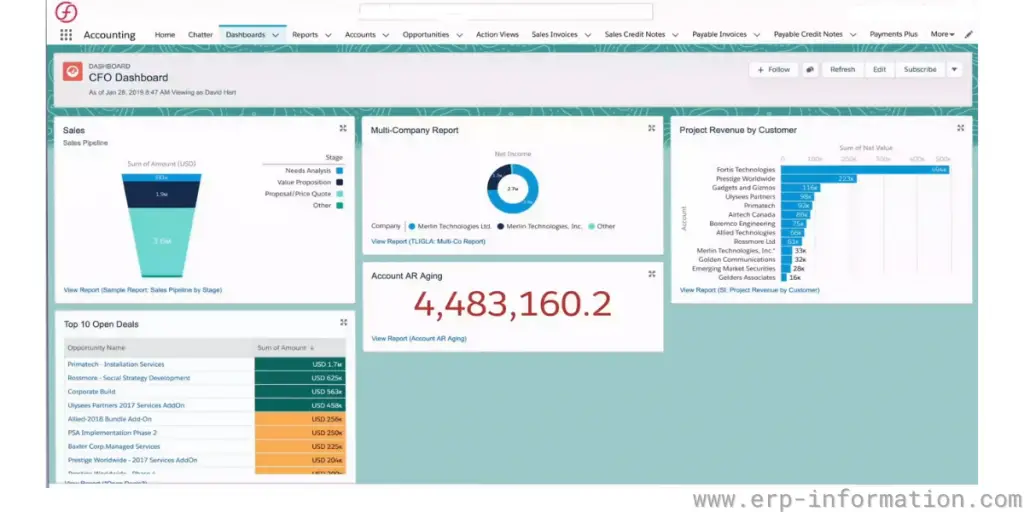 Services Delivery Dashboard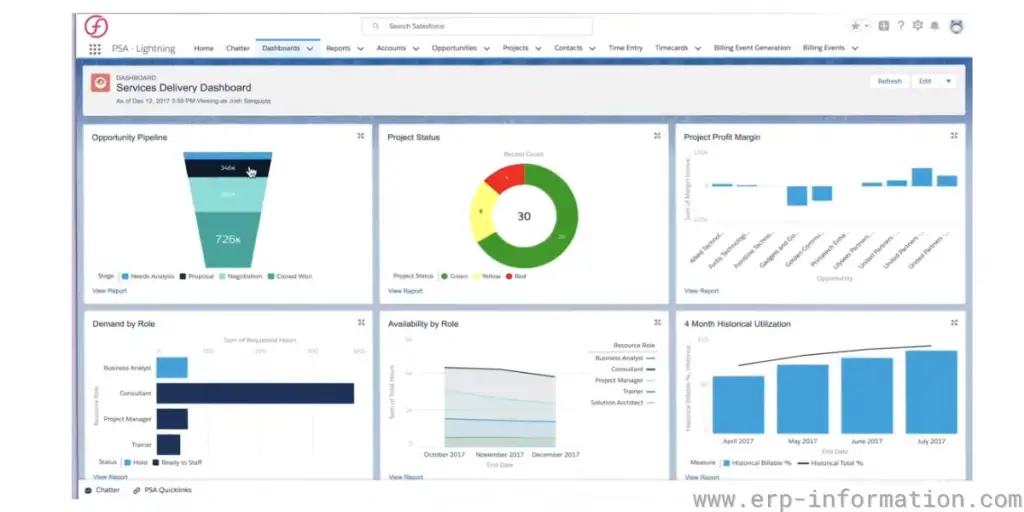 Accounting Details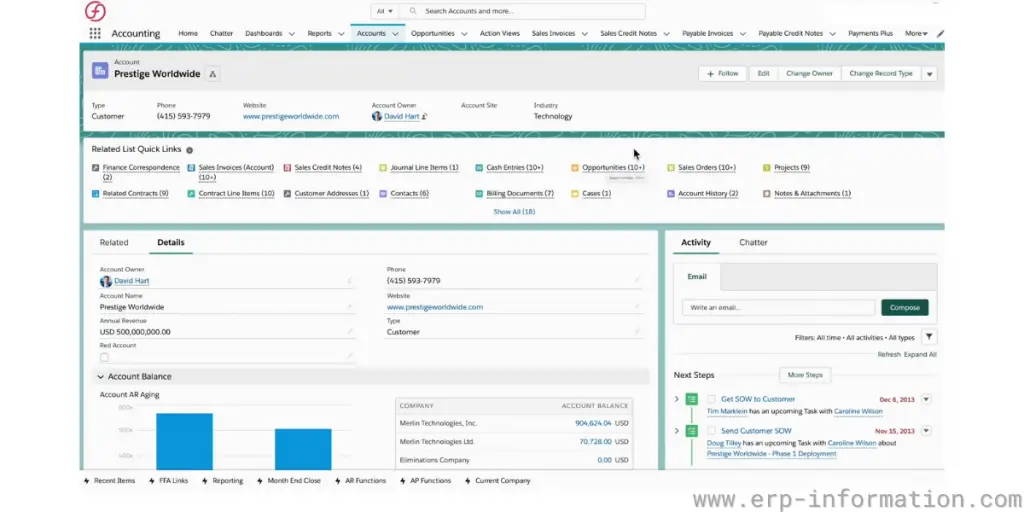 FinancialForce offers two types of business solutions.
Financial Management
Accounting and Finance
Subscription and usage billing
Revenue Management
Order and Inventory Management
ERP Community
ERP Analytics and Reporting
Procurement
Professional Services Automation
Resource Management
Sales Management
Professional Services Communities
Project Management
Time and Expense Management
Project Financials
Billing and Revenue Recognition
Reporting and Dashboards
FinancialForce Advantages
The software is straightforward to use, implement, and customize. You can integrate and customize the software through click only, no need to change code.
This ERP allows users to drill and view their data through a reporting dashboard.
All applications are located on a single platform. Hence users will get only a single version of data. This makes compliance and audit easier.
It allows users to monitor the important account fields, and also, users can view evidence of transactions and scan documents in a single platform.
Disadvantages
Some processes like cash matching, printing the checks take more time.
This software is built on the Salesforce platform, but the salesforce architect does not fulfill all the accounting requirements.
Customer support takes more time to respond and find out the problem.
Challenging to get a proper financial statement report.
There is no module or app to get expense reports integrated with payable invoices.
Links to local authorities (VAT, Direct Tax Returns), country customization are not available.
What industries does it support?
It supports industries like
Business services
Healthcare
Life science
Media and digital communications
Professional services and consulting
Software
High-tech
IT services
Telecommunications
FinancialForce Alternatives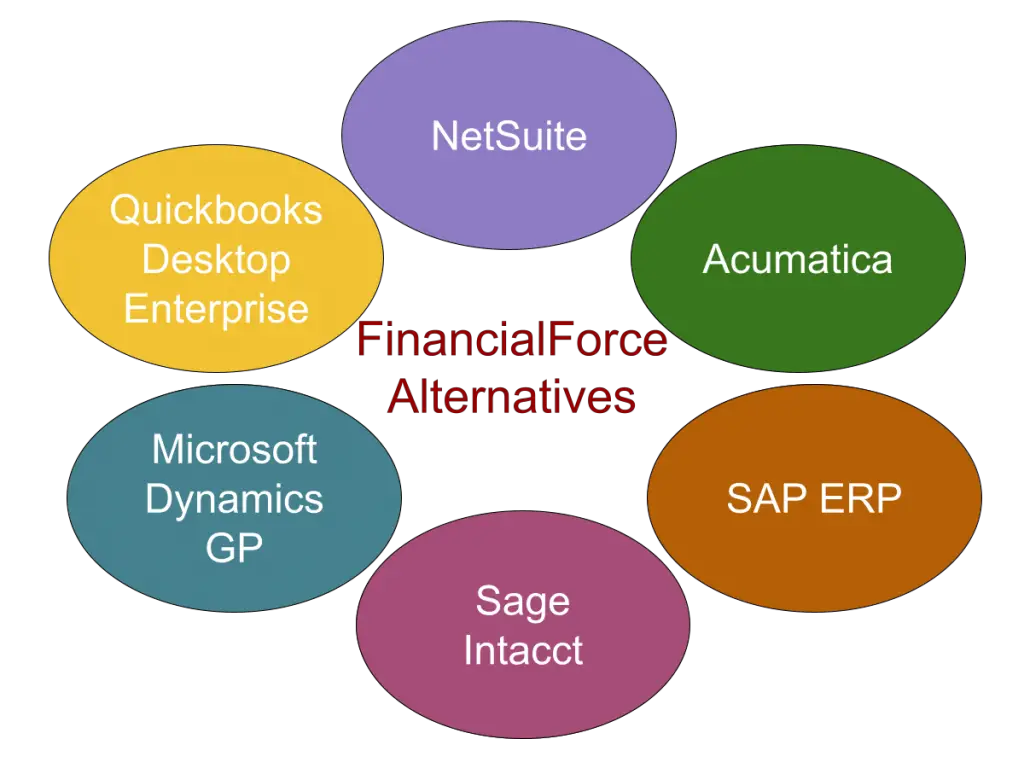 Quickbooks Desktop Enterprise
SAP ERP
Sage Intacct
Customers of FinancialForce
QA Limited
Lorven Technologies
Self store
Acumen Solutions
AHEAD
Blue Clover Devices
Camfed
CDI Spaces
You can find more cloud ERP software similar to FinancialForce.
You will also like: