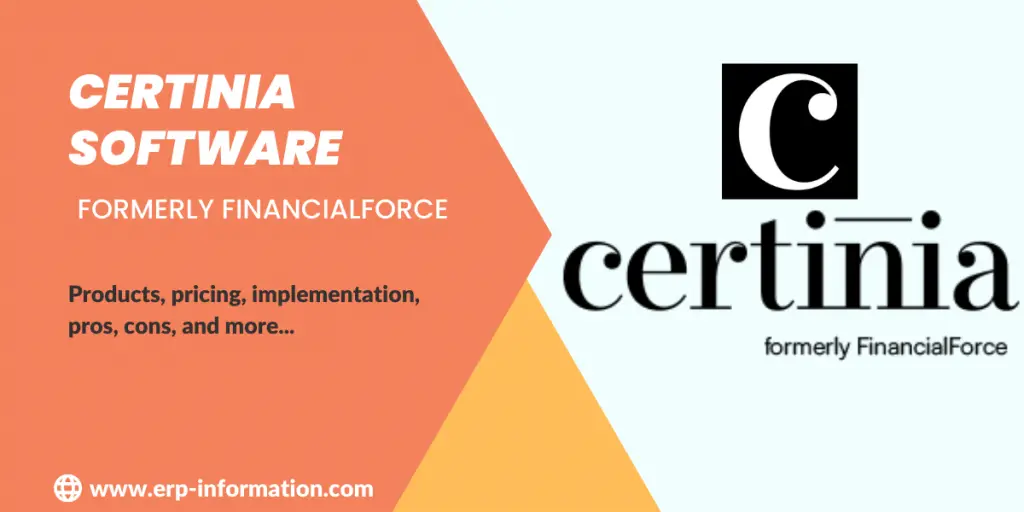 FinancialForce was rebranded as Certinia in May 2023. Then, FinancialForce was Software as a Service (SaaS) business application built on the Salesforce platform. Now it offers cloud ERP solutions and professional services automation with a Services as a Business (SaaB) Platform.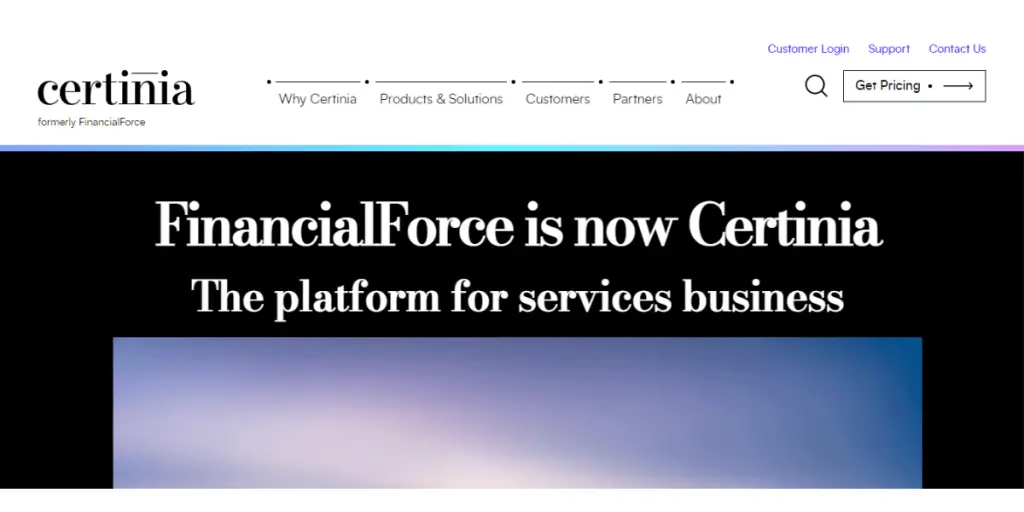 Read the article to learn more about Certinia's products, pricing, implementation, supports, pros, and cons.
What is Certinia?
It is a Services-as-a Business model that facilitates a single source of certainty by providing solutions for Professional Services Automation, Customer Success, Services CPQ, ERP, and Financial planning and accounting.
It links service operations, including service estimation, delivery, customer success management, financial planning, and accounting.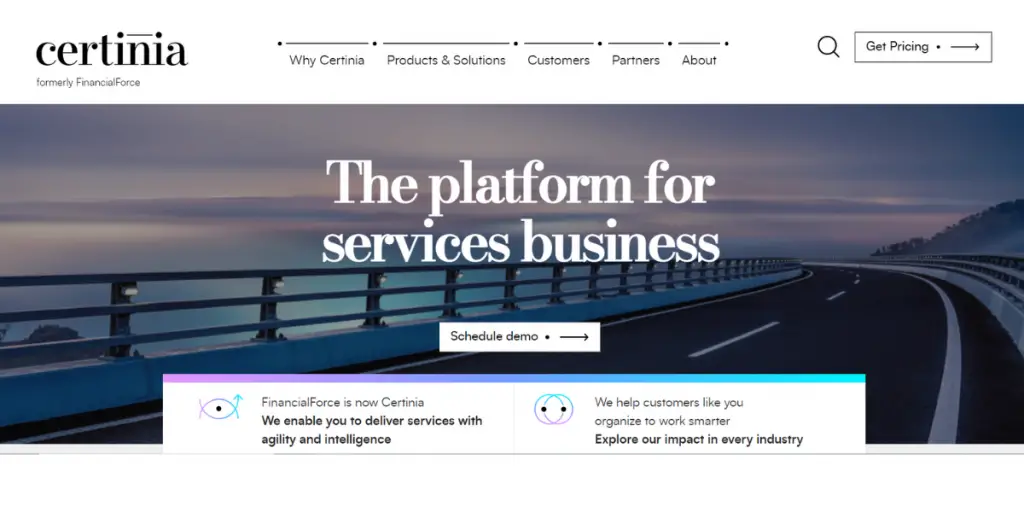 Products and Their Features
It offers 3 products. Let us have a look at products and their features.
Professional services cloud
Professional services automation
Services CPQ
Services billing
Services revenue management
Services analytics
Services Communities
ERP cloud financial management software
Accounting and finance
Revenue management
Subscription and usage billing
Financial planning and analysis
Procurement
Order and inventory management
ERP analytics and reporting
ERP communities
Customer success cloud
Customer engagement
Success playbooks
Stakeholder engagement
Some Screenshots of Certinia
Billings overview
Revenue page view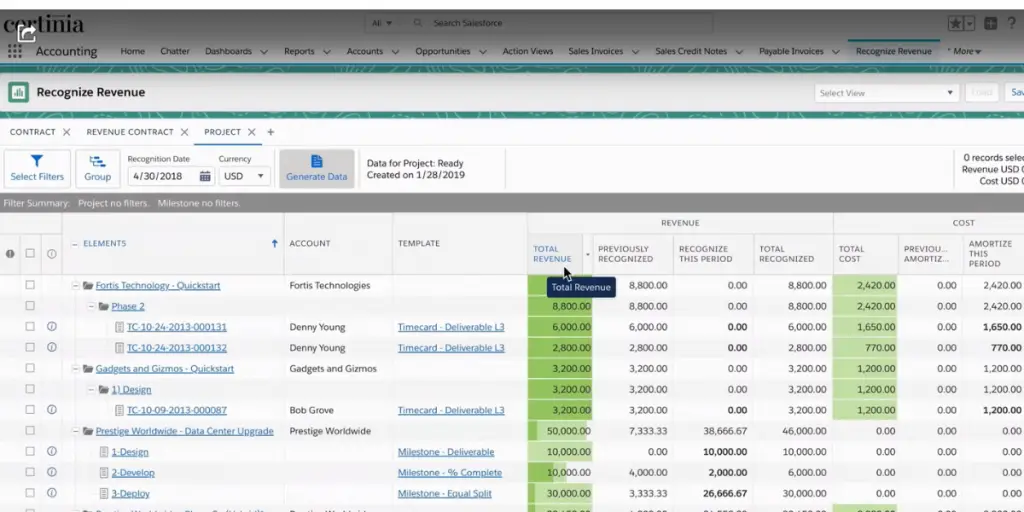 Pricing
Certinia offers simplified, scalable pricing. The pricing will be offered on a per-user basis via priced bundles or a la carte licenses.  
To get the pricing details, you need to fill out the pricing request form, which is available on its official site. 
Implementation
It is a cloud deployment software solution that consists of product specialists and well-experienced managers who direct the customer through the implementation process.
Some authorized service providers of this ERP also help to implement apps successfully.
These service providers have access to the latest implementation tools and training materials, so they help the users to implement new releases.
Supports and Services
Professional services
The platform provides expert product specialists and experienced project managers to help its client implement the applications. As the business grows, it offers additional services, including training, health checks, and expert services.
Integration
Certinia offers a security and application programming interface (API) model for integrating with many other platforms like AccessPay, ADP, Avidxchange, SAP Concur, etc., with the help of SalesForce.
Training
The software provides virtual, instructor-led training. One of its training models is subscription-based training. The end-user can get training on a subscription basis. You need to contact certinia for the details.
Users can also take up certinia on-demand courses, including videos and on-demand training library. These courses are task-based and help users get hands-on exercises.
Certinia Community
The software provides one more support to its users, which is the Certinia community. You can log your issues through this community or by phone. Once the issue is logged, the community allocates a support team member to resolve the issue.
Success Plans
Standard success plan
It comes with a certinia application subscription without additional charges. Users must submit online tickets through the Certinia community or by phone. Then it contacts the user within 48 working hours.
Premier success plan
This type of subscription provides users with a customer success manager (CSM). He helps users to reach their goals by doing regular business reviews. Users with this subscription will get four sessions yearly with certinia technical CSM. It also offers one free pass to its annual customer event.
In this type of subscription, users will get a response within one hour for a business standstill case. For critical issues, they respond within 2 hours, and for major problems, they respond within 6 hours after the ticket submission.
 Pros
It provides real-time insight into resource utilization, project status, and financial performance.
The software is flexible and scalable.
Integration of software with other salesforce flatform is intuitive.
The software provides training sessions for new users.
Seamless upgradation of PSA and the upgradation process does not disturb your business.
It allows you to create project templates easily.
The software is straightforward to use, implement, and customize.
This ERP allows users to drill and view their data through a reporting dashboard.
All applications are located on a single platform. Hence users will get only a single version of data. This makes compliance and audit easier.
It allows users to monitor the important account fields, and also, users can view evidence of transactions and scan documents on a single platform.
Cons
The software needs more configuration and development resources to meet the company's requirements.
The software will be complex and difficult to work with for users who are unfamiliar with the Salesforce platform.
When you work with large datasets, the software will be unstable.
Sometimes, finding and solving the bugs is difficult because of ambiguous error messages.
Its home page does not show all completed projects. It shows only the first ten projects.
The software does not provide basic functionality like bank feeds and BAS reports.
Sometimes, the user interface will be confusing and clumsy to end-users.
You must depend on an implementation partner to use the software smoothly. Or you need to spend more time understanding the software and its operations.
The project plan feature must be downloadable, printable, and convertible to other formats.
Sometimes, the loading speed of the software is slow and crushes without reason.
The software does not provide detailed documentation.
Supported Industries
It supports industries like
Business services
Healthcare
Life science
Media and digital communications
Professional services and consulting
Software
High-tech
IT services
Telecommunications
Alternatives
Quickbooks Desktop Enterprise
SAP ERP
Sage Intacct
Customers
QA Limited
Lorven Technologies
Self store
Acumen Solutions
AHEAD
Blue Clover Devices
Camfed
CDI Spaces
Other details
| | |
| --- | --- |
| Deployment | Cloud, SaaS, Web-based |
| Support | Knowledge Base, Email/Help Desk, Chat, FAQs/Forum, 24/7 (Live rep), Phone Support |
| Training | Live Online, Documentation, Videos, In-Person, Webinars |
| Customer ratings | Capterra: 3.8 out of 5 (44+ reviews), G2: 4.1 out of 5 (1027+ reviews) |
FAQs
What is Services-as-a-Business (SaaB)?
Services as a business refer to a company or organization primarily providing services rather than tangible products to its customers. In this type of business model, the primary focus is on offering expertise, knowledge, or specialized skills to meet the needs and requirements of clients.
The services offered can be diverse, ranging from consulting, technical support, and professional services to personal services such as healthcare, education, and hospitality.
Service businesses can operate in various industries, including information technology, financial services, marketing, and management consulting. The success of a service business often depends on the quality of the services provided, customer satisfaction, and the ability to build long-term relationships with clients.
In recent years, the service industry has become increasingly important in the global economy, as more companies outsource non-core functions and consumers demand specialized services to meet their needs. Consequently, service businesses are crucial for economic growth and employment opportunities.
Conclusion
Certinia products offer features to meet the needs of businesses. Cetinia community is there to provide customer service, and it also offers success plans to support end-users.
The article covered all the important information about the Certinia platform, including products, features, implementation, supports, supported industries, pros, and cons. By considering Certinia's advantages and disadvantages, you can make buying decisions.
Ultimately, whether or not it is the right solution for your business will depend on your specific needs and budget.
You can find more cloud ERP software similar to Certinia.