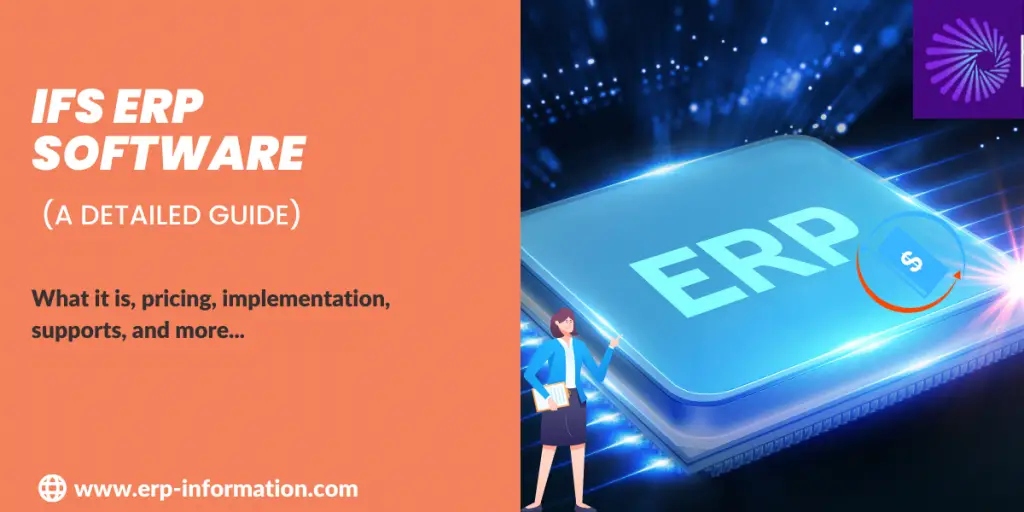 If you are looking for a comprehensive ERP software solution, IFS may be the right choice. It offers a wide range of features that can meet the needs of businesses of all sizes.
This blog post will overview IFS ERP software and discuss its key benefits.
New version: IFS Application 10
Year of release: 2018
What is IFS ERP?
IFS ERP is a cloud ERP software solution. It is designed for businesses of all sizes in various industries, including manufacturing and construction. IFS supports organizations from small businesses to large enterprises.
It offers a wide range of features that can benefit businesses of all sizes. These features include but are not limited to financial management, project management, procurement and supply chain management, human resources management, and asset management.
An agile solution allows organizations to customize the software with the required modules instead of buying different software.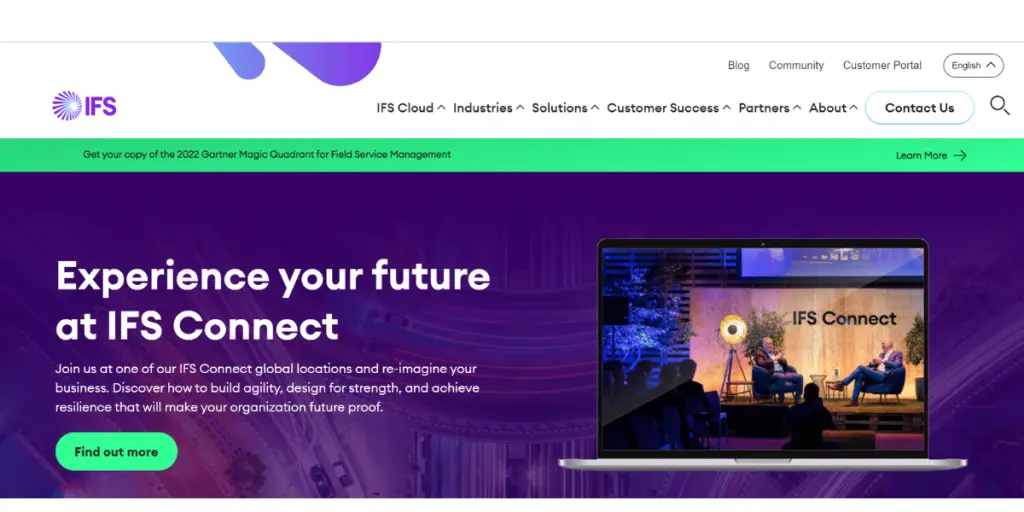 IFS ERP Pricing
Pricing is based on the modules you want to implement, scale, type, and business location.
IFS should be less expensive for asset and service management than other popular ERP solutions. However, migration attracts additional service costs.
Pricing information is publicly unavailable—contact the vendor for the pricing details.
IFS Applications do not have a free version. They don't give a free trial.
Implementation
You can get started by contacting IFS to speak with a representative.
It helps organizations implement the software as early as possible by assigning a dedicated implementation and support team.
After implementation, it provides online and offline training ( classroom training). Offline training takes 2 to 3 days, depending on the course, and online training takes 1 to 4 hours, depending on the course.
Services and Supports
It provides a wide range of support plans, from basic plans to 24/7 emergency support.
Other than that, it supports via phone, internet, and community forum.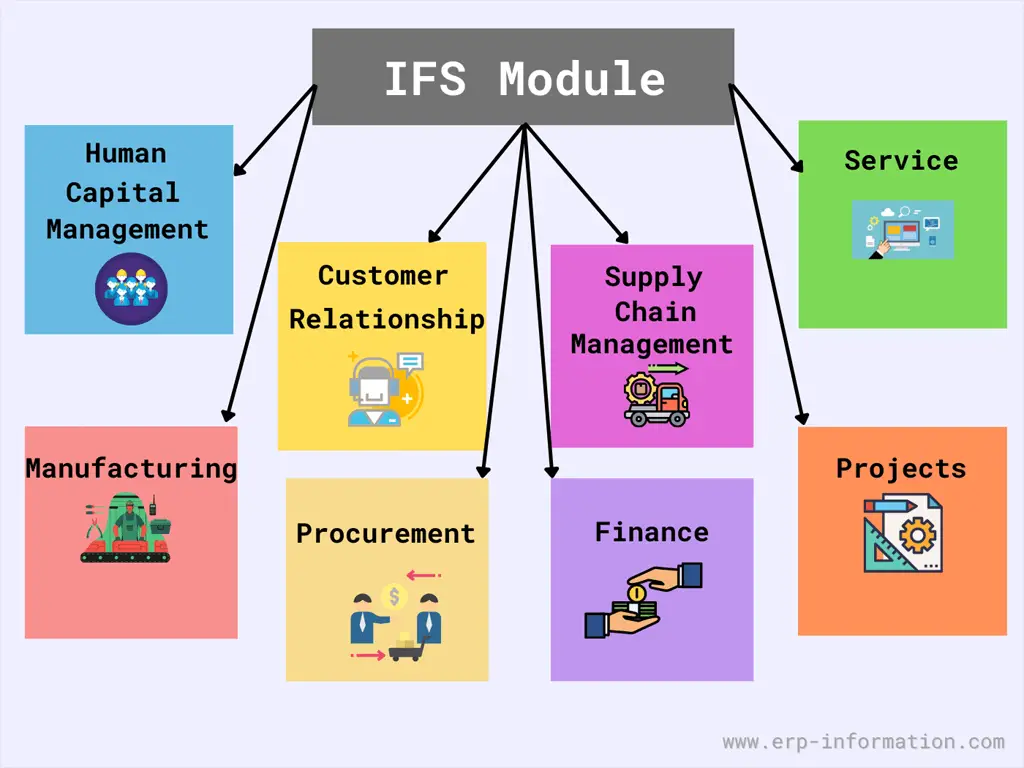 Some Screenshots of IFS Modules
Master Lobbies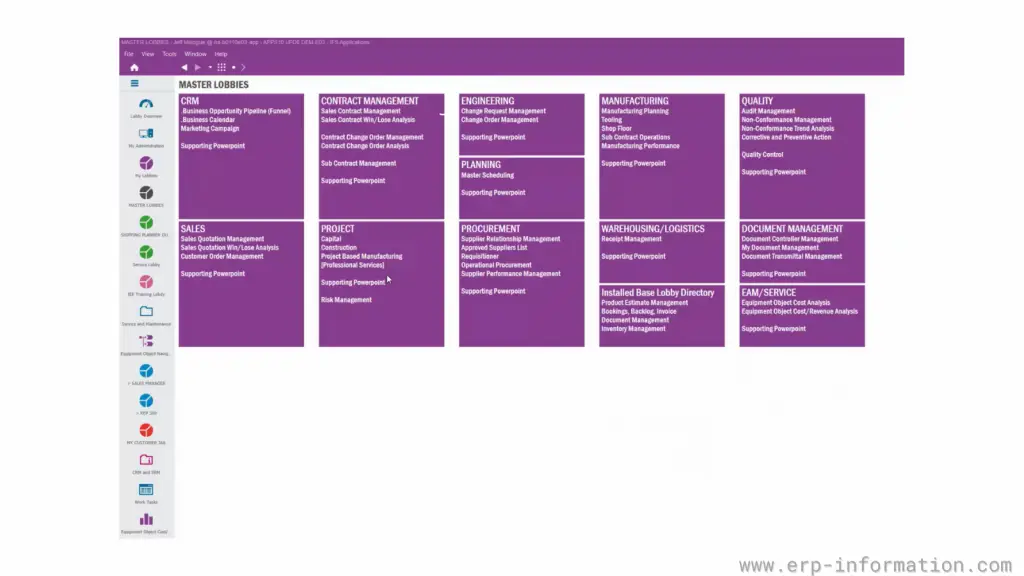 Lobby Overview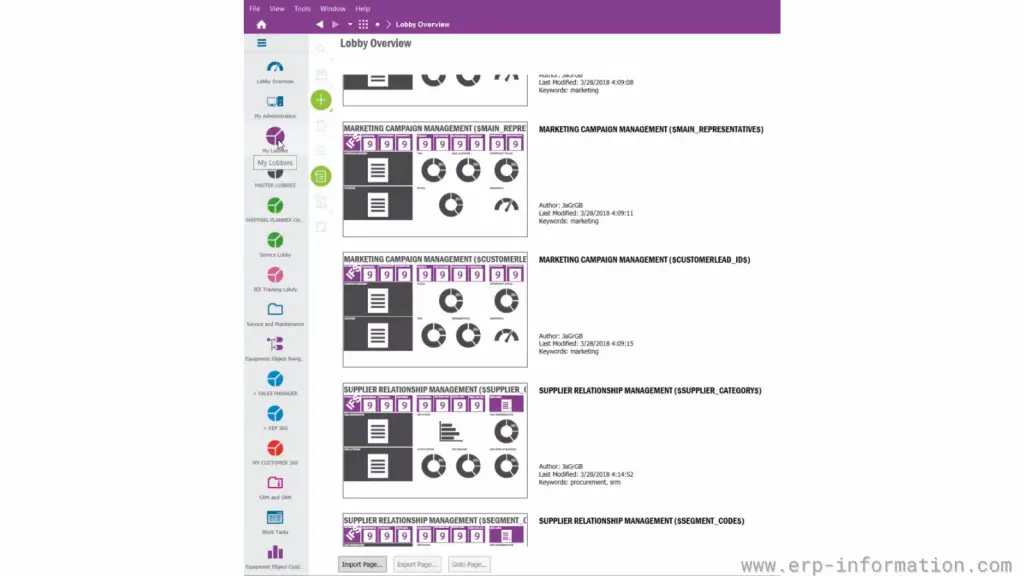 Service Manager Lobby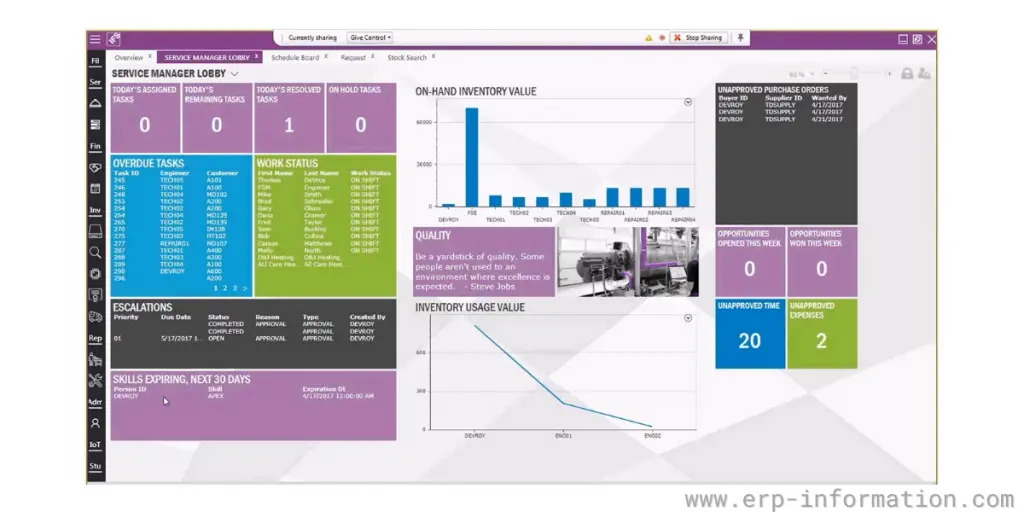 Employee's Working Time and Attendance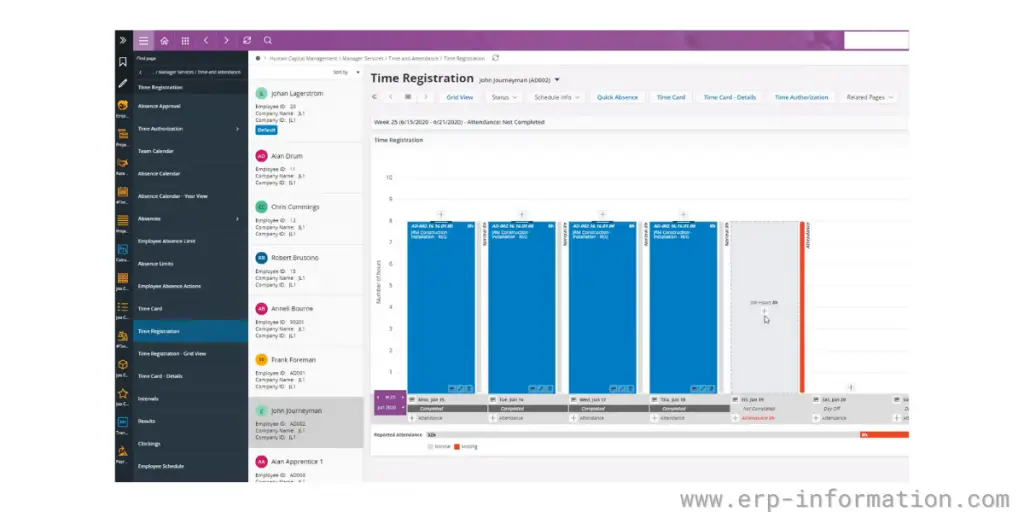 Customer Relationship Management
Human Capital Management
Manufacturing
Procurement
Projects
Service
Supply Chain Management
Advantages
The software is highly customizable, making it a good fit for businesses of all sizes.
It offers a comprehensive suite of features that can meet the needs of most businesses.
It is user-friendly and easy to learn, saving businesses time and money.
It is a leader in the ERP market and has a long history of success.
Disadvantages
Its user interface is complicated to use and frequently sends error messages.
It is expensive and may not be affordable for all businesses.
A few features are complex and can be challenging to learn and use.
It may not be the best fit for businesses looking for a basic accounting system.
It requires a significant up-front investment, which can deter some businesses.
What industries does it support?
It supports industries such as
Aerospace & Defence
Energy & Utilities
Engineering & Construction
Food & Beverage
High Tech and Office Equipment
Manufacturing
Property & Commercial Services
Telecommunication
Service Industries
Customers
IFS ERP customers often praise the software for its comprehensive functionality and ability to streamline business processes. Its strong integration capabilities are also known for allowing businesses to connect with various systems and data sources.
A few of the existing customers include,
Cognizant
Panasonic
DE hevilland aircraft of Canada Limited
Anticimex
BPPL
Carshop
Cheer Pack
Indigo
Motorola
Copa Airlines
Alternatives
Conclusion
IFS ERP software is a comprehensive business management system that can manage almost every aspect of your business. In addition, it offers a wide range of features and modules that the company can customize to meet your organization's specific needs.
Businesses use it in various industries, and it has a reputation for being reliable and easy to use. So if you're looking for an all-in-one business management solution, IFS ERP software may be the right choice.
References: