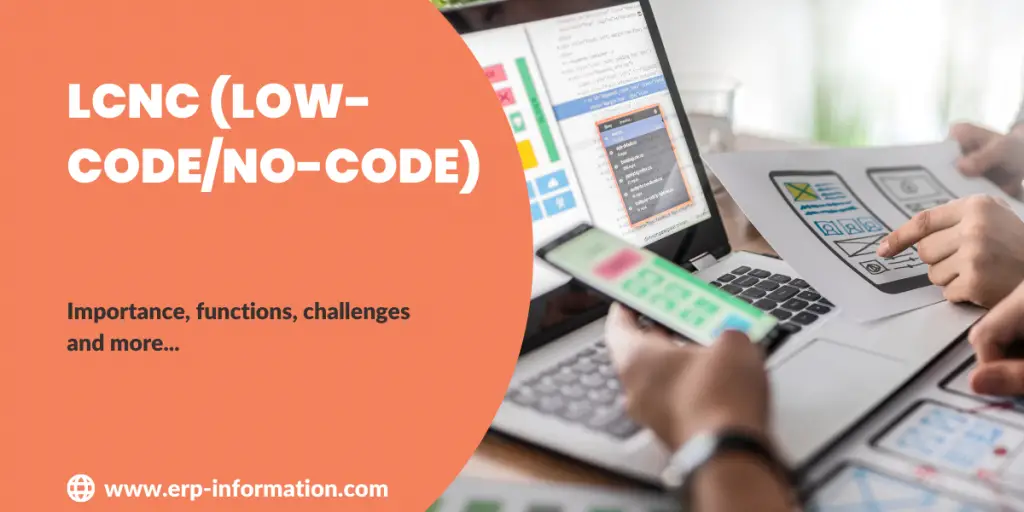 It's hard to find a good developer and even harder to find one available when you need one. 
LCNC platforms are the solution to your development needs. With this, you can create custom applications without writing code. That means you don't have to wait for a developer to become available, and you don't have to pay for their time.
In this blog post, we will introduce Low-code/no-code platform and discuss its importance and functions. We will also discuss its benefits, challenges, applications, and future.
What is LCNC?
It's a term that describes low code platform or no code platform that enables users without coding experience to create applications using a visual interface without needing to write any code.
These platforms are growing in popularity because they make it easy for anyone to create apps, even if they don't have coding experience.
That can be helpful for businesses that want to quickly develop prototypes or small applications with the help of citizen developers, not professional developers.
The fast pace of change in technology and the need for businesses to quickly adapt to keep up
Decreases the shortage of skilled software developers
Reduce the cost and time it takes to build applications
Common Features
Some common features of LCNC platforms are as follows.
Drag and drop visual interface
Mobile app building
Object mapping
Form Builder
Customizable user interface
Process workflow modeling
Third-party app integrators
Database integration
Cloud-native development
Functions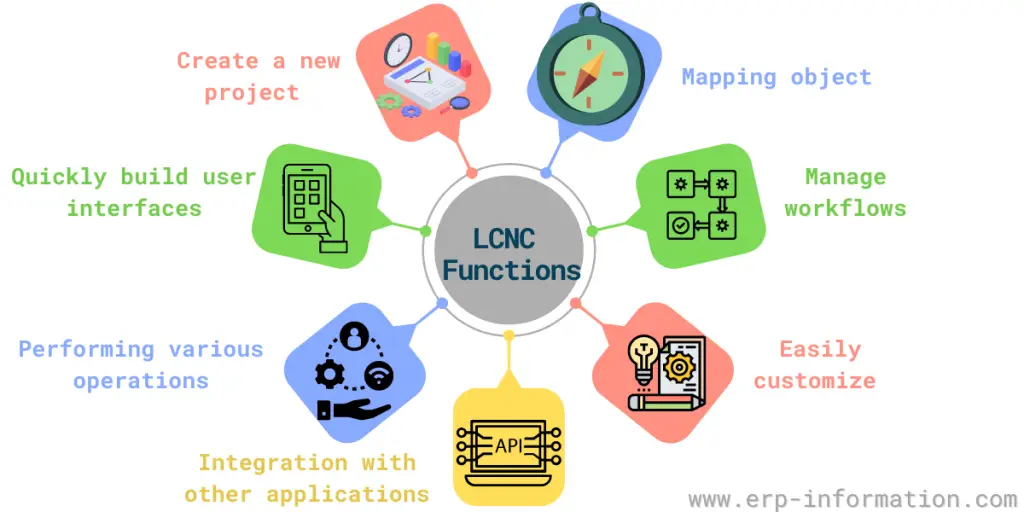 Create a new project
Mapping object
Manage workflows
Easily customize 
Integration with other applications
Allow to perform various operations on files and folders such as Add, Rename, Copy and paste, Delete, Search Etc.
Quickly build user interfaces
LCNC benefits
Increased productivity
low-code or no-code platforms often come with built-in templates and libraries, further expediting app creation. That can save time and money and help businesses to get their applications to market more quickly.
Increased flexibility
They allow developers to create applications using a visual interface without coding experience. That gives programmers more flexibility when it comes to developing applications.
As a result, they can be more creative and experiment with different designs and features.
Reduced costs
These platforms can often be used for free or at lower prices than traditional development tools. That can help businesses to save money on software development costs.
Collaboration features
Team members can work together on apps in real-time without having to worry about sharing code or files. And since no coding is required, everyone on the team can be involved in the app creation process.
User-friendly
They typically have drag-and-drop interfaces that make it easy for users to create and edit their apps. In addition, it makes the platform accessible to people who may not have any coding experience.
Enhances innovations
By utilizing LCNC, developers can rapidly demonstrate and expand their ideas during the implementation phase. Instead of simply theory-crafting, a developer can elucidate how the project would take shape to compel senior leadership to dedicate more resources toward this initiative.
Less infrastructure
Most LCNC platforms offer cloud deployment that requires minimum IT infrastructure, so investing more in IT infrastructure is unnecessary. 
Efficient governance
DevOps and IT teams can efficiently manage the portfolio of applications with complete compliance and governance capabilities with the help of an LCNC platform.
Easily understandable
Traditional code can be challenging to decipher, as it is often developed by multiple developers and is not conducive to easy comprehension.
In addition, debugging such code takes an extensive amount of time to complete properly. However, low-code and no-code platforms are simpler to understand, which makes identifying configuration/scripting bugs a breeze – allowing quick resolution after being located.
Challenges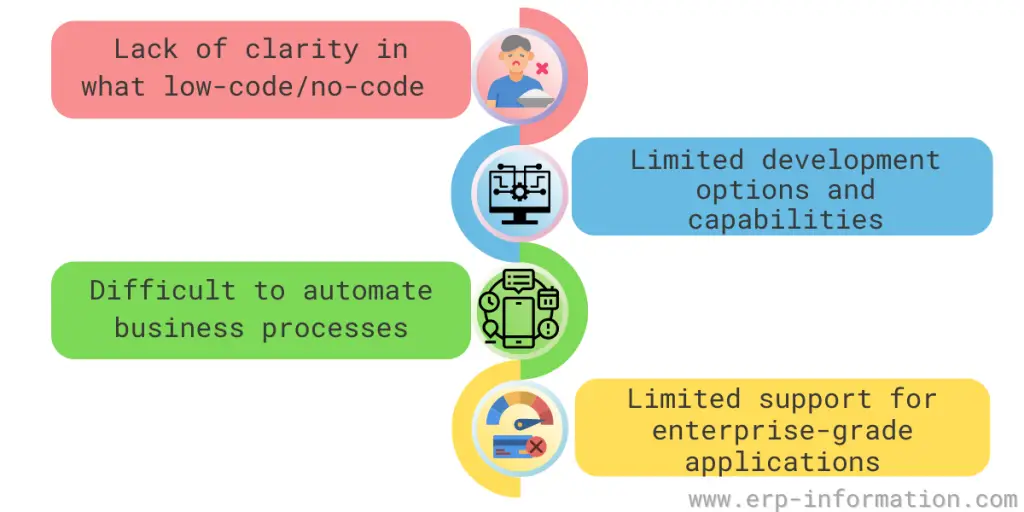 Lack of clarity in what low-code/no-code means
There is a lot of ambiguity around what "low-code" and "no-code" actually mean. That makes it difficult to decide whether or not a given product or platform qualifies as low-code/no-code.
Limited development options and capabilities
Low-code/no-code platforms offer more limited development options and capabilities than traditional software development tools. That can make it challenging to create complex applications using these tools.
Difficulty automating business processes
Many business processes are difficult to automate using low-code/no-code platforms. Unfortunately, that can limit the ability of businesses to take advantage of these technologies to streamline their operations.
Limited support for enterprise-grade applications
Most low-code/no-code platforms are not designed to develop large, complex enterprise-grade applications. Unfortunately, that can limit their usefulness for organizations that require such applications.
Some other challenges are
Security risks
LCNC platforms depend on the providers to reduce the security and IT risks because application providers will not have source code access.
If your platform vendor discontinues the services, you will not get any security updates, and application providers will not be able to solve the problems.
Vendor lock-in
It is difficult to change the platform for the applications if they want to switch to another platform if you are not using in-house developed products. 
Applications in various departments and industries
Departments
Sales and Marketing can use low-code no-code to create mobile apps for lead capture and customer engagement.
Human Resources can use it to create an online onboarding system and to manage employee records.
Finance can use it to create a system for tracking expenses and automating invoices.
IT can use it to create a system for managing network security and provisioning new devices and applications.
Industries
Healthcare: In the healthcare industry, these platforms are used to create electronic health records (EHRs), making it easy for healthcare professionals to track and manage patient data.
Manufacturing: In the manufacturing industry, these applications are used to create digital prototypes of products. That can help manufacturers test new products before they are manufactured, saving time and money. 
Retail: In the retail industry, this software is used to create customer relationship management (CRM) systems. These systems can help retailers keep track of customer data, including contact information, purchase histories, and preferences.
Future
It is still in the early stages of development, but it can potentially revolutionize how we create applications. Low-code, no-code platforms could create a wide range of applications, from simple prototypes to complex enterprise applications.
These platforms could also create custom applications for specific industries or businesses. For example, these platforms could be used to create a custom app for a restaurant, which could be used to manage orders, reservations, and customers.
These platforms could also be used to create mobile apps. In addition, they allow you to develop cross-platform mobile apps that are becoming more popular. 
FAQs
What types of businesses are not suitable for the LCNC platforms?
These are unsuitable for companies with complex workflows or needing to customize their software extensively.
Low-code/no-code platforms are ideal for quickly building applications without needing to write code, but they are limited in case of what you can create and how much you can customize the software.
If your business needs a lot of customization or has complex workflows, you will likely need to hire a developer to build your application.
What are the five best low-code no-code development platforms?
Zoho Creator, Appian, Mendix, Microsoft Power apps, and Salesforce Lightning are the best development platforms.
More details about low code application tools.
Conclusion
LCNC platforms are growing in popularity because they make it easy for anyone to create apps, even if they don't have coding experience. That can be helpful for businesses that want to quickly develop prototypes or small applications without hiring a developer.
In addition, it makes creating apps more effortless than ever before and is perfect for businesses of all sizes. Finally, These platforms are often much more user-friendly than traditional coding platforms.