The Apache OFBiz project is an open-source business framework that includes a suite of tools for business automation, incorporating various technologies into one comprehensive solution.
It is an open-source ERP software project with a community of contributors working to create a robust enterprise-level framework for small businesses.
This article provides a good overview of the project, its architecture, and how you can set it up on your system.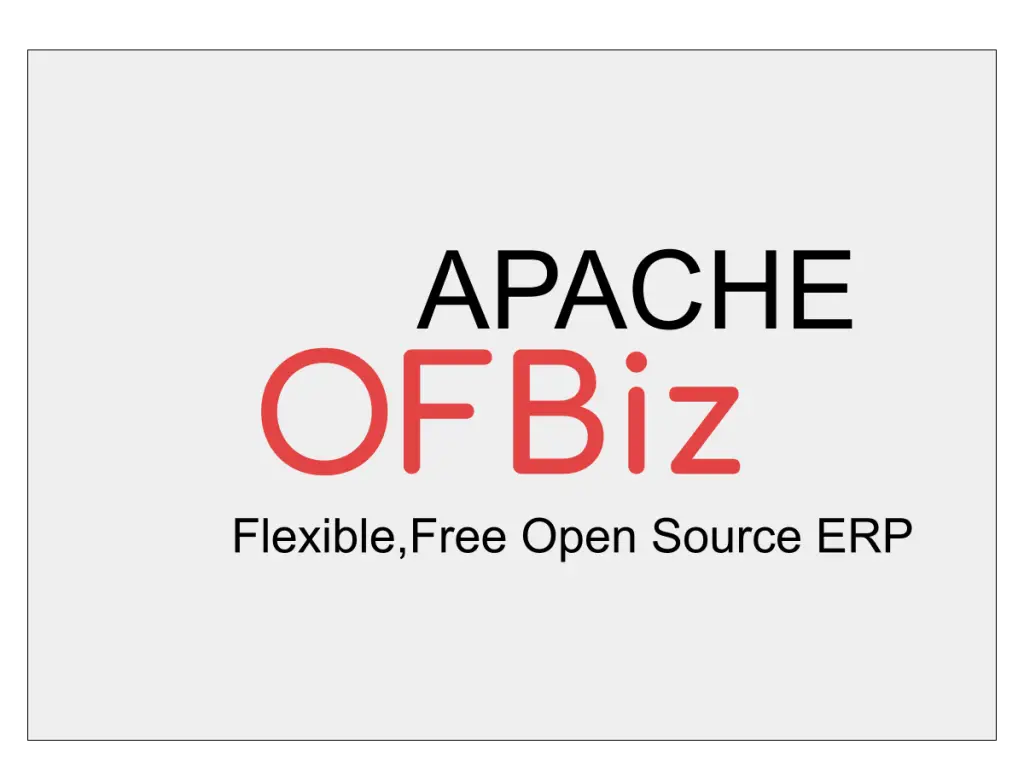 What is Apache OFBiz?
Apache OFBiz is an open-source business-to-business (B2B) software suite for automating supply chain management processes.
The Apache Software Foundation developed it with input from volunteer contributors and users. The software provides an agile framework for managing information about products, suppliers, services, and transportation methods, specifically designed to make it easier to coordinate between various production levels throughout a global supply chain.
The OFBiz developers worked closely with hundreds of companies to create a flexible, scalable platform that you can adapt to meet your business needs and yours — no matter which industry you operate. 
It has been designed to be easy to set up and operate but powerful enough to handle the processing power of even the most critical data centers.
Unlike other Enterprise Resource Planning solutions designed for large data centers, it can run on your personal computer (without requiring any special software or hardware).
Apache ofbiz architecture
It is a Java-based web framework including an entity engine, a service engine, and a widget-based UI, allowing you to prototype and develop your web application quickly.
The common architecture allows developers to easily extend or enhance it to create custom features. In addition, it has shown its stability and maturity as an enterprise-wide ERP solution that is flexible enough to change with your business.
Apache ofbiz development environment setup
Setting up the development environment is a straightforward process that you can complete in simple steps. This article will outline the steps necessary to get it up and run on your local machine.
The development environment requires the following software:
Java SE Development Kit (JDK) 8 or later
Apache OFBiz 16.11.01 or later
Git
Maven 3.2.5 or later
Once you have installed all of the necessary software, you can proceed with the following steps:
Clone the git repository: git clone
Create a local ofbiz.properties file in the apache ofbiz root directory and add the following lines: i) sdk.dir=<path_to_JDK>/Contents/Home ii)java.vm.version=11
Build using maven: mvn clean package
Run using the following command: java -jar target/ofbiz-16.11.01-SNAPSHOT-distribution.jar
You can also create a startup script to make it easier to run in the future.
Pricing
As of writing this article, it is available entirely free of charge. (For more updates, refer to its official website.)
Apache OFBiz features
Some Screenshots of Apache OFBiz Features
Order Reports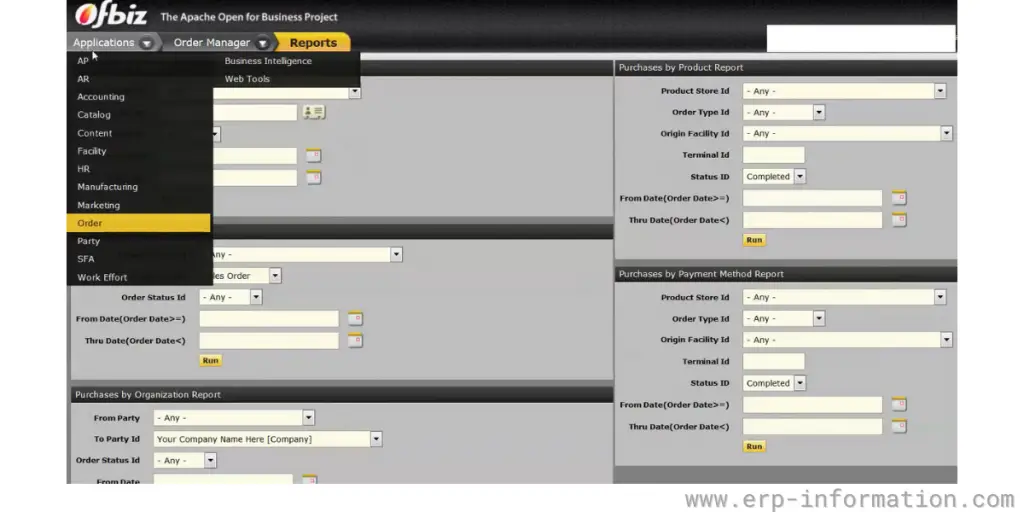 Order List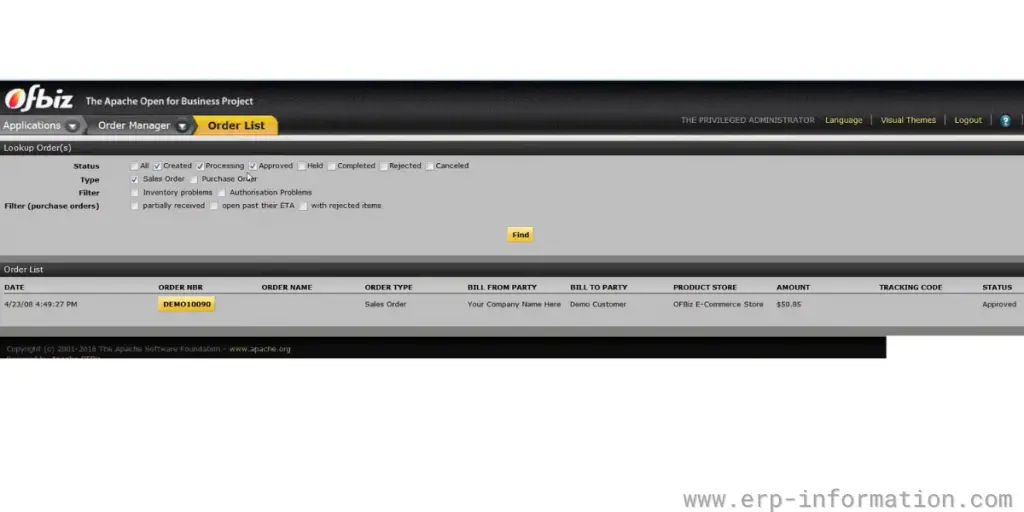 Modules
Accounting( GL,AR,AP,FA)
Customer relationship management (CRM)
Order management and E-commerce
Warehousing and Inventory Management
Manufacturing and MRP
Features
Product and catalog management
Promotion and pricing management
Supply chain Fulfillment
Contracts, Payments, and Billing
Apache OFBiz Advantages
It is fully free. No upfront charges
It is a fully scalable, flexible, and customizable open-source ERP
It provides varieties of features, including billing, invoicing, and vendor management.
It is developed and run by a foundation. Hence, a good and active community supports this software.
Disadvantages
Project management or scheduling is not available.
It would help if you spent more time understanding and handling the software.
It would help if you had the guidance of a person who has experience handling this software.
Alternatives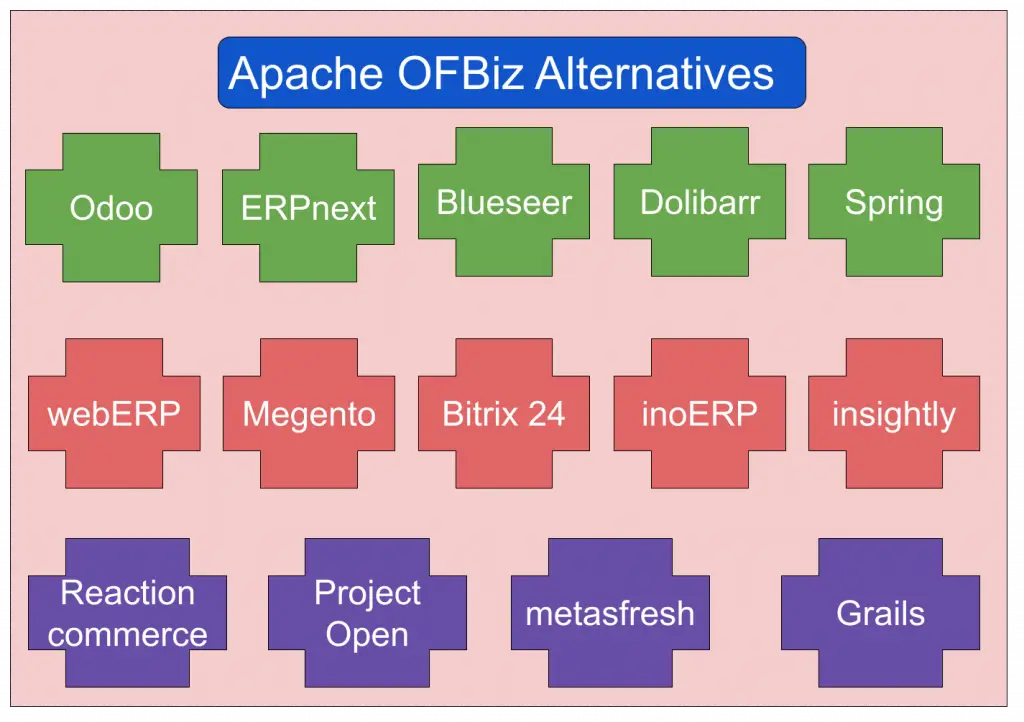 Megento
Bitrix 24
Reaction Commerce
inoERP
insightly
Project Open
Grails
Spring
Blueseer
webERP
Customers
Sonata Software Limited
Acepac International
HotWax Systems
SPEL Technologies
Apache OFBiz v/s Odoo
| | | |
| --- | --- | --- |
| | Apache OFBiz | Odoo |
| Categories | Business Management | ERP, CRM, Accounting |
| Deployment model | ——— | Cloud, On-premise, Odoo. sh |
| Intended users | All sizes (Good for small and midsize businesses) | All sizes |
| Programming langauges | Java, Javascript, XML, Freemake, Groovy | Python, XML, Javascript |
| License | Apache license 2.0 | GNU lesser, GPLv3, Proprietary |
| Supported devices | Web apps, Windows, Mac, Linux | Windows, Web apps, Mac, Linux, Android, iOS |
| Language support | English | Multi-lingual |
Conclusion
Apache OFBiz is open-source, enterprise-class software that companies can use across any industry.
It has shown its stability and maturity as an enterprise-wide ERP solution that is flexible enough to change your business.
The future
The future looks bright for Apache OFBiz, and we can expect to see more businesses adopting it as their go-to ERP solution.
We hope this has been a helpful introduction to Apache OFBiz. You can find more information on the project and its capabilities on the Official Website.
You can find more open source ERP similar to Apache OFBiz ERP.