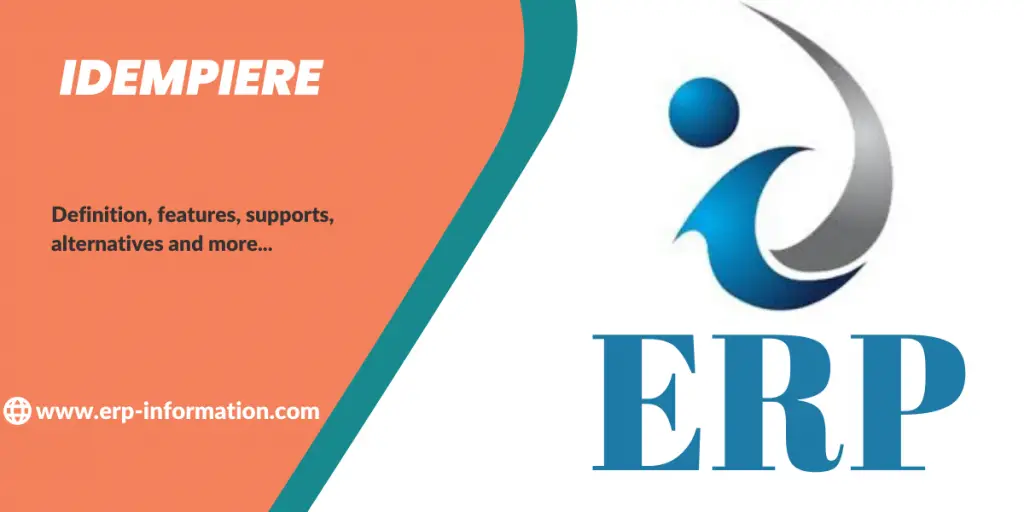 iDempiere is a cross-platform, open-source system for developing and deploying business applications. It provides a framework to develop web and desktop-based applications with the same set of tools.
This blog post will discuss its history and features and explore its cloud options. We'll also compare it to adempiere and Odoo.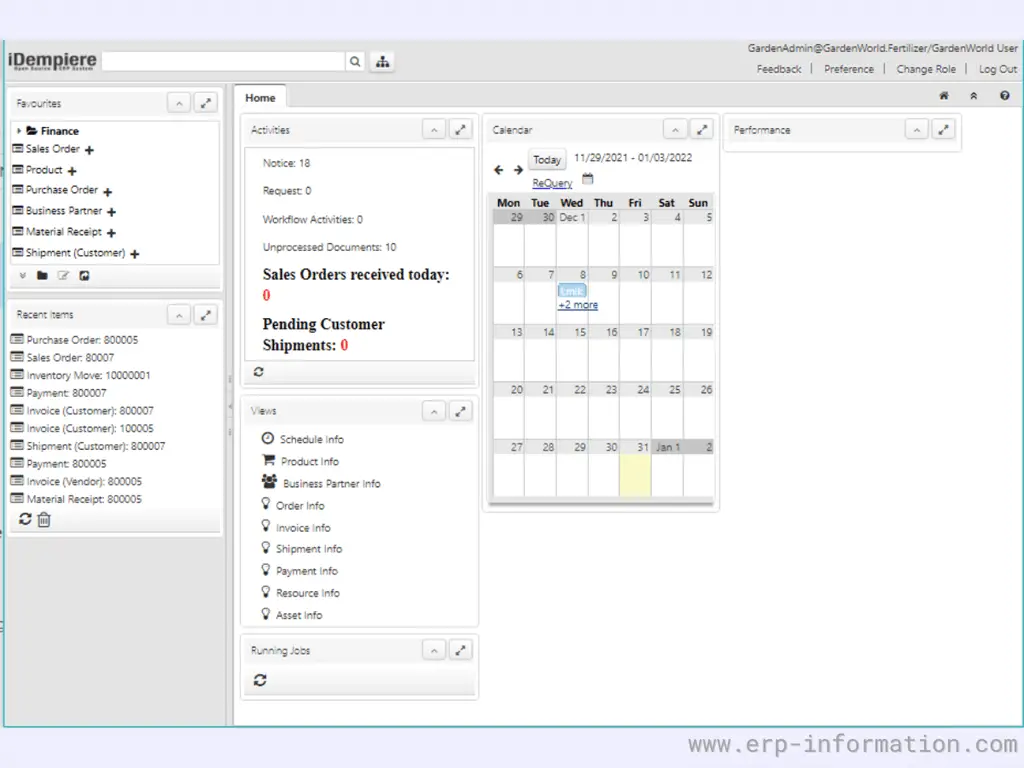 New version: iDempiere v10 stable
Release date: December 24, 2022
What is iDempiere?
This ERP is an open-source solution that is very easy to use and used by small, medium, and large industries.
It offers enterprise software in an easy, affordable way for existing businesses to access big data and ideas in the OpenStack cloud computing model without investing in expensive hardware.
It's a combination of ADempiere and OSGi. So you can use it with any ADempiere-enabled product.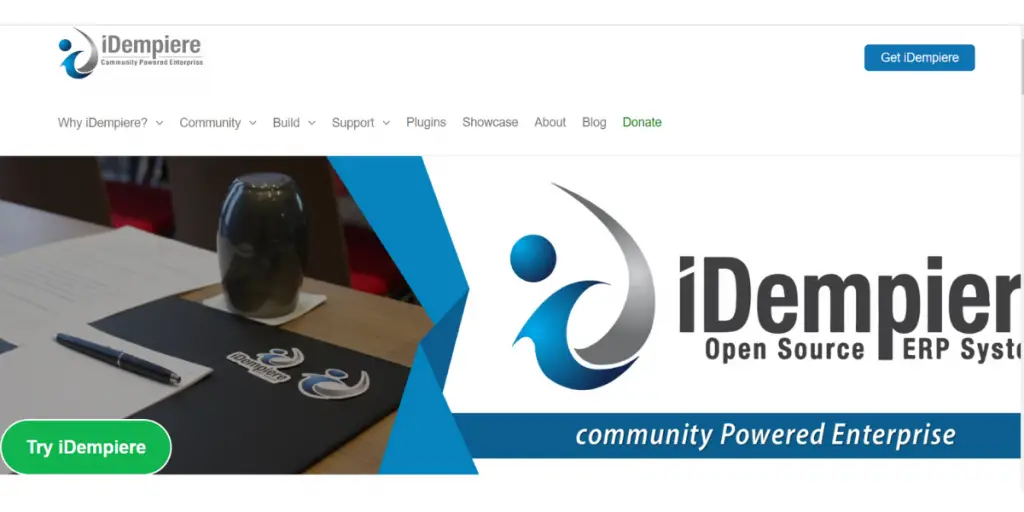 OSGi + ADempiere: what's that?
OSGi (Open Services Gateway initiative) is a Java specification for creating modular software systems. ADempiere was initially built using OSGi, but the development team has moved away from this approach. However, there is still some overlap between the two technologies, and many iDempiere users find OSGi helpful in customizing their installation.
Cloud offering
This can be deployed in the cloud. In addition, some cloud providers host this software.
It can also be deployed on-premises or in a hybrid configuration. It also has a stand-alone version that you can download, configure and run on your local machine.
source code
Its source code is available on GitHub. Users can contribute to development by submitting pull requests or reporting bugs in the issue tracker.
iDempiere pricing
It is entirely free and open-source, so there are no licensing fees for using this ERP suite! However, some providers may charge a fee for hosting or maintaining the software.
Modules and Features
It is a comprehensive open-source enterprise resource planning (ERP) software suite. It offers financial management, procurement, manufacturing, distribution, project management, and human resources management features.
It also has a well-defined object-oriented architecture that makes it highly customizable to meet the specific needs of businesses.
Features
Some Screenshots of Features
Home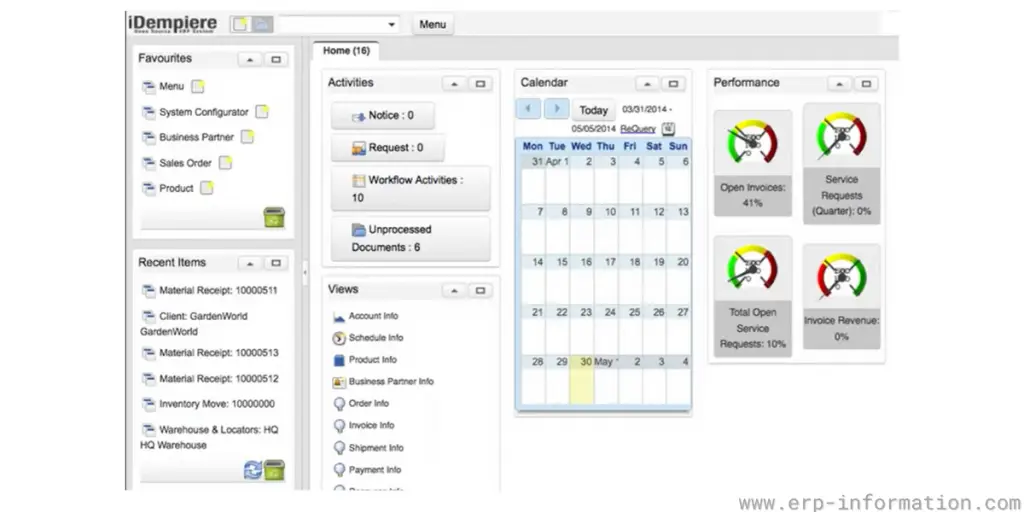 Posting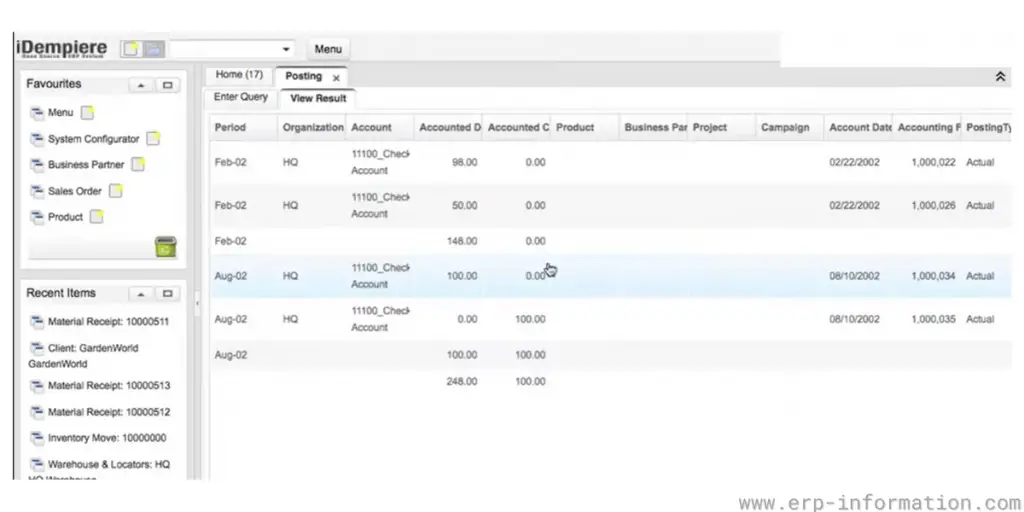 Sales Order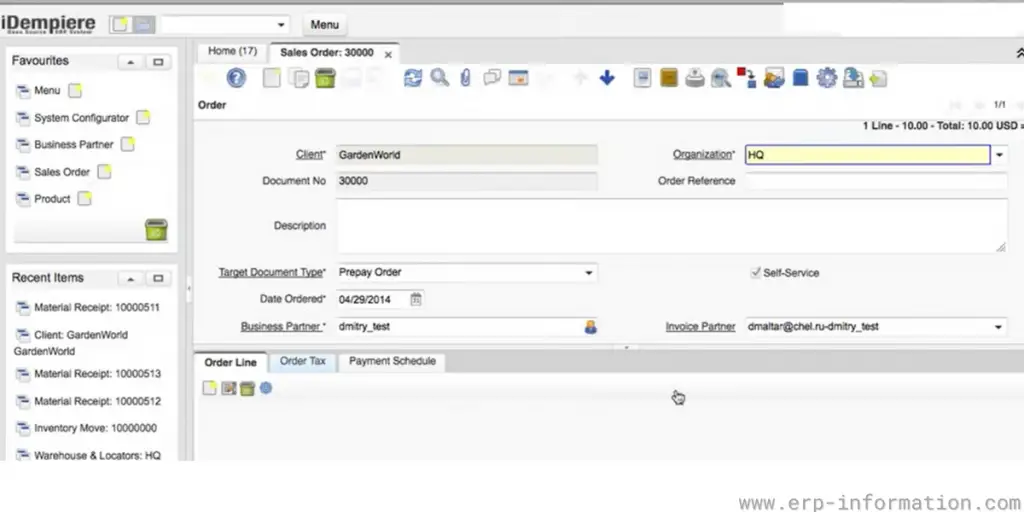 Material Receipt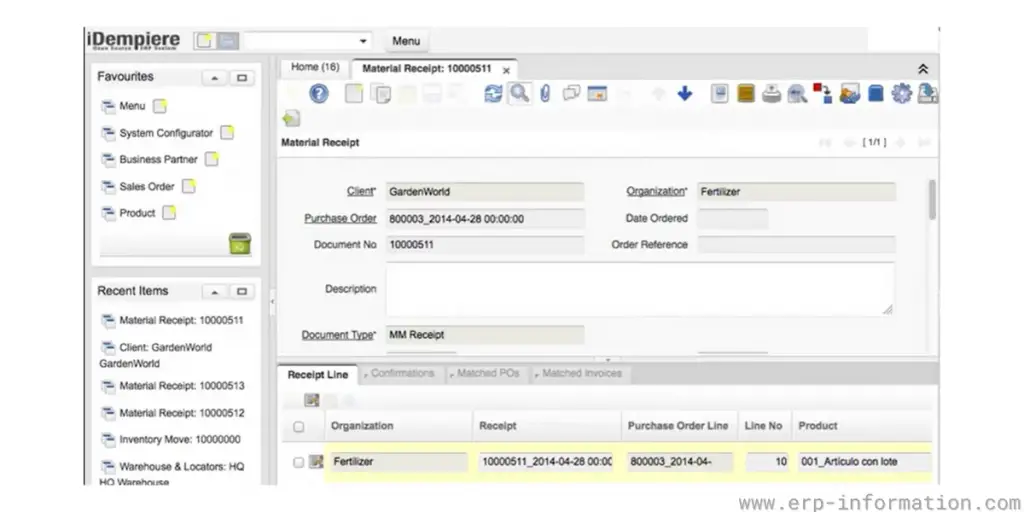 Manufacturing
Quotation and Estimates
Applicant tracking
Inventory Control
Document Management
Business Process Modeling
Invoicing
Supplier and Purchase Order Management
Field Service Management
Advantages
It reduces the cost because it is entirely free.
It is tier II ERP system.
There are no vendor lock-ins.
It has good scalability. It has multiple application servers and load balancing.
With the help of easy plugins, you can easily customize your software.
It allows its users to integrate other apps from outside. Users can add more features and functionalities to their system and make their company more productive.
Disadvantages
It can be challenging to set up and configure.
The user interface is not always intuitive.
Finding support or answers to a few critical questions can be difficult.
It is not easy for the new user to use free, open-source ERP for the first time.
What industries does it support?
It supports some of the biggest companies in different industry verticals, such as
Manufacturing
Distribution
Retail
Government
Education sector
iDempiere Alternatives
Compiere
Vienna Advantage
Insightly
Ledger SMB
Octo ERP
iDempiere v/s Adempiere
Adempiere is an older fork of iDempiere that was started in 2006. Adempiere is still maintained, but development has slowed down in recent years. The iDempiere is the more active fork, adding many new features.
| | | |
| --- | --- | --- |
| | iDempiere | Adempiere |
| Categories | ERP, CRM, Manufacturing | ERP |
| Deployment model | Cloud, on-premise | Cloud, On-premise |
| Intended users | Small, Medium, and Large | Small, Medium, Enterprise |
| Programming languages | Java | Java 1.8 |
| License | GPLv2 | GPLv2 |
| Supported devices | Linux, Mac, Windows, Solaris, Android | Linux, Unix, Windows, OS X |
| Language support | Multi-lingual | Multi-lingual |
iDempiere v/s Odoo
| | | |
| --- | --- | --- |
| | iDempiere | Odoo |
| Categories | ERP, CRM, SCM, Manufacturing | ERP, CRM, Accounting |
| Deployment model | Cloud, On-premise | Cloud, On-premise, Odoo. sh |
| Intended users | Small, Medium, and Large | Small, Medium, Enterprises |
| Programming languages | Java | Python, XML, Javascript |
| License | GPLv2 | GNU Lesser, GPLv3, Proprietary |
| Supported devices | Linux, Mac, Windows, Solaris, Android | Web apps, Windows, Mac, Linux, Android, iOS |
| Language support | Multi-lingual | Multi-lingual |
Conclusion
The features, advantages, and comparisons are covered in this article, which will help you with your better decision. Disadvantages exist, but they're easy to avoid with a little research!
Hoping this article has given you a good overview of iDempiere ERP. If you want to learn more, we suggest checking out the related wiki or one of the many online training courses. Thanks for reading!
References: