As a business owner, eCommerce is essential to the modern business landscape. More and more businesses are switching from brick-and-mortar stores to online sales, and for a good reason, eCommerce is more efficient and convenient than traditional methods.
But with so many eCommerce platforms on the market, it isn't easy to know which is right for your business. 
This post will review the 10 top B2B eCommerce platforms, their key features, price, likes and dislikes, and other important information. That will help you decide which b2b platform is best for your needs.
What is the B2B eCommerce Platform?
A B2B eCommerce platform is a type of eCommerce platform that enables businesses to buy and sell products and services online. It offers product catalogs, order management, payment processing, and shipping.
Business-to-business (B2B) eCommerce platforms are different from business-to-consumer (B2C) eCommerce platforms designed for retail consumers. B2B platforms often offer more complex features and are aimed at companies that want to manage orders and inventory internally.
B2B e-commerce platforms may also offer integration with enterprise resource planning (ERP) systems to streamline the ordering process.
Here's a list of the ten best B2B eCommerce platforms (10 B2B eCommerce company names).
1. Shopify 
Shopify is one of the best b2b ecommerce software providers. This cloud-based, multichannel digital commerce platform with built-in shopping cart functionality allows businesses to plan, set up, and manage their online stores.
Shopify's b2b e-commerce platform is designed for businesses that want to sell products or services online.
Features
A dedicated B2B sales channel that allows businesses to sell products or services directly to other businesses
Multi-user accounts so businesses can create separate logins for different employees or departments
Integrated accounting and order management tools
Integrated with ERP and CRM
100+payment providers
Supports all international currencies and languages
Cataloging/Categorization
Wholesale and Multichannel Marketing
API supported
Custom pricing
Drop-shipping
Enables secured platform for online business (compliant with Level 1 PCI DSS, GDPR, Built-in SSL certificate)
Screenshot of Shopify
Likes
Traffic and usage can be scaled automatically by using a scalable architecture.
It provides a quick and easy setup.
It is the best application for multiple-site management.
Dislike
Shopify ecommerce website updates and editing code are not as straightforward as they seem.
Other Details
2. Oracle SuiteCommerce
It is a complete, unified commerce platform that helps businesses increase online revenue, improve conversion rates, and reduce operational costs by providing POS solutions with cross-channel and centralized data.
Features
Supports both B2B and B2C e-commerce
Offers an omnichannel solution
Centralized data management
Supports multiple currencies and languages
Suite-Commerce's drag-and-drop site builder
Pre-built starter sites and templates
Product search API
Likes
It provides all features which are necessary for e-commerce business.
Software is customizable, flexible, and scalable.
Handles extensive product database.
Dislike
Implementation and maintenance cost is very high because of too many upgrades.
Other details
3. BigCommerce
BigCommerce is a b2b e-commerce platform that helps businesses of all sizes to sell online. With customizable storefronts, secure checkout, and comprehensive reporting tools, Big-commerce makes it easy for companies to start and grow their online sales.
Hosting is provided by BigCommerce, which means you access it through a web browser and manage the store from any location.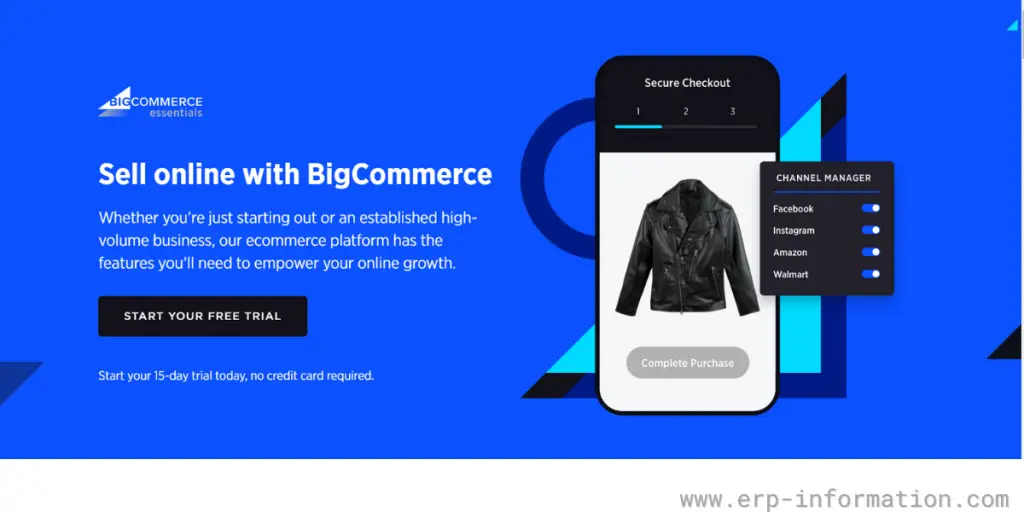 Features
An integrated B2C and B2B solution
Unlimited storage
Data, APIs, and SDKs are available for free
Advanced report analytics
Provides free templates
Unlimited staff accounts
CSS and HTML customization capabilities
A large number of product options
Supports multichannel, multi-currency, multi-shipping, and multi-languages
Likes
Fast, user-friendly, and easy to implement
Integrations with multiple payment methods, marketplaces, and POS systems
Requires less coding knowledge to run store
Dislikes
Not easy to customize free themes
Need improvement in customer service
A rise in revenue leads to an increase in pricing plans
Other details
4. OROCommerce
OroCommerce is a B2B E-commerce platform that enables businesses of all sizes to sell products and services online.
Features
Data security
API
CRM
Catalog management
Categorization
Customer segmentation
Product personalization
Credit card payment
Checkout process customization
Some screenshots of Orocommerce
Likes
Purely B2B focused on efficient structure and seamless integration
Enables a powerful data grid
Transaction between two businesses is handled very well.
Dislikes
The customization learning curve is not easy
Working in the local environment is too slow
Other details
5. CS-Cart
CS-Cart is an eCommerce solution for businesses of all sizes. It is a complete out-of-the-box shopping cart software that can easily customize your specific business needs.
Features
Easy use CMS
Provides customization with layout and theme editor
Different administrative access levels can be assigned to workers
Google Analytics has built-on sales reports 
Built-in sales reports integrated with Google Analytics
Database backup and restore tool
Multi-currency and multi-template support
Likes
Can manage many vendor accounts and visitors with broad functionality and a high degree of customization
Web page design help to design a site as you want
Dislikes
Failure in upgrade may happen
Lack of professional assistance
Other details
6. Pepperi
Pepperi b2b e-commerce platform is a cloud-based eCommerce solution designed specifically for businesses that sell online to other companies (B2B).
Built on a responsive web platform, Pepperi allows businesses to create their customized online storefronts and catalogs, streamline order management, automate marketing, and boost sales productivity. 
Features
Customizable and responsive web store builder – Business can create their own branded store complete with category pages, product detail pages, shipping and payment options, customer account settings, etc. 
Easy-to-use product catalog manager – Add/edit products, sync with existing inventory, manage pricing and discounts, create promotions, etc. 
Order management system – Track orders from start to finish, process payments, manage returns and refunds, etc. 
Built-in CRM system – Manage customer contact information, create customer profiles, track sales history, etc. 
Powerful marketing toolkit – Businesses can create and automate marketing campaigns, segment customers, track results, etc. 
Mobile app for sales reps – Sales reps can use the Pepperi app to access customer information, place orders, track inventory, etc., while on the go.
Dashboard and widgets – Gives an overview of the business operations Centralized data, online/offline order, multicurrency support Omnichannel.
Likes
It enhances customer experience, increases sales, and saves time
Highly configurable
Easy and speed order placing
Dislikes
Need improvement in performance while managing a large number of catalogs for various sizes and colors
Use cases more than 24 use cases, including workflow, merchandise, and account management
Other details
7. WooCommerce
WooCommerce is the free and best eCommerce platform for small businesses. It enables business owners to create online stores to sell products and services directly to customers. WordPress powers Woo-Commerce, so it's flexible and customizable. And it's easy to use, so you can start selling immediately.
Features
Secure payments, configurable shipping options
Run store from any location using Woo-Commerce Mobile App
Rest API support
Scalable and can be integrated with any software
Various promotions and offers discounts
Create customer groups and apply rules
Guest access restriction to prevent unauthorized access
Price, tax, and quotation management
Search options (SKU and live search)
Multi-language and multicurrency support
Likes
Excellent plugin with extensive functionalities.
An easy-to-use and reliable tool.
Dislikes
Even though a plugin is free, it needs third-party paid plugins to improve e-commerce features.
Needs paid IT professional help for integrations.
Other details
8. Adobe Magento commerce
Adobe Magento commerce B2B e-commerce Platform is a cloud-based solution that allows businesses to create and manage their online stores.
It provides tools for managing products, orders, payments, and shipping and optimizing the customer experience. It also integrates with other Adobe solutions, such as Adobe Marketing Cloud and Adobe Experience Manager.
Features
Bulk order management
BI Dashboards
Product catalogs, payment processing, order tracking, shipping management
API support
Provides product catalog and categorization
Content and communication management
CRM
Other details
9. Quick eSelling
Quick eSelling Shopping Cart is a turnkey solution for businesses that want to sell products and services online.
It is an all-in-one platform that provides everything you need to create a professional online store, including a website builder, shopping cart, payment processing, and customer management tools.
Features
Data security
Kitting
Multichannel marketing
ERP integrations
Built-in marketing tools
High-quality e-catalog display
All in one platform
Screenshot of Quick eSelling
Likes
Easy to use and update application
CRM module support bulk uploading
Excellent customer support
Dislikes
The application is not readily available and needs installation
Missing many basic features needs improvement in application development
Other details
10.NuORDER
NuORDER is a cloud-based order management system (OMS) designed to streamline the order process for businesses that sell wholesale products.
Features
Integration with accounting
Product catalogs
Customer management
Shipping software
Order tracking and invoicing
Rich media support using 3D products, 360 imagery, virtual showrooms
Customer-specific discounts, prices, and products
Likes
Management of orders and inventory is made more accessible with this tool
Products will be automatically matched to photos through Dropbox integration
Dislikes
A limited number of customization are available
Standard reports need to be improved
Other details
Conclusion
The above listed are the 10 best B2B eCommerce platforms you can use to sell your products online. Each platform has its features, prices, and integrations that make it unique.
Choosing the right platform for your business is essential based on your needs and budget. Adobe Magento and Quick eSelling are two of the most popular platforms, while NuORDER is an excellent option for businesses that sell wholesale products.
Reference