ERP Purchasing module streamlines the procurement of required raw materials. It automates the processes of buying. Processes include identifying potential suppliers, negotiating the price. Awarding purchase order to the supplier, and billing processes are also included.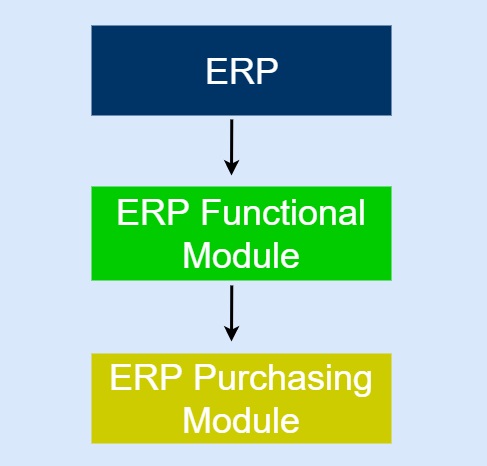 The purchase module is tightly integrated with the inventory control and production planning modules.
The purchasing module is often integrated with supply chain management software.
Features of ERP purchasing module
Streamlines purchase and process cycles.
Detailed Supplier/Subcontractor/Service Provider database.
Capturing materials requirement.
The automatic firing of purchase requisitions based on MRS.
Quotations from various suppliers.
Recording Payment terms in PO.
Excise consideration in Purchase and Process Orders.
PO authorization.
PO amendments with complete amendment history.
Order cancellation and order closing.
Multiple delivery schedules.
Quality inspection of goods.
Quotation validity.
MIS for vendor evaluation based on quality, price & delivery time.
Subcontracting, generation of process orders.
Multiple indents for multiple items in a single PO.
Purchase order processing.
Purchase order entry with item details and other details like taxes, discounts. Extra charges like freight, P&F, octroi.
Flexibility to generate Purchase Order in domestic and foreign currency.
Advance adjustments.
Purchase bill with updating of GL and purchase book.
Service contracts, Service Bills, Service indents and PO.
Value-based approval of indents.
Bill of entry.
Complete import functionality with the handling of custom details. Purchase bill for import, excise consideration in imports.
Reports for order tracking for complete control over the procurement cycle.
ERP Purchasing module aims at making available the required materials of
The right quality.
In the right quantity.
At the right time.
At the right price.
for the smooth functioning of the organization.
All purchasing and subcontracting activities such as,
Inviting quotations.
Supplier evaluation.
Placing purchase-order.
Order scheduling.
Billing.
Import of goods.
are covered in this purchasing system.
Fins more about ERP purchasing module and related ERP modules here.