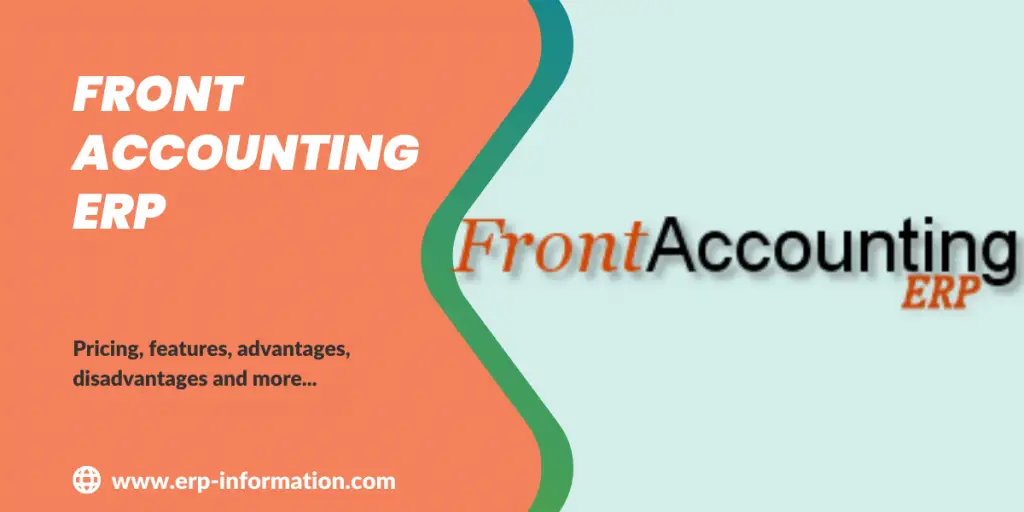 Are you looking for web-based accounting software to automate your accounting activities like purchasing, AR, AP, and inventory stock? It is essential to have automated software or system to enhance your business.
We are here to discuss FrontAccounting ERP software.
This article discloses the FrontAccounting ERP features, pricing, advantages, and disadvantages.
New version: 2.4.15
Released date: February 24, 2023
What is FrontAccounting?
It is a free, open-source, web-based software specially designed for accounting purposes. It is suitable for small and medium-sized businesses.
FrontAccounting will help you to streamline your process. This software automates many accounting activities, such as purchasing, accounts receivable, and accounts payable. This can save a lot of time and improve accuracy.
In addition, this ERP integrates with other software applications, making it easy to manage all your business information in one place and very affordable.
It is multilingual and multicurrency, and multiuser software
It provides double-entry accounting
Written in PHP and MSQL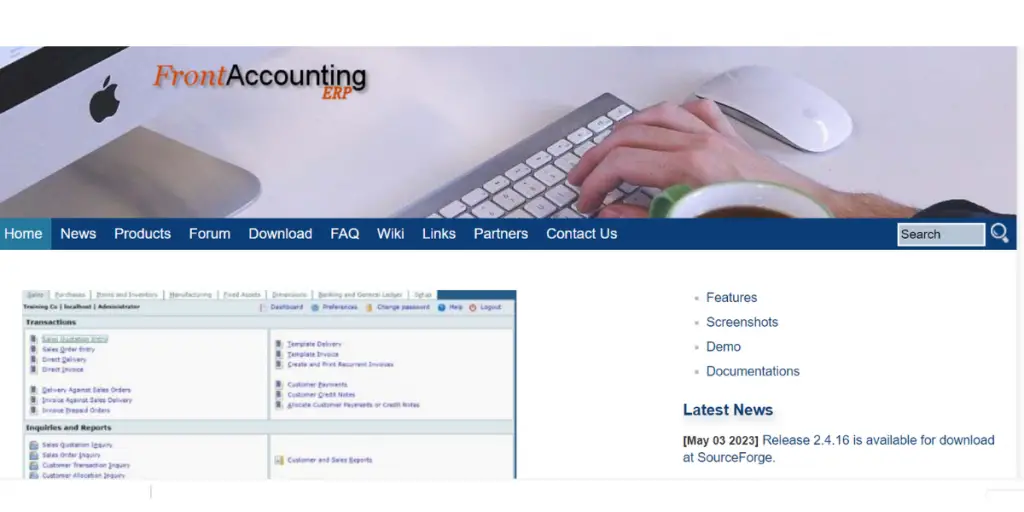 Pricing
This software offers a free version, and The pricing model is per feature type. For more pricing details, contact the vendor only.
Other information
Deployment – Cloud, SaaS, and web-based.
FrontAccounting Modules
Sales and Accounts Receivable
Prepares sales quotation
Opening customer accounts and branches
Prepare sales orders and goods delivery notes
Prepares customer invoices and credit notes
Prepares customer invoices and batch invoicing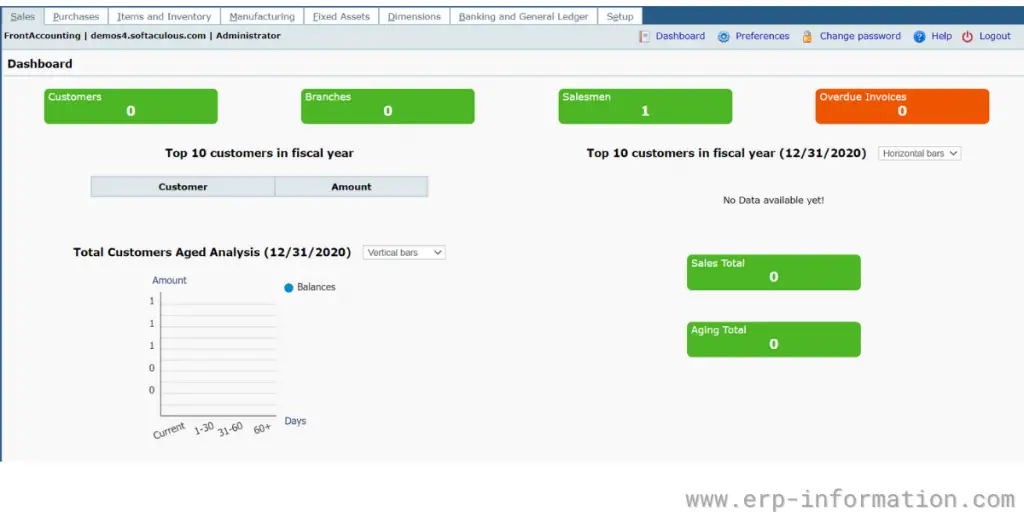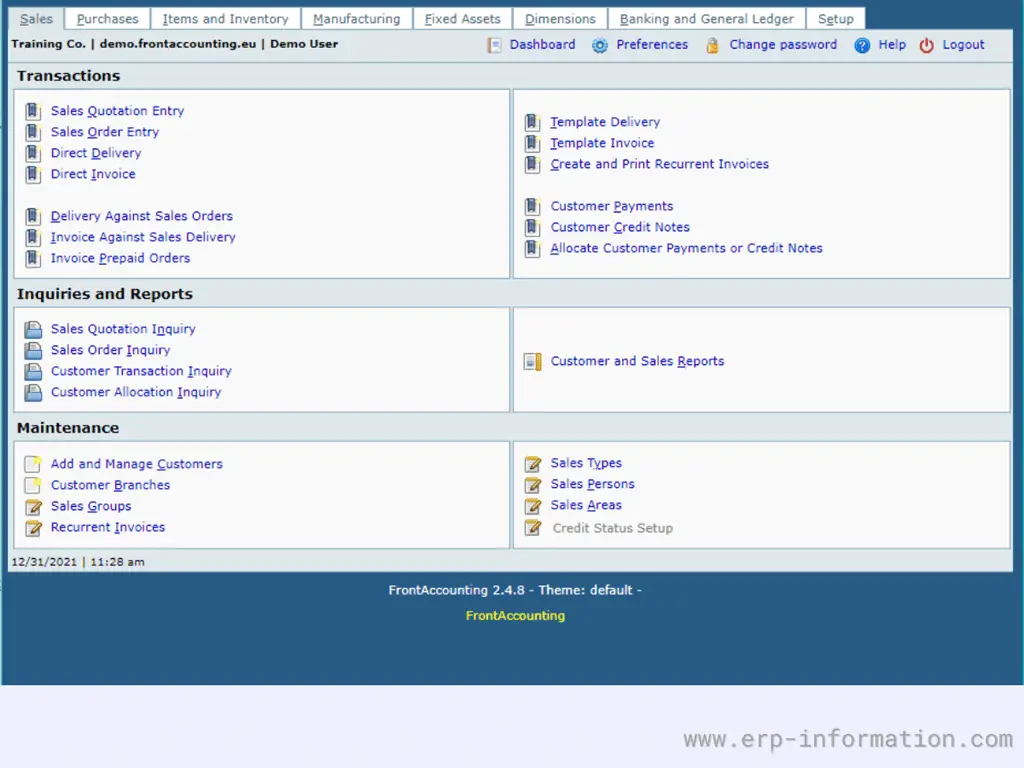 Purchase and Accounts Payable
Open supplier accounts
Make purchase orders, receivable notes
Prepares debit and credit notes for supplier
Taking care of the Purchase price list
Maintaining the scanned documents and purchase invoices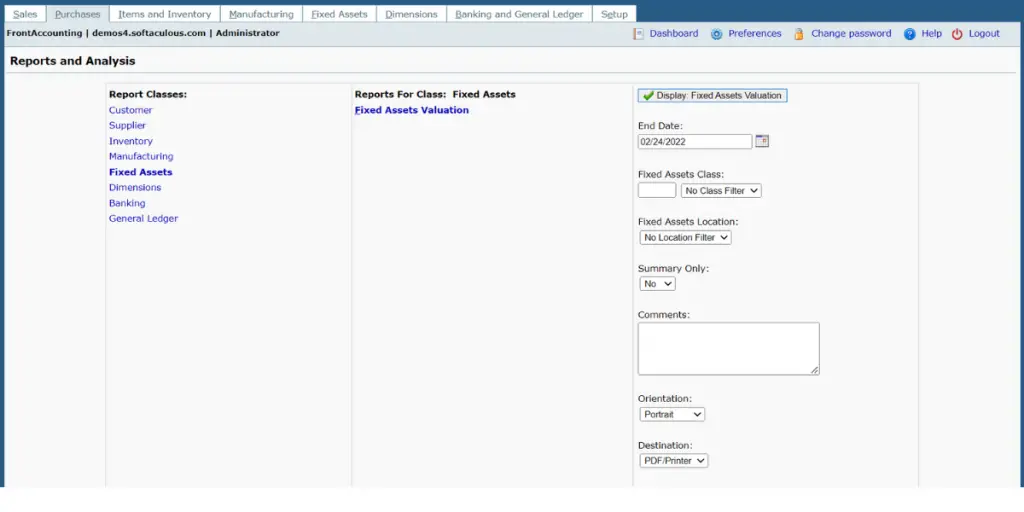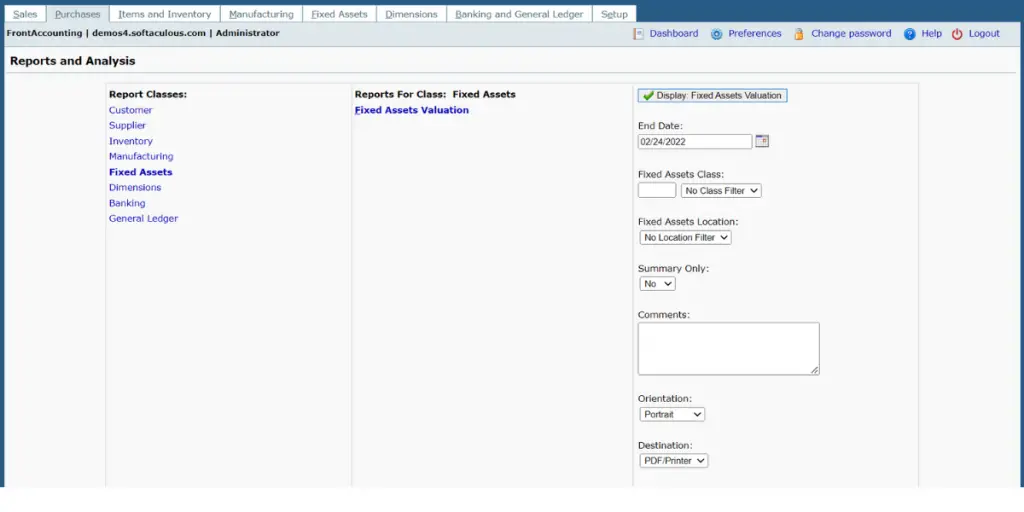 Inventory and Stocks
Maintains the record of stock by defining its category and location
Automatic calculation of material cost and maintains the reorder level of inventory
Barcode scanning and foreign registration procedure
Measuring the number of items into standard units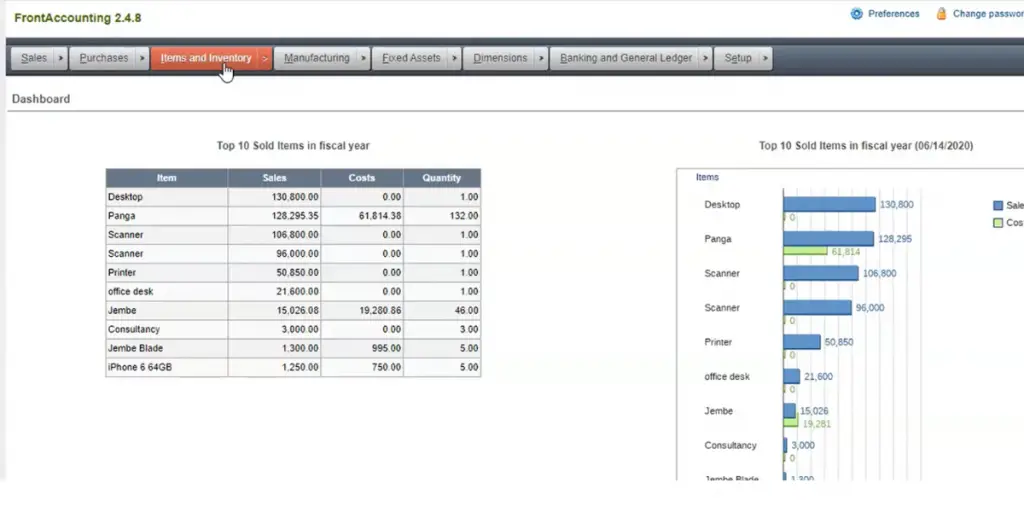 Manufacturing
Prepares bills of materials
Prepares work order entry
Manages the work center inquiries
Simple assembling of the features
Quickly adding the advanced production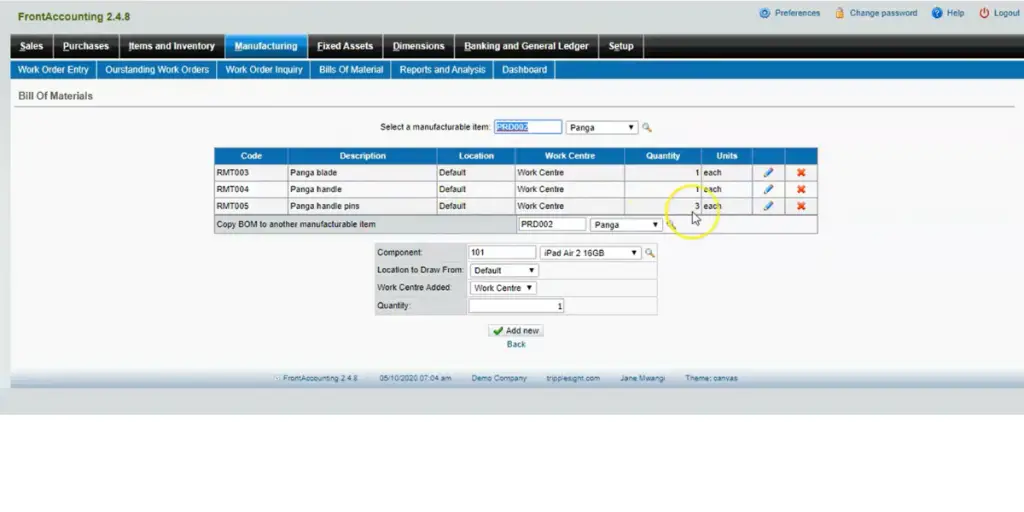 Dimensions
Two-level dimensions are possible
Department level and cost level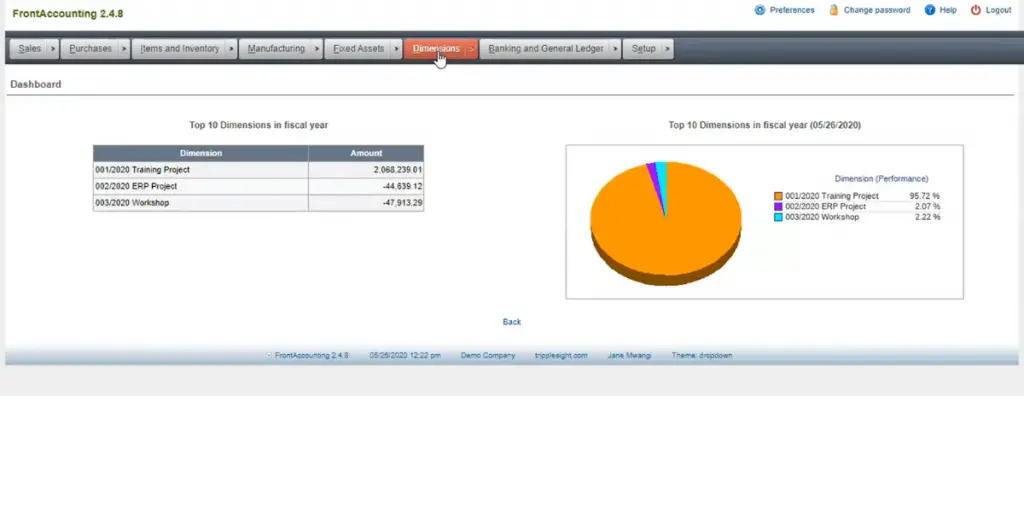 Cash and Bank
Opening the bank account and petty cash account
Managing the payment records, withdrawals, and deposits
Prepares bank account reconciliation
Foreign currency translation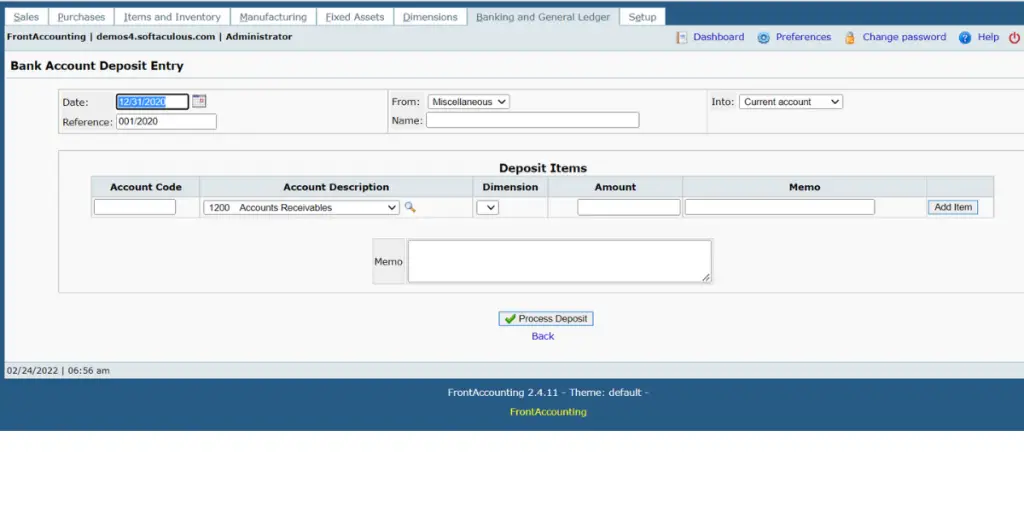 General Ledges
Opening the general ledger and passing the journal and budget entries
GL with details of inquiries and drill-down reports
Filtering the GL
Quick entries in bank transactions and journal entry
Gernoul entry view option is available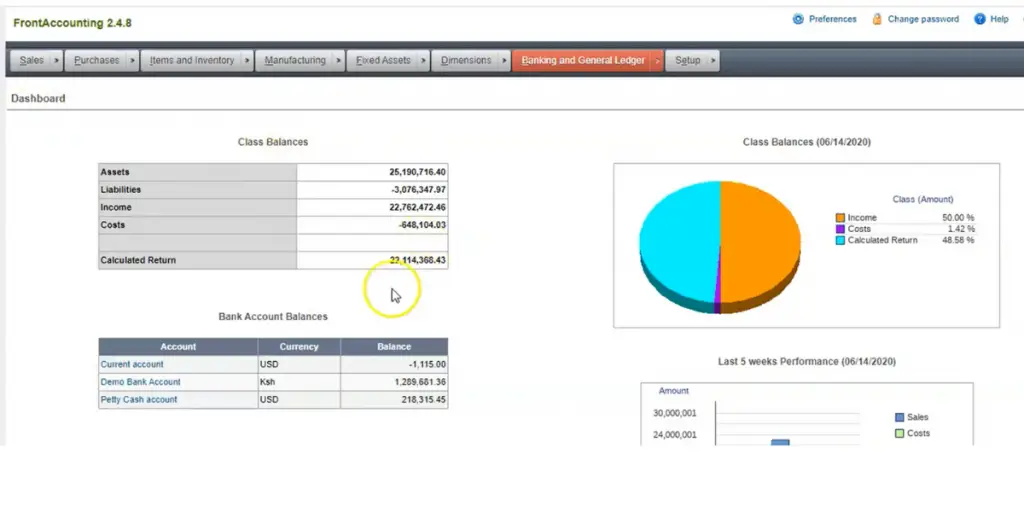 Fixed Assets
Fixed asset sales, purchases, and inquiry
Maintains the disposal, depreciation, and location transfer of fixed asset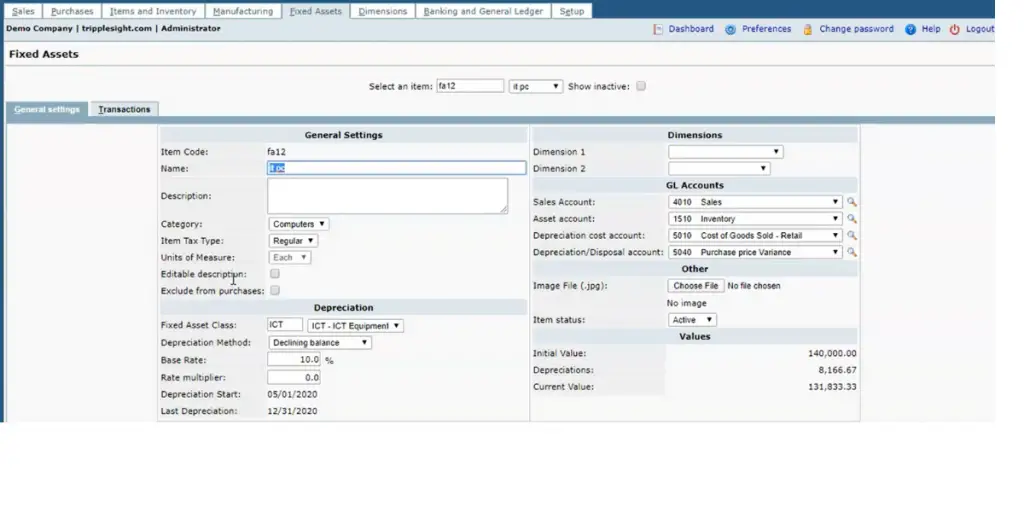 Access Levels and Adaptations
Multiuser access rights and multi companies can setup concurrently
Feature of backup and restore
Simple audit
Reports
Generating the reports periodically
Graphical representation of financial analysis
Exporting the reports in MS Excel or open office calc format
Sending the reports in PDF format through Email or print to customers
Apart from these general modules, the software also offers some advanced modules listed below.
Multicurrency Support
Advanced GST/VAT handling
Malti Language Support
Advantages
It provides double-entry transactions, processing, and supporting functionalities.
It has flexible tax configuration potentials.
It is user-friendly, cost-effective, and very convenient to use.
No subscription fees, no licensing fees, and no upgrade costs.
Disadvantages
It does not provide a free trial.
You cannot find customers by name, phone number, or address.
The robustness can cause duplication, and the simplicity can sometimes make it difficult to use.
FrontAccounting Alternatives
Patriot Accounting
CosmoLex
DLS Financials
Ecount
Zohobooks
Accounting power
AccountMate
Sage Intacct
Freshbooks
You can find more open-source ERP software similar to FrontAccounting.
Conclusion
FrontAccounting is a free accounting software package that offers many features and advantages. While there are a few limitations to consider before making decisions. Overall, Frontaccounting is an excellent choice for small businesses or organizations looking for affordable.
We hope this blog post has helped you to get a clearer picture of frontaccounting and helped you to find good financial accounting software.
References