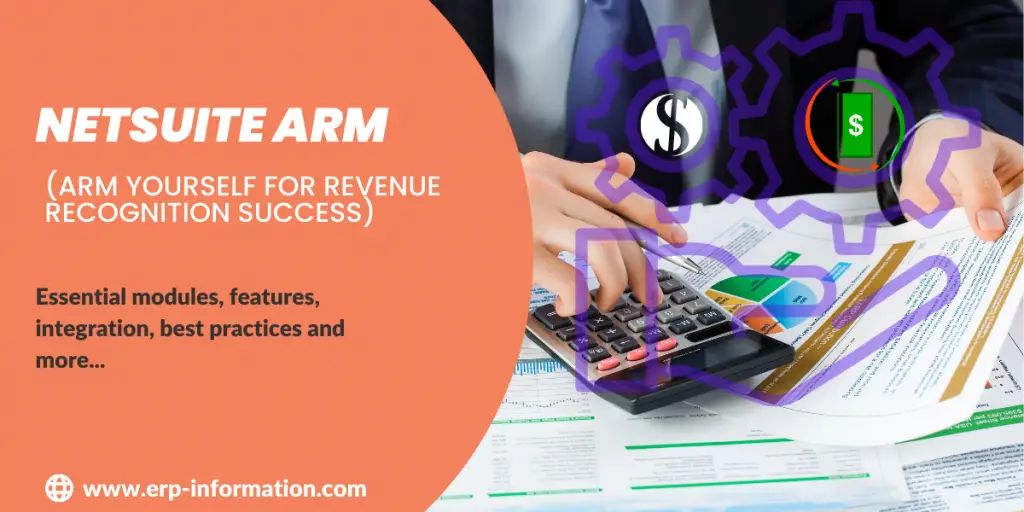 Understanding revenue recognition in the context of shifting regulatory standards, particularly under ASC 606, can be a tough task. Also, finding the right solution to do the same is difficult.
This is where NetSuite ARM emerges as a potential solution, streamlining compliance efforts and aiding in formulating a robust strategy to meet regulatory standards. Companies get a helpful tool that helps handle revenue rules and makes sure they follow strict regulations. This means they can organize their finances better and do things correctly without worrying too much about breaking the rules. Read on to know more.
This blog post will explore what you can expect from NetSuite ARM, benefits, essential modules, key features, integration, best practices for setting up and using it, and industries supported.
What is NetSuite ARM?
NetSuite advanced revenue management is a comprehensive solution that helps businesses automate and streamline their revenue recognition process.
With this module, businesses can automatically generate revenue recognition rules based on customer contracts, track and manage revenue recognition schedules in compliance with IFRS 15 and ASC606 regulations, and generate accurate financial reports.
It also gives users real-time visibility into their revenue recognition process status to quickly identify and resolve issues.
Why does it matter to your business?
The solution offers many benefits over traditional spreadsheet-based solutions, including:
Elimination of manual data entry and complex formulas
A single, unified view of all revenue across the organization
Improved visibility into the revenue recognition process
Greater control over the revenue recognition process
Faster, more accurate financial reporting
Efficient, saves time and resources, allows the finance team to focus on strategic tasks
Enables better decision-making within the organization
Makes informed choices about resource allocation, investment opportunities, and revenue forecasting
Manage and track the multiple revenue streams, products, or services
Allows to gain insights into the performance of different aspects of the business
Easily access reports and data to understand how revenue is recognized
Valuable for internal stakeholders, investors, and auditors
Essential modules
There are five essential modules:
Contract management
NetSuite's Contract Management module offers a centralized repository for customer contracts.
With this module, you can easily track and manage contract renewals, view contract terms and conditions, and generate reports on contract performance.
Revenue recognition
The revenue recognition module automates the revenue recognition process and ensures compliance with IFRS 15 and ASC606 rules.
With this module, you can generate revenue recognition rules based on customer contracts, track revenue recognition schedules, generate accurate financial reports, and get real-time visibility into the status of your revenue recognition process.
Revenue Recognition rules include the recognition method, the source of the amount, and the start and end dates.
It can easily make adjustments to revenue recognition without affecting any of your other results.
Your global business management can be easier with multicurrency and multi-subsidiary intelligence.
Financial reporting
The financial reporting module gives users real-time visibility into their revenue recognition process status.
All regular revenue postings for future periods are predicted in the forecast.
With this module, you can quickly identify and resolve any issues with your revenue recognition process.
The module allows drill-down functionality to account for each transaction seamlessly.
Revenue arrangement management
The revenue arrangement management module helps businesses manage their revenue arrangements.
This module lets you track revenue arrangements, view arrangement details, and generate reports on arrangement performance.
It keeps track of client performance obligations to allocate and recognize revenue.
It creates revenue contracts from previously authorized sales transactions in NetSuite.
Optimizing complex allocations
The allocation module automatically allows businesses to allocate revenue and expenses across multiple dimensions.
This module can efficiently allocate revenue and expenses by customer, product, location, and more.
It enables user-defined dimensions and allows a single item or group of items to have different stand-alone selling prices(SSP) and meet sorting requirements. 
Revenue scheduling
The revenue scheduling module helps businesses schedule their revenue recognition.
This module allows you to create and manage revenue schedules, view schedule details, and generate reports on schedule performance.
Performance and project milestones can be built into the revenue plan for each contract to track revenue accurately.
 Key features
Revenue recognition and billing can be done simultaneously with its integrated workflow model
The actual selling price can be compared to the estimated selling price in exception reports to ensure accuracy
It can determine a revenue recognition method appropriate for each line item
You can choose prepackaged templates for common recognition methods or create a custom template that meets your needs
Dashboards can be customized to combine revenue arrangements
Structured to comply with changing ASC 605, ASC 606, and IFRS 15 rules and requirements
Its rule-based architecture provides recognition, automation, scalability, revenue forecasting, allocation, and reclassification
Improved accuracy in revenue recognition, reduced compliance risks, and enhanced financial reporting
Automated rule generation, revenue schedule management, and real-time reporting
Financials, customer relationship management, and order management are the Integration capabilities
Integration
It integrates with other NetSuite modules, such as current ERP applications, for example, third-party ERP applications, Oracle finances, and SAP.
Best Practices for Setting Up and Using ARM NetSuite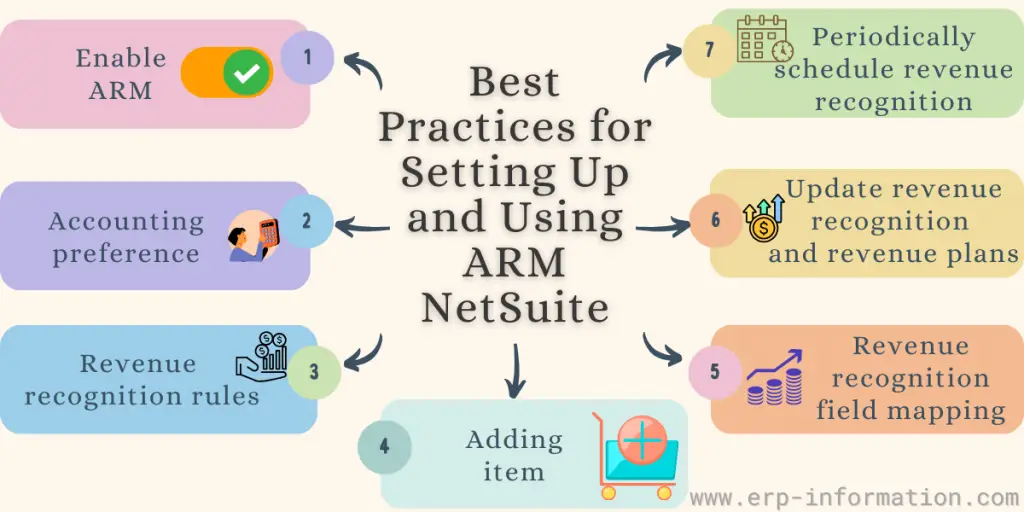 1. Enable ARM
It would help if you got assistance from NetSuite professionals to move from essential revenue recognition to Advanced Revenue Management. 
Make note that ARM cannot be disabled once enabled.
2. Accounting preference
You can enable automated revenue arrangements and plans to avoid manual mistakes with many transactions.
Select a customizable or default revenue arrangement form according to your business requirement
3. Revenue recognition rules
Selecting the start and end date and initial amount to be recognized is essential to create new Revenue recognition rules.
If you have used revenue recognition rules, you cannot delete them.
4. Adding item
You can choose an item revenue category while setting up a fair value price list instead of selecting individual items.
You can create revenue plans for revenue arrangements, billing, fulfillment Etc.
5. Revenue recognition field mapping
This is required to map sales orders to a revenue arrangement
6. Update revenue recognition and revenue plans.
7. Lastly, it's crucial to regularly schedule revenue recognition journal entries.
Industries supported
The module is suitable for various businesses and industries, including but not limited to the following:
Software: SaaS, on-premise, digital goods
High-tech manufacturing: semiconductors, electronics
Professional services: advertising, architecture, engineering, management consulting, law
Telecom: equipment, service providers
Industrial products: aerospace and defense, discrete manufacturing, process manufacturing
FAQs
What are fair value methods supported by NetSuite ARM?
Stand-alone selling price (SSP), vendor-specific objective evidence (VSOE), the best estimate of the selling price (ESP), and third-party evidence (TPE) are the fair value methods supported. In addition, revenue allocation ratios are determined by using appropriate values.
What is the NetSuite ARM migration tool?
It is a Java-based utility that helps customers migrate their data from NetSuite's Revenue Recognition module to NetSuite's ARM module.
The tool supports data migration from on-premise and cloud-based NetSuite environments.
The tool can n migrate data from multiple NetSuite environments into a single NetSuite environment.
What is the need for NetSuite ARM certification and training?
The certification process ensures that you understand revenue recognition concepts and their application in Netsuite. 
After obtaining your certification, you'll have access to the training. The training is designed to help you implement Revenue Arrangement Management in NetSuite. It covers creating revenue arrangements, managing items and contracts, and troubleshooting common issues. 
Conclusion
Revenue management is a critical process for any business. NetSuite's Advanced Revenue Management module provides the tools you need to automate and streamline revenue recognition.
The module is suitable for businesses of all sizes and industries. It is easy to use and provides the flexibility you need to manage your revenue recognition process.Thank you for reading!
References