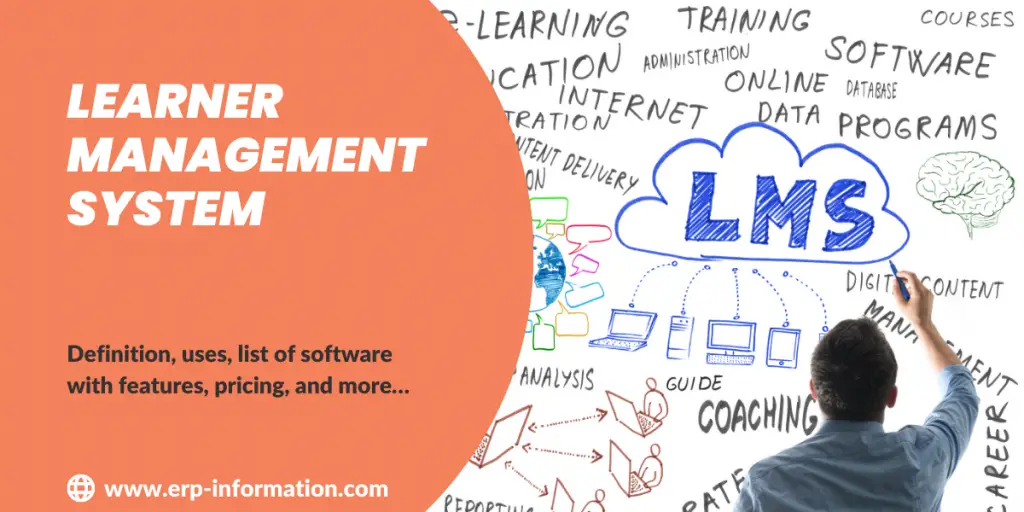 In today's world, we see advancements happening in all spheres, be it engineering, healthcare, finance sector, education, and others; becoming aware of these changes and gaining the latest information becomes necessary for progress.
Individuals and professionals must update and refine their skills and expertise to perform well at their work for themselves and their organizations.
It is here that Learner Management Systems play a key role. This blog gives you a birds-eye view of Learner Management Systems (LMS), their uses, and a list of some of the best LMS, their features, benefits, pricing, and more. 
Definition of Learner Management System
A Learner Management System is a web-based platform that helps plan, manage, and assess a learning program. It provides all the requirements to manage the learning process effectively, such as training, content, activity, assessments, and more.
It is predominantly used for e-learning, educational institutions, and organizations to create course materials, activities, certifications, training modules, evaluations, and more. The LMS aids proficiently and promptly cater to students, individuals, and professionals.
Learner management Systems are used by corporate organizations, industries, educational institutions, and even some government agencies.
Uses 
Well structured and simple to manage the entire learning process.
Aids in the knowledge development process for students or employees
It is a centralized hub for information and content that can be stored, updated, and edited.
It allows multiple users to use the content and courses from anywhere and at all times at their convenience, thus cutting out on travel expenses and likes.
Cost-effective tool for enterprises as compared to the traditional methods like classrooms, seminars, copies, books, space, etc
Contemporizes the learning process for enterprises, instructors, and seekers. 
The availability of information is accurate and fast.
Useful in tracking individual progress
Some of the best Learner Management Systems available in the market : 
1. Absorb LMS
An award-winning LMS platform allows organizations to upskill their employees and be in tune with the latest developments. It offers customized solutions for industries of different sizes and also diverse learners.  
Features
Engaging learner platform-Multimedia content formats, responsive design, social learning, branded interfaces
Reliable support– 24/7/365 from anywhere and Client Success Manager for further inquiry 
Actionable reporting
Turn-key learning content-well-designed and expert-curated courses, video-based microlearning courses
Robust security
Modern mobile app
Likes
Easy to use
Good customer support
Convenient UI 
Dislikes
Limited assessment options
Some difficulties in configurations
Fewer customization options
Other details
2. iSpring Learn
It is a comprehensive platform for creating, tracking progress, providing content, evaluating, onboarding, and assigning tasks. In addition, it makes employee training easy and effective. 
Features
Engaging courses online
Online meets in-person training for higher knowledge retention.
Effective training through social learning
Easy tutorials for new learners
Notification about new assignments and upcoming deadlines
Scoring of tests 
Automatic integration with the HR system 
Improves training and learning with real data 
Likes
Easy-to-use interface
Good customer service
Convenient features
Multiple learning paths 
Dislikes
Limitations with reporting options
Limitations with some integration tools
Incompatible with the Google Suite 
Other details
3. Mindflash -Trackstar 
Mindflash -Trackstar is a convenient cloud-based LMS ideal for any organization training program. It makes training employees, onboarding recruits and clients, upskilling and retaining talent easy and effective. 
Features
Creation of courses 
Online learning management 
Assessments and quizzes
Reports and dashboards
SCORM compliant
Likes
Easy to create 
Easy access to courses and modules
Report creation
Dislikes
Navigation and editing can be tricky at times
Issues with assigning groups via Excel 
Other details
4. Docebo
This AI-powered LMS is for enterprises to design, deliver, and uncover the business impact of learning experiences. It helps overcome any challenge and establish a positive learning environment at your enterprise.
Features
Training of Customers, Partners, and Members
Sales Enablement
Employee Onboarding
Employee Development and Retention
Compliance Training
Likes
Adaptable 
Customizations
Social engagement
Good UX
Dislikes
Issues with the renewal of courses or certifications
New updates 
In some cases, customer services
Problem with salesforce integration and technical support
Restriction for notifications and widgets
Issues with Navigation 
Other details
5. Thinkific
Thinkific is a comprehensive and flexible online LMS software. It helps create quick creation and delivery of courses for websites or forums. Thinkific simplifies educating, selling courses and earning, growing one's brand, and engaging customers. 
Features
Custom web themes and domains
Quizzes and assignments
Drip scheduling
Community spaces and notifications
Live lessons and events
Bundles, coupons and cross-selling
Likes
Dislikes
Lag in report
Not many customization options
Some features are missing- marketing, 
Other details
6. Moodle Workplace
Moodle Workplace is an online enterprise learning management system to systematize training programs, such as employee learning, newcomer onboarding, compliance training, and others. 
Features
Enhance employee engagement
Evaluate the impact of learning and development
Cost and Time effective
Integrate your corporate LMS into your HR systems
Create multiple corporate learning platforms for different departments
Customize the functionality with hundreds of ready-to-use add-ons
Integrate with external software and content repositories
Likes
Open source
Both online and offline accessibility 
Dislikes
Outdated UI
Security problems
Other details
7. Skyprep
Skyprep is a new-age and intuitive LMS platform suitable for organizations of any size seeking training solutions for their workforce and customers. It aims at creating, executing, delivering, and monitoring the training process in a structured manner effortlessly. 
Features
Learner engagement
Course creation 
Reporting and analytics
Customizations and Integrations
Workflow automation
Enterprise-grade security
SCORM Compliance
Mobile App
Content Library
AI-like Chatbot
E-commerce
Likes 
Easy to use
Good Customer service
Course customizations as per needs 
 
Dislikes
The limited function of the authoring tool
Integration issues with Microsoft Teams
User progress cannot be saved
Existing videos have to be deleted to upload new ones.
Limited reporting and notifications settings
Other details
8. Talent LMS
Talent LMS is a successful training platform providing the necessary recommendations and support throughout the training process. It caters to every team depending on their specific requirements. In addition, this single online platform has many key training tools and materials. 
Features
Content creation and management
Course creation
User Management
Customizations
Assessments
Reporting and tracking
Gamification
Social and collaboration tools
Security
Learning Delivery
E-commerce
Training and Customer support
Likes 
Good branding and reporting
Customization options
User friendly
Content updating
Dislikes
Issues with mobile app – adding content and video
Other details
9. ProProfs – Training maker 
This cloud-based learning management solution is an uncomplicated tool for training learners both on-premises and in remote locations. It aids subject matter experts, instructors, and HR training teams in developing and delivering training courses for the online medium. 
Features
eLearning authoring tool
Virtual classroom
Quizzes & surveys
White-label ( Customized version)
Collaboration tools
Integrations
Reporting and Certification
Knowledge Base & Training Manuals
Import SCORM courses
Brain games, quizzes, and surveys
Easily share courses with learners
100+ Ready-to-Use courses and templates
Download & Share Resources
E-Commerce platform
Likes 
Question banks 
Ready to use courses and templates
Add a voice-over to your content.
Automatic grading and reports 
Dislikes
The virtual classroom is just a basic version.
All the necessary features available only in the Premium version
Glitches in the mobile app
Other details
10. Tovuti LMS
Tovuti LMS is an excellent cloud-based platform for developing and delivering e-learning programs. They offer adaptive and user-friendly integrations with technology to initiate solutions for growth and good performance.
Features
Quick and easy content creation
Engaging learning opportunities
Simplifies training delivery, management, and analysis.
Enterprise-scale security and protection
Personalized Solutions
Easy to adapt
Likes 
Easy to use and implement
Good UX
Easy to navigate 
Good features
Dislikes
Limited customization options
Other details
Conclusion 
Choosing the right LMS software for your enterprise from the many available is a difficult task, and we hope this blog post gives you the right know-how to choose the appropriate Learning Management System platform as per your requirements.