Customer satisfaction is an essential aspect of the business. Managing contact is one of the crucial systems to satisfy customers.
Keeping track of your contacts can be a daunting task, especially if you have a lot of them.
You need to keep track of their contact information, but you also need to remember why you added them to your list in the first place!
A sound contact managing system can take all of the hassles out of keeping track of your contacts.
This blog post will look into the definition of contact management aim if it, including effective methodologies and tools available. We also look into the difference between the contact management system and CRM system and their benefits of it.
Definition of contact management
It is a system that tracks interaction between a business and customers or prospects, supply chain partners, or other relationships.
Functions usually include call date tracking, note files, follow-up reminders, birthday or anniversary date reminders, and other systematic ways to initiate and track interaction over time.
An average business organization or corporation will most likely lose 50% of its customers within a business cycle of five years.
It mainly occurs due to the imperfect realization of customer requirements by a company or an organization, which keeps on changing with time.
So, it becomes crucial for an organization to effectively address the needs of its customers to retain their repetitive customers. But it's not an easy task to keep a complete track record of all the customers.
The automated system for contact management isn't just capable of storing the complete details of an existing customer but capable of performing all the necessary updates.
Aside from all these real-life implications, an automated system is smart enough to incorporate the latest information about recent customer activities. This System is such a computerized system.
Aim of the Contact Management System
The main aim behind the development of an automated system for managing contact is
To assist any organization in storing and retrieving all the information about a pre-existing customer in a way more robust and efficient manner.
To store all the information about a particular customer in an easily retrievable manner.
More efficiently and effectively address customer requirements.
Businesses can then leverage the records of each customer to understand customer preferences and adequately implement them for each lead.
This methodology will allow the company to engage with each customer individually.
Companies can explore the opportunities to upsell or cross-sell the product or services to a customer by engaging directly with customers. Through this strategy, the company can achieve a two-part objective.
The companies can win the trust of their respective customers by providing them with uninterrupted assistance.
Lastly, according to the study proposed by the Harvard Business School, a happy and loyal customer can boost the profitability of a company up to 95 percent.
Effective Methodologies
The first and the most prominent step of establishing a contact maintenance system is to engage directly with the customers seeking a solution to their problem through the product or service the company is providing.
Companies can initiate managing contact by implementing one of the following ways.
You can directly engage with the customer by asking him about the products or services being promoted or advertised by the company.
You can make cold calling, which includes calling up a particular person and asking him whether they might be interested in the new product or scheme inaugurated by the company.
You can contact prospects by internal or external references, i.e., known acquaintances, relatives, or friends of a pre-existing customer.
You can make prospects take online surveys and past track records of the customers' web surfing.
You can participate in online events and exhibition events where potential customers can give their details and express their perspectives about the product or service of a company.
When the lead has been created by acting upon the strategies mentioned above, it is then time to build on the information.
It is strongly recommended to know as much information as possible about a customer's preferences and acquire extensive knowledge about how much money a potential customer is willing to spend. It will convert a customer into ever paying client.
Consistent engagement with the customers ensures that an organization pays special heed to provide value-added incentives.
Through direct interaction with the customer, company personnel can guide their respected customers toward the company's official website and utilize telephonic conversation to gain firsthand knowledge about the customers' needs.
You can effectively store all the necessary information about a customer more robustly in a central database.
Then another great way of knowing a customer's personal preference is to keep a track record of the IP addresses of the customers visiting the company's official website regularly.
Through this methodology, an organization can outreach more customers.
Software tools to manage contacts
Automated software for contact management assists you in keeping a track record of all the pre-existing customers.
For the sake of the convenience of our readers, we will be listing the 9 best contact management software well-suited for small businesses.
List of top contact management software
1. Freshsales
This tool automatically provides prospects information who reach you via email, live chat, and web forms. It gives your customer information in a simplified manner.
Features
Forecast
Collaboration 
Customer Information Database
Event-Triggered Actions
Territory Management
Third-Party Integrations
Document and Sales Pipeline Management
Likes
Easy to use
Provides the best customer support and documentation
Dislikes
Need improvement in customer support.
Other details
2. HubSpot CRM
This is a generalist tool that includes the sales process and marketing. It alerts you by a notification when individual prospects visit your website. It suits all types of businesses.
Features
Lead management and distribution
Contact Database
Performance Metrics
Predictive Analytics
Notifications
Some screenshots of Hubspot
Contacts page of Hubspot
Blog performance views of Hubspot
Activity views of Hubspot
Likes
The basic version also contains many functionalities
Provides the best workflow
Dislikes
Needs improvement in some of the features
Other details
3. Pipedrive
This is a strongly automated, sales-oriented tool. This tool allows you to gather all sales data in one place and helps you to get all the information quickly before a call or meeting.
Features
Auto-Responders
Customer Tracking
Property Matching
Collaboration Tools
Customer Support
Calendar Management
Goal Setting 
Statistics & Reporting
Some screenshots of Pipedrive
Insights page of Pipedrive
Deals page view of Pipedrive
Organisations contacts of Pipedrive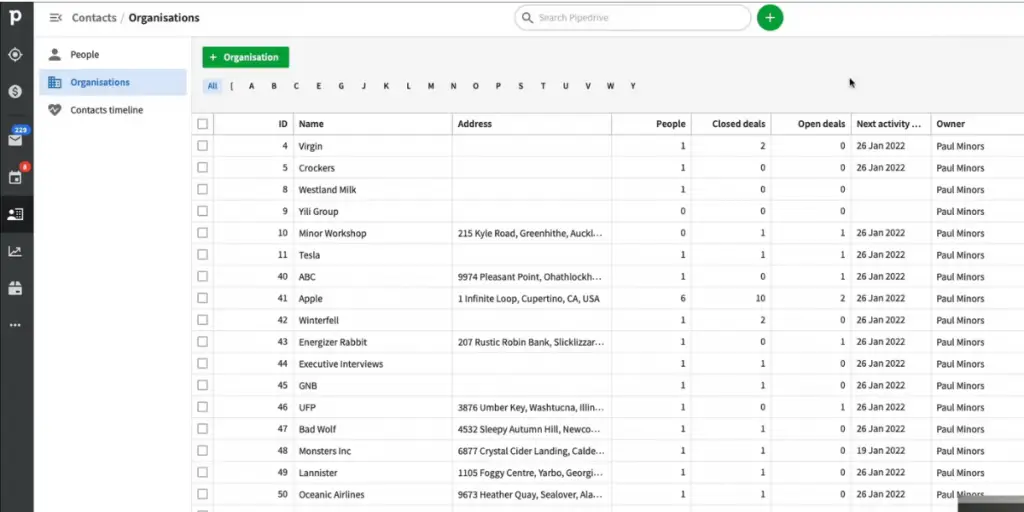 Likes
Customizable pipelines for sales campaigns 
The new app for the caller is useful
Accessible to setting up reminders
Dislikes
Not easy use for beginners
The online app needs improvements
Other details
4. ZOHO CRM
This tool suits freelancers, small businesses, and startups. It provides a comprehensive view of communication through email, live chat, phone, etc.
Features
Activity Dashboard
Managing Appointment 
Client/Property Matching
Managing Campaign 
For Mac Devices
Business Card/Badge Scanning
Catalogs/Categories
Screenshots of leads page view of ZOHO CRM
Open tasks of ZOHO
Likes
Easy to deploy and automate the workflows
Perfect for startup companies
Dislikes
Customization needs coding knowledge
Document merging needs improvement
Other details
5. Nimble
This tool helps you have the best relationship with customers across all social media platforms. It automatically displays all the contact details and company details of customers, including the details of communication you may have with them.
Features
Reminder
Lead management
Template Management
Contact and customer Database
Integration with Social Media
Reminders
Data Import/Export
Screenshots of deals page view of Nimble
Likes
Very flexible software
Provides excellent customer interaction
Dislikes
The interface is confusing for new users
Other details
6. Metrillo
One of the best tools for contact management.
Most of the above systems can be integrated with the Enterprise resource planning systems of the organization.
Features
Catalogs/Categories
Multi-Channel and Email Marketing
Order and Promotions Management
Templates
Screenshots of live view of Metrilo
Likes
User friendly 
Provides essential data and easy layout
Offers the best customer service
Dislikes
Needs improvement in customization and automation based on the addition of clients
Some essential features are missing
Other details
7. Salesmate
This software offers simple, personal, and productive experiences for the team and customers. Its feature set allows you to generate leads, close deals, and build lasting customer relationships. It saves you time for your future projects.
Key features
Product updates
Support portal
Product integrations
Email marketing
Case management
Screenshots of Deals Pipeline of Salesmate
Likes
Excellent email and call tracking system
Good customer support
It is a user-friendly software.
It is more affordable and comes with great support
It is very effective in solving customer needs
It is good at sending bulk email and bulk text/SMS messages
Dislikes
It has trouble syncing with RingCentral
The reports are so clumsy to understand.
Automation can be more effective.
The on and off-call scheduling can be better.
The connectivity for the voice dialer can be better.
Site error occurs multiple times.
Other details
8. Jobin. cloud
It is an all in all automation system. It can build a network of prospects and business contacts as a long-term asset. It is the best software for recruiters, marketers, salespeople, entrepreneurs, and small business owners.
Key features
Sourcing 
Tracking
Outreach
Marketing automation
Job posting
Contacts view of Jobin.Cloud
Likes
It is very easy to find candidates.
The integrations are seamless.
It is a good platform to facilitate customer access.
It is good for fast customer service.
It is a user-friendly app.
It is a time-saving app.
It provides an effective automation process.
Dislikes 
The ranking system doesn't provide good results.
It doesn't support json
You will not be able to tag team members in comments in the ATS  
It seems to be slowness in updating some records
Lack of features that facilitate CRM work.
It has to spend more time with ChatGBT
Not provided iPhone app
There is no CRM drip campaign feature   
Other details
9. Bigcontacts
It is a contact management software that integrates Contact Management and Email Marketing Solutions for Small Businesses.
It is designed for small teams to grow their business through improved contact management. This software can help to build a custom sales pipeline and automatically send personalized emails based on where your prospect is in the cycle.
Key features
Email tracking
Calendar
Reports
Deal tracking
Sales tracking
Sales pipeline management
Monthly Pricing of BigContacts
Yearly Pricing of Bigcontacts
Likes
It helps us to manage our sales opportunities using a visual pipeline
It can add custom stages to this pipeline and move the opportunities with a simple drag-and-drop interface.
It can set up alerts to engage with prospects and customers at the most appropriate time. 
It helps us to track sales performance with insightful reporting and analytics.
It can also drag and drop deals to build a custom pipeline that syncs with the sales cycle.
This software grows the sales figure to a great extent
It helps to manage opportunities, track pipelines, and all customer communications. 
Dislikes
Lag issues occur at times
Some more features have to be introduced for smooth using
Less support in the mobile version
The mobile interface can be improved
Troubles in figuring out how to embed videos into emails.
The speed of the tool can be below par at times
More improvement is needed in task management
Lack of advanced features
More advanced versions and better functionality are needed.
It does not provide a 360° view of contact details.
Other details
Difference between the contact management system and CRM system
Both systems work similarly. Both help you to organize and monitor your customer contact. But customer relationship management provides more functionalities.
Some fundamental differences are given below.
Automated Process
By automating the whole contact management process, you'll be able to design a more robust system for managing contacts that is more profitable, efficient, and cost-effective.
The automated system can define the interval at which you can call your potential customer and store all his personal information in a more retrievable manner.
After transforming the prospective visitor into a company customer, the system needs to perform the necessary changes to ensure the highest level of customer satisfaction.
Benefits of Contact Management
An automated system for the management of contact provides the following benefits to the customer:
Addressing customer concerns and improving flaws in the product or service
Companies can ensure the highest level of customer satisfaction by storing customer records in a retrievable manner with high efficiency and less overhead.
Efficiently storing all the customer information from where anyone can access it within the specific organization.
Tracking the sales track record of a specific customer allows the company to promote interactive orders to enthusiastic customers.
By acquiring more extensive knowledge about the customers' needs, companies can significantly emphasize sales and convince their customers to buy from them.
It is often an excellent practice to make financial dealing face-to-face, leading to better interaction between the two parties.
Thereby your visitor has completely transformed into a customer. At this point, it is strongly recommended to register each customer with the company database.
The companies can manage to upsell their all products by accumulating customer feedback regularly. The organization can pay special heed to customer preference and psyche and make their product synchronize with customer needs.
Conclusion
So far, we've discussed all the critical aspects of the contact management automated system. So far, whatever has been said, it should be taken into consideration that the success of any business, whether a large organization or a small startup, solely relies on the customer's level of satisfaction.
Because of these reasons, large organizations significantly emphasize the automated contact system to reduce the company overhead and enhance their revenue.
You will also like: