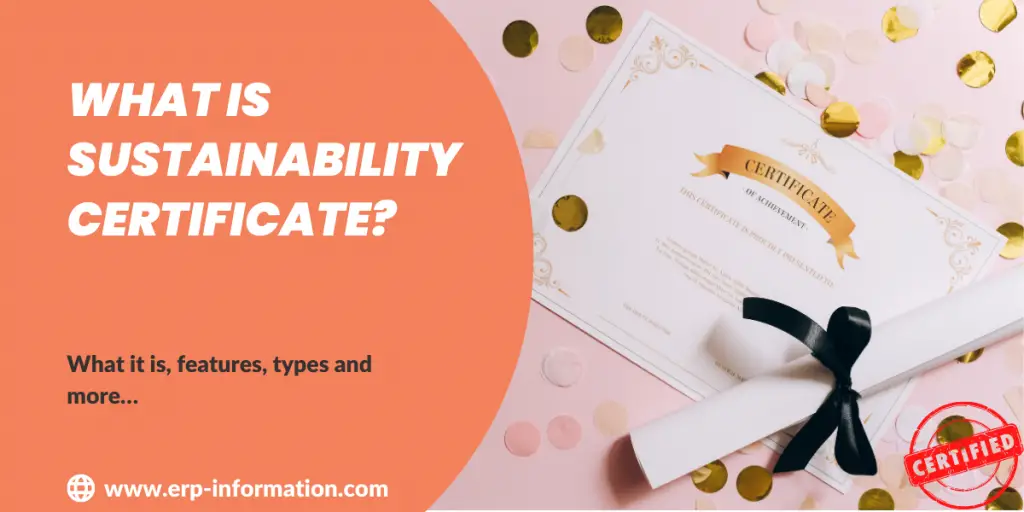 Obtaining a sustainability certificate is becoming increasingly important for businesses looking to impact the world positively.
Sustainability certificates allow companies to demonstrate their commitment to eco-friendly practices and their dedication to creating less waste, reducing carbon emissions, and conserving natural resources.
By seeking out certified sustainable products or services, businesses can ensure that they are contributing to environmental initiatives in meaningful ways and set themselves apart from competitors by demonstrating that they care about sustainability.
With sustainable certification programs available for multiple industries and businesses of all sizes, there has never been a better time to take action toward a greener future.
This blog post will provide complete details of the sustainability certificate, its meaning, benefits, who can get certified, and the types of certificates.
What is a Sustainability Certificate?
It is certain preferential yardsticks followed by industries, companies, farmers, traders, retailers, and other service providers to indicate their adherence to certain standards and guidelines acceptable to social, ethical, and environmental practices. 
Features  
Voluntary
The certificates are non-government regulations that need to be satisfied and are issued by independent or third-party organizations to a company, product, or service. 
Reliable
Since these are not self-assessments and involve verification by external auditors and independent agencies, they are reliable and credible.
Realistic
They constitute standardizations issued by these autonomous entities, formulated by experts in their respective fields and industries.
The benchmarks and standards that need to be satisfied are genuine and feasible, making it fair game for the applicants. Therefore, those who can fulfill the minimal requirements are awarded the certificate. 
Market-driven
These are non-government-regulated certifications and are not always mandatory. Instead, they are controlled and guided by commercial considerations making them easy to achieve norms and subjective to less scrutiny.
A sustainability certificate helps one indicate they are committed and are a competitive advantage. There are over 500 such standards that are connected with ethical human welfare and labor practices, social and environmental responsibility, animal welfare, and cruelty-free implementation.
Importance of sustainability certificates
These certifications are necessary as they benefit both the sellers/ manufacturers of products and services and the consumers.
There are many reasons why sustainability certification is important, but some of the most important include the following:
Sustainability certification ensures products are made with environmentally friendly and sustainable practices. This helps to conserve resources and protect the environment.
It verifies that products meet social responsibility standards. This means that workers are treated fairly and paid a living wage, for example, and that no child labor is used in the production process.
It guarantees that products are safe for human health and free of harmful chemicals. This helps to protect consumers from harmful toxins.
The certification assures customers that they support responsible businesses with sustainable practices when purchasing certified products.
How does certification help consumers and manufacturers?
How does sustainability certification help consumers?
It helps them identify the services or products they want to purchase
It helps easily check if an organization or company is committed to meeting the expectations and values claimed during the advertising. 
It saves time as a deep analysis or going through specifications about the product or service is not required.
An effortless way of checking if a product or service has been scrutinized and approved by an autonomous agency.
How does the certification help the manufacturers/sellers/service providers?
It helps improve one's practices and check on how well they meet the norms of their respective industries.
It helps in assessing the socioeconomic and environmental standards being maintained.
Demonstrating to the customers that they are reliable, credible, and live up to their values 
Display of dedication and transparency
It helps build a reputation and, in turn, improves sales and profitability.
Types of sustainability certificates
The main types of sustainability certifications are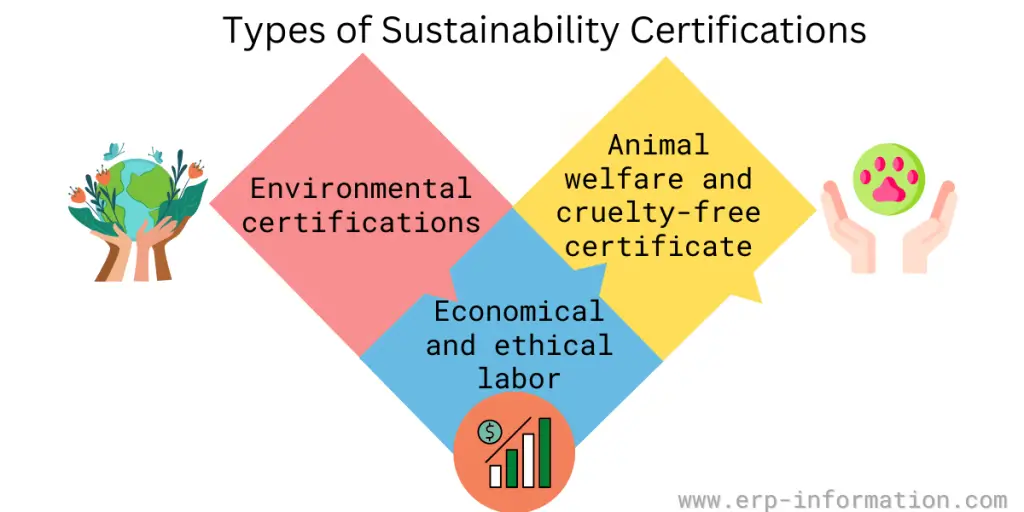 Environmental certifications
Many service providers and enterprises have these certifications, including environmental impacts like carbon and greenhouse gas emissions, pollution, manufacturing methods, materials sourcing, agricultural methods, waste management, resource management, etc. 
Economical and ethical labor
Certifications comprise unbiased trade and labor practices. For example, they make certain fair pricing for commodities and provide adequate salaries for workers. They also ensure unethical practices, such as slavery, child labor, etc., are not followed.
Animal welfare and cruelty-free certificate
These certifications ensure the manufacturing of cruelty-free and vegan/animal-free products produced without malice towards animals like animal testing or killing of animals and contain no additives of any animal origin.
Where to obtain a sustainability certificate?
Many certifications fall under the environmental, social, and economic sustainability categories. 
They would pertain to the use of materials and where they are acquired from, production processes, and other common business operations relating to environmental, ethical, and social matters.
An individual enterprise can obtain as many certifications that would focus on the different components of its business.
Some are globally awarded, and some are unique to a region or nation. In addition, a combination of certificates can be exercised to a service provider or product to authenticate their sustainable distinction. 
Sustainability certifications for manufacturers
Sustainability certification for manufacturers/sellers/service providers is a process by which a company can be assessed for its environmental and social responsibility. The certification usually takes the form of an audit, in which the company is evaluated against a set of criteria related to sustainability.
Certification can provide companies with several benefits, including increased market visibility and improved access to capital.
Sustainability certifications cover social, economic, ethical, and environmental matters. In addition, various certifications are associated with limited and specific details within these large areas.
This is why many industries and service providers do not have certifications for their entire enterprise but specific certifications connected with some of the different facets of their product range and commercial activities.
Enterprises certifications
Some credible, transparent, and sought-after enterprise certifications have been listed below.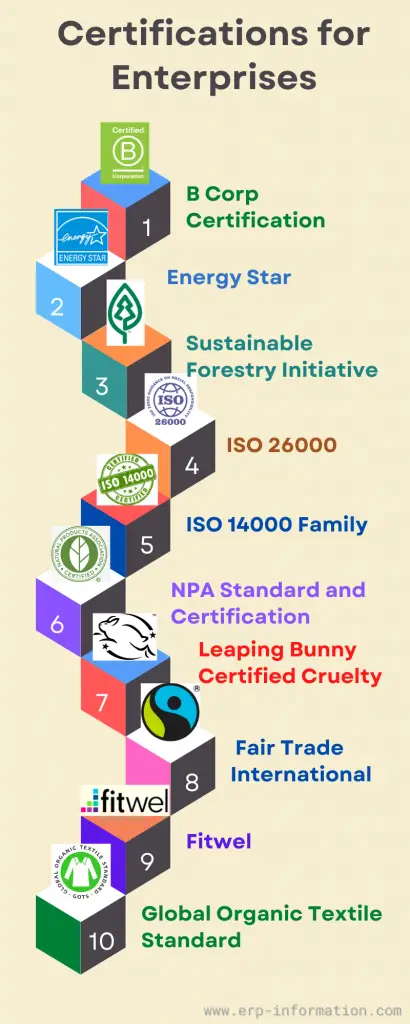 B Corp certification
This certificate issued by B corp evaluates the enterprises' complete environmental, economic and social aspects. It determines how the enterprises' functioning and working model impacts the natural environment, climate, employees, community, and customers. 
Energy star
This certificate helps reduce energy wastage and battle climate change. It determines if a product ( appliances) has good energy savings, buildings and constructions are energy efficient, have a low carbon footprint, etc. This is a government-granted certification by the Environmental Protection Agency(EPA).
Sustainable forestry initiative (SFI)
This certificate has tough certification norms for forest managers in North America ( USA and Canada). It determines the biodiversity, flora and fauna habitats, high-risk species, forest conservation value, forest product traceability, etc. 
ISO 26000:2010
This certification leads the way by providing enterprise techniques and ways by which they understand their social duty and imparts good practices related to social responsibilities worldwide. It helps an enterprise achieve real actions from just principles.
ISO 14000 Family
This certification provides a substructure for an enterprise to effectively manage the environmental aspects of its operations. In addition, it lists certain parameters for an environmental management system to be set up.
NPA standards and certification
This certificate applies to all personal care and cosmetic products set out and regulated by the FDA. This decides if a product under scrutiny can be labeled "Natural" by all means.  
Leaping bunny certified cruelty-free.
This certificate provided by the Coalition for Consumer Information on Cosmetics (CCIC) constitutes eight animal protection groups. This certification ensures that cosmetic products are cruelty-free and do not contain additives that have been tested on animals.
Fairtrade international
This certificate is issued by an autonomous body, FLOCERT, formed by Fairtrade International. It is meant for farmers, producers, and import/export traders. Ensures fair salaries, community improvements, etc 
Fitwel
The Center for Active Design certificate provides green certification for buildings and construction. The workplace environment is important. It should be healthful and have amenities and resources to take care of the welfare and productivity of the enterprise.
Global Organic Textile Standard (GOTS)
This international standard certificate is given for products that are meant to be organic and comprise a minimum of 95% of natural and organic fibers. Also, these textile products must contain no toxic materials such as chemicals, solvents, etc. The enterprise must also abide by social responsibilities in adherence to the International Labour Organization.
What is sustainability certification for professionals?
Sustainability certification for an individual to add value to his professional growth in the field of sustainability. It helps one to be recognized as a budding contributor to the enterprise in their work in the area.
They can be obtained from autonomous agencies and higher education institutions, e.g., the U.S. Green Building Council, Association of Energy Engineers (AEE), International Society of Sustainability Professionals (ISSP), etc.
Sustainable certifications for professionals
General Sustainability and Climate -Sustainability Excellence Associate, Sustainability Excellence Professional, Certified climate change Professional, etc
Sustainable Reporting Certifications – FSA Credential, Integrated Reporting, Climate survey, etc
Green Building – Leeds, Green Globes Professional, Living Future Accreditation (LFA), etc
Energy for Built environment: Certified Energy Manager, Certified Business Energy Professional (BEP) 
Specialties: Life cycle Assessment Certified Professional, Leading the Sustainability Transformation Professional Certification Program, Chartered Environmentalist 
FAQs
What is sustainability?
Sustainability is when there is a harmonious congregation of socio, economic, environmental, and human resources to meet our requirements and also, at the same time, ensure our forthcoming generations can meet theirs too.
Conclusion
A sustainable certificate is a certificate of guarantee to the consumer of one's commitment to better sustainable practices. They act as a decisive mechanism to guide an enterprise's operations, keeping social, ethical, and environmental impacts in mind.
They help consumers consciously recognize the product or service of their choice that fits their needs. Also, professional sustainability certificates for individuals help them achieve their aim of becoming dedicated and conscious workers.