TOGAF is an acronym that stands for The Open Group Architecture Framework. It is a framework that provides organizations with the ability to design, plan, and implement enterprise architecture.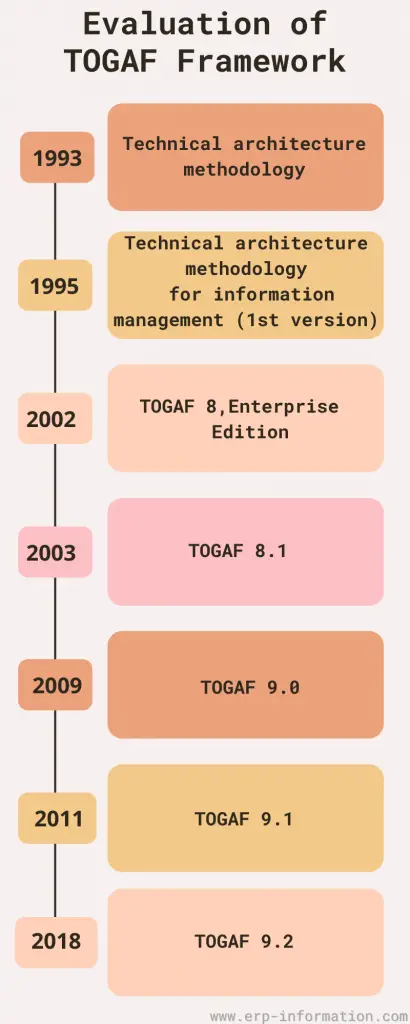 This has been around since 1995, and there have been nine different versions released.
This blog post will discuss the details, the Foundation exam, and the latest version of TOGAF (version 9.2).
What is TOGAF Framework?
This is an acronym for The Open Group Architecture Framework, and it's a framework that helps organizations design, plan, and manage their enterprise architecture.
This is the most popular framework for enterprise architecture in the world. It's been used by some of the biggest names in business, including Coca-Cola, IBM, Microsoft, and Oracle.
It is a comprehensive framework that can be used by any organization regardless of size or industry. It helps organizations understand their current state, identify where they want to go, and create a roadmap for getting there. It also provides tools and templates that simplify designing and implementing an EA.
What are the Benefits?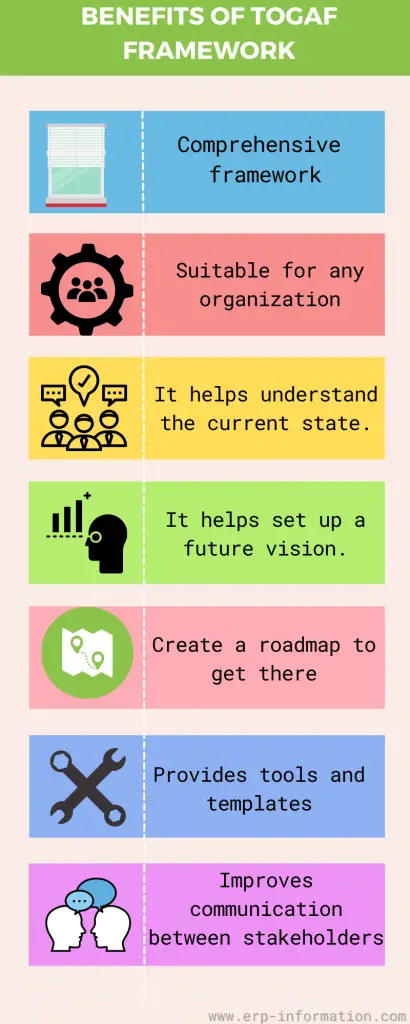 Comprehensive framework
This is a framework, not a method or a process. It is an architecture development methodology that includes best practices, guidelines, and tools for developing enterprise architectures; it lays down uniform principles to follow when building your architecture.
The TOGAF Architecture Development Method (ADM) helps you develop your architecture – it is a step-by-step approach to developing an enterprise architecture and can be tailored according to project requirements.
Suitable for any organization
This framework is suitable for any organization – from small businesses to large enterprises.
It can be customized to fit the specific needs of your organization. It provides a flexible and scalable framework that can grow with your business.
It helps understand the current state.
It helps you understand the current state of your enterprise architecture to determine where it needs to be improved. In addition, it allows you to identify areas for improvement and new growth opportunities.
It helps set up a future vision.
It helps create a vision of your organization's future state. This process includes identifying opportunities and defining goals that need achievement.
Create a roadmap to get there
It helps you create a roadmap to get from the current state of your organization's architecture to its future vision. This includes identifying projects and activities that need implementation to achieve this goal.
Define goals, results, and measurements along the way
This guides how you can define goals, outcomes, and measures to ensure that you are on track to reach your final destination.
Provides tools and templates
It provides several tools and templates that you can use to help with your architecture development. These include the TOGAF Architecture Repository, a collection of reusable assets for building enterprise architectures. TOGAF also provides guidelines on how to use these tools effectively.
Improves communication between stakeholders
It improves communication and understanding between all stakeholders involved in architecture development – from project managers to business analysts and architects themselves. This ensures that everyone is working towards achieving their goals by following this framework's best practices for architecture development.
What are the critical components?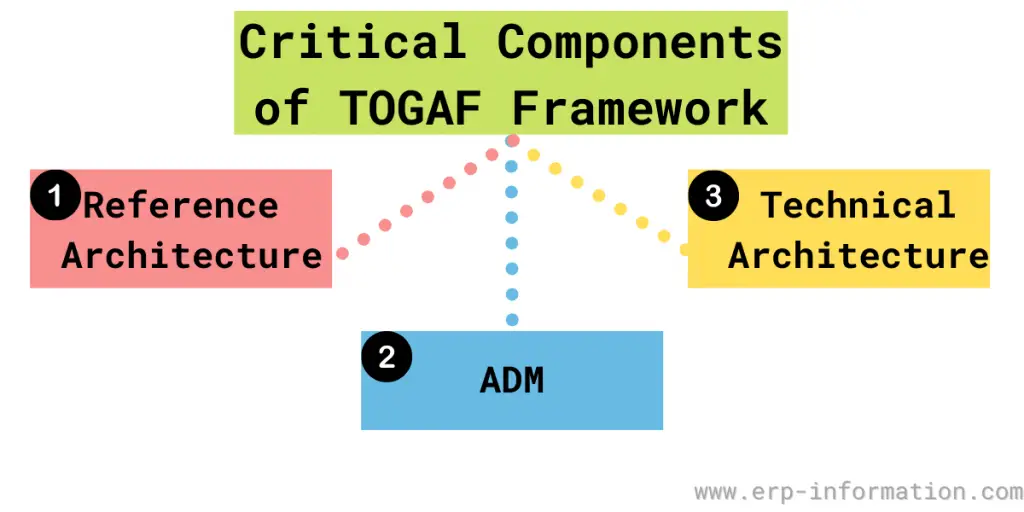 The key elements include the TOGAF Reference Architecture, the TOGAF ADM, and the TOGAF Technical Architecture.
Reference Architecture
It provides a model for how an organization's enterprise architecture should be structured and organized. This includes guidelines on how to design and implement your specific applications in TOGAF and how they should relate to one another within its framework for enterprise architecture development.
ADM
It is the process that organizations use to design, plan, and manage their EA. TOGAF lays down a set of step-by-step procedures that you can follow to develop your architecture, which helps ensure that all stakeholders are on the same page and working towards the same goal.
Technical Architecture
It specifies the technologies and standards that an organization should use in its IT infrastructure. In addition, TOGAF defines some reference models for different technical architectures, which help organizations understand their options and make informed decisions about their IT infrastructure.
Resources you should check out.
If you want to learn more about TOGAF, here are some great resources to check out:
– The TOGAF 9.2 specification
– The TOGAF 9.2 Foundation Study Guide
TOGAF Foundation Exam
The Foundation Exam is a certification exam that tests your knowledge of TOGAF 9.2. The exam has 40 questions, and you have 75 minutes to complete it. To pass the exam, you must score 50% or higher.
Conclusion
In this blog post, we've looked at what TOGAF is and the benefits of using it. We've also looked at the critical components and some resources you can use to learn more about it. So, what are you waiting for? Start learning TOGAF today!