Enterprise architecture (EA) is the practice of designing a business with a holistic view, considering all of its parts and how they interact.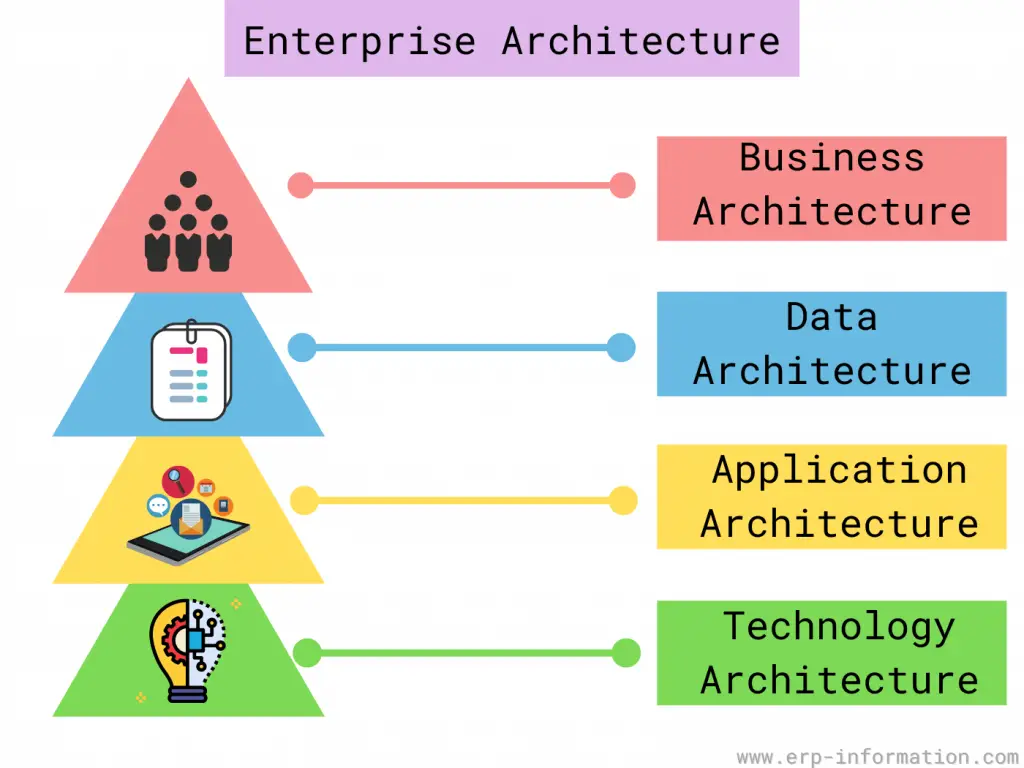 It's a way to optimize an enterprise's performance, using a framework that considers business goals, technology, and the current environment.
This blog post will discuss what EA is, the benefits it can provide, and a framework you can use to get started.
Definition of Enterprise Architecture
Enterprise architecture is the process of designing and managing an enterprise's information systems by creating a model that shows how the enterprise works.
It aims to create a blueprint that outlines how the enterprise should be structured and how its information systems should work. This model shows an enterprise's current and future target states.
It use enterprise architecture models to help them design and manage information systems that support business processes, corporate strategies, and other enterprise needs.
Benefits of EA
The benefits of enterprise architecture include the following:
A blueprint for the enterprise that can be used to align IT with business goals
A way to optimize enterprise performance
A way to manage enterprise information systems
A way to improve enterprise communication and collaboration
A way to facilitate enterprise change management processes
A way to enhance enterprise innovation is by understanding the enterprise as a whole system.
The Goals of Enterprise Architecture
The EA framework has three goals:
First, the goals of enterprise architecture are to create a blueprint that outlines how the enterprise should be structured and how its information systems should work. The enterprise architecture model shows an enterprise's current and future target states.
It uses enterprise architecture models to design and manage information systems that support business processes and meet other enterprise needs.
It can also help an enterprise achieve its goals by optimizing enterprise performance. Enterprise architects can identify and address issues in a company before they become a problem by understanding the company as a whole system.
Additionally, It can improve communication and collaboration, facilitate change management processes, and improve enterprise innovation.
What is the process of enterprise architecture?
There are eight steps in the process: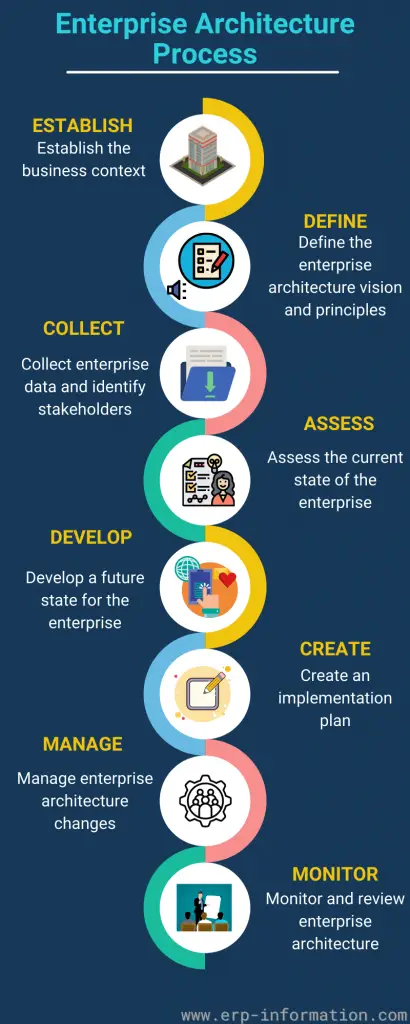 Enterprise Architecture Framework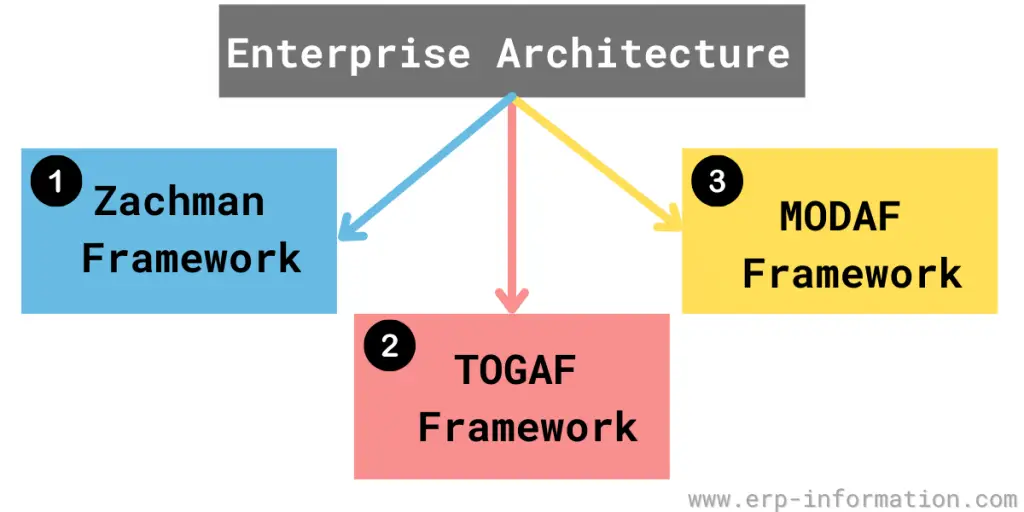 There are a variety of frameworks that can be used for enterprise architecture. More popular frameworks include the Zachman Framework, the TOGAF Framework, and the MODAF Framework.
Zachman Framework
The Zachman Framework consists of six steps:
Define the problem or opportunity
Generate alternative solutions
Select a preferred solution
Develop a blueprint or model of the preferred solution
Implement the blueprint or model
Monitor and adjust the implementation as needed
TOGAF Framework
The TOGAF Framework consists of seven steps:
Define enterprise goals and objectives
Create an enterprise architecture framework
When designing or redesigning your enterprise architecture, you need to think about the different business processes, information systems, and infrastructure that will be necessary.
Develop a detailed design for the components identified in step three. Then, consider how each component should work individually and interact with other enterprise components. Be sure to include any relevant non-functional requirements such as security, scalability, or performance requirements—also, document things like data models, user interface designs (UI) specifications, etc.
Develop a transition plan that identifies what needs to change from the current state to the future described in the target enterprise architecture model.
Implement the enterprise architecture plan.
Validate enterprise architecture by checking that what was designed and implemented meets enterprise goals
MODAF Framework
The MODAF Framework consists of five steps:
Define what is to be modeled
Construct the enterprise model
Model elements and relationships within the enterprise model
Derive system requirements from the enterprise model
Implement the system requirements
What tools and software are used in enterprise architecture?
More popular tools and software include enterprise modeling, requirements management, and simulation.
Enterprise modeling tools
The enterprise model is the most important document. It use enterprise modeling tools to build models that visually describe their enterprise's business strategy, processes, information systems, and other components. More popular enterprise modeling tools include Avolution ABACUS, BiZZdesign Architect for Enterprise Architecture (AEA), MEGA HOPEX Business Architecture, Sparx Systems Enterprise Architect, and Troux Transform.
Requirements management tools
Requirements are used to specify what an enterprise needs from its information systems to be designed or redesigned accordingly during enterprise change initiatives.
Enterprises can use software like Blueprint OneWorld Requirements Management Suite or Jama Connect Requirements Management to manage specifications in a central place.
This way, enterprise architects, business users, and enterprise IT personnel can all see and use the specifications to build systems.
It can use enterprise simulation software to model the enterprise's current state and future state. This software can help them test whether or not these changes will be feasible before they are implemented.
Who should be involved in enterprise architecture?
It should be a collaborative effort involving enterprise architects, business analysts, enterprise IT personnel, and other stakeholders as needed.
Enterprise architects
They have a thorough understanding of enterprise architecture. They are in charge of developing and maintaining the company's architecture framework, identifying components that need to be designed or redesigned, producing detailed designs for these components, and ensuring that the corporate architecture is adequate.
Enterprise IT personnel
They will implement it. Therefore, this should always consult with enterprise IT personnel when designing EA to ensure that what is designed can be implemented and will meet enterprise needs.
Business analysts
They should be involved in this because they help define EA's enterprise requirements to build their models.
Other enterprise stakeholders
People who should help create the architecture for an enterprise include enterprise architects, IT personnel, business analysts, and enterprise customers, suppliers, and shareholders whenever possible.
For example, while they may not be required to help build out the architecture's components, such as business processes or enterprise applications, enterprise customers and enterprise suppliers can provide valuable feedback that should be considered by enterprise architects when designing the architecture.
Conclusion
EA is a powerful tool that can help your business grow. By taking the time to learn about EA and how it can be used in your organization, you are setting yourself up for success.
In this post, we have introduced EA and its key concepts. We have also discussed what enterprise architects do and their skills to succeed.
We hope you have found this information helpful and that it has encouraged you to learn more about EA.