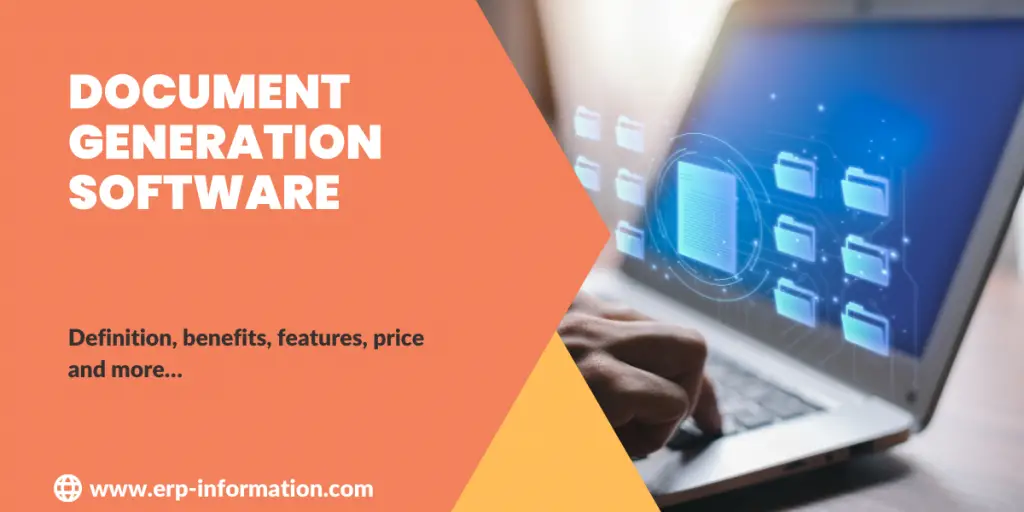 It is hard to find the time to create essential documents in business. Writing a good document from scratch can take hours and is even more complicated if you're not a professional writer.
Document generation tools help you quickly and easily create high-quality documents with little effort. Plus, many of these programs are free or open source.
Check out the article for the ten best document generation software, including their features, pricing, likes, and dislikes.
What is document generation software?
Document generation software is a program that helps you easily create documents from templates by filling in the blanks.
You can utilize it for many purposes, such as creating reports, letters, or forms. Both paid, and free options are available, so you can find one that works best for your needs.
Benefits
Save time by automatically creating documents.
Create documents in any format you need.
Customize your documents to suit your needs.
Spend less time on paperwork and more time doing what you love.
Create documents that are consistent and accurate.
Here are the 10 Best Document Generation Software.
1. PandaDoc
PandaDoc is a cloud-based automated document generation software that allows users to create, send and track custom proposals, quotes, and invoices.
It integrates with major CRMs (Salesforce, SugarCRM, etc.), allowing users to create documents from lead information easily. PandaDoc also includes eSignature capabilities, making it easy for customers to sign proposals and contracts electronically.
Features
e-signature
Create, send, and track documents
Integration with apps using API
Payments and invoicing
Pricing management
Template management
Contact database
Create custom templates
Collaborate with others on documents.
Share documents.
Powerful search capabilities
Likes
Provides a variety of ways to modify, store documents and export documents.
Easy to look into the status of the document with the dashboard.
Easy to send "reminders" to people that have not signed the document.
Easy to send customer contracts.
Streamlined approvals for documents.
Data importing is easy and simple to add a digital signature. 
Provides free e-Signature.
Dislikes
High Pricing 
Sometimes document creation date field shows tomorrow's date. 
Spam problem with the email sent to some customers.
Difficult learning curve
Other details
2. Google Workspace
Google Workspace is a comprehensive set of productivity tools that includes everything you need to create and manage documents.
It offers many features, including templates, collaborative editing, and commenting. In addition, you can use Google Workspace for free with a Gmail account.
Frontline workers, Healthcare and Life Sciences, Retail, Manufacturing, Government, and Public Sector use it more.
Features
Custom and secure business email
Video meetings
Security and management controls
Participant in video meetings with recording
Standard support 
Custom and secure business email, e-discovery, retention
Attendance tracking
S/MIME encryption
Noise cancellation, in-domain live streaming
Likes
Third-party applications and platforms can be integrated with it
Highly scored in terms of user interface
Dislikes
Need more advanced document features
It needs a stable Internet connection. 
Unable to use multiple domains with Workspace. 
Limited cloud storage 
Other details
3. Adobe Acrobat Sign 
Adobe Acrobat Sign is a document generation software that allows users to create and edit PDF documents.
It also provides features for digital signatures, which can be used to certify documents or to protect them from tampering.
Features
Electronic and digital signature
Access controls or permissions
Multi-party signing
Template management
Authentication
Mobile signature capture
Remote access/control
Data security
Audit trail
Document storage
Collaboration tools
Drag & Drop
Likes
As a cloud-based product, it is portable and powerful.
Quality that is in line with Adobe's standards.
Easy to use and reliable.
Dislikes
The add-on must be paid for separately.
Lack of a convenient 'date' setting. 
More analytics options needed  
It is more expensive.
It consumes a lot of RAM.
Difficult to work with pdf texts 
The only means of contacting client service is through chat.
Other details
4. DocuGen 
DocuGen, allows businesses to create custom documents automatically by pulling data from various sources, including databases and Excel spreadsheets. This can save businesses time and money by streamlining the document creation process.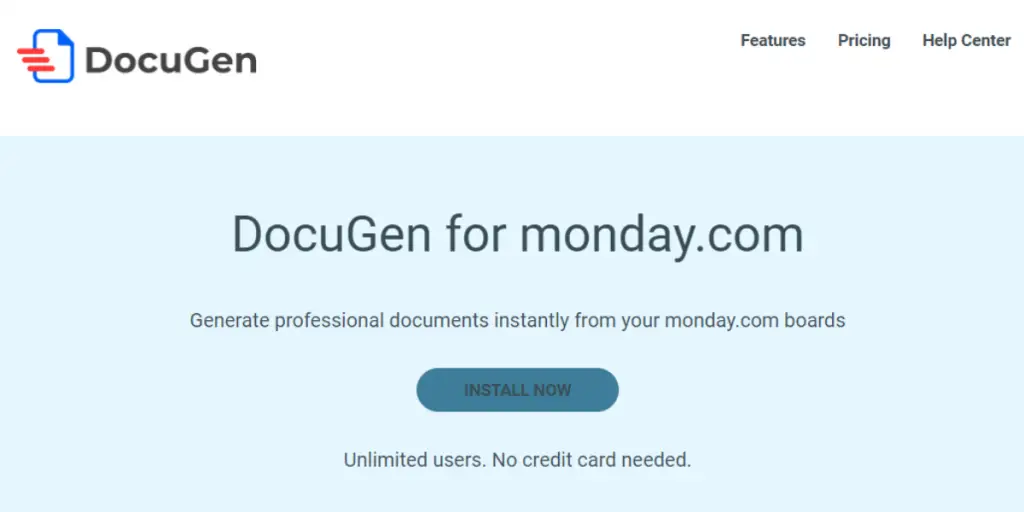 Features
Batch processing
Collaboration tools
Multiple output formats
Templates
Likes
It is a robust and flexible software
Provides single-click integration
Easy to use own templates 
Easy to create a personalized doc in one click
Easy to integrate with monday.com
Saves time with auto-injection function
Dislikes
It has limitations on columns.
Certain types of fields are not supported.
The process is time-consuming.
You may face bugs while dealing with complex data .
It's not very stable.
Other details
5. Formstack Documents
Formstack Documents is a cloud-based document generation tool that helps you easily create, manage, and deliver custom documents.
With Formstack Documents, you can quickly and easily create dynamic documents with embedded data from your database or other online resources.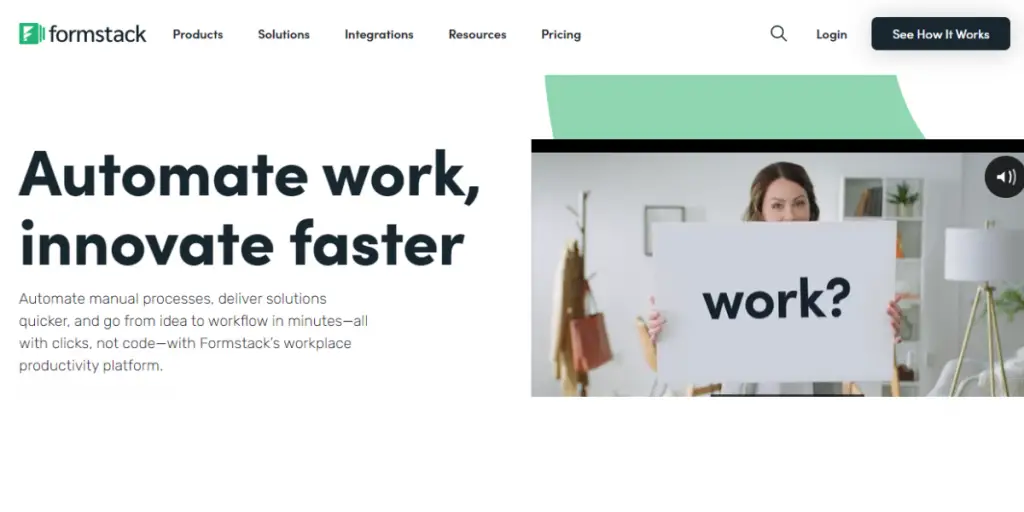 Features
Show or hide content
multiple document generation
Data routing
Document automation
Document API to customize documents
Data encryption
Version control
File conversion
Batch processing
Collaboration tools
Compliance Tracking
Digital and Electronic Signature
Document Classification
Likes
Easy to use and customize documents
Easy to create forms 
Easy to use 
Easy integration. 
It enables pulling data from multiple sources
Dislikes
Pricing is high 
Mobile support could be better.
Need to pay extra for partial submissions.
Templates are not attractive. 
Some bugs need to be fixed.
Other details
6. Pathagoras
Pathagoras document generation software allows you to create custom documents quickly and easily.
It provides various templates and lets you insert your content into the documents.
Features
Online manual
Collaboration Tools
Digital Signature
Multiple Output Formats
Templates
Process/Workflow Automation
Document management
Assembly for any type of file
Likes
It has a lot of features and options that make it very versatile.
Updating documents and fields is fast and easy with Word.
Dislikes
Software occasionally encounters glitches.
Other details
7. Docupilot
Docupilot is a software that lets you quickly create professional-looking documents from templates.
It offers a wide range of templates for different purposes, and you can also create your templates.
Features
Drag & Drop
Forms Creation & Design
Process/Workflow Automation
Create dynamic content with variables, conditionals, loops, and tables
Automate document creation workflow 
Personalized email and e signing
Integration with other apps using API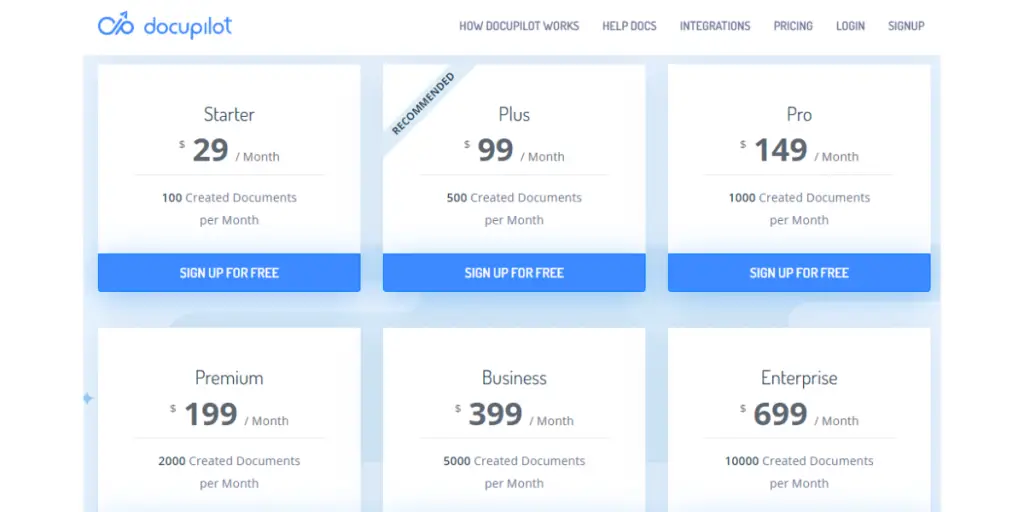 Other details
8. PDFfiller
PDFfiller software offers a wide range of templates for different purposes, and you can also create your templates.
Features
Watermarking
Electronic Signature
Data Import/Export
Merge/Append Files
 Highlight, blackout, erase and type text anywhere on a PDF.
Instantly share PDFs
US federal and EU compliance standards
Convert and copress PDF
Forms library
API and Zapier supported
Likes
The ability to fill out forms electronically is convenient.
It has many features that are useful for businesses.
Easy to open PDF File and complete the field. 
Good Support team. 
Saves time when dealing with documents
Dislikes
Some time fails to save PDF modifications. 
Can not download pages that need personal data.
Inability to send a personalized message. 
Complex folder system.
Editing the documents is a bit tedious task.
Connecting team members is not easy.
Other details
9. Proposify
Proposify is an online proposal software that helps growing teams remove bottlenecks. This gives you control and visibility into the most important stage of your sales document process.
It has the features and functionality your team needs to bring predictability, consistency, and confidence back to the close.
Key features
Reporting and dashboards
E-Signature integration
Assembly and approval workflows
Template creation and flexibility
Online document creation
PDF creation
Likes 
It offers easy setup templates
Templates can be reused multiples times
Gets instant data after sending proposals
Taking proposals to the next level of impression
Innovative in creating and sending proposals
A great tool to make proposals fast and get professional results 
Dislikes
Less ability in crash and bugs
Less ability to add duplicate contact emails
Functions are sometimes unstable and slower in responding
It could have provided more templates
Clunkiness in copying and pasting text and formatting content
Loading errors in viewing proposals
No accessibilities for screen readers
Page flow style can be better
Clumsy table format
Difficulty in designing the graphic part of the proposal
Other details
10. S-Docs
It's a document generation software and e-signature solution for Salesforce. This is lightning-fast, exceptionally intuitive, and incredibly secure since your data never leaves Salesforce.
It helps to empower the organization with the fastest, easiest, and most secure document generator and e-signature solution built on the Salesforce platform.
Key features
Documentation 
E-signature
Fastest creation of documentation
Intelligent document generation
Secure document generation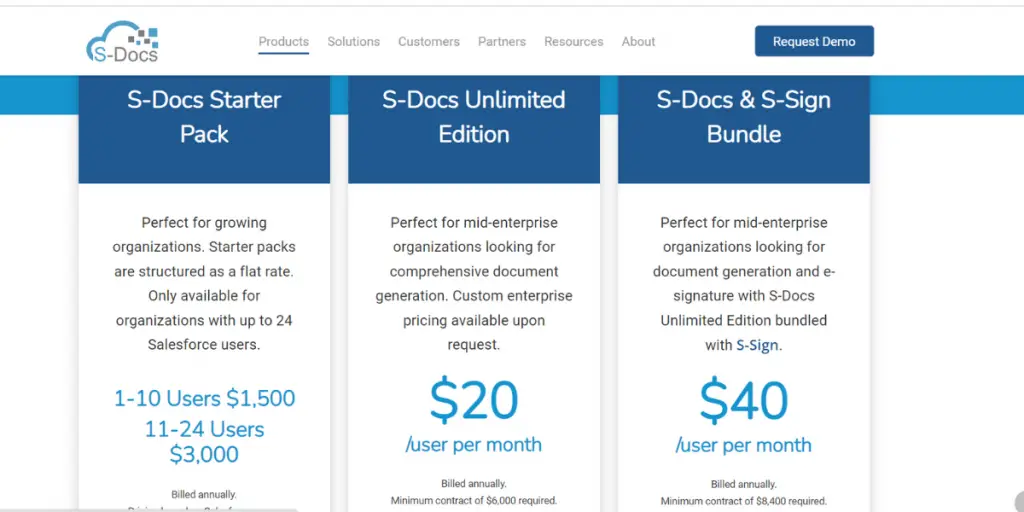 Likes
It is user-friendly and simplifies document creation
It provides reusable templates 
Document generation and delivery can be expedited.
Functionalities that guarantee compliance with regulations and policies for all documents.
Helps to create invoices, notifications, agreements, and marketing materials
Dislikes
It does not cater to all dialects
Difficulties for patrons in foreign nations
Difficulty in inserting related lists
Chances of bugs
Compatibility issues found
Integration with other software is also tough and rigid
Difficulty in dealing with large files
Embedding charts within documents is non-trivia
Conclusion
A wide range of document generation software is available, each with its unique features and pricing structure.
The more feature-rich the software, the higher the price tag will be. When deciding, read reviews and compare pricing carefully to find the best fit for your needs.
The 10 document generation software listed above are all great options, but depending on your budget and needs, you can choose the best one.
Reference