Email marketing remains a powerful and cost-effective tool for businesses to engage their audience, nurture leads, and drive conversions. 
As the digital landscape evolves, leveraging robust email marketing software has become crucial for creating targeted, personalized, and automated campaigns that resonate with recipients. 
This article lists the ten best email marketing software solutions with their features, pricing, likes, and dislikes. That helps you to choose the right software for your business to elevate your marketing strategies to new heights of success.
What is email marketing software?
Email marketing software is a digital tool or platform that helps businesses and marketers design, send, manage, and analyze email campaigns to engage with their target audience effectively.
The primary goal of using email marketing software is to promote products or services, nurture leads, build customer relationships, and drive conversions.
Here is the list of email marketing software.
1. Intuit Mailchimp
Mailchimp creates multi-channel campaigns that reach your customer where they are. Its Personalized experience enables you to interact with people.
You can choose any template and customize those according to your needs. With the help of multi-channels, you can build a good relationship with your customer.
Features
Landing pages 
Digital add 
Social post 
Postcards 
Own content creation 
Reports & analytics
Smart recommendations
A/B testing
Some screenshots of Mailchimp
Audience dashboard
Scheduling view
Likes
Its unique features allow you to work seamlessly with another marketing tool.
It integrates with your database software. 
It is a cost-effective & easy to implement tool for email marketing.
The creation of a newsletter is easy. 
Dislikes
List management is cumbersome and confusing. 
Managing a large audience can be difficult with this software.
Setting up an automated email campaign is not easy.
Sometimes Mailchimp emails go to spam inboxes.
Its bubbling features will make you upgrade again and again. 
Other details
2. Constant Contact
Constant Contact is one of the email marketing tools that allows you to track and see who is sharing your emails and then set the best suitable platform based on it.
By adding this tool, you can manage your customer contacts and edit emails all possible with the help of your smartphone.
Features
Email marketing 
Email template 
Marketing automation 
Landing pages 
Event marketing 
List building tools
A/B testing 
Integration 
Reporting 
E-commerce 
SMS marketing
Social media marketing
Mobile App
Some screenshots of the Constant Contact
Edit email info
Analytics
Likes
Its reach is high 
Creating and uploading a newsletter is easy 
You can easily choose the template to build a campaign 
You can select the list easily and send emails to a bulk number of contacts 
Dislikes
Reusing the same campaign is not possible 
It takes more time to create a survey or poll
It will provide spam reports occasionally 
You have limited design customization for event creation 
Extracting data is not user friendly 
Difficult to figure out custom mailing lists
It will not allow you to schedule your posts
Other details
3. Moosend
Moosend is an email marketing tool with many important features. It allows organizations to maintain good customer relationships organizations can do all marketing-related tasks automatically with the help of AI tools.
It enables them to try countless condition combinations to reach the audience.
Features
Email marketing 
Automation 
Personalization 
Tracking 
Lead generation 
Analytics 
Some screenshots of the Moosend
Track recipient activity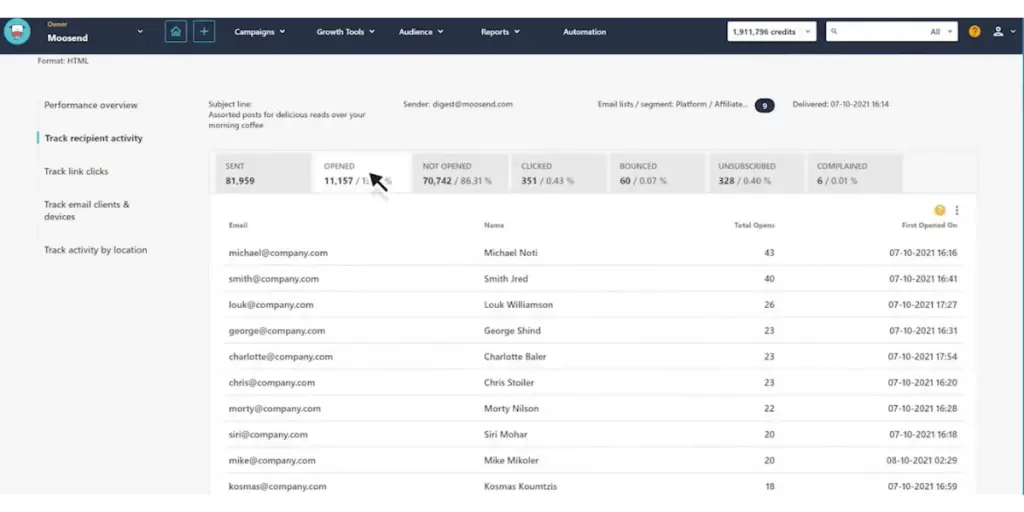 Track location view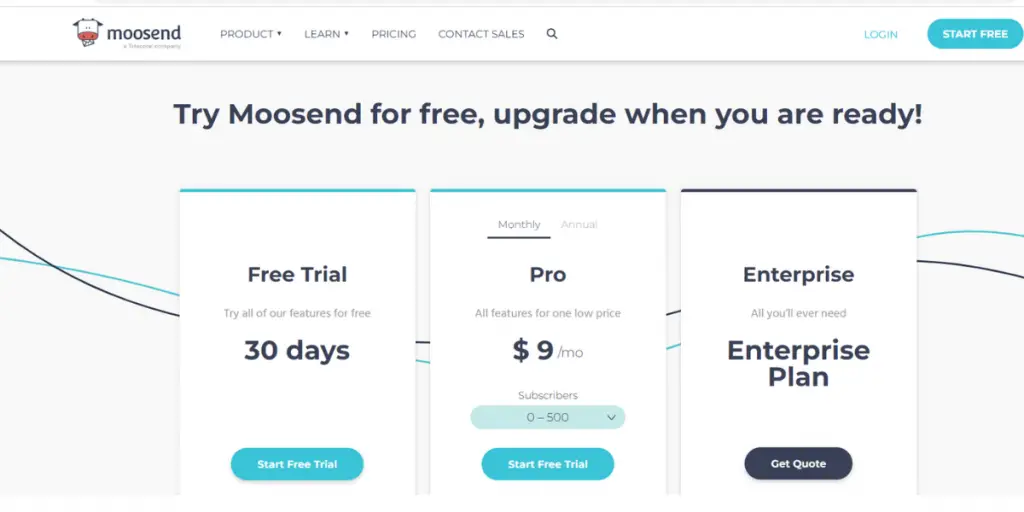 Likes
While launching a new campaign, working on a dashboard is easy.
You can automate repetitive tasks.
Readymade templates are available here.
Dislikes
You cannot find many automation opportunities
Less free trial period
your account will be locked if you do not purchase a plan immediately after the free trial 
A landing page builder is not very sophisticated
Uploading the list takes more time.
Other details
4. Mailerlite
Mailer-lite email marketing provides advanced features to automate workflows, collect subscribers, improve customer relationships, and monetize your audience. The software provides 24/7 support for its customers.
Features
Drag and drop editor
Free image library 
Auto resend campaigns
Facebook custom audiences
Subscriber management 
iOS app
Signup forms
Reporting dashboard
Some screenshots of the Mailerlite
Dashboard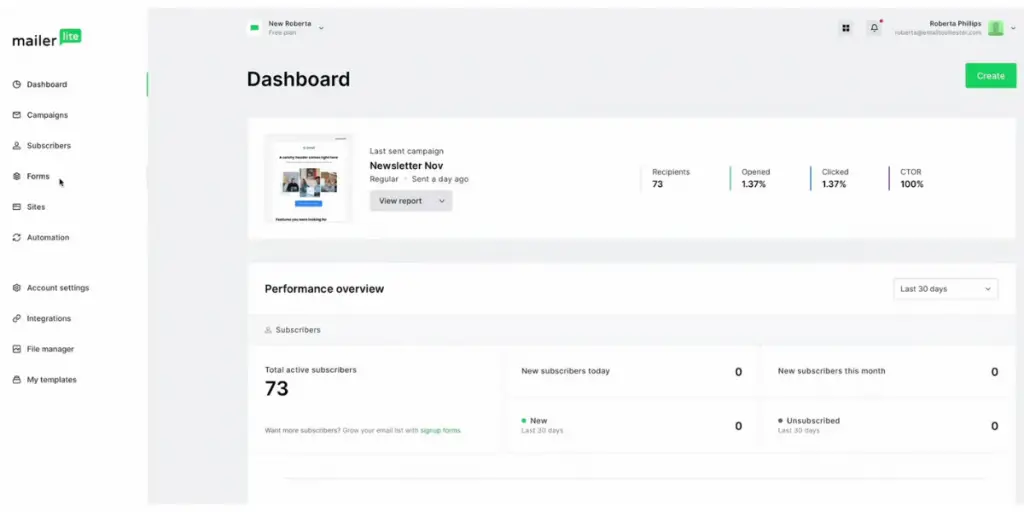 Trigger page view
Sites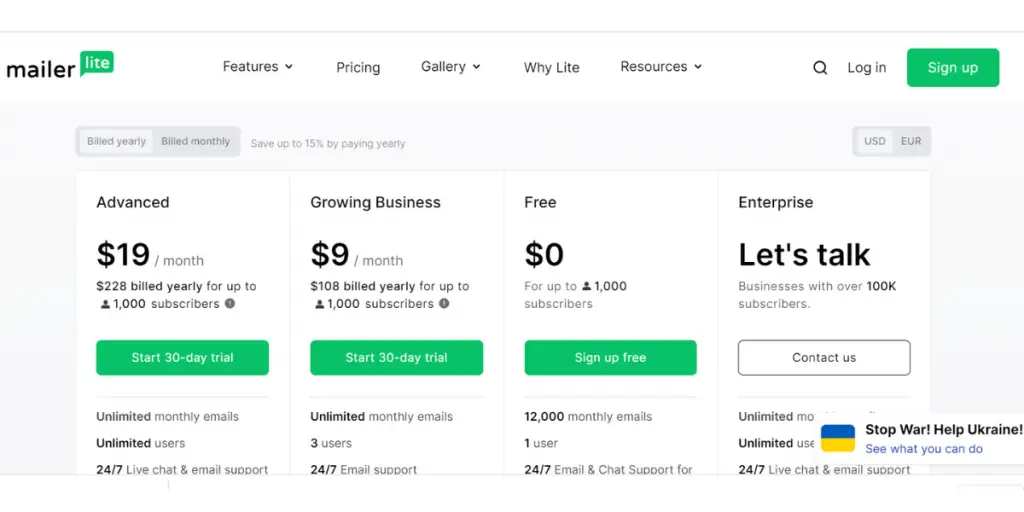 Likes 
Migration and report creation is simple 
You can link images and screenshots with email
It provides many options for its free users 
Dislikes
Its advanced package launch takes time 
Navigating the tool and editing can be complicated
The automation builder feature contains a lot of problems 
Its analytics are not accurate 
Other details
5. Litmus
Litmus provides all-in-one email solutions, helping to optimize and personalize every email. It adds true visibility to its stakeholders. You can avoid time-consuming and manual processes with the help of this software. It has achieved  98%  customer satisfaction.
Features
Acoustic campaign
Email design
Email analytics
Email testing 
Email collaboration and review 
Technology integration 
Some screenshots of the Litmus
Html proof
Broken campaign sample preview
Likes
It provides higher security for industrial automation
It balances between standard and opportunity 
It helps to design a test email campaign 
It is very useful for daily routine work 
You can see the preview of your email on a different platform 
Dislikes
Downloading and file sharing are the worst.
The online code editor has annoying bugs.
The cost is very high. 
Reviewing all proving platforms is not easy. 
It doesn't have the ability to filter and see the whole team process.
The email Insights could be better.
Other details
6. Systeme.io
Systeme.io is an all-in-one marketing platform that provides email marketing tools for all businesses, including entrepreneurs, to grow their businesses. It will allow organizations to build an online business and start their own blog.
Features
Sales funnels 
Email marketing 
Website builder
Affiliate program management 
Business automation
Evergreen webinar
Dashboard of Systeme
Likes 
The software is easy to use and set up
It provides 24/7 customer support
You can easily migrate your old data to the new system
It provides many options for creating courses
By using this tool, you can even create blogs, also
Dislikes
It has some issues with customizing the domain
Changing the instructor's name or photo in the bio is not possible 
The web chat option is not available
You cannot find advanced features
Other details
7. Saleshandy
Saleshandy provides a platform to send personalized cold e-mails at a large scale. You can do follow-ups for days, weeks, and months in advance to close more deals. It gives a personal touch to your e-mails with custom fields and ready templates.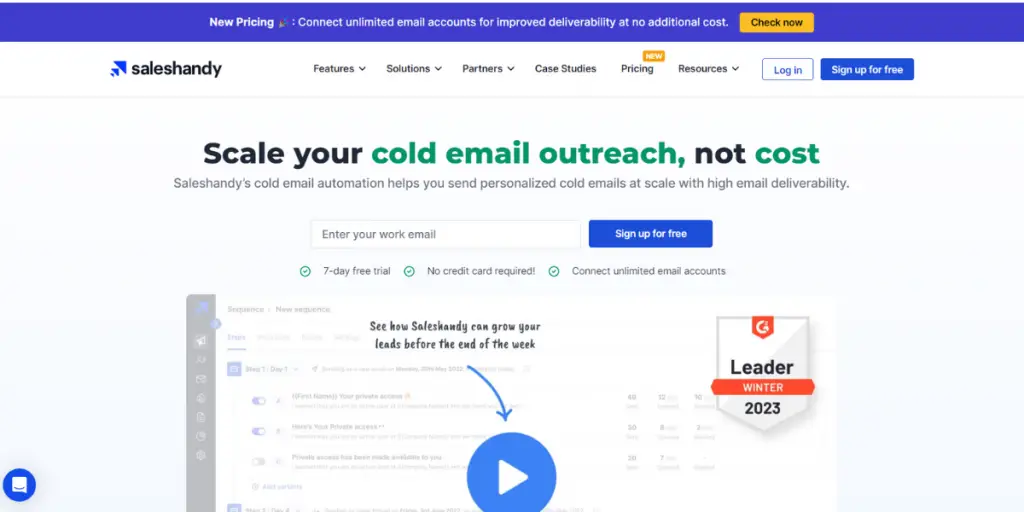 Features
E-mail sequences
Auto follow-up 
E-mail warm-up 
Unified inbox
E-mail tracker 
E-mail deliverability toolkit
Linkedin e-mail finder  
Some screenshots of the Saleshandy
Search & add contacts
Sequence steps
Likes
You can connect multiple e-mail accounts in one sequence to improve deliverability.
Easy-to-use user interface.
You can reach unlimited e-mails at a time.
You can add a pre-header for cold e-mails. 
You can see performance reports of all campaigns.  
Dislikes
It can improve communication at the time of updates.
It doesn't have an inbox yet for your cold e-mails.
It will not provide condition-based steps to send follow-ups. 
The E-mail warm-up is in beta and not perfect yet.
Other details                   
8. GMass
GMass provides a cold email platform. It allows you to send a new campaign based on your previous campaign contact.
It turns Gmail into an email marketing and cold email platform. You can send automated follow-up sequences and get the changes to build and store your contact list in spreadsheets.
It connects your spreadsheet of contacts directly to Gmail. It enables you to manage your mass replies automatically.
Features
Mass emails in Gmail 
Mail merge with google sheets
Email reporting analytics 
Personalization 
Automatic follow-up emails
Scheduling mass emails 
Mail marges  
Behavior-based campaigns 
Reply management 
Some screenshots of the Gmass
Google sheet upload
The new message
Pricing
Likes
You can use various email templates as well as platform 
It provides many options to follow up
It has so many template options 
A free trial option is available 
Dislikes
There is no option available for customer support 
Navigating and reporting take more time 
The user interface could be improved 
If you are a small business owner, paid plans are costly.
You are not able to customize the follow-up emails 
It doesn't match the size and font of the email automatically
Finding the statistics can be difficult 
It doesn't support Gmail inbox
Other details                     
9. Instantly
Instantly is a tool that has solutions for all your email-related queries. This smart AI is for your Email campaign, unlimited warmup, and so on. Business expansions are also possible with the help of effective email outreach. It allows you to send bulk mail with attractive content.
Features 
Easy to use 
Easy to setup 
Unlimited outreach
Unlimited warmup
Campaign analytics
Cold email accelerator
Some screenshots of the Instantly
Analytics view
Sequences of instantly
Likes
You can get high deliverability rates.
You can schedule email efficiently. 
The software adds a new feature every month so you can stay updated.
Dislikes
It has some hidden features. You have to ask their team to use them. 
It allows you to insert data automatically. 
You are not able to send an enormous amount of emails. It has some limitations. 
The analytics part is slow.
Exporting a CSV to view the data could be tricky.  
10. Close
Close is a platform that enhances sales communication and lets you centralize your workflow (like Outlook and Gmail). Its cold email is based on real research.
You can employ multi-channel sequences to streamline outreach. It has powerful features to solve your repetitive tasks. These tools enable you to simplify your technology and reduce built-in time.
Features
Communication 
Powerful automation 
Integration 
Email open tracking 
Multiple email accounts
Analyze calling insights
Bulk email 
Some screenshots of the Close
Leads list view
Volte research page view of Close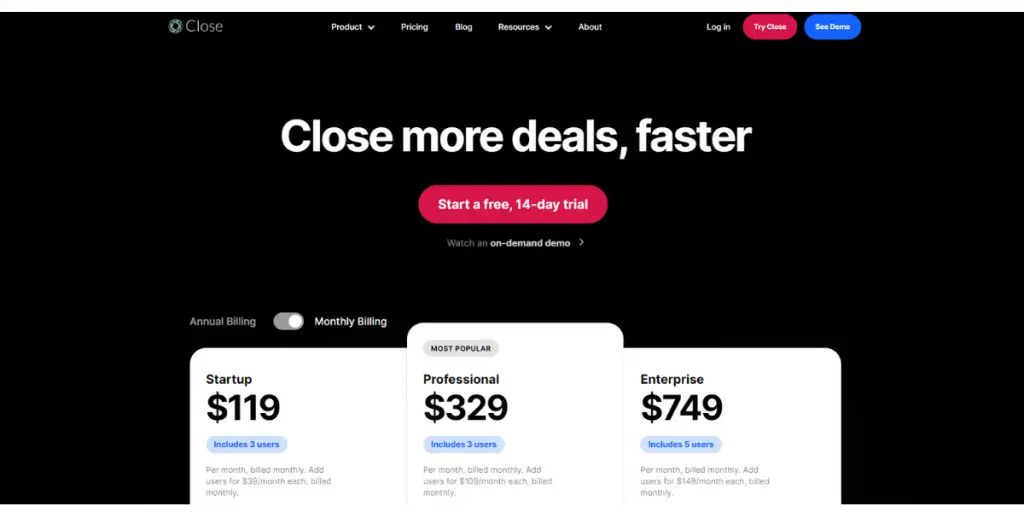 Likes
Email takes the default formatting of the user, no need to pick and force the font.
It is a simple tool to operate 
Provides a clear view of Your customer interactions
Dislikes
Sending emails is restrictive
The automation used here was poor 
Tracking your call could be complex
It is expensive 
Other details                      
Conclusion
Email marketing software is an indispensable asset for businesses looking to harness the power of targeted, personalized, and automated communication. We hope the article is helpful to you in selecting a suitable email marketing solution for your business.
Reference