Choosing the right APQP software for your business can be difficult. There are many options, and knowing the best fit for you can be challenging.
Not all APQP software solution is created equal. Some are better suited for small businesses, while others are more comprehensive and better suited for large companies.
What is APQP Software?
APQP software is a quality management methodology that helps manufacturers ensure that their products meet customer and regulatory requirements. It stands for "Advanced Product Quality Planning" and plans and controls the production process to ensure that products are manufactured according to specifications.
1. Omnex Systems
Omnex Systems is a leading provider of APQP software. Businesses worldwide use software to improve their quality control and product development processes.
Omnex Systems has been in business for over 25 years, and they have a reputation for providing quality software that meets the needs of their customers.
It is designed to help businesses improve product quality and comply with all the necessary standards.
Key features
APQP project management –  Manages projects, tracks resources, and monitors project status in real time.
NPD  management – Monitors product life cycle, performance, and reporting.
Project tracking –  Tracks project status, reviews, progress, milestones, and deliverables.
Project template – Includes new product development projects and change management projects.
Meeting manager – Tracks invitations, task assignments, and follow-ups
Document viewer – Tracks document revision and distribution control.
Likes
Comprehensive feature set – Omnnex Systems Software offers a wide range of features that can accommodate a variety of businesses. That makes it a versatile choice for companies looking for APQP software.
User-friendly interface – The software is easy to use, even for businesses with little quality control experience. That makes it an excellent choice for companies that want to streamline their quality control processes.
Used by businesses worldwide – Businesses of all sizes and various industries use the software. That gives companies confidence that Omnnex Systems Software can meet their specific needs.
Dislikes
Loading of applications is slow.
The license price is high and does not offer a free trial.
Other details
2. Asana
Asana software is one of the market's most popular project management tools. It's been around for over a decade and has a large user base of small and large companies.
Key features
App integration
Automation
Project management
Reporting
Admin controls
Some screenshots of Asana
Likes
Clear and efficient milestones
Easily customizable rules
It provides easy to use API
You can set up the software very quickly
Dislikes
You need to click on the load more task option if you have many subtasks in one main task. At a time, you cant get all the subtasks.
Other details
3. Trello
If you're looking for an easy way to manage your tasks and projects, Trello might be the perfect solution for you. It's a cloud-based project management tool that makes it easy to create and track tasks and collaborate with others on projects.
Key features
Task views
Automation
Power-ups
Templates
Some screenshots of Trello
Likes
It helps to manage projects easily and efficiently
Provides easy-to-use dashboards
Helps to create deadlines for your project
Provides high security
Dislikes
It doesn't have many features as some other project management software, but it is still a great tool.
It offers limited storage
Other details
4. Wrike
Wrike is a project management software that helps you manage your projects and tasks from start to finish. It offers a variety of features to help you stay organized and keep track of your progress.
Key features
Customize tools:  Wrike provides various customization options to help you tailor the software to your specific needs.
Gantt charts: Wrike's Gantt charts make it easy to see your project timeline and track your progress.
Project templates: Wrike has various templates to help you start your projects.
Collaboration:  Wrike makes it easy to collaborate with your team by providing various features such as comments, @mentions, and file sharing.
360-degree visibility:  Wrike gives you a complete view of your project so you can see what's happening at all times.
Trust in scalable software:  Wrike is scalable software that can grow with your business.
Screenshot of Wrike
Likes
A sound system for managing projects
It is easy to use and helps the team to work efficiently
You can customize project templates
Dislikes
The user interface is not much intuitive
If the task is complete and marked as complete, it will be hidden automatically, and you need to filter to find them.
Other details
5. Monday.com
Monday.com is a cloud-based software company best known for its project management and team collaboration tools. The company was founded in 2012 by  Roy Man . Monday.com has over 152,000 users worldwide.
Key features
Gantt chart
Project dashboards
Workload view
Milestones
Dependencies
Baseline
Advanced integration
Project templates
Some screenshots of Monday.com
Likes
Helps to organize processes and team
Software is easy to customize and very flexible
Dislikes
Switching to the user interface will not be easy
The mobile version is not good; you need to refresh it repeatedly to see the recent work.
Other details
6. Worksavi
For anybody looking for project management software to help their organizations systematize their business collaborations with other teams, monitor activities, and draft and outline their projects for implementation, the answer to this is Worksavi.
It is a project management platform that offers managers to control their operations and enhances the performances of teams working remotely.
Features
Tools like Gantt charts, dashboards, portfolio trackers, and others
Customized To-do lists and rescheduling
A comprehensive platform to monitor performance
Portfolio tracker
Integration with other systems
Some screenshots of Worksavi
Likes 
User friendly
Can handle many projects
Tracking of projects
Collaboration with remote teams
Dislikes 
Some of the tools don't perform well
Need for more integrations 
Other details
7. Smartsheet
Smartsheet is one of the prominent platforms that provide solutions for work management. It is a cloud-based platform for work mange. It aims at better productivity in an enterprise by transforming its work management culture.
It offers solutions for the constantly changing requirements of a driving business across its wide range of cases and sections and establishes a single strong connection within the enterprise.
Features
Exclusive add-ons and pre-built solutions
Resource management 
Content management 
Handling various aspects of asks
Project monitoring 
Project management tools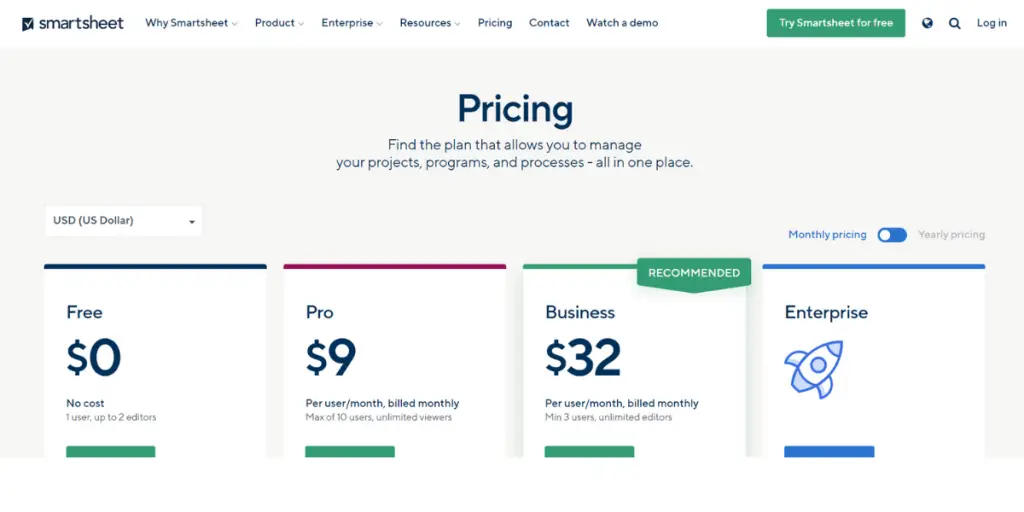 Likes
Easy creation of workflows
Good features and functions
Simple to implement and use
A good set of project management tools
Customizable sheets and dashboards
Dislikes
Limitations with row and cell
Not very user friendly
Pricing is high for premium applications.
8. ClickUp 
ClickUp is an all-in-one productivity platform that helps teams join forces in an organization, plan, coordinate and collaborate using the many tools it provides.
It has customization options for teams of all sizes. As a result, it foresees effective functioning and good productivity for the teams.
Features 
Organize projects at a glance
Idea management
Collaboration among the team
Tracking the progress and milestones
Project planning and scheduling
Resource management
Some screenshots of ClickUp
Like 
Tracking of project progress
Good for project organization
UI is state-of-art 
Code highlighter,
Faster interface 
Dislikes
Has some bugs
The mobile dashboard has some problems
It takes time to get accustomed 
9. Kantata Cloud for Professional Services
Kantata Cloud ( Formerly Mavenlink/ Kimblev) is a robust platform offering a wide range of tools for optimizing assets and enhancing operational execution. It allows the teams to carry out projects easily, reliably, and successfully.
Features
Resource management
Financial management
Project management
Team collaboration
Business intelligence, 
Integration
Workflow automation
Some screenshots of Kantata
Likes 
Smooth functioning 
Project allocation and creation 
Time entry is simple
Dislikes
Limited UI appearance
Features are not automatically turned ON
Sluggish interface
Slow working of software at times
Timesheets needs improvement
10. Notion 
A notion is a distinctive tool that can be applied for an enterprise in totality to share information, handle projects, and collaborate. This platform connects your Notion workspace to apps that are used daily. 
Features 
Knowledge base management
Content management
Collaboration tools
Cataloging/Categorization
Full-text search
Likes 
Intuitive
Easy to use
Database feature
Flexible interface 
Dislikes
Collaboration
Difficult to link many tables
Using Notion on Google Chrome
FAQs
Conclusion
Choosing the right APQP software for your business can be a daunting task. There are so many different options on the market, and it can be challenging to know which one is right for you. This article highlights some of the advanced product quality planning software on the market today. 
We hope this article has been helpful in your search for the best APQP software.
References