Architecture rendering software is a game-changer in architectural design and visualization. This innovative technology allows architects, designers, and clients to visualize and explore architectural designs in a realistic, three-dimensional environment before any physical construction begins.
By transforming blueprints and models into detailed, lifelike renderings, this software lets users experience a space virtually, making necessary adjustments and improvements.
There are many different architecture rendering software programs in the market. Choosing the best software for your needs can be difficult, especially when you're unfamiliar with all the options. 
We've created a list of the best ten architecture rendering software. It informs you about features, prices, likes, and dislikes of top ten architectural rendering software, and other essential information to help make your decision easier.
What is Architecture Rendering Software?
Architecture rendering software is software used to create realistic visualizations of buildings and other structures.
It is computer software used to create a graphical representation of a three-dimensional or two-dimensional object. It can generate images from models or scratch.
Here is a list of the top ten architecture rendering software.
1. SketchUp
SketchUp is one of the most popular architecture rendering software options. It's easy to use and has powerful features. It allows you to quickly create 3D models and export them to renderings while providing a wide range of tools for visualizing and editing your models.
Features
Interactive, real-time visualizations as you model
Access 4M+ pre-built 3D models
Augmented reality mobile viewer
Unlimited cloud storage
Data Import/Export
Experience reality (XR) headset viewing
Suitable for 2D Drawing, Animation, and 3D Printing
Screenshots of SketchUp
Likes
Using the tool is straightforward.
A high level of detail and quality can be seen in the images.
The program has been enhanced with many powerful extensions/plug-ins.
Dislikes
There can be some difficulty in toggling objects when they are moving.
It's now a subscription-based service since they removed the perpetual license.
They need to add more shortcut keys.
Supported industries
Architecture
Commercial interiors
Construction
Kitchen, bath, and interior design
Landscape architecture
Residential construction
Urban planning
Woodworking
Other details
2. Revit
Revit is another option for architecture rendering software, thanks to its advanced functionality and powerful modeling tools. In addition, it offers a wide range of features.
Features
Rendering-Allows users to render images and procedural textures.
Integration-Allows users to integrate with building design and building information modeling (BIM) software.
Contract/License management-Allows users to manage contract and license information.
Offline access-Allows users to access Revit data even when users are offline.
Produce 3D visualizations without any integrating hardware.
Co-ordination-Allows users to save and share work in one project.
File Import/export- Allows users to import and export data in many different formats.
Fabrication-Ability to create models of various systems that need to be integrated into the structure. 
Support for a broad range of CAD and BIM tools.
Some screenshots of the Revit
Likes
This program has the advantage of making it easy to convert elements from 2D to 3D.
It is a powerful design tool that can be used for advanced architectural and engineering projects.
The software supports many file formats, making working with other modeling programs easy.
Dislikes
There can be a steep learning curve when using this software, so it may not be suitable for beginners.
A leasing method is being offered to users instead of the purchasing system for this program. However, users will pay a much higher price with this method.
This app could have a better rendering quality compared to its peers.
Other details
3. 3ds Max
3ds Max enables you to create detailed worlds and high-quality designs through professional 3D modeling, rendering, and animation.
Features
Animation- Allows users to create dynamic animations and complex effects with precision.
Material editor- Allows users to apply materials and textures to their models easily.
Create realistic 3D designs using modeling tools.
Produce high-quality render.s
Annotations and presentation tools to help you impress clients.
Support for professional design workflows, including CAD data import and export.
Drag & Drop support for popular file formats, including OBJ and FBX.
Multifunctional and agile.
Screenshot of 3D Max feature
Likes
This powerful design tool offers a wide range of features for creating detailed and realistic architectural designs.
Users can easily collaborate on projects with colleagues and clients using its file import/export capabilities.
Helps to excel in knowledge and skill of 3D Modeling, Animation, and Rending.
Dislikes
It needs quality system requirements.
The interface lacks antialiasing on low-poly objects.
Composing animation scenes takes much work.
Other details
4. Lumion 3D
Lumion 3D is an architectural rendering software tool that allows users to quickly and easily create photorealistic renderings with a wide range of built-in content and materials.
Features
Volumetric spotlight and Omni light- These lighting options allow users to create dynamic and realistic lighting effects, including shadows and reflections.
Surface decals- Users can easily apply dirt, moss, and cracks to their 3D models for added realism.
Real-time rendering- Get instant feedback and see changes to your models reflected in real-time, saving you time and reducing the need for post-processing work.
Component Library- Choose various 3D models and components to easily build your scenes, including plants, furniture, people, and vehicles.
Orthographic views- Easily create detailed orthographic views to assist with architectural designs and renderings.
Landscape Design
BIM Modeling
Data Import/Export
Animation
Some screenshots of Lumion 3D
Likes
Users can create high-quality 3D models and renderings quickly and easily.
Provides a wide range of pre-built content and materials to help users achieve realistic designs and effects.
It comes with several built-in visualization and animation tools for creating detailed scenes.
Dislikes
It supports limited file formats for data import and export.
The user interface can be complex and difficult to navigate for beginners.
Other details
5. V-Ray
V-Ray is another powerful architecture rendering software with advanced features such as ray tracing and global illumination that help ensure realistic results in even the most complex scenes. In addition, it includes both CPU and GPU+CPU hybrid rendering options.
Features
Library
A large library of 3D models and materials makes it quick and easy to build your scenes without having to create everything from scratch.
Batch rendering
Render multiple images at once, saving time and reducing the need for user input during the rendering process.
Ray tracing
This advanced rendering algorithm helps to create high-quality images with a wide range of lighting and shading effects.
Shading tools
Use advanced tools such as raytraced materials and proxy objects to create more detailed, realistic scenes with complex objects.
Integration
Easily integrate V-Ray with architectural design and modeling software such as Navisworks, Revit, 3ds Max, and SketchUp.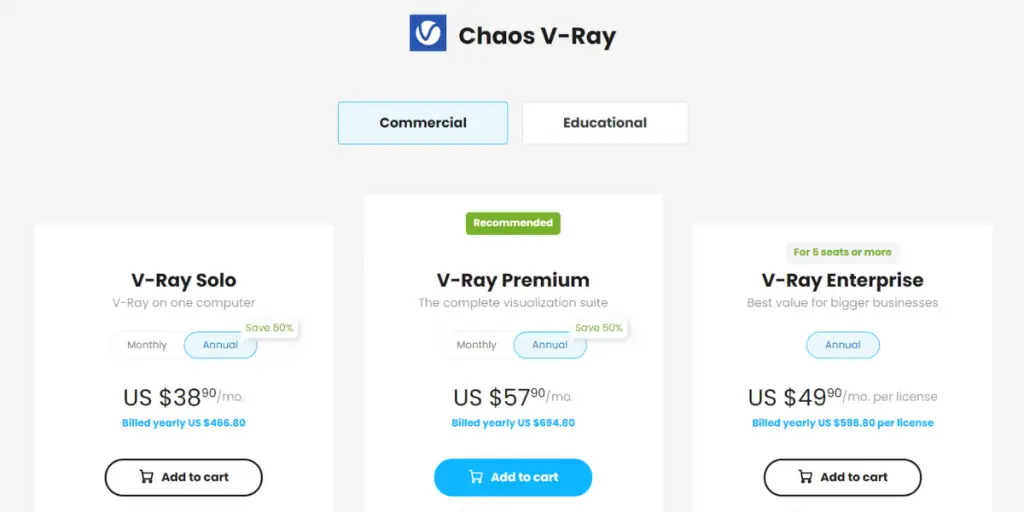 Likes
Powerful features and algorithms help to create high-quality renders with minimal effort.
It supports GPU+CPU hybrid rendering for fast, efficient rendering of complex scenes.
It is a very easy-to-use rendering engine with an unlimited material library.
Dislikes
Sometimes the integration crashes or crashes when it's used.
It's a bit more expensive to afford it for a long time.
Other details
6. Cedreo
The Cedreo Rendering Suite is a powerful rendering tool designed specifically for architecture and building design.
It offers several advanced features such as raytracing, global illumination, HDRI mapping, and photorealistic materials to help achieve realistic results in even the most complex scenes.
Features
Draw intuitively in 2D & get instant 3D visualizations
Annotations
Architectural Symbol Library
Render isometric 3D floor plans quickly and easily
Landscape Design
Screenshots of Cedreo
Likes
Intuitive drawing features make it easy to create 2D sketches or 3D visualizations.
Multiple viewpoints are available with the camera, and the renders are very detailed.
Dislikes
It can be challenging to place furnishings.
Insufficient models of indoor units for ventilation and heat pumps.
Other details
7. Maxwell
Maxwell Render is an unbiased 3D render software used as a standalone or interfaced with third-party software. It can create accurate and realistic images of architectural projects using its exact simulation of light to render the scene.
Features
Community-based library of materials and presets that can be easily accessed and used within the software.
Advanced rendering tools and algorithms help to create highly realistic images with proper lighting and color.
Supports GPU+CPU hybrid rendering for faster, more efficient processing of 3D scenes.
Unbiased spectral ray tracing is designed to simulate light and materials exactly as they appear in the real world.
High sampling, post-production plug-ins, advanced Ray Tracing used for materials, fast sampling, and denoising.
Screenshot of Maxwell
Likes
It improves teamwork.
Enables transparency of communications between the lending staff, accessibility, and simplicity of tasks.
It is easy to use.
Dislike
The changes needed to improve the functionality.
Other details
8. Blender
It is a free and open-source 3D computer graphics toolset designed for creating animated films, visual effects, interactive 3D applications, and video games.
Features
Built-in animation tools for rigging, skinning, and keyframe editing.
An extensive collection of modeling and texturing tools for creating detailed 3D models.
A wide range of real-time rendering, compositing, digital sculpting, and video editing capabilities.
Provides scripting and API support for integrating custom tools and workflows.
Simulation and game engine tools for creating advanced real-time 3D applications.
Some screenshots of the Blender
Likes
User community and extensive online documentation support beginners and experts.
Excellent selection of tools and features for creating high-quality visual effects.
Robust animation and video editing tools make it suitable for various video projects.
Dislikes
Limited support for 3D printing and VR/AR content creation.
Other details
9. Cinema 4D
Cinema 4D is a powerful 3D rendering software for creating high-quality visual effects, motion graphics, and architectural animations.
With an extensive suite of professional-grade tools and intuitive workflows, this software makes it easy for artists of all skill levels to create stunning visual content.
Features
A comprehensive set of modeling and texturing tools for designing detailed 3D models.
Advanced animation, simulation, and rendering features for creating fluid character animations and dynamic special effects.
State-of-the-art compositing, rotoscoping, and grading tools enable you to integrate your 3D content into live-action footage seamlessly.
Extensive interoperability with other applications and plug-ins for integrating custom tools and workflows.
Support for GPU-accelerated rendering to dramatically reduce turnaround times and increase productivity.
Sculpting tools for creating realistic digital sculptures and character models.
Playpen tool for intuitive sculpting and modeling using a stylus.
Bodypaint 3D for creating UV textures and painting directly on models.
Screenshot of Cinema 4D
Likes
Powerful and feature-rich tools for creating high-quality visual effects.
Intuitive workflows that make it easy to learn.
Models can be replicated at a fast speed using Mograph with cloner.
There are discounts available for students and teachers.
Dislikes
Insufficient ram and a poor video card can cause your computer to crash.
The customization of this software is challenging.
Other details
10. Enscape
Enscape is a powerful 3D software for creating immersive and interactive visualizations of buildings, interiors, and landscapes. With an intuitive user interface and a range of powerful tools and features, it is designed to make creating realistic 3D models fast and easy.
Features
BIM Modeling
Component Library
Data Import/Export
Landscape Design
Animation
Rendering
Annotations
Screenshot of the Enscape
Likes
It can show you interior 3D views as well as exterior views.
Extensive library of pre-made models and templates for fast and easy modeling.
Support importing various file formats, including BIM, OBJ, and DWG.
Dislikes
This software requires a powerful computer with an above-average graphics card, which can make it prohibitively expensive for some users.
Other details
Conclusion
Many different types of software can be used for rendering architecture. Some are more powerful and feature-rich than others, while some are easier to learn and use.
It is important to find suitable software for your needs, and the ones we have listed here should give you a good starting point. We encourage you to try out the free trials offered by these companies to see which one works best for you.
Reference