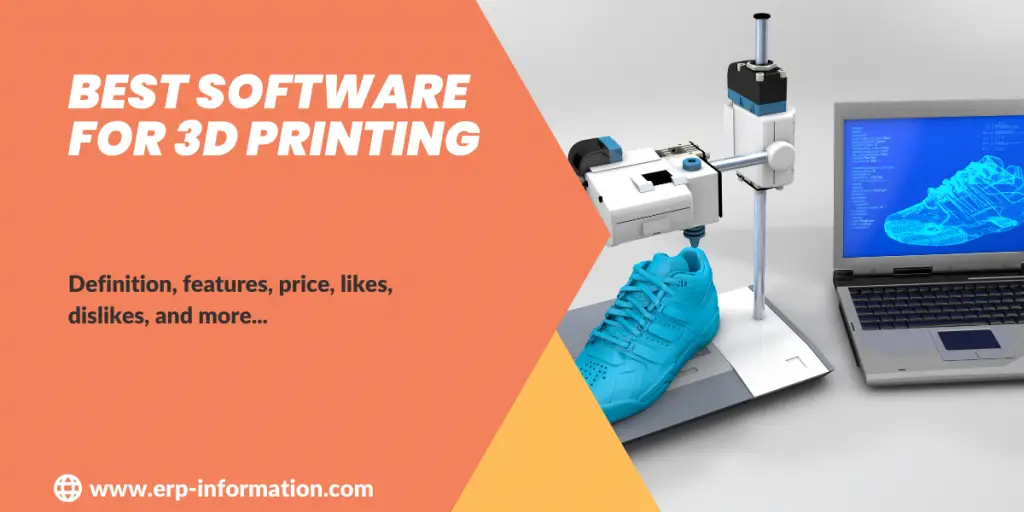 3D printing is a fantastic technology, but using the right software is critical to getting great results.
Not all software is created equal. Some tools are better for beginners, while others are for more advanced ones. It can be hard to know which program is right for you.
We've listed 7 best software for 3d printing based on user feedback. You may be a beginner or an experienced printer; we have a program that will suit your needs.
Here is the list of 7 best software for 3d printing.
1. FreeCAD
"FreeCAD" is free software that can be used for 3D printing. You can create simple or complex designs with this software. It's easy to use and has several features. That is an excellent program for beginners. A community of volunteers develops it.
Specialty: Enables robust 2D sketching and 3D modeling toolkit. Includes a technical drawing module and a robot simulation for manufacturing workflow. 
Features
Export/import models and data
A 2D sketching tool that allows sketching geometry-constrained
Provides dedicated workbenches for CSG modeling 2D, 3D printing
FreeCAD provides tools for exporting and editing solid, full-precision models for 3D printing or CNC machining, 2D drawings
A Robot simulation enables you to learn robot movements in a graphical environment
Modular architecture allows plugin extensions to add features to the core application
A Rendering module can export 3D models for rendering with external renderers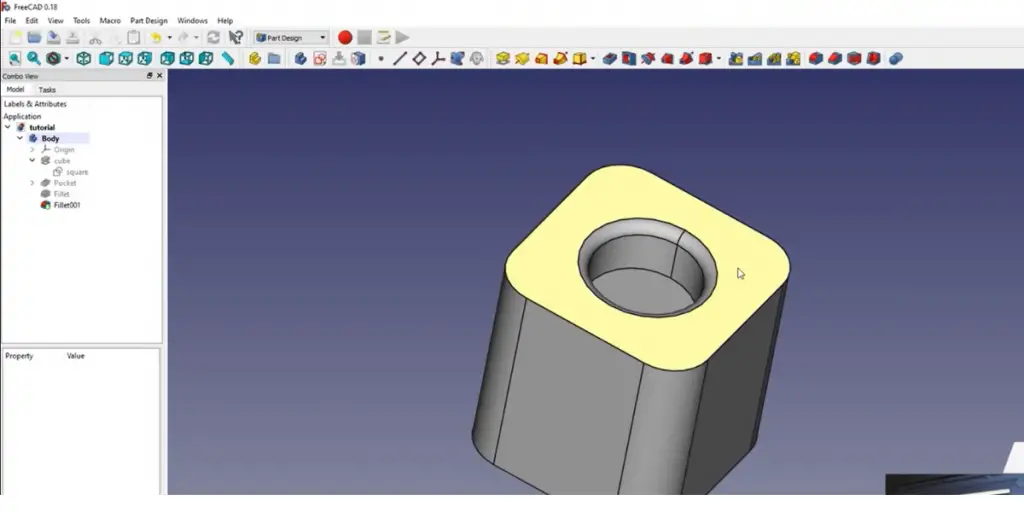 Price
This software is entirely free.
Likes 
Easy user interface
It offers Python Scripting, Model meshing
Dislikes
Since FreeCAD 0.19, it no longer officially supports 32-bit Windows. It might work on these systems, but no support is given.
Depending on a computer's OpenGL graphics capabilities, one might encounter a crash when running FreeCAD via a remote desktop. To fix this, you need to upgrade your OpenGL driver.
Other details
| | |
| --- | --- |
| Supported applications | Architecture, Engineering, Mechanical Engineering, and Manufacturing.  |
| Latest release | FreeCAD 0.20 |
| Date | June 14, 2022 |
| Programming language | C++, Python |
| Operating system | Linux, macOS, Unix, Windows, FreeBSD |
| Business size | Small, medium |
| Competitors | ArchiCAD, AutoCAD, DesignSpark Mechanical |
| Customer ratings | In g2, 4.2 out of 5 (54 reviews) |
2. Autodesk TinkerCAD
TinkerCAD is 3D printing software that enables you to design and print 3D objects. It's free, open-source software that's easy to use and allows you to create complex designs. Tinker also supports developing basic models of constructive solid geometry for beginners.
Specialty: Enables the creation of 3D printable models and basic solid modeling.
Features
Compatible with STL 3MF OBJ file types
Mesh repair functionality
Standalone Slicer Integrated 3D Modeling
Cloud-based Platform
Easy to add or import shapes, adjust shapes and combine elements
Easy to add or import and adapt figures, duplicate and combine elements
Multiple object alignment along any axis
Ruler to measure dimensions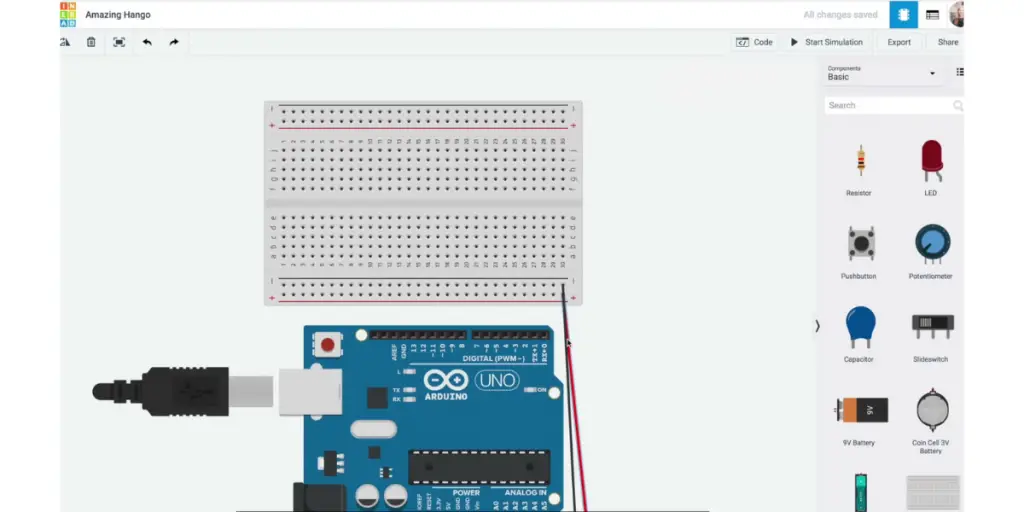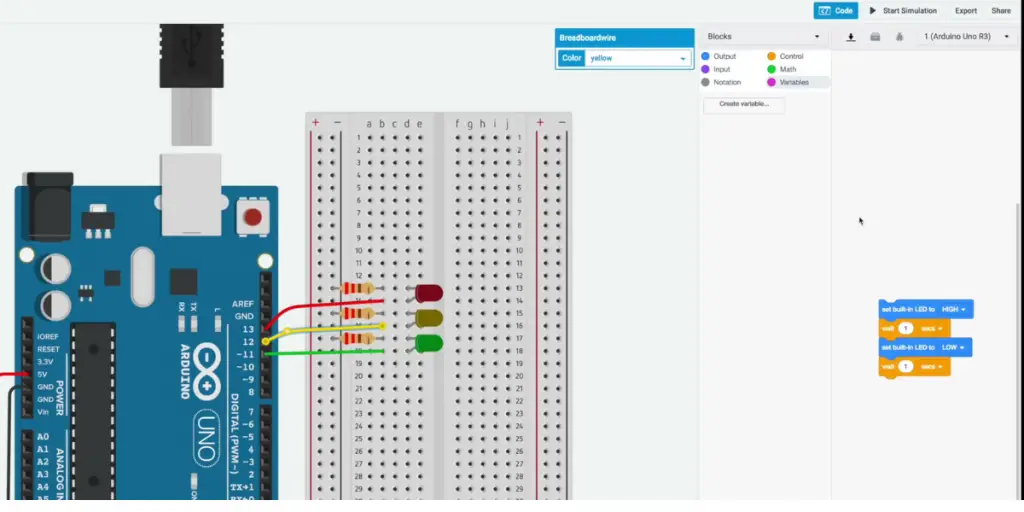 Price
It is fully free of cost.
Likes
It is easy to learn and implement
Dislikes
The size of the canvas is limited.
It offers significantly less customization.
Other details
| | |
| --- | --- |
| Deployment | Cloud, SaaS, Web-Based |
| Supported applications | Education |
| File format to import and export | STL, OBJ, and SVG |
| Programming language | JavaScript, Web |
| User type | Beginner |
| Customer ratings | 4.6 out of 5 (95 reviews) |
3. Ultimaker Cura
Ultimaker Cura is a free, open-source 3d printing software application that gives users everything they need to control their 3D printing process.
Cura is the single stop for all your 3D printing needs, from settings and pre-sets to simple firmware updates. Over the past eight years, it has become one of the most popular slicing applications on the market. 
Features
Plugins allow opening a file from a menu or exporting it from an application
Slices your 3D model into layers and generates G-code instructions
Print from history without reslicing
Automated material handling, air filtration, and filament humidity control
Advanced active leveling, remote printing, and monitoring make 3D printing more superficial and accessible.
Provides the widest material choice from advanced polymers to carbon fiber composites for the application.​
Seamless integration with the help of plugins
Scale production and digital distribution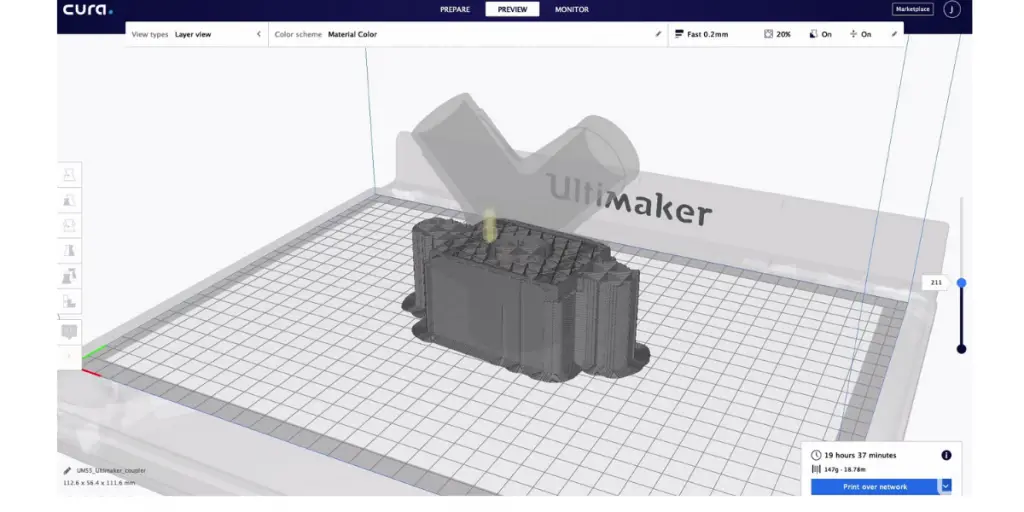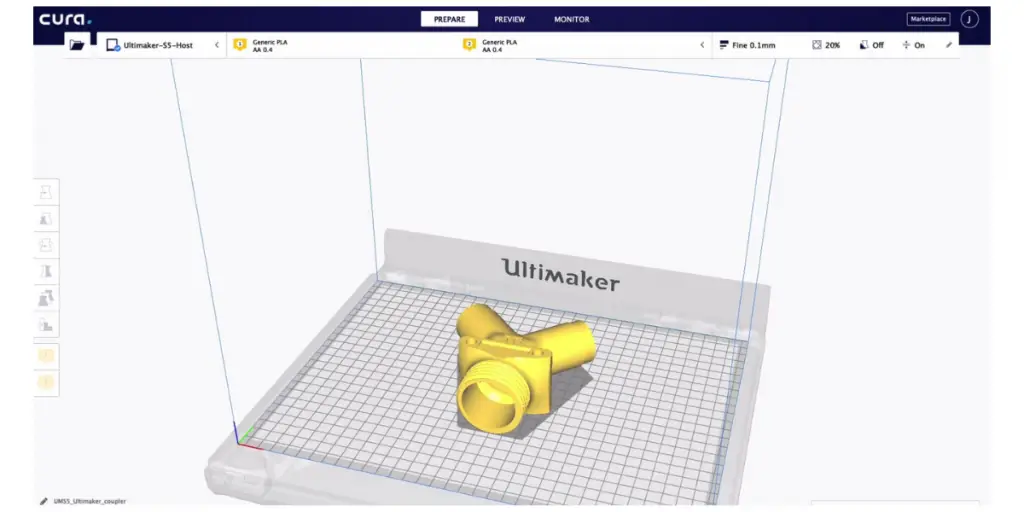 Price
It offers both free and subscription pricing models.
It offers three pricing options.
Ultimaker Essentials – Cost information not provided
Ultimaker Professional –$50 per month
Ultimaker Excellence –$1,000 per month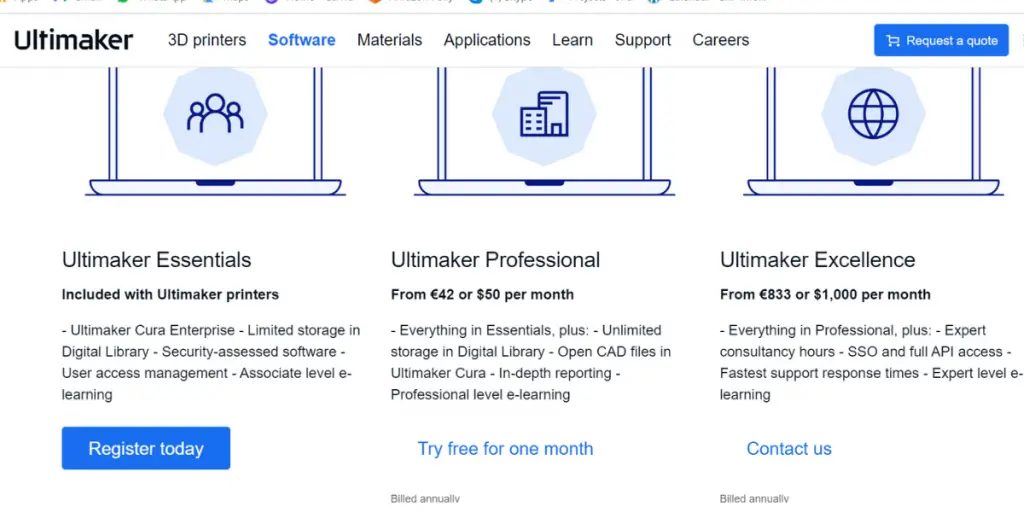 Likes
It has an easy user interface.
It is very versatile and has a large community of users.
It is constantly being updated with new features.
Dislikes
Slicing can be slow for huge models.
Other details
| | |
| --- | --- |
| Supported applications | Product development, Manufacturing, Food and Beverages, End-use parts, Architecture, and Education |
| File support | STL, 3MF, and OBJ |
| Latest release | 5.1.0 / 19 |
| Date | July 2022 |
| Programming language | Python, C++, QML |
| Operating system | Windows, macOS, Linux |
| Business size | Medium to large |
| User type | Beginners, Advanced Users |
| Customer ratings | 4.6 out of 5 (34 reviews) |
4. Octo print
It is a web interface for managing 3D printers. It allows you to send G-code files to your printer, start and stop prints, view the print status and history, and much more. It's open-source software released under the GPLv3 license.
Features
Compatible with most of the available 3D printers. 
An embedded webcam allows you to see how the printer creates an object.
The Integrated G CODE visualizer allows you to watch a rendition of the G CODE that you are printing.
Advanced temperature settings
Bed Level Visualizer.
Theme control UI using Themeify.
Plugins allow us to extend OctoPrint's functionality individually.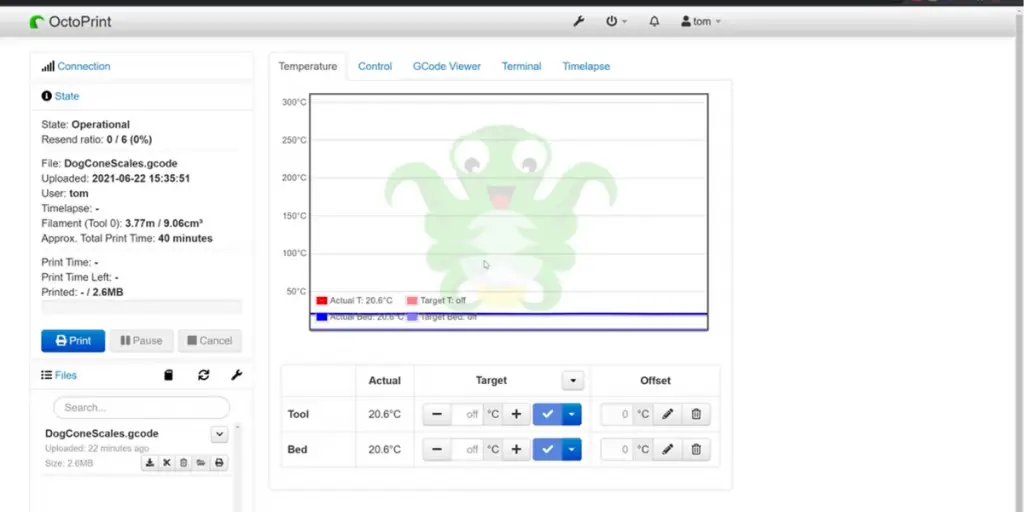 Price
The software is entirely free.
Likes
It provides customizable features.
Webcam allows you to see defects and cancel a print, reducing material waste.
Dislikes
Restarting a print can sometimes result in immediate failure.
Other details
| | |
| --- | --- |
| Latest release | 1.8.1 |
| Date | May 24, 2022 |
| Programming language | Python, JavaScript |
| Operating system | Windows, macOS, Linux |
| Customer ratings | 4.3 out of 5(6 reviews) |
5. Blender
A blender is a software for 3D printing that helps you to create 3D models from scratch or to modify existing ones. It's free and open, so you can download and use it on your computer.
Blender has many features, including creating meshes, editing textures, sculpting objects, adding lighting and animation, and exporting your models for printing.
Specialty: Designed to develop sophisticated 3D models.
Features
Multi-core CPU rendering using SIMD acceleration
Python coding for custom tools and add-ons
Digital sculpting tools enable the power and flexibility
Non-Linear Animation (NLA) helps with independent movements
Rigging tools enable envelope, skeleton, and automatic skinning
Real-time view tracked footage and 3d scene
VFX support for motion tracking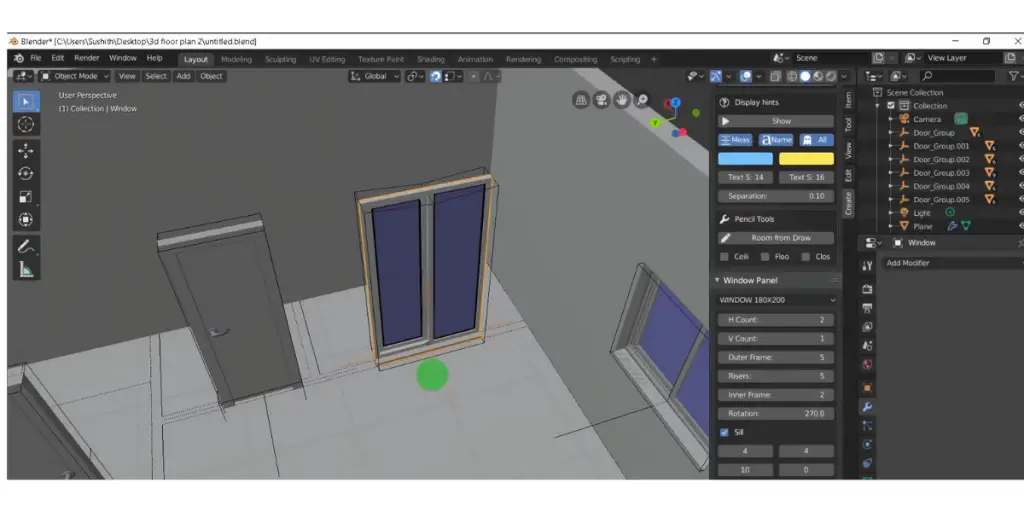 Price
It is entirely free.
Likes
The perfect tool to learn and can make competitive photorealistic renders 
Dislikes
Slightly complex animation needs python programming.
Not optimized well for portable devices.
Other details
| | |
| --- | --- |
| Supported applications | Modeling, sculpting, rigging, 3D and 2D animation, simulation, rendering, compositing, motion tracking, and video editing |
| Latest release | 3.2.2 3  |
| Date | August 2022 |
| Programming language | C, C++, and Python |
| Operating system | Windows, macOS, Linux, OpenBSD, NetBSD, DragonFly BSD,Haik |
| User type | Advanced Users |
| Customer ratings | 4.5 out of 5 in g2(224 reviews) |
6. Sketchup
SketchUp is one of the world's most popular 3D modeling and design tools. Used by architects, engineers, construction professionals, woodworkers, and hobbyists, SketchUp is easy to use yet powerful enough to create high-quality models.
Features
3D Imaging
2D parametric modeling
Architectural Symbol and Component Library
Annotations
Data Import/Export
Document Management
BIM Modeling
3D Printing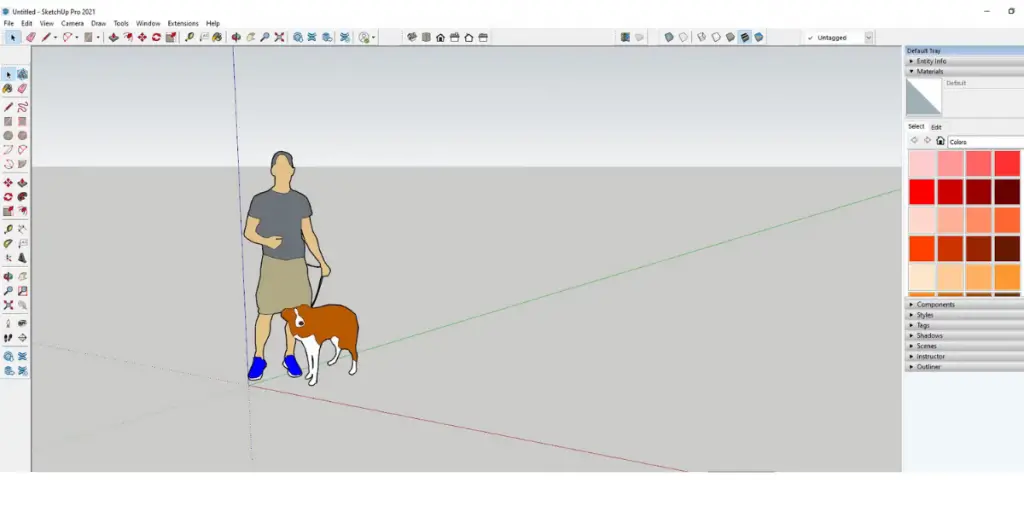 Price
Basic-$199-Design & collaborate anywhere
Professional-$299-Create professional work
Studio-$699-For advanced workflows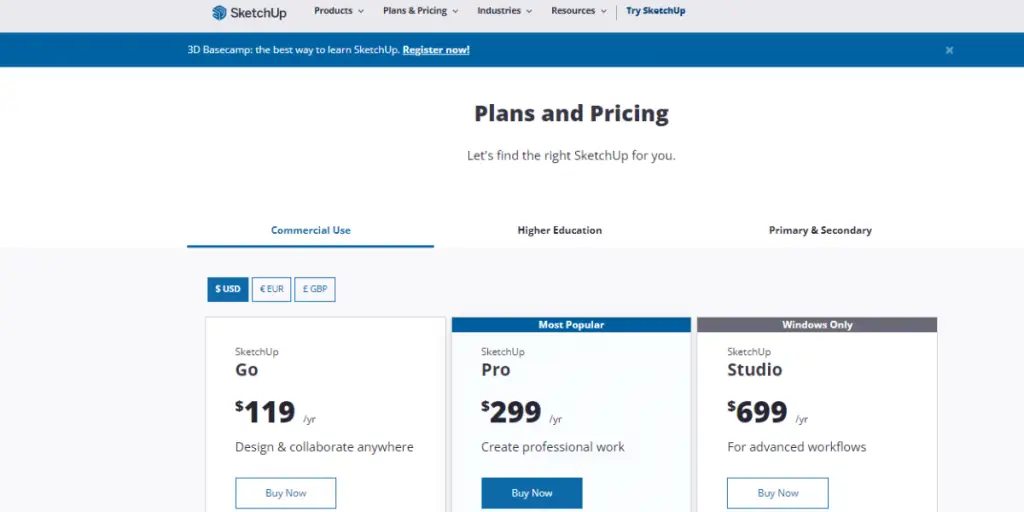 Likes
The advantage of Sketchup is that you can create whatever you like.
You can use the 3ds max and Vray plugin to create excellent renderings.
Dislikes
UI looks complex for beginners
Other details
Deployment
Cloud, SaaS, Web-Based
Supported applications
Social media, advertising, analytics, software
Latest release
SketchUp Pro 2022.0
Date
January 25, 2022
Operating system
Linux, Windows
Deployment
Cloud, SaaS, Web-Based
Supported languages
German, English, French, Italian, Japanese
Customer Support
Email/Help Desk, FAQs/Forum, Knowledge Base, Phone Support
Customer ratings
In g2, 4.5 out of 5 (750 reviews)
Capterra, 4.5 out of 5 (824 reviews)
7. Autodesk Fusion 360
Autodesk Fusion 360 is a powerful, professional-grade 3D printing software engineers and designers use to create high-quality prints.
It enables a wide range of features and options that allow users to customize their images, ensure quality results, and produce parts with excellent accuracy.
Specialty: Integrated cloud CAD, CAM, CAE, and PCB software platform.
Features
Flexible 3D modeling with direct, surface, parametric, mesh, or freeform modeling
Full-fledge electronics and PCB tools
Includes SPICE (Simulation Program with Integrated Circuit Emphasis)
Support for 16-layer PCB systems
Electronics cooling simulations allow for the management of thermal constraints of electronic components
Advanced CAD modeling tools make it easy to create detailed 3D designs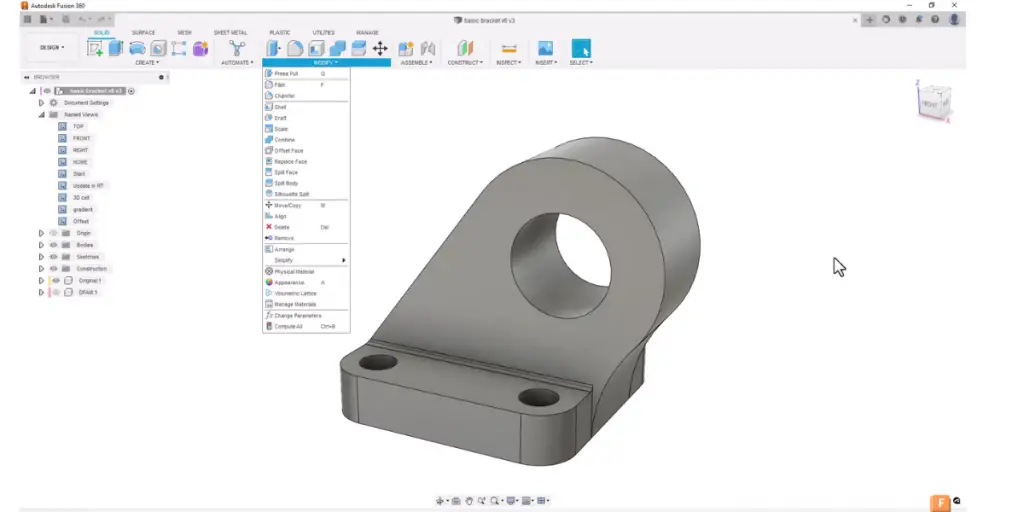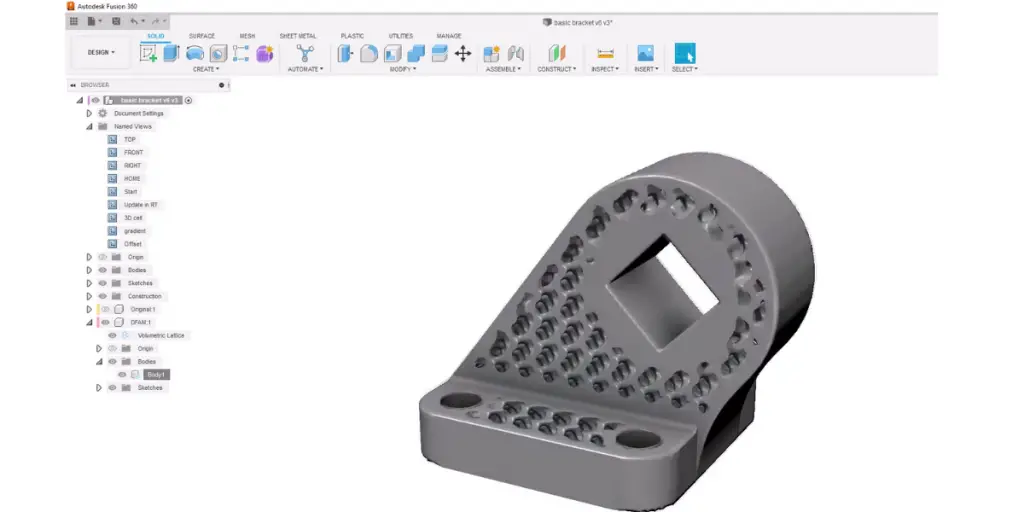 FEA verification, testing, and simulation help topology and shape optimization with cloud-based machine learning and AI
Price
$1,5 paid every three years-$1555 VALUE
Paid annually- $545
Paid monthly-$70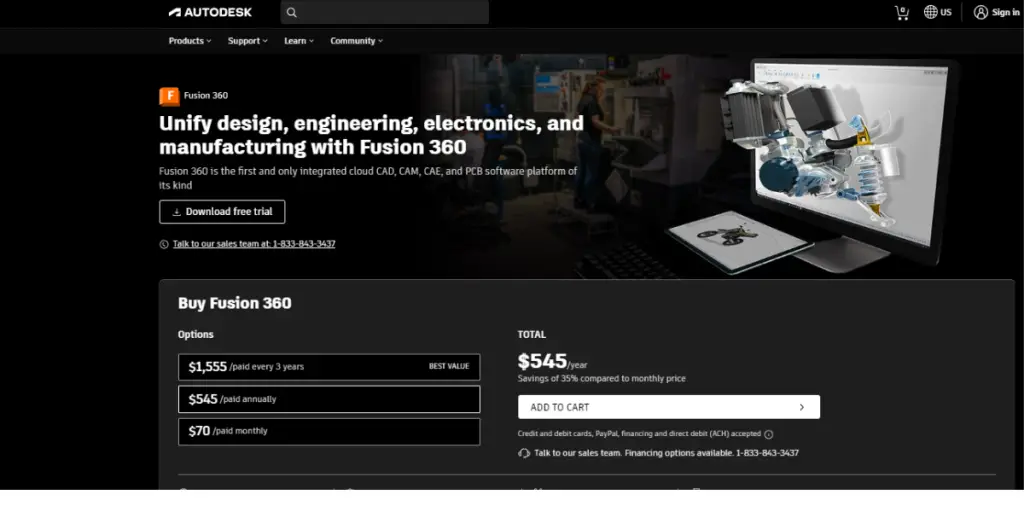 Likes
It can work on one project live with a team.
You can save and share tasks with coworkers on the cloud. 
Dislikes
Sometimes cause network speed issues.
Limited in creating functions on CAD as compared to top design CAD tools.
Other details
| | |
| --- | --- |
| Deployment | Cloud, SaaS, Web-Based |
| Supported applications | 3D CAD, CAM, and CAE professionals |
| Operating system | Mac, Windows |
| Support | Email/Help Desk, FAQs/Forum, Knowledge Base, 24/7 (Live Rep) |
| Customer ratings | Capture, 4.6 out of 5 (158 reviews) |
FAQs
What is 3D printing?
3D printing is a process of creating three-dimensional solid objects from a digital model. The printer reads the digital model and manufactures the object by laying down successive thin layers of material until the entire object is created.
What are the applications of 3D printing technology?
3D printing has many potential applications, including manufacturing aircraft parts, medical implants, prosthetic body parts, eyeglasses, food, clothing, and toys. It has also been used to create homes and other buildings.
Is 3d printing costly?
The cost of 3D printers has decreased dramatically in recent years, making them a more viable option for homes and small businesses. However, the 3D printing materials (filament, resin, Etc.), the operation cost (energy, maintenance, Etc.), and the complexity of objects decide the cost.
Conclusion
As 3D printing becomes more popular, the demand for software to help with the process increases. The seven best software for 3d printing listed in this blog post is some of the most popular and highly rated options.
Each has its unique features and strengths, so it is important to choose the one that will work best for your individual needs.
Reference