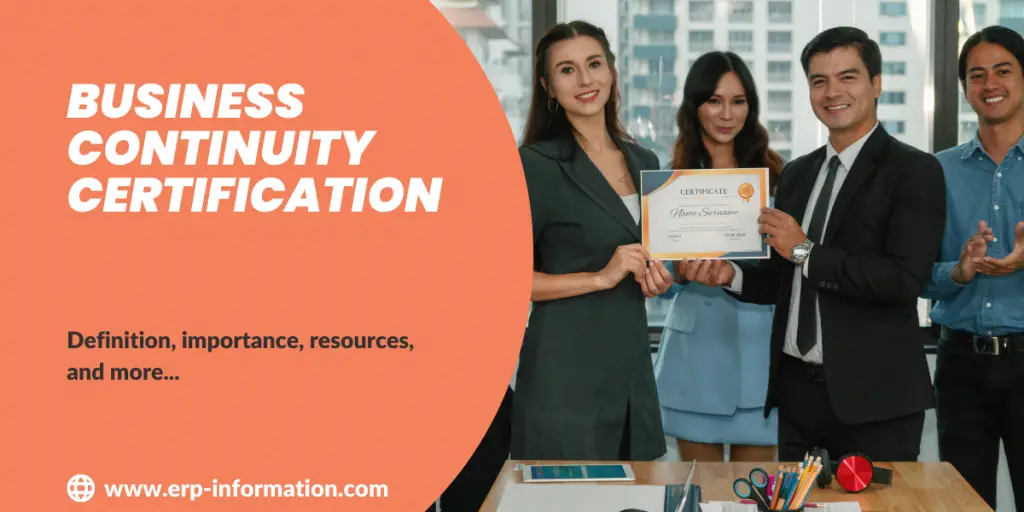 Business continuity certification can be a valuable asset for business owners looking to protect their company in an emergency. 
This blog will discuss business continuity certification, why you should get it, and how to get certified. It'll also provide a list of resources to help you get started! It will also examine what topics and positions it offers and its benefits.
What is business continuity certification?
Business Continuity Certification (BCC) is an internationally recognized standard developed by leading organizations in the field.
Why should you get it?
BCC can benefit you as an individual or organization because it provides a framework for planning and implementing business recovery plans in the event of any disaster or disruption. 
That could range from natural disasters like floods and fires; to terrorist attacks, cybercrime pandemics, and financial crises. 
The standards cover all aspects of the business, including finance, operations management, and technology infrastructure! 
This way, companies know how best to prepare themselves before anything happens, so they'll be able to deal with whatever comes their way without much difficulty.
If anything were to happen again, time would still be left over afterward because it was planned out beforehand.
How to get business continuity certification?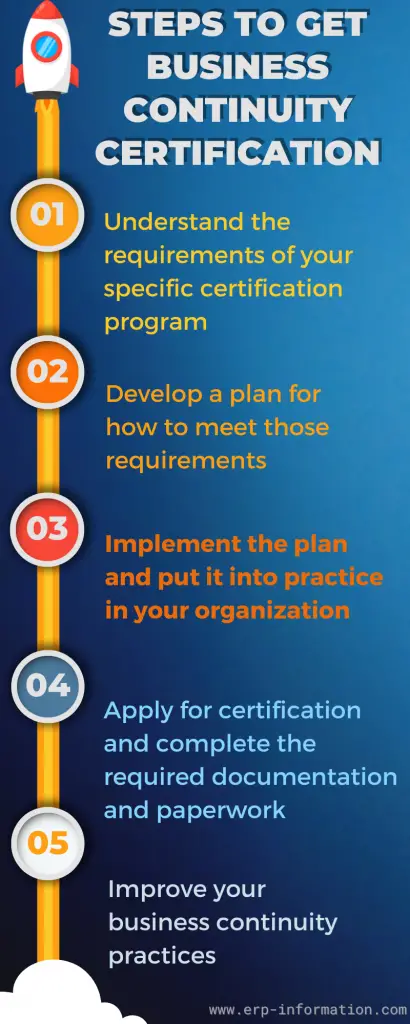 1. Understand the requirements of your specific certification program
The first step to getting BCC is to start by understanding the requirements of your specific certification program.
Different programs may have additional requirements, so it is essential to read the documentation carefully.
2. Develop a plan to meet those requirements
Once you are clear on the requirements of your certification program, you will need to develop a plan to meet those requirements.
That may include creating new processes, refining existing ones, or investing in new tools and technologies that will help you improve your business continuity capabilities.
3. Implement the plan and put it into practice in your organization
Once you have developed your plan for achieving certification, you will need to take steps to implement it and put it into practice in your organization.
That might involve training employees or working with external teams to help them understand how they can support your business continuity efforts.
4. Apply for certification
Finally, once you have successfully implemented your plan and met the relevant standards and guidelines, you can begin applying for certification and completing the required documentation and paperwork.
Depending on the program that you are pursuing, this may involve meeting with an auditor or simply submitting your documentation to a review board for approval.
5. Improve your business continuity practices
Stay focused on improving your business continuity practices over time by tracking metrics and evaluations and making adjustments based on customer and stakeholder feedback.
Resources to help you get started
If you're interested in getting BCC, here are some resources to help you get started:
CBCP (Certified Business Continuity Professional) Website
It is the best place to start if you want more information on business continuity certification. The website provides an overview of the certification process, eligibility requirements, and a list of accredited training courses.
Requirement
Two years of experience in five subject areas of Professional Practice.
Cost of exam: Qualifying exam fee: $750
Application form fee: $400
Annual renewal fee: $200
CBCI (Certified Business Continuity Institute) website
This site provides information on the CBCI certification, another internationally recognized business continuity certification.
Requirement
Completion of CBCI training and experience in at least one subject area of business continuity management.
Course fee: $2500 to $3500
Cost of exam: Initial application fee: $450
CBCM (Certified Business Continuity Manager) certification
A Certified Business Continuity Manager (CBCM) certification is a professional designation that indicates mastery of business continuity management.
To become a CBCM, you must meet specific requirements, including experience in business continuity, and pass an exam.
Requirement
5 years of experience
CIS membership and workshop completion
Exams: RM 101, BCMS 101 and BCMS 102
Fee: $100 
Total fee: $300
APICS Certified in Production and Inventory Management (CPIM)
CPIM is a globally recognized certification for production and inventory management professionals. It covers demand management, material planning and execution, supplier relationship management, and more.
Requirement
Requires candidates to pass two exams within three years.
Exams: RM 101, BCMS 101 and BCMS 102
Fee for members: $545
Non-members fee: $760
CISA Certification By ISACA
CISA is an internationally recognized information security certification. It covers risk management, incident response, and more.
Requirement
Applicants must have either bachelors or high school diploma.
Within the last five years, pass the CISA examination
The course suits IS/IT auditors, compliance managers, chief compliance officers, chief risk officers, and managers.
Fee: $575 OR $760
EC-Council's Disaster Recovery Professional (EDRP)
The Disaster Recovery Professional (EDRP) certification is designed for individuals who want to specialize in disaster recovery planning and implementation.
The certification covers various topics, including risk assessment, business impact analysis, disaster recovery strategies, and more.
Requirement
Gone through Disaster Recovery and Business Continuity course.
The applicant under the age of 18 must have a parental consent letter from a nationally accredited institution of higher learning.
Fee-$350
What does business continuity certification cover?
The topics covered include: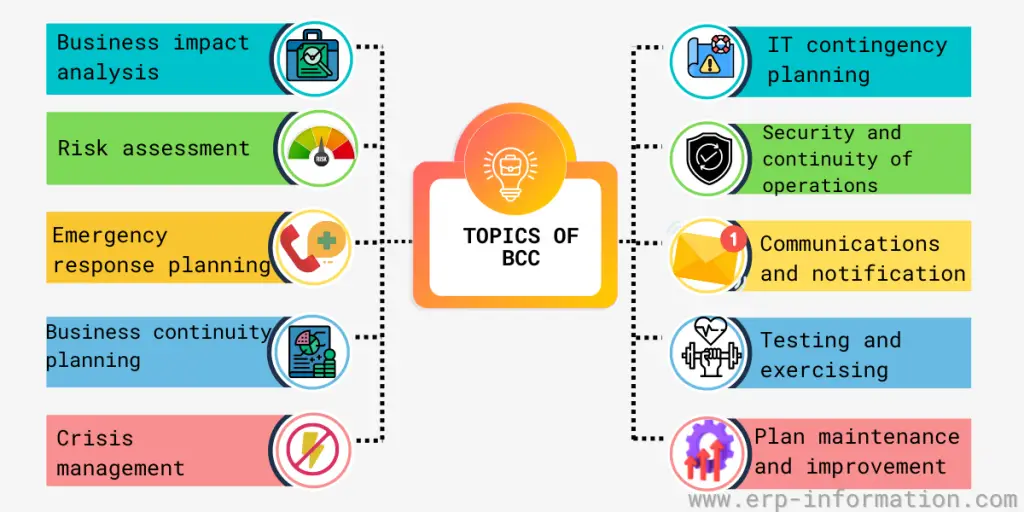 Business impact analysis
Includes a review of an organization's operations to identify which functions are critical to its success. It also analyzes the potential effects of disruptions on those functions and how long the organization can withstand those disruptions.
Risk assessment
Identifies, analyzes, and assesses risks to an organization's operations. This information is used to develop risk mitigation strategies.
Emergency response planning
Outlines the procedures and resources used in an emergency. It includes the development of an emergency response team and the creation of evacuation plans.
Business continuity planning
Defines the steps that need to be taken to keep an organization's operations running in the event of a disruption. It includes the development of contingency plans and the identification of alternative locations and suppliers.
Crisis management
It encompasses the actions taken by an organization to plan for and respond to a crisis. It includes the development of a crisis management team and the creation of crisis communication plans.
IT contingency planning
It is a critical aspect of business continuity certification, as it covers the steps organizations need to take to ensure their IT systems can continue to operate in the event of a disaster.
Security and continuity of operations
It is another important topic, as it outlines the steps that organizations should take during a disaster to protect their facilities and employees.
Communications and notification
Cover the methods businesses must use to communicate with customers, employees, and other stakeholders during a crisis.
Testing and exercising
Cover the importance of testing business continuity plans to ensure they are effective.
Plan maintenance and improvement
Cover the need to continuously review and update business continuity plans to keep them relevant.
Business continuity certification positions
There are many job openings for business continuity certified professionals. Some of the most popular positions include:
Business continuity manager
Business continuity analyst
Business continuity coordinator
Emergency management specialist
Disaster recovery specialist
Crisis manager
IT contingency planner
Security and continuity of operations manager
Communications and notification specialist
Facilities managers
Benefits
There are many benefits of BCC, including but not limited to the following:
Gaining the knowledge and skills necessary to plan for and respond to disruptions effectively
Increased credibility and recognition among peers
More significant job opportunities and higher salaries
Demonstrating commitment to the profession
Improving organizational resilience
FAQs
What qualification is required for business continuity certification?
To sit for the CBCP exam, you must have a minimum of two years of full-time professional experience working in business continuity or a related field.
There is no specific degree required, but many employers prefer candidates who have a bachelor's degree in business administration, emergency management, or a related field.
What is a business continuity consultant's salary?
The median salary for a business continuity consultant is $97,000 per year. However, salaries can range from $75,000 to $120,000 per year, depending on experience, qualifications, and location.
Conclusion
Overall, business continuity certifications are useful because they set standards for business continuity professionals and give them the tools they need to improve.
However, before getting certified, a few requirements must be met, such as passing an exam and having prior training in the field.
Once these requirements are fulfilled, business continuity certification can help open up new job opportunities and improve your skillset!
References