No one ever wants to experience an incident in their business, but unfortunately, they do happen. When they do, it's crucial to have the right tools to manage them quickly and efficiently.
This blog post will look at the ten best Incident Management Software tools available. Then, we'll discuss each tool in terms of features and pricing and how it can help your business get back on track quickly after an incident occurs. This article is useful for incident management software comparison and selecting the best one for your business.
What is Incident Management Software?
Incident Management Software is a tool that helps businesses manage incidents quickly and efficiently. This software can help businesses avoid or mitigate the impact of incidents by identifying, analyzing, and prioritizing risks.
The different types of Incident Management Software
There are many different types of incident management solutions available on the market. For example, some software is designed to help businesses prevent incidents, while others are designed to help businesses manage incidents quickly and efficiently after they have occurred.
Ten best incident management software
1. Freshservice
It is well known for IT service management for all types of businesses. It is a cloud-based software solution with a 21-day free trial without a credit card. In addition, it provides an intuitive user interface and is easily customizable.
Features
Multiple channels for support like email, a self-service portal, mobile app, phone
Automatic log of all emails as ticket
AI for automatic categorization of tickets
Auto-assignment of tickets
Dashboard for tickets view and track
Service desk integration with the knowledge base that has solutions to incidents and problems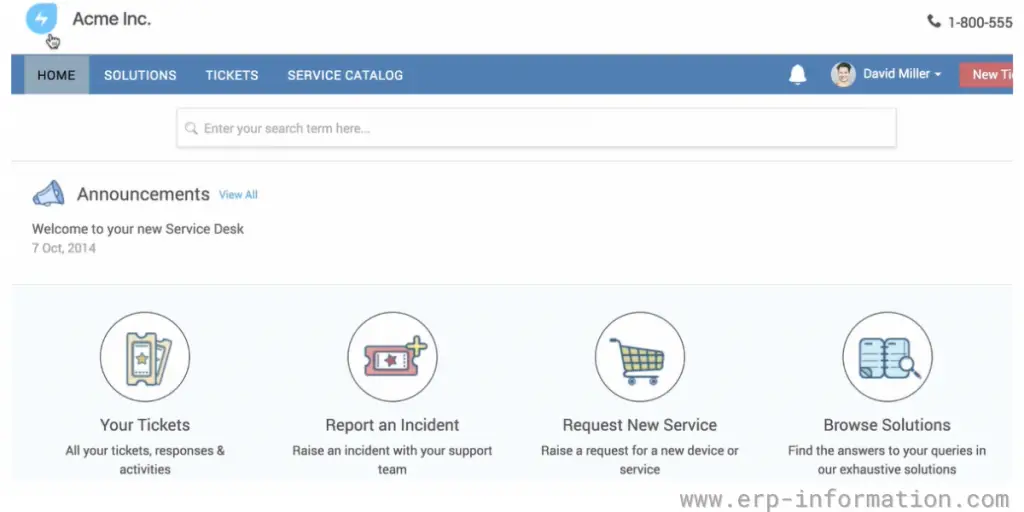 Likes
The software is easy to install and configure.
With its automatic workflow, you can prioritize the ticket based on urgency.
It allows you to share a single screen with team members and get to know who is working on which ticket.
Its self-service portal helps the end-users to solve their problem without the help of technicians.
Dislikes
Mobile application is difficult to use and adopt
Database query times could be improved
Other details
2. ninjaOne
ninjaOne is a complete IT management software that provides a platform for RMM, endpoint management, patch management, remoting access, ticketing, and backup. It supports more than 9000 customers in more than 83 countries. It offers a free trial with no credit card.
Features
Monitoring and alerting
Documentation
IT automation
IT operations management
Reporting
Security
Platform administration
Track, prioritize, and solve support tickets
Likes
It provides automatic ticket creation and resolution.
It provides 360-degree visibility to the tickets. Hence you can easily resolve the tickets.
Dislikes
Customization of the dashboard is not possible.
Sometimes, the Splashtop remote tool is not working properly.
Other details
3. ServiceNow
ServiceNow is an ITSM software that provides incident management to businesses. It helps businesses automate their operations and improve productivity by quickly restoring services and resolving incidents.
Features
Major incident management
Single pane agent view
AI-powered insights
Native mobile app
AIOps integration
Omni-channel notifications
Incident response playbook
On-call scheduling
Likes
Omni-channel self-service and two-way communication provide a good experience and enhance employees' productivity.
Assigning work to the right agent and collaborating for the IT process with a single platform helps to restore the service automatically.
The self-service portal helps to deflect the tickets and increases the incident deflection.
The machine learning capability of the software provides assigning incidents to the right team to resolve them quickly.
Dislikes
Sometimes, it shows that completed or closed tickets are still open.
Other details
4. PagerDuty
PagerDuty is an Incident Management Software and is very popular for digital operations management. It provides real-time insight and helps to solve problems and prevent problems. In addition, it provides a free version to get started with the software.
Features
Automated incident response
On-call management
Process automation
Automation actions
Customer service operations
Runbook automation
Likes
It provides easy on-call scheduling and unlimited API calls with the free version.
It provides unlimited international phones, SMS notifications, and schedules with the professional version.
It offers more than 650 out-box integrations.
Dislikes
Ticket integration and email & Chat support are unavailable for the free version.
5. HaloITSM
HaloITSM is a famous IT service management software that serves customers such as Siemens, The University of Cambridge, NHS, and Suzuki.
It is an intuitive solution that integrates with many business applications like Office365, Azure DevOps, SCCM, BeyondTrust, Lansweeper, Active Directory, Azure, Microsoft Teams, TeamViewer, and Facebook.
Features
Incident management
Problem management
Change control
Configuration management
Knowledgebase management
ITIL service catalog
Self-service portal
SLA management
Likes
It is a complete ITSM solution, easy to use, and highly customizable
It provides valuable insights in real-time
Allows you to check different call types
ITIL framework helps you to organize request types and work with high standard
Dislikes
The chat option is not there in the new end-user portal
Dashboard and reporting capabilities are not so good compared to other incident management software
Other details
6. ServiceDesk Plus
It is a comprehensive IT service management solution. ServiceDesk's smart automation capabilities help enterprises to resolve ticket problems quickly and easily. In addition, it offers both on-premise and cloud deployment models.
Features
Multi-channel support for end-users
Automated ticket workflow process
SLA management with escalation
Integration of incident management with knowledge management
Automated notifications
Likes
The software is robust, intuitive, and easy to use.
It provides incident management for both cloud and on-premise deployment models.
It allows you to track and manage all the incidents with a defined process.
Assigns tickets automatically and converts emails to tickets automatically.
It provides a lot of built-in templates.
Dislikes
You need some assistance in learning the software initially.
Sometimes receiving tickets and response times are slow.
Online support and overall customer support are not good.
Unavailability of patch management and release management.
Other details
7. Spiceworks
Spiceworks cloud help desk is a free software solution for IT businesses. It offers a comprehensive suite of IT tools, including an incident management system
. Spiceworks' incident management system is designed to help businesses streamline their workflows and improve efficiency.
Features
Ticket and tasks – Users can easily create tickets and tasks for incidents and reply, add comments, and close. With the help of customer fields, users can track the needed things.
User self-service – Provides a customizable user portal so end-users can submit tickets and monitor the progress.
Action directory integration – Helps to add end-users automatically and tag them to tickets.
Help Desk team management – Dashboard provides a view of team performance metrics.
Ticket collaboration – Allows to share tickets and work together.
Multi-site support – Provides support to multiple users in multiple locations.
Likes
It is a free tool and good for self-portals.
It is a cloud-based software. Hence, no need to have the server set up and maintained.
It provides custom ticket attributes, ticket rules, and alerts.
It provides secure remote support for remote employees.
You can get the latest updates and notifications through mobile apps.
Dislikes
Lack of flexibility
The setup wizard is not good
Mobile apps are a little bit confusing
Search for old tickets is awkward
Other details
8. issuetrak
Issuetrak is a help desk software that helps businesses to manage issues by automating ticket escalation and resolution.
It offers a bunch of features, such as ticketing, asset management, and reporting. It is trusted by companies such as Verizon, Cintas, Planet Fitness, Pfizer, etc.
Features
Customizable issue types
Customizable issue priorities
Mass issue handling
Custom issue view
Unlimited issue attachments
SLA management
Issue auditing and reporting
Unlimited reporting
Customizable live dashboard
Task management
Knowledge management
Likes
Offers multi-channel issue submission
It provides 24/7 customer support.
It provides solutions for both cloud and on-premise deployment models.
It helps you to automate the entire workflow.
It is simple with full of features.
Dislikes
Sometimes search function will be clunky.
Learning the software functions is a little bit difficult.
Other details
9. Onpage
Onpage is one of the great incident management Software. This Software solution is for IT service alerting and incident alert management. It Integrates with ServiceNow, ConnectWise, Autotask, Uptime Robot, Slack, Amion, IBM Maximo, Cisco Spark, and more.
It keeps an eye on critical issues and never lets them miss. It provides software tools for many industries, including healthcare, information technology, managed services, IoT, and manufacturing.
Features
IT incident response
HIPPA compliant texting
Clinical communication and collaboration
On-call management
Live call routing
Mass notifications
Pager replacement
Likes
It is easy to use and easy to understand
It provides 24/7 customer support
It allows communication with team members in other countries
It allows configuring with multiple ways to create pages
Dislikes
Its voice mail feature is not good
The user interface is not so good
Selecting the notification sound option is not there.
Other details
10. xmatters
It is an incident response and management solution that automates workflows and solves technology-related issues. It integrates with popular tools like ServiceNow, Slack, and Jira to help manage incidents.
Features
On-call management
Signal intelligence
Workflow automation
Incident response and management
Analytics
Service Intelligence
Likes
Its automated incident response and management solve the issues very quickly.
It enhances collaboration and productivity in the team.
It provides no code integration.
It provides good and quick support.
Dislikes
For first-time users, the user interface is not intuitive.
It does not provide a calendar to clients listing for future updates and maintenance.
Other details
FAQs
Conclusion
Incident management software is an important tool for businesses of all sizes. Incident management software can help you manage and respond to incidents quickly and effectively, minimizing the damage they cause.
This article provided the top 10 incident management tools in 2023. If you're looking for a reliable and effective way to manage incidents, then one of these solutions should be perfect for you.
Reference :