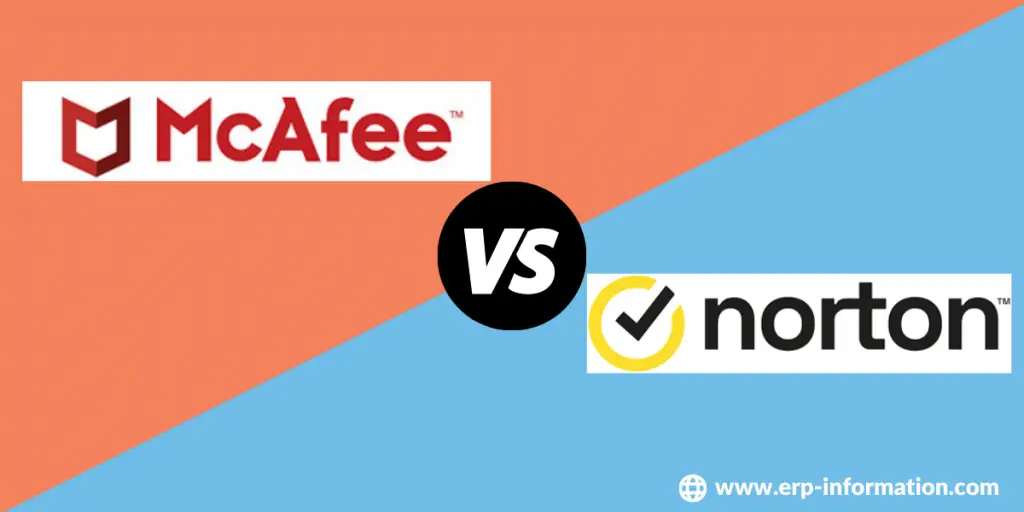 Regarding protecting your computer against viruses and malicious software, two of the most popular names that come to mind are McAfee and Norton.
Now, you may have a question: which is better, Mcafee or Norton? Both antivirus programs have been around for years, but they take different approaches to keeping your devices secure. 
While both offer protection from malware, phishing scams, ransomware, and more, there are distinct differences that may make one a better fit for you than the other. 
In this article, we will explore how McAfee vs Norton compare in terms of cost, features, usability, and more.
McAfee vs Norton
McAfee antivirus software can protect up to 10 devices. It gives basic security features, but you can upgrade for more protection. You can pick different upgrades with different features and get expert help 24/7. In addition, McAfee will give you your money back if you don't like it.
Norton is the frontrunner in web security, offering a suite of features with its secure firewall and built-in browser extensions for Firefox, Chrome, Microsoft Edge, and Safari.
With its exclusive dark web monitoring capabilities – users can rest assured their identity won't show up on the wrong side of town.
Its unique password manager streamlines online protection with just one click.
Feature difference between McAfee and Norton
Features
McAfee
Norton
Work options
Works on Windows computers, Macs, and iOS.
Norton works on Windows, iOS, and Mac. So Norton can help you stay safe from bad things happening on the dark Web. It also comes with a password manager included.
Security
It can work as real-time malware detection and removal.
Works as real-time dark web monitoring and malware detection.
Usecase
The app looks easy to use. There is a dashboard that shows the different protections and features. Some features can only be accessed from its website. Not every control is in the same spot.
Norton 360 can be confusing to use. It has a lot of settings, but it is hard to look at and understand them. On the other hand, the mobile app and online dashboard are easier to use, and people like them better.
Scan speed
The scan speed of McAfee is a bit slow.
Norton is very speedy.
Malware protection
McAfee is a good way to keep your device safe. It can clean cookies and junk files, so your device works better.
It also has a file shredder that will ensure no one can get back deleted files, and it will also check for any vulnerabilities or weak spots so they don't go unnoticed.
Norton malware protection can help ensure your device is safe from bad things. You can also add Safe Web to your browser to keep it secure.
It will let you know if the website you're trying to visit is safe.
Firewall protection
McAfee's firewall will give you fewer false warnings than Norton's. Otherwise, they both work the same.
Norton 360 Deluxe has a special firewall. It looks at the data and makes sure it's safe. The Intrusion Prevention System makes sure nothing bad gets in. It also blocks any extra connections that people you don't know might try to make.
PC performance
The full scan with McAfee is approximately six times longer than Norton, so if you want the full scan to finish quickly, use Norton.
Norton 360 Deluxe is faster when running a quick scan. Both Norton and McAfee only take up a little of your computer's power or memory. Memory load is slow in Norton.
Desktop usability
McAfee's antivirus program has a main screen that is easy to read. But it won't let you make the window bigger or change its size, which can be annoying.
Norton 360 is easy to use. It has fewer colors and buttons than other programs, which makes it easier for beginners. Five big buttons at the bottom tell you what each one does. You can also find settings at the top right of the window.
Mobile app features
McAfee's mobile app is easier to use than the desktop version. Four main options help your phone run better: Storage Cleaner, Memory Booster, App Lock, and Anti-Theft. To see notifications or change settings for these tools, click on the hamburger menu in the top right corner.
Norton's mobile apps have many features. But iOS does not have an app installation checker, spam call checker, and battery usage warnings. It also cannot turn on automatically when you switch to public or unsecured wifi.
Some screenshots of McAfee vs Norton
Pricing comparison McAfee vs Norton
McAfee
Individual plans

Advanced: $89.99
Premium: $49.99
Essential: $39.99
Family plans

Advanced: $119.99
Premium: $69.99
Norton
Plus: $19.99 (First year)
Standard: $39.99( First year)
Delux: $49.99( First year)
Select: $99.99(First year)
Pros and cons of McAfee vs Norton
McAfee
Norton
Pros
* All-in-one package of antivirus, dark web protection, antimalware, antispyware
* Easily automated virus scan
* Customizable settings accordingly
* Secure platform with data breach notification, credit card alert, and Fictitious ID monitoring.
* It covers all the major features like secure VPN, dark web monitoring, parental control, safe cam, etc.
* Norton antivirus is easy to set up and use
It keeps on scanning all the downloaded files.
Cons
* Paid iOS version needs improvement
* Paid features are not much user friendly
* Some users find an issue with a web boost
* Some users felt that it uses more computer resources
* Some pop-ups are annoying
* The cost is a bit higher compared to other software
* Some users are not satisfied with customer service.

Conclusion
To protect your digital life, consider McAfee vs Norton's strengths and weaknesses carefully. 
Our in-depth comparison covers everything from features to pricing so you can decide which is better, McAfee or Norton.
With a detailed examination of each program's capabilities, choosing between these premium options will be easy.
Reference