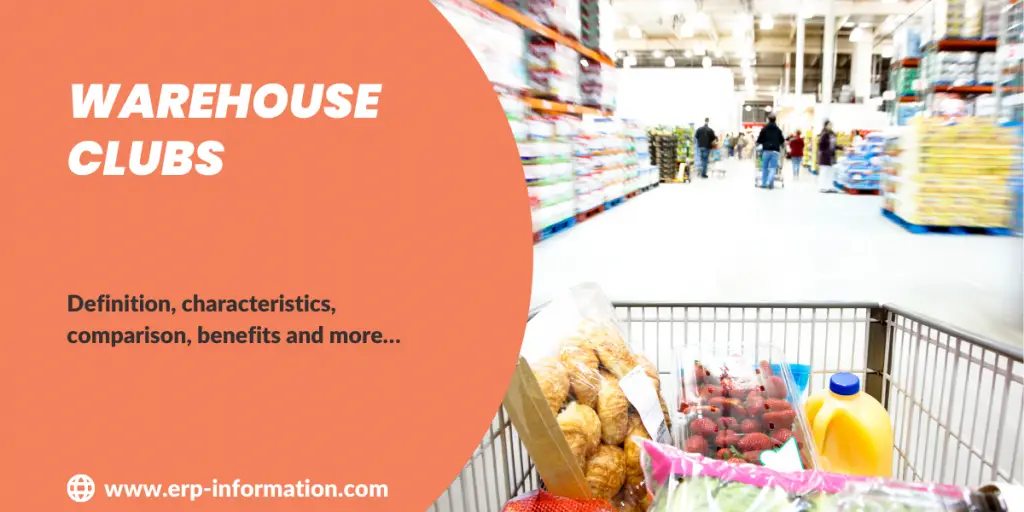 Have you ever been to a warehouse club?
They can be a great way to save money on groceries and other household items, but there are many things you need to know before you go.
In this blog, we will discuss the meaning of warehouse clubs, examples and characteristics of them, the different types, membership packages, pros and cons, and some tips.
What are warehouse clubs?
They are members-only stores where shoppers can buy merchandise in bulk at discounts. The inventory is packaged in large quantities and sold under the store's brand name.
It offers an interesting shopping experience because they sell various items that appeal to a wide range of customers, from food and beverage to clothing and electronics. And since the prices are so low, it's easy to save a lot of money by buying in bulk.
Example
The most famous example of a warehouse club is Costco, but many smaller chains operate under this model. The premise is that because the store can buy goods in bulk at lower prices from manufacturers, it can offer lower prices to customers who become members.
Customers usually pay an annual membership fee to take advantage of the discounts. This fee usually gives them discounts on all purchases made at the store, not just items designated as part of the "warehouse club" category.
Characteristics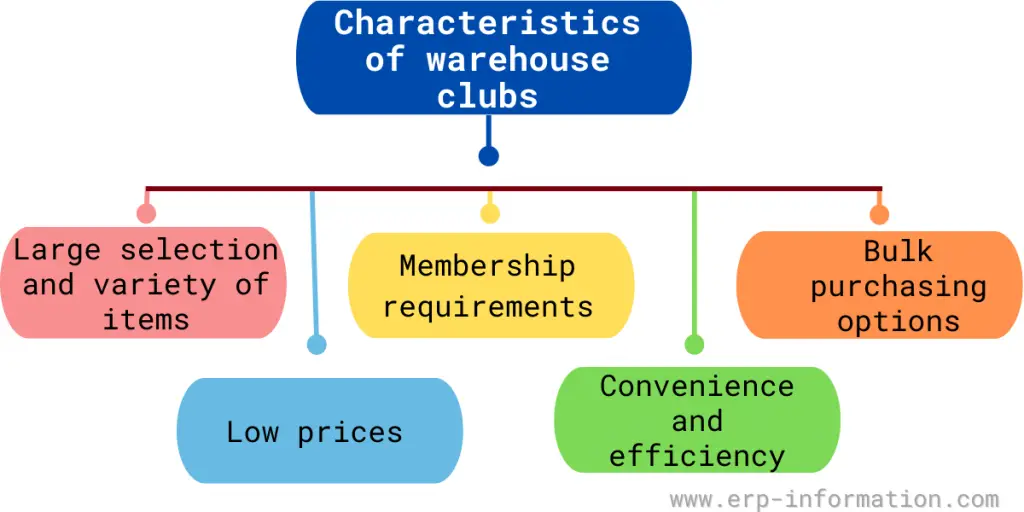 Large selection and variety of items
One of the main appeals of warehouse clubs is that they offer an incredibly wide selection of products, from food and beverages to home goods and electronics. That means that shoppers can find nearly anything they need in one convenient location.
Low prices
Warehouse clubs are known for offering low prices on a wide range of products due to the bulk buying at these stores. As a result, shoppers can save significant amounts of money on their purchases by shopping at warehouse clubs instead of traditional retailers.
Membership requirements
Customers must purchase a membership to take advantage of the low prices. However, that typically involves paying an annual fee, and some stores may require that members meet certain purchase thresholds to maintain their membership status.
Convenience and efficiency
It also is known for its efficient and convenient shopping experience. There is typically very little in the way of lines or crowds, so customers can quickly find and purchase the items they need without feeling overwhelmed.
Bulk purchasing options
Another unique feature is the ability to buy items in bulk. Many shoppers feel this is the best way to save money since it allows them to purchase larger quantities without paying a premium.
What are the different types of warehouse clubs?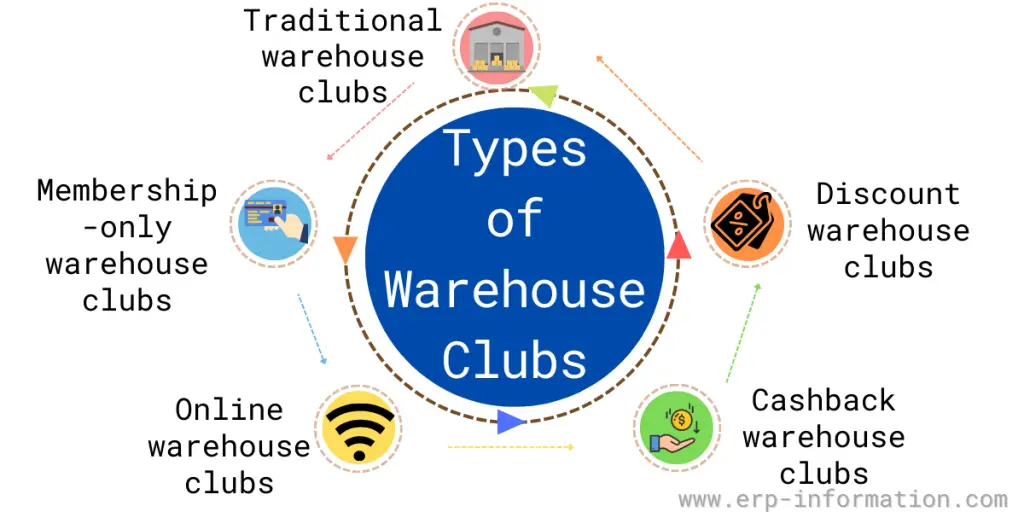 Traditional
Which offers a large selection of bulk items at discounted prices.
Membership-only
Which offers membership perks and other exclusive benefits in addition to low prices.
Online
Which offer discounted shopping options via an online marketplace.
Cashback
Which offer discounts on everyday purchases in exchange for cashback rewards.
Discount
Which offer discounted prices on a limited selection of items.
Membership packages
There are several different membership packages available, depending on the type and size of the club. These packages typically include
Basic membership gives you access to the store's offerings and additional perks such as coupons, discounts on fuel purchases, and more.
Premium membership offers additional benefits like free shipping on select orders and early access to special promotions.
Family-membership packages offer additional discounts for multiple members of the same household.
Business membership packages companies can use to buy bulk for their employees or customers.
Benefits
Some of the benefits include,
The ability to purchase items in bulk at a discounted price. 
A wide selection of merchandise, including groceries, electronics, home goods, and clothing. 
Access to exclusive brands and products. 
The convenience of one-stop shopping for all household needs. 
Potential savings on gas as many warehouse clubs offer discounted fuel prices at their on-site gas stations.
Disadvantages
An annual membership fee can be expensive, especially for families or individuals with a low income.
The limited selection of products may offer a narrower range to meet your shopping needs.
Long lines and crowded aisles, especially during popular shopping periods like weekends or holidays. That can make it difficult to get the items you need on time.
The need to purchase in bulk may only be suitable for some shoppers, especially those who live alone or do not have the storage space for large items.
Conventional supermarkets vs. warehouse clubs
Pricing
Conventional supermarkets typically offer lower prices than warehouse clubs, as they do not need to purchase products in bulk and can buy smaller quantities from various suppliers.
Conventional supermarkets may be a better choice for shoppers on a budget or requiring smaller amounts of certain items.
Selection
Warehouse clubs typically offer a wider selection of products than conventional supermarkets, with more variety in terms of both brands and types of items.
That can be ideal for shoppers looking for a one-stop shop to meet all their household needs.
Convenience
Warehouse clubs are often more convenient than conventional supermarkets, as they tend to have larger and better-organized stores with more parking, shorter checkout lines, and more flexible hours.
For this reason, warehouse clubs may be a better choice for busy shoppers or those who live or work far from traditional supermarkets.
Membership
Warehouse clubs typically require shoppers to pay an annual membership fee, while conventional supermarkets do not.
That can be a major disadvantage for some shoppers, especially those on a tight budget or who only shop occasionally.
Returns and customer service
Warehouse clubs tend to have more lenient return policies and better customer service than conventional supermarkets, making it easier for shoppers to get the products and support they need.
For this reason, warehouse clubs may be a better choice for shoppers who are particularly concerned about customer service and returns.
Is warehouse club membership worth?
It can be a great deal – but only if you use them correctly. Following are some tips for getting the best out of your warehouse club membership.
1. Make a list of the items you need before you go, and stick to it. Trying to wander around the store and make decisions on the spot is a surefire way to overspend.
2. Compare prices online before you go – many warehouse clubs offer the same items at different prices, so it's worth checking to see if you're getting the best deal.
3. Pay attention to expiration dates. It often has shorter expiration dates than regular stores, so check dates carefully before buying anything that might spoil quickly.
6 best warehouse clubs
| | | |
| --- | --- | --- |
| Warehouse Clubs | Founded in | Membership fee |
| Costco | 1983 | With a yearly membership fee of $60 and over 700 locations worldwide. |
| Sam's Club | 1983 | With a yearly membership fee of $45 and over 600 locations worldwide. |
| BJ's Wholesale Club | 1984 | With a yearly membership fee of $55 and over 200 locations worldwide. |
| Dollar General | 1939 | With a yearly membership fee of $10 and over 15,000 locations worldwide. |
| PriceSmart | 1993 | With a yearly membership fee of $45 and over 40 locations worldwide. |
| ShopRite | 1946 | With a yearly membership fee of $50 and over 200 locations worldwide. |
Conclusion
Whether you're looking for great deals on household staples, bulk quantities of your favorite snacks, or convenient one-stop shopping for all your needs, warehouse clubs are a great option.
From well-established favorites like Costco and Sam's Club to newer players like Dollar General, there is sure to be a club that meets your needs and budget. 
Reference