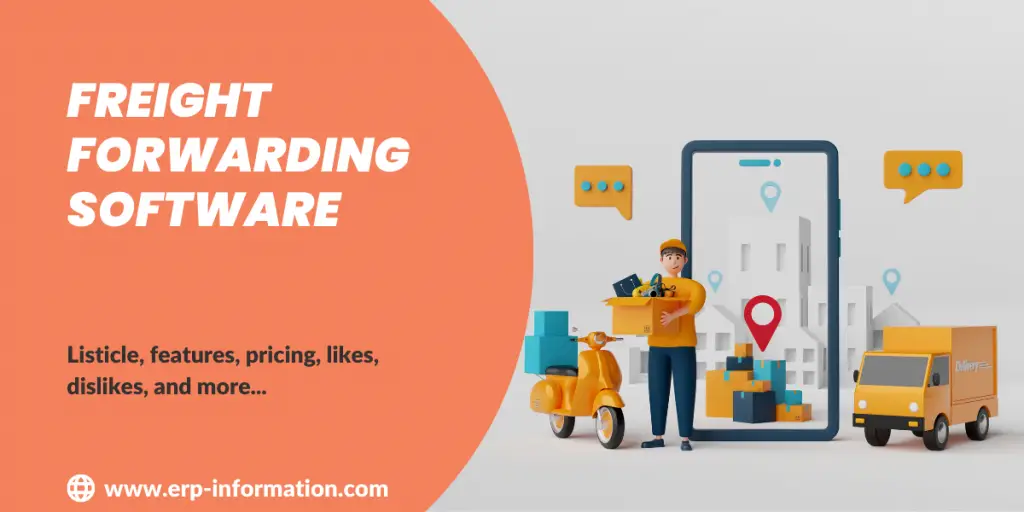 In the transportation and logistics industry, you need to know what is happening with your operations.
It is hard to keep track of cargo, shipping, and storage. You must ensure documents are in order daily and bookings are managed. You also have to take care of waybills and outstations. So it is necessary to have software that helps you stay on schedule.
This blog post will tell you about different Freight forwarding software choices and what they offer, like their features, how much they cost, and the likes and dislikes of each one.
Freight Forwarder Software
Freight forwarding software helps freight companies to keep track of things like receiving, storing, and delivering cargo.
It also creates documents like air waybills and bills of lading that are needed to move shipments. Document process done through quotes, bookings, and orders.
Freight forwarding software saves time and money by avoiding mistakes and helping find issues with the supply chain quickly. However, freight forwarding companies need to ensure everyone's interests are balanced.
10 Best freight forwarding software
The below list provides you with the best freight forwarding platforms available in the market.
1. Logitude World
Logitude World offers special solutions for freight forwarders, consolidators, and people needing help importing and exporting.
The technology is modern and very helpful. That makes it easier to do your job as a freight forwarder. Logitude World's solutions can help with every part of the freight forwarding process.
Features
Invoicing and collection for freight forwarders
Air and sea international shipping quotes
Customer Relationship Management (CRM)
Personalization and customization
Managing shipments
Track and trace
Security feature
Accounting interface
INTTRA feature
Some screenshots of Longitude
Likes
Quick response from a supportive team
The tools help to create new features and keep an accurate accounting quickly.
The software is user-friendly and money worth
It allows you to create templates in your style
It is easy to operate from anywhere
It allows access to critical information from a tablet/phone directly
It delivers quality software for fare rate
The software is easy to learn
Dislikes
Some modules are missing
No multiple accounting reports
Need powerful internet
Poor integrations
Poor updations
Poor customer services
Editing and creating templates are not easy
Not able to customize fully
Other details
2. NextBillion.ai
NextBillion.ai is a company that provides freight forwarding software that uses maps and Artificial Intelligence (AI) to help businesses.
It helps to save money, scale up, and create a better user experience. It allows companies that ship things to find the best routes to stay in compliance with laws, track their assets, and manage their fleets of vehicles.
Features
Distance matrics and directions help to get accurate ETAs and distance
Rout optimaization API
Snap to road API
Geofencing API for dynamic and contractual location experience
Map tiles API for customer map design
Likes
Customizable map creation platform.
Active support from the service team.
This software can return a diving matrix in the required size.
It offers generous fees for almost all APIs.
User-friendly software.
Enables exceptional services.
Meets all types of business requirements.
It is reasonable. 
Dislikes
APIs like place autocomplete, and geocoding are not available.
A bit of technical assistance is required for new users.
Some mapping platforms are inflexible.
Limited geographic coverage or narrower scope of operations
Restrict access to some services in certain regions or industries. 
It is a bit slow initially.
Other details
3. World-track TMS
World-Trak TMS Cloud-Based software of CSA software system that helps companies who do global freight business. It allows them to run their operations and accounts better and more efficiently.
It is designed for freight forwarders, freight management companies, and logistics organizations.
Features
World track
Account track
Web track
LTL track
Likes
Freight forwarding service for domestic, international, accounting operations, and warehouse
It is the best option for freight forwarders, ocean freight, and air cargo
It provides auto rating feature
It enables users to manage documents and email
4. Freightview
Freightview software is a program that makes shipping simpler. It puts all the shipping prices in one spot so you can compare them. It makes shipping easier in an old-fashioned way.
Features
Quote LTL freight and parcel like
Freight booking by comparing rates
Freight tracking
Reporting feature
Auditing freight invoice
Some screenshots of Freightview
Likes
Easy to use and provides a good interface
Excellent platform for managing shipping needs
Allows quick comparison of rates, tracking shipments, and managing the entire shipping process
Offers excellent customer service and support
Data is readily available
Automatically create BOLs for shipment
Dislikes
It does not allow you to see any information when interline companies switch to BOL.
It is a bit slow while creating BOLs.
Sometimes details may miss in the more detailed option.
It offers inaccurate quote rates.
Limited carrier accessorials.
Expensive software for small businesses.
Bit slow while creating templates.
It also does not always integrate with updated tracking.
Poor editing capabilities.
Poor customization capabilities.
5. Scope (Riege software)
The scope is a freight forwarding software that helps people ship things in the air, on boats, and with customs. It makes all of these processes go faster.
Features
Cargo iQ
Airline messaging
Freight schedule
Quotations
Sailing schedules
Shipment monitor
Ocean carrier messaging
e-AWB
Tracking and booking via the web
Identifying and eliminating the risks
Some screenshots of Scope
Likes
It easily integrates with EDI and carrier systems
It is easy to learn
It provides electronic documentation and file storage
Efficient in handling business
It helps in shipping quickly
Easy to use
Comprehensive interface
Dislikes
This is not multitasking software
Many things need to be automated
Lack of synchronization with other systems
Poor notifying capabilities
Not possible to use on tablets
Some features needed special authorizations
Other details
6. SBT Logistics
SBT Logistics is a Freight forwarding system that can help with many different types of transportation. For example, it can help to ship inside and outside the country using trucks, boats, airplanes, or trains.
It also helps store goods in warehouses and keep them at the right temperature. Plus, it covers things like cross-docking and yard management too.
Features
End-to-end logistics services
E logistics platform and Logistics advisory
Camp service freight forwarding
Document portal
Tracking
Likes
It provides a port service.
It has service of LCL (Low container load) and FCL (Full container load)
Logistics adversary is available for customer advice.
It ensures customer clearance.
It provides alternative transportation and warehousing.
Ease of use for work orders and invoices
Dislikes
It is very outdated
Less ability to add serialized numbers at once
Poor inventory scanning
7. POET Forwarder from E2E Logistics
POET-Forwarder is a system that helps custom brokers and freight forwarders. It is a way for their clients, suppliers, agents, consolidators, distribution centers, and other people to get access to information online. It saves the brokers and forwarders money in the long run.
Features
Overseas office support
Product planner with tools
Leveraging the data entered by contract departments overseas
Web portal connection
SLI(Shipper's letter of instruction) is available
SLI reference from their location
Pre-alert from agents and forwarders
Broker operations
Likes
This software helps to reduce the cost
Error correction and completing the day-to-day task
Automatic sharing of data
Easy integration
User friendly
Good support
Good warehouse reports
Dislikes
Poor server capabilities
Lack of configuration for transportation.
Bit slow while running programme
Less flexibility in exception reports
8. IST Freight Link
Infosys's IST Cloud freight forwarding system has different features to help businesses of all sizes. With IST Software, you can pick the features that will be the most useful for your business. You don't need to pay for all the features, just the ones that are important to you.
Features
24/7 tracking feature
Master data integration
Demonstrative dashboard
CRM integration
Automated transport process that includes a bill of lading, booking confirmation, tracking container, delivery receipt, etc
Facilitates the business operations such as cash management, accounts, reports, emails, etc
Available in English and Arabic languages
Some screenshots of IST Freight
Likes
Smart entry dashboard screen
IST master data is useful for all businesses
User friendly
Easy to operate
Good accounting features
Affordable
Dislikes
Need a good internet connection
Slow and confusing UI
Limited tracking features
No operation manual book
Difficult to look up detailed definitions or functions
Lacks of necessary functionalities
Other details
9. Fresa Gold
Fresa Gold is a freight forwarding software. It helps freight forwarders, International Air Transport Association (IATA), Cargo Agents, Transporters, Couriers, and Logistics Service providers to run their businesses better. Fresa Gold easily tracks everything they do.
Features
Provides end-to-end operational needs
It provides an escalation matrix
Webinar for learning
Accounting integration
EDI integration to agents
The systematic setting for providing access to related ones
Management of all logistic processes
Inquiry and quotation
Some screenshots of Fresa Gold
Likes
User-friendly software
24/7 access available for any browser
Supportive Fresa team
Fresa mapping is very comfortable
Dislikes
You may face errors while invoicing
The customer service module needs improvement
Canceled invoices cannot be reused
It is less flexible in some exceptional reports.
Sometimes server suddenly becomes slow, which may slow down your work
Other details
10. GoFreight
GoFreight is a freight forwarding software that helps small and big businesses in the freight forwarding industry grow. It gives them all the tools they need to be successful in this quick-paced field.
Features
Quotation
Invoicing
Accounting
Automated workflow
Payment
PO management
Some screenshots of GoFreight
Likes
The accounting function is very useful
This software is user-friendly
Easy to operate and has good management capacity
It is suitable for FMS specific to NVOCC
Cost friendly
Dislikes
The port code is pending
Importing and exporting a database is a bit difficult
Chances of data lost
A bit of a delay in working
Other details
FAQs
Conclusion
We have given you information about freight forwarding software. We have also told you why it is helpful for freight forwarders. We have listed the top 10 software so you can compare them and pick the best one for your business.