A queue management system virtually oversees the visitor traffic of a website or app by diverting the customers or visitors onto an online queue, thereby streamlining the process.
In addition, these platforms provide fast and productive functioning, such as predictive analytics and automated customer flow based on the acquired customer data.
Some places where this digital queueing system helps are Education, Retail, Healthcare, Transport, Banks, and others.
This blog will provide an overview of the queue management system, its uses, and some of the best platforms available, with their features, pricing, likes, and dislikes.
What is Queue Management System?
The queue management system is an application that effectively manages queues by increasing productivity and reducing customer waiting periods.
This digital system replaces the take-a-ticket system wherein one can join a queue from any digital online mode anywhere in the world.
Uses of the Queue Management System
Provides a good customer experience and retains them
Efficiently manages traffic flow.
Reducing waiting periods – faster service
Cost-effective for the business
Highly productive
Both customer and employee satisfaction
List of some best queue management software in the market.
1. Qminder
It is a cloud-based standalone queue management software that aids enterprises in creating decisive waiting experiences for their customers.
Qminder queue management software directs the queuing up of the customers with the help of their mobiles to eventually receive text notifications.
In addition, it helps provide customized services with the help of customer information gathered from self-check-ins. They have a large customer base worldwide, like AT&T, Sprint, Verizon, Uber, and World Bank.
Features
Understanding customer flow, waiting, and servicing periods.
Customized waiting experiences
Provides self-check-in for waiting in lines using smart devices
Waiting room TV- Real-time updating of the waiting list 
Service dashboard – Grouping of customers and service lines, text notifications, and chat via SMS 
Service analytics – Utilizing time and resources efficiently 
Some screenshots of Qminder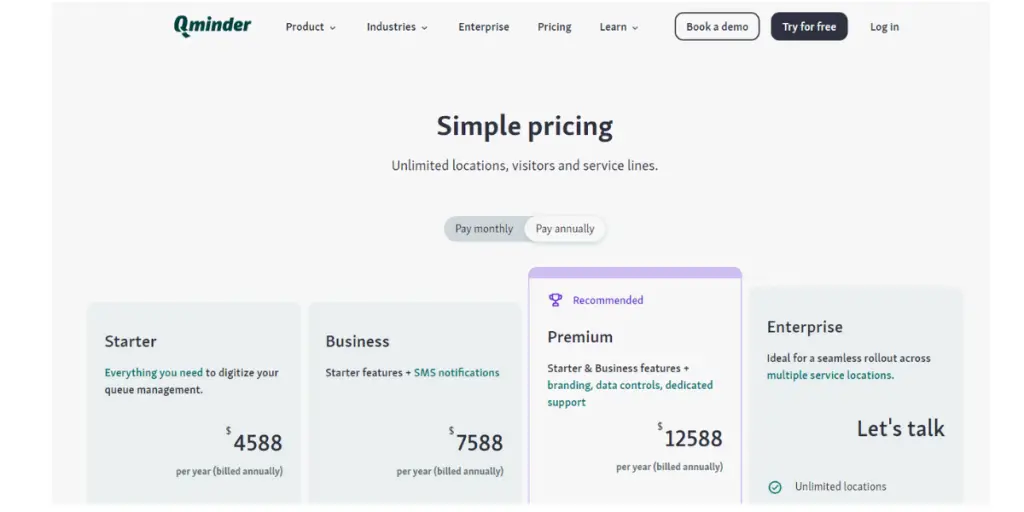 Likes
Easily operated 
Conversion of disorganized traffic into a seamless flow
Value for money 
Dislikes
Limited access to data for future analysis
No provision to revise service time
Extra cost for test messages 
Mild glitches experienced by some customers 
Supported industries
Healthcare
Education
Finance
Government
Retail
Other details
2. Waitwhile
Waitwhile is a virtual QMS app that can be applied for any enterprise to manage their trade accordingly. It manages the customers through a virtual waitlist and sends notification texts on their mobiles concerning their turns.
This platform has helped many customers, saved time, and served companies like Best Buy, Louis Vuitton, Lululemon, and many others.
Features  
Personalized waitlist
Automatic management of waiting for lines
Perceptive tools for better consumer flow
Operational data and insights 
Some screenshots of Waitwhile
Likes
User friendly 
Trouble-free set up 
Reliable working
Streamlined waiting lines
Dislikes 
Screen freezes 
The trouble with browser-based applications on older tabs
The buttons on the UI are convenient 
It does not support multiple users with a single ID.
Supported industries
Retail
Healthcare
Education
Financial services
Events
Other details
3. Leyline
Leyline's patented queue management software provides the customer with a hassle-free and pleasurable experience of booking a visit to the branch with the help of their choice of gadget and further guides them through the branch through a user interface at the kiosk.
The platform requires no framework, transparent licensing, tailored statistics, operative management, or notifications.
Features
Different Kiosk setups to suit your requirements.
Personalized digital signage, interactive widgets, and Interface for customers
Ticketing
Appointment booking
Portable solutions are also available 
Likes
Effortless functioning 
Good customer support 
Adaptable platform and allows single tickets throughout the entire course
Dislikes 
Frequent updates 
Signage media caching is problematic
Other details
4. Wavetec
Wavetec queue management system applies virtual queuing and WhatsApp management solutions to handle the customer flow in banks, capital markets, healthcare, retail stores, and others to enhance customer experience.
They are established in Barcelona, Dubai, Mexico, Karachi, Nairobi, Riyadh, Santiago, and Peru.
 Features
Queuing based on QR code
Real-time status and notifications via Whatsapp
Waiting for line news through digital signage
Contact free queuing 
Live feedback mechanism 
Evaluation of customer waiting period and average service period
Insights and analysis 
Some screenshots of Wavetec
Likes
Excellent customer support
Smooth processing 
Wide range of features to cater to different industries 
Dislikes 
The user interface can be improved 
Cost on the higher side
Supported industries
Banking
Telecom
Government
Healthcare
Retail
Education
Other details
5. Qtrac
Qtrac is by Lavi Industry with over four decades of service in queue management; it is dedicated to virtual queue management for strategically managing the customer flow for businesses at various levels by giving attention to how people interact with a business.
Expert handling of schedules and appointments, thus, reducing waiting, improving trade, and creating a good consumer experience.
Government offices, educational institutions, retail stores, financial organizations, healthcare, DMV offices in North America, and companies like Ace Hardware, San Diego State University, U.S. Cellular, and Lufthansa Airlines also rely on this.
Features  
Enhanced staff productivity 
Good standards of service by understanding the customer
Improve sales 
Custom-made solutions for customer experience 
Well-organized scheduling of appointments
Necessary for clients to have proprietary hardware to use the software.
Updates on waiting for lines (progress in the queue)
Likes
Real-time updates of schedules and appointment
Report and analyze – Customer data and location-based performance reports
Customers can view the queue with the help of digital signage.
Dislikes 
High priced subscription
Payment process not integrated 
It does not provide alternate notification channels other than SMS and emails. 
UI is not very convenient for customers to upload information. 
Supported industries
Telecom
Banking
Healthcare
Education
Public sector
Other details
6. Engageware 
Engageware's Queue management tool is to engage customers in better ways. They are employing simpler and more efficient solutions for businesses to provide customer engagement solutions to handle on-site traffic to provide better customer service.
Lend services to retail banking, consumer retail, higher education, and healthcare. 
Features
Farsighted preparation of employees to cater to the customers
Provide estimated wait times to customers based on real-time data
Transparency concerning waiting periods 
Improve response rates through a valuable feedback mechanism post-appointment.
Flexibility to login from any place and device
Appointment activity tracker to improve in-house performance
Likes
Improves customer satisfaction
Maximizes efficiency of the system 
Increases business profits
Hassle-free personalized customer experience
Dislikes 
Admin dashboard GUI needs improvement
Glitches in syncing with the client's calendar
Other details
7. Qwaiting
Qwaiting is a popular SaaS, cloud-based queue management service providing an efficient, user-friendly queue waiting-for platform to cater to small, medium, and big enterprises. Here customers are instructed through audio-visual means and user interface to check into a queue.
Further, follow-up calls and suitable tools are used to track service levels and provide performance statistics. Qwaiting believes in giving the ultimate client service by boosting communication and queue control systems.
Features
It uses cloud technology and can integrate into any technology 
Simple web page booking
Provides self-check-ins and smart systems
QR code enables an automated waiting list
Centralized dashboard for uninterrupted service 
Personalized experience
Some screenshots of Qwaiting
Likes
Simple operation
Remote management 
User-friendly features
Efficiently manages queues
Dislikes
API support is not available in the basic plan
The SMS notification facility is not there for basic plan users.
Supported Industries
Banking
Public sector
Retail
Government
Hospital
Education
Other details
8. Qudini 
This platform is a leading customer experience management solution that offers appointment scheduling, virtual queuing, event management, click-and-collect check-in, task management, and more.
It helps clients to transform their business functioning, analytics, and consumer experience. It facilitates an enterprise to be more productive, make profits, retain customers, store traffic, and be purposeful. 
Features
Appointment booking
Customer engagement
Activity management
Insights
AI prediction engine
Some screenshots of Qudini 
Likes
Simple set up 
Smooth operation
Good customer service
User-friendly Interface
Dislikes
Pricing structure confusing 
App hangs and lags with multiple users
Supported industries
Grocery
Beauty
Electronics
Sports and outdoor
Jewelry
Fashion
Other details
9. Qless
This is software for queue management and appointment scheduling. They are aimed at smoothly managing the customer flow in organizations.
The automatic wait experiences are customized using analytics to provide a flexible platform for customers to wait according to their needs and preferences.
This cloud-based system helps businesses better their functioning and operations with efficacy to cater to customer needs by reducing the waiting period.
Features
Cloud technology enables easy access from mobile
Integration abilities
Real-time monitoring and processing( visibility)
Personalized interactions 
Tracking and reporting
Some screenshots of Qless
Likes
User-friendly platform for booking and scheduling
Customization for a wide range of industries
Faster elimination of waiting for lines
Dislikes
It may be costlier for small-time users
Improvement in tracking and accessing history and individual user data
Supported industries
Retail
Healthcare
Event
Education
Logistics
Other details
10. Qticket
This app allows customers to book appointments or queue anywhere using any online mode. This product is UX driven and can be retrofitted to an existing framework to improve and upgrade existing queue management systems without any extra expenditure at the same time. The end-user app is free of charge.
Features
Systematic and secure customer flow
Optimized in-house facilities
Good customer experience and fewer customer complaints
Inbuilt automatic notifications for canceling and rescheduling, enabling self-serve outside working hours
Provides data insights with auto-generated reports and instant feedback and others for analysis
Likes
Accessibility from anywhere by using the app
Easy transition to online mode
Real-time bookings
Priority lines 
Dislike
Other details
Conclusion 
Every enterprise aims to serve its customers with the utmost care. The queue management software enables this by providing a seamless journey in booking schedules and appointments and through waiting lines.
Also, additional features like real-time updates, analytics, and flexibility ensure an efficient process for both the customer and employees, ensuring satisfaction on both ends.
Furthermore, queue management software is also flexible, making it adaptable to businesses of all sizes.
If you're looking for a system to improve your business's customer service, consider implementing a queue management system.
Reference