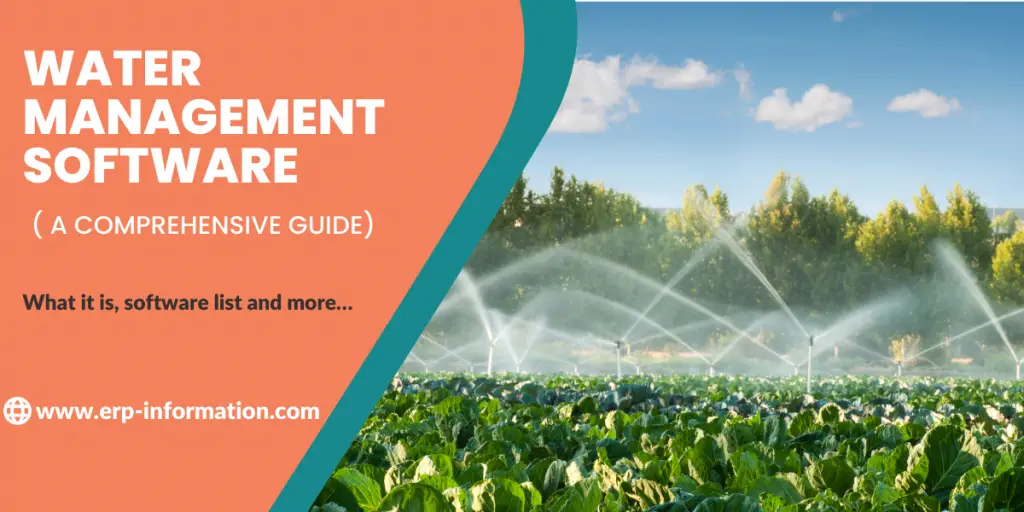 It can be hard to keep track of all the water you're using, especially if you have a large property with lots of irrigation and landscaping.
Not only is it important to conserve water, but managing your water usage can save you money on your monthly utility bill.
Check out our list of the ten best water management software of 2023. With these handy tools, you can track your water usage and ensure you're using it efficiently.
What is Water Management Software?
Water management software is a type of software that helps users manage their water usage. It can help track water usage, conserve water, and manage water delivery. Water management software can also help with related data management and asset management tasks.
Here is the list of the ten best water management tools.
1. Trimble
Trimble software is one of the market's best water management software options. This software is mainly for the agriculture industry.
Features
Grade control –  Use Trimble grade control systems to improve vertical accuracy and efficiency while excavating, trenching, grading, or leveling.
Land forming –  Trimble land forming system streamlines the surveying, designing, and dirt-moving
Farm drainage –  Trimble farm drainage solutions help streamline analysis, design, installation, and verification steps for surface & subsurface drainages.
Some screenshots of Trimble
Likes
Suitable for contractors and farmers
Grade control helps to increase yields, water usage, and productivity
Controls excess water and hence reduces soil erosion
Dislikes
The user interface is tedious to handle 
Other details
2. Enablon
Enablon is a comprehensive water management software that helps organizations to optimize their water usage and protect the environment.
Features
Chain of custody labels and forms
Automated alerts
Regulatory compliance
Lab information system
Data entry verification
Formula builder tool
Mobile data entry
Lab data transfer
Reporting tools
Likes
Manages water permits and regulatory requirements
Track exceedances and wastewater treatment system performance
Streamline the  management of water sampling activities
Records wastewater monitoring data
Dislikes
No free trial version is available
Tedious learning curve
Lack of training time 
The menu and user interface need to be improved
Other details
3. Bentley
Bentley is a water management software used by water and wastewater utilities and other water industry organizations.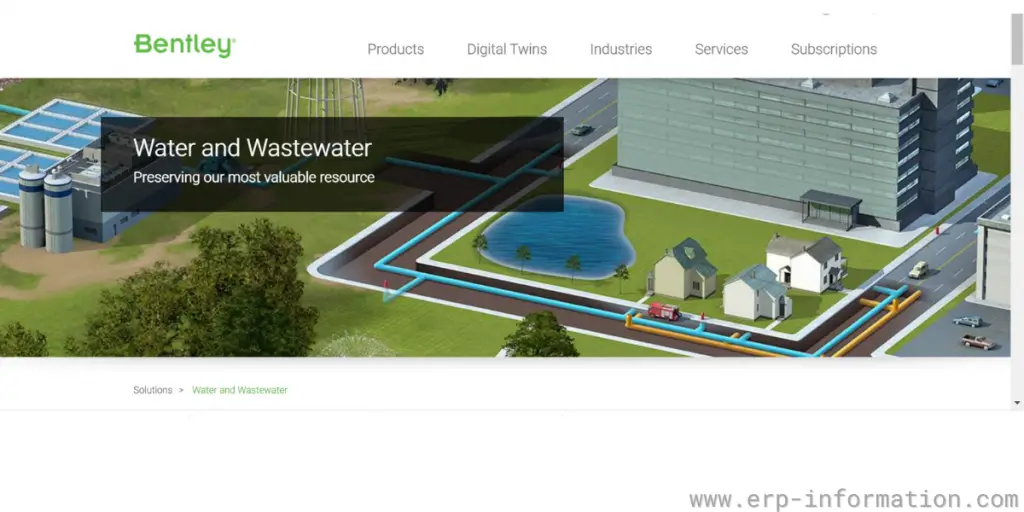 Features
Asset lifecycle information management
Pipe stress and vessel analysis
Structural detailing and analysis
Utilities and communication networks
Reality and spatial modeling
Modeling and visualization
Mobility simulation and analytics
Hydraulics and hydrology
Some screenshots of Bentley
Likes
Manages the lifecycle of water and wastewater infrastructure
Helps to do raw water transmission, treatment, and distribution
It helps to build good water treatment plants
Dislikes
Tedious learning curve
Not very user friendly
Lack of advanced features 
Takes time to load formats
It takes lots of computer RAM 
Limited file formats
Large files cannot be handled easily
Other details
4. Aquatic Informatics
Aquatic informatics is water data management software that deals with acquiring, curating, managing, analyzing, and disseminating data related to aquatic systems.
Features
Analytics software for the natural environment
Backflow prevention and cross-connection control hazards management
Operations and Compliance
Wastewater pretreatment and FOG regulatory compliance
Water quality and wastewater compliance
Water information management system
Waste management
Some screenshots of Aquatic Informatics
Likes
Interconnected data management helps to manage the water information across the water cycle and hence protects human health and the environment.
Provides efficient management with integrated data sources
Sustainable analytics and reporting
Provides real-time insights, contextual visualization tools, and interactive online access for clients
Other details
5. Hunter
Hunter Industries is a company that provides water management software to various industries. Mainly it includes software for residential and commercial irrigation.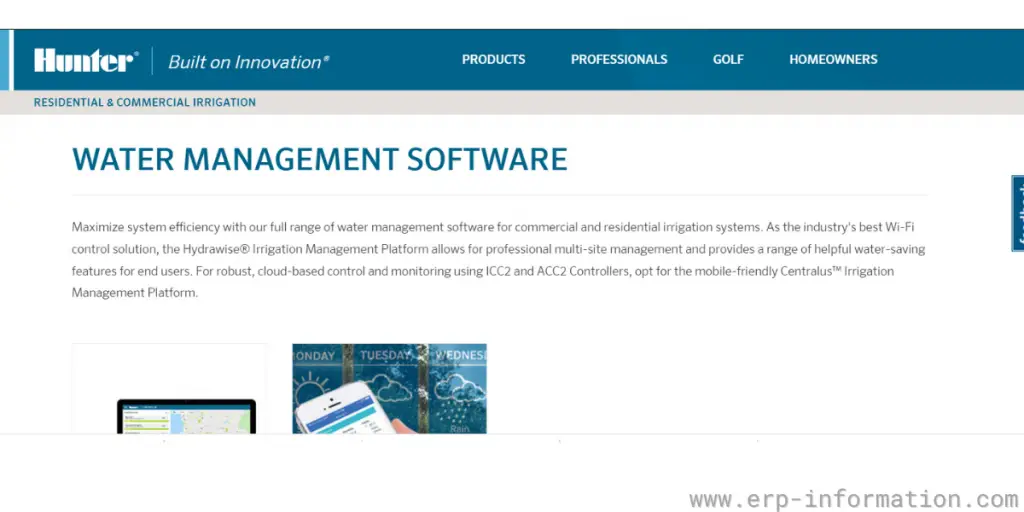 Display board of Hunter
Features
Multi-site option
Water-saving feature
Irrigation management
Dislikes
No feature for BOM or CRM
Other details
6. Intelex
Intelex Software is a leading provider of water quality management software.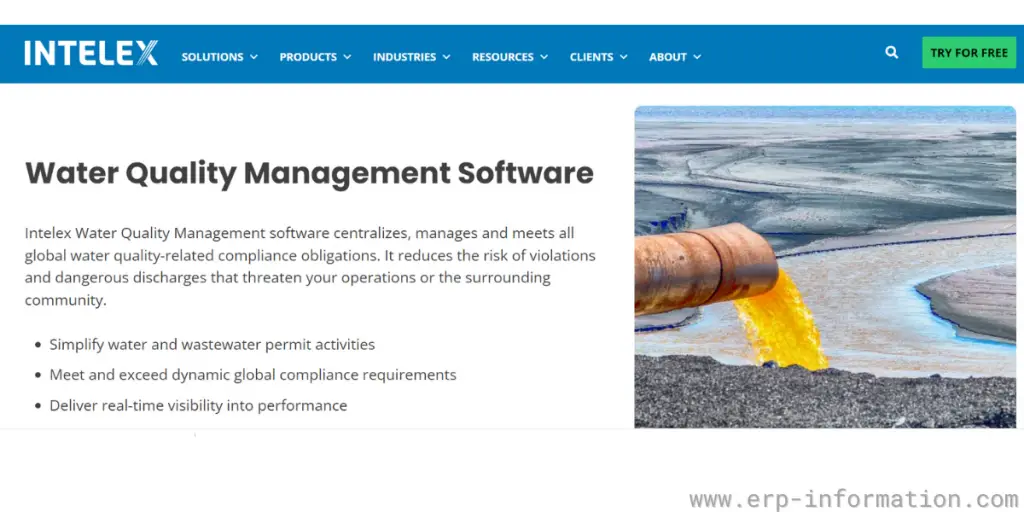 Features
Incident reporting
Occupation Injury and illness
Audit management
Document control
Training management
Supplier management
Permits management
Job safety analysis
Screenshot of Intelex
Likes
It centralizes and manages all global water quality-related compliance obligations.
It helps to keep surrounding communities safe by reducing the risk of dangerous discharges.
Provides real-time performance visibility
Streamlines reporting and audit process
Dislikes
Implementation is tedious
Other details
7. Water Trax
WaterTrax software is top-rated water and wastewater data and compliance management system that helps businesses and municipalities keep track of their water usage.
Features
Waste water management
Industrial pretreatment
Fats, oil, and grease
Compliance reporting
Screenshot of WaterTrax
Likes
It automates the process of data collection, management, and electronic reporting.
It helps to centralize water and wastewater data.
Provides automatic alerts and notifications in case of exceedance
The formula builder tool helps to do automatic calculations
Dislikes
Scheduling is slightly problematic.
8. ERA Environmental
ERA Environmental offers water management software that helps users track and manage their water usage, assets, and data.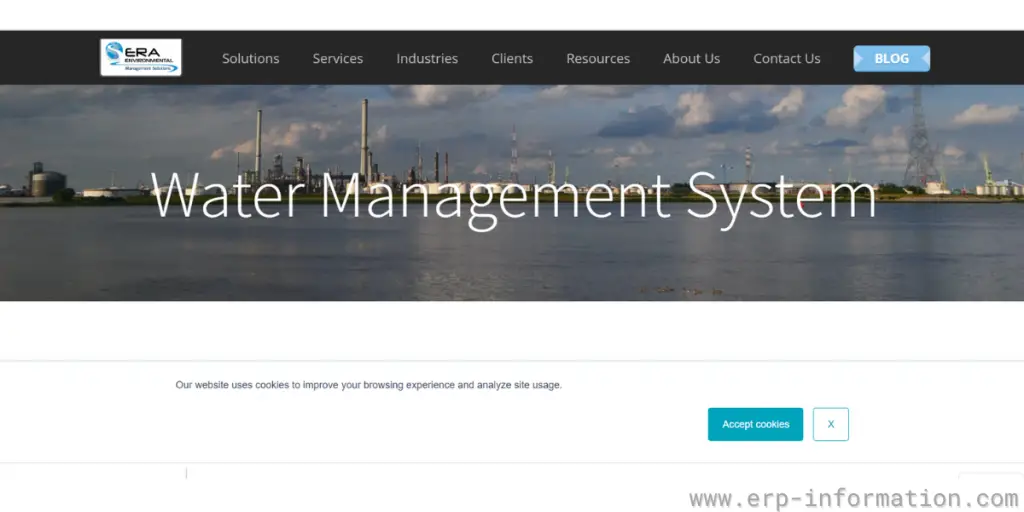 Features
ETL data processing
Reports and dashboards
Compliances
Change management
Sustainability
SDS management
Risk management
Quality management
Document management
Some screenshots of ERA Environmental
Likes
Its environmental reporting tool provides voluntary sustainability programs.
It gives real-time insights into your process's impact on nearby water bodies.
Provides clear visualization of water utilization
Provides comprehensive reports, including Discharge Monitoring Reports (DMR) and other custom-made reports
Dislikes
Getting to understand the interface
Other details
9. Banyan Water
Banyan Water software is one of the most popular water management software suitable for businesses.
Features
Banyan water central
Irrigation insight
Indoor Insight
Cooling insights
Likes
It helps to reduce the spending on water
It helps to compare actual water costs to budgeted amounts
Provides real-time data on your property's water use
Identifies hidden leaks
Prevents damages and leaks
10. Qatium
Qatium is an open and interactive water management application that helps in effective water management solutions with the help of digital twinning with any data or resource available.
Features
Data management and 3D view of the network
Simulations to test network performance
Connect SCADA and AMI data for digital twinning
Collaboration and Knowledge sharing
Pricing
Free Version: For a single user
Premium: It starts from $330/month
Enterprise: For more deployments-Contact the sales team of the company 
 Likes
Simulations to minimize customer disturbances
Examine hydrant capacity to correct fire flows
Monitoring water quality 
Data visualization
Dislikes
Missing tools ( calibration ) 
Deployment: Cloud, SaaS, Web-Based
Languages Supported: English, Spanish
Customer Rating:4.6 out of 5 in G2 
Other details
Note: All the above water monitoring software solutions (except Qatium) are not provided pricing details on their official website. You need to contact them directly for the details.
Conclusion
The water management software market is increasing as municipalities and other organizations become more aware of the importance of efficient water management.
The ten software programs featured are the best of the best, each offering a unique set of features. We hope this article has helped you find the perfect program for your needs.
References