The talent management system ensures a company hires the right people. It is also about quickly getting them up and running while giving them a great onboarding experience.
The talent management system can help businesses flourish by matching needs with solutions that increase employee engagement and retention. 
Talent management systems are software solutions designed to help organizations manage their entire employee lifecycle, from recruitment to retirement.
This post provides the ten best talent management systems with their pricing, features, likes, and dislikes. That helps you to choose the best suitable solution for your business.
What is a Talent Management System? 
A Talent Management System (TMS) is a software solution supporting the core processes of managing an organization's workforce.
These processes include recruitment and onboarding, performance management, learning and development, compensation management, and succession planning. 
Here is a list of the top ten talent management systems.
1. Ceipal ATS
Ceipal ATS is an AI-powered talent management system. It assists in reaching out to candidates faster. Its advanced business intelligence makes analytics more accessible. It gives better insights into reporting and dashboards. 
Key features
Resume management
Applicant tracking
Recruitment management
Some screenshots of Ceipal
Likes
Good at making reports
Good at tracking applicants
Affordable pricing
Good customer services
Dislikes
Search results are not always accurate
Non-intuitive reporting features
Bugs occur while migrating forms
Limited integrations
Other details
2. Monday.com
Monday.com is an open-source platform, a better option for managing the employee talent pipeline and enhancing recruitment strategy. It is a no-code work platform that streamlines HR management and workflows. 
Key features
Employee development management
Talent engagement
Employee wellbeing
Performance management
Some screenshots of Monday.com
Likes
Good customer service
Flexible and easy to use
Project organization is good
Customizable and user-friendly interface and is customizable
Dislikes
Layout is confusing
Difficulty in finding reports
It throws bugs while big reports are running
Slightly expensive software
Limited ability to customize
Creating automated workflows within this system is challenging.
Other details
3. Bamboohr
Bamboohr is an open-source talent management system. It assists HR professionals and hiring managers find, evaluating, and hire the right talent quickly and efficiently. It also offers automated time-off management and employee self-service.
Key features
HR data and reporting
Hiring and onboarding
Payroll time and benefits
Performance management
Screenshots of BambooHR
Likes
Good interface
Helps to improve onboarding and employee tracking
Easy to integrate and implement 
Dislikes
The notification feature is currently inaccessible
Manual labor is required to a greater extent
Navigating the system poses significant challenges
Supported industries
Construction
Finance
Healthcare
Non Profit
Technology
Other details
4. Breezy. Hr
Breezy. Hr is a talent management system, which is an option for simplifying the entire recruiting process.
It offers a variety of tools, such as talent search, beautifully-branded career pages, and custom candidate scorecards, to help find the perfect-fit candidates for your team. 
Key features
Employee referrals
Candidate management
Automated workflows
Collaborative hiring
Reporting and analysis
Screenshots of the Breezy
Likes
Templates and automation features are user-friendly.
Managing and operating the system is straightforward.
Easy to navigate through the system
Dislikes
Process is difficult to comprehend.
Implementation is time-consuming.
Cost of implementation is high.
Other details
5. Workday HCM
Workday HCM is a cloud-based talent management system. It combines workforce planning, talent management, and payroll processes to help businesses adapt and thrive in the current business scenario. 
Key features
Human resource management
HR reporting
Performance management
Onboarding
Some screenshots of Workday.com
Likes
The interface is highly intuitive and user-friendly
Accessing reporting and analysis features is effortless
Dislikes
The cost of the system is quite high
The system has a steep learning curve
Lacks integration with Outlook
Limited capabilities for third-party integration
Other details
6. UKG ready
UKG ready is a cloud-based talent management software, which is a good option for attracting and retaining the most talented people and is crucial to their success. It offers flexible, mobile-friendly talent solutions that empower employees to achieve unique goals.
Key features
Human resource management
Talent management
Time and attendance management
Reporting and analysis
Likes
User-friendly platform
Easy to streamline HR tasks
Good customer service
Easily integrates with other applications
Dislikes
Interface functions slowly
System tends to be overly dependent when running programs.
System comes with a hefty price tag.
Supported industries
Distribution
Manufacturing
Retail
Other details
7. Paycom
Paycom is a cloud-based talent management system, and its technology empowers workers by providing them with easy access to crucial information.
Key features
Talent management
HR management
Time and labor management
Performance management
Some screenshots of the Paycom
Likes
Seamless navigation experience rendered
User-friendly platform
System aids in effective time management
Dislikes
Customization options are limited and challenging to implement
The system comes with a significant price tag
Locating documents within the system can be a daunting task
Implementation process is time-consuming
Other details
8. iCIMS Talent Cloud
iCIMS talent cloud is a cloud-based unified recruitment platform, That simplifies talent acquisition for enterprise organizations. It empowers organizations to attract, engage, hire, and advance the right talent to drive success.
Key features
Applicant tracking system
Digital assistant
Employee onboarding
Marketing automation
Some screenshots of iCIMS
Likes
Good user interface
Easy to customize
Simple and intuitive
Streamlines the recruitment of candidates.
Dislikes
System navigation is challenging
Locating the candidate's status within the system is difficult
System lacks comprehensive data visualization capabilities
Supported industries
Retail
Healthcare & hospitals
Manufacturing
Finance & Insurance
Other details
9. Paylocity
Paylocity is a cloud-based talent management platform that helps streamline recruiting and create a more personalized experience. It can automate the recruiting cycle. 
Key features
Workforce management
HR reporting and insights
Integration 
Some screenshots of Paylocity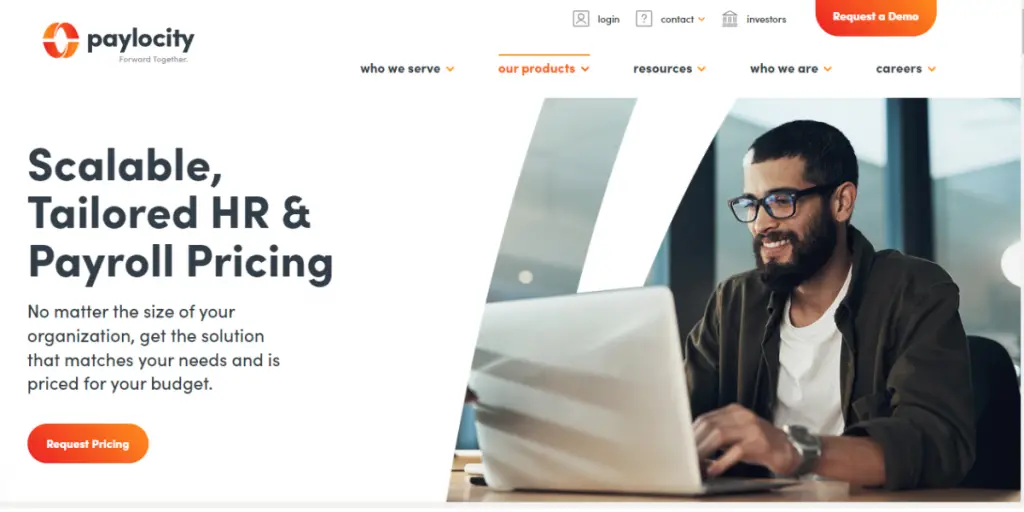 Likes
User-friendly and helpful
Cost-effective platform
Good customer support
Dislikes
Lack of capabilities affects the workflow
Difficult to integrate with other apps
Supported industries
Education
Financial service
Healthcare
Manufacturing
Non Profit
Retail and wholesale
Restaurant and Hospitality
Other details
10. Aps payroll
Aps payroll cloud-based talent management system is a reliable and efficient payroll and HR solution. It is a mid-size market-friendly platform. It can make payroll and HR easier by providing a unified solution. 
Key features
Performance management
Analytics and Reporting
Recruiting and onboarding
Scheduling
Some screenshots of the APS
Likes
Good customer service
Easy to use
Well structured platform
Convenient centralized HR recruiting feature
Dislikes
email is experiencing formatting issues.
Operational hiccups during the hiring process.
Generating custom reports proves to be challenging.
Tracking system is not upto the mark in terms of process monitoring.
Supported industries
Churches
Healthcare
Nonprofits
Technology Services
Education
Hospitality
Oil & Gas
Wholesale & Supply
Financial Services
Manufacturing
Restaurants
All Industries
Other details
FAQs
Conclusion
The talent management system is an excellent way for businesses to stay competitive in hiring and foster strong relationships with the workforce.
The right software can have lasting benefits for the company, such as increased employee engagement and retention. Additionally, staying abreast of the latest technologies is important to find the perfect balance between efficiency and effectiveness. 
Talent Management Software can help organizations recruit, develop, and retain top talent, improving productivity, employee engagement, and business success.
Reference