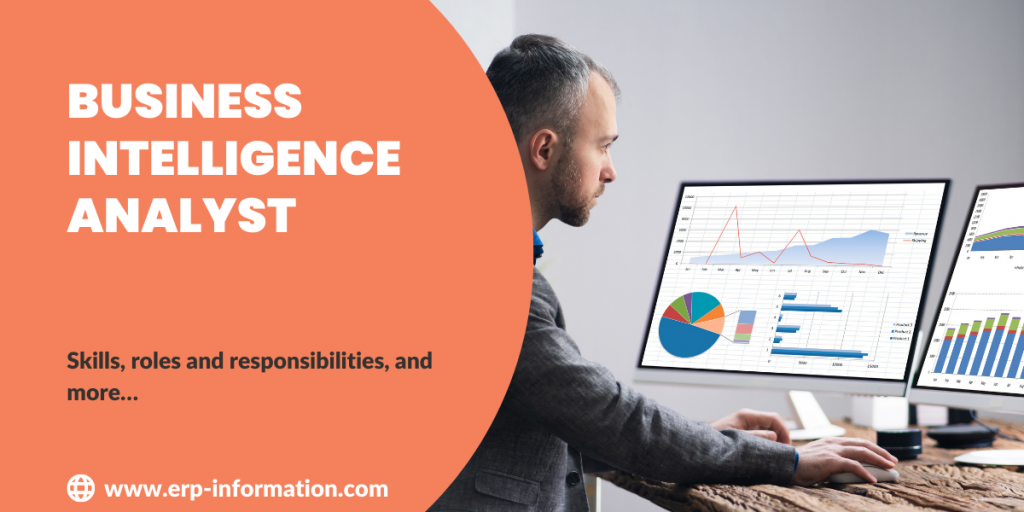 Business intelligence analysts are essential players in their companies, providing insights into data that can be used to inform decisions.
With advanced technology and analytical know-how, they unearth valuable business intelligence through data mining, predictive analysis, and other methods.
Through careful research and critical thinking, these professionals help organizations gain a competitive edge in the ever-changing market.
This post provides detailed information about business intelligence analysts with skills, responsibilities, salary, and tools used by them.
Who is a business intelligence analyst?
A business intelligence analyst deepens into financial and market records to generate impactful reports. By highlighting unseen patterns and trends of any given market, these analyses provide invaluable insights that help shape businesses' strategies for success.
He is a professional who extracts information from data to help a company improve its performance. They use various techniques, such as data mining and statistical analysis, to help a company make better strategic decisions.
A business intelligence analyst typically has a statistics, mathematics, or computer science degree. They must also be skilled in data management and analysis software. In addition, many business intelligence analysts have experience working in data-intensive industries, such as finance or marketing.
Qualification and skills required for a business intelligence analyst
Business intelligence analysts prefer having at least a bachelor's degree in statistics, computer science, or business administration, and more weightage who have a master's degree in business intelligence (MBA), a Master's in data science, or an online master's in data science.
Achieve recognition with the Certified Business Intelligence Professional (CBIP) certification from Transforming Data with Intelligence. With two years of full-time experience and a bachelor's degree, you can prove your expertise in the field by tackling this exam at either the "practitioner" or "mastery" level–distinguishing yourself as an elite professional.
Master of science in business analysis (MSBA) is another online degree that can help to learn to analyze, dissect, and make strategic business decisions.
Some of the skills of a business analyst are
Knowledge of programming languages such as python, R, C#, Hadoop, Power BI, SQL, SAS, etc
Knowledge of data warehouse, data mining, and data analysis
Good communication intelligence and strategic thinking
Database management and reporting
Data visualization and good business knowledge
Business intelligence analyst salary
The average US salary of a Business Intelligence Analyst is $ 80249 (as of 2023)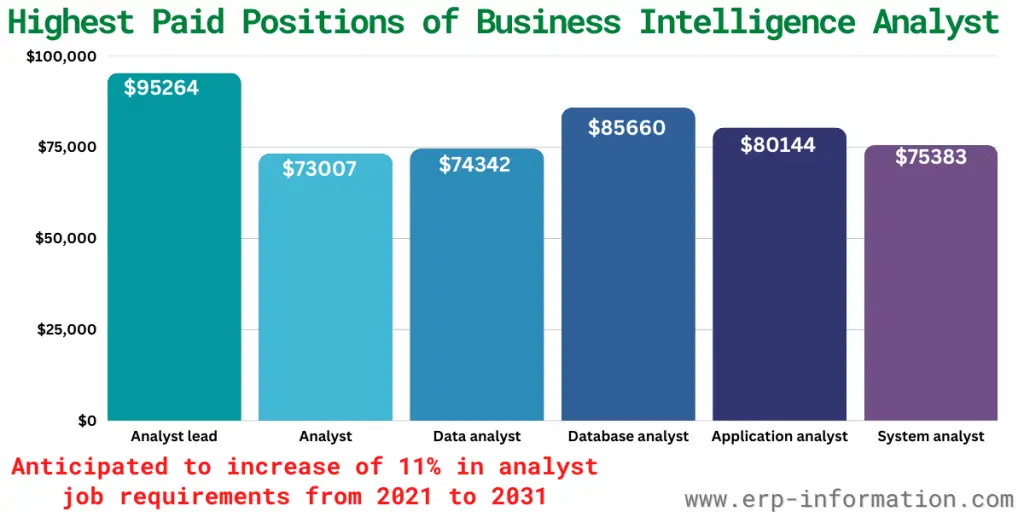 Analyst lead: Average $95264
Analyst: Average $73007
Data analyst: Average $74342
Database Analyst: Average $85660
Application Analyst: Average $ 80144
System Analyst: Average $ 75383
Job outlook: A study by the US Bureau of labor statistics says that there will be an increase of 11% in analyst job requirements from 2021 to 2031.About 101900 employment opportunities every year.
To know more, refer to this web link Management analyst: Occupational Outlook Handbook:: US Bureau of Labor Statistics (bls.gov)
Job description of business intelligence analyst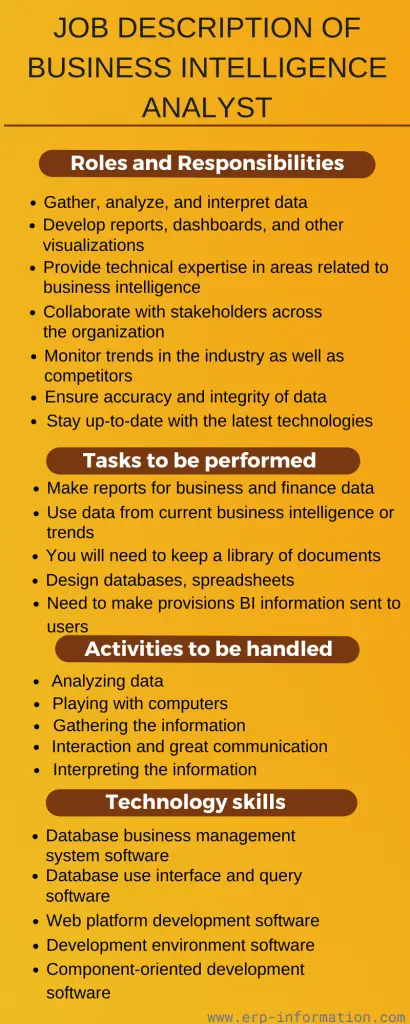 Roles and responsibilities
Gather, analyze, and interpret data from multiple sources.
Develop reports, dashboards, and other visualizations to help organizations gain valuable insights from their data.
Provide technical expertise in areas related to business intelligence, such as data mining, predictive analysis, machine learning, and big data analytics.
Collaborate with stakeholders across the organization to identify areas for improvement and develop meaningful solutions.
Monitor trends in the industry as well as competitors to ensure that the organization is staying competitive.
Ensure the accuracy and integrity of data by writing complex queries and validating results.
Stay up-to-date with the latest technologies used in business intelligence.
Tasks to be performed
Make reports that show business, financial, or economic data. 
Use data from current business intelligence or trends to support your recommendations for what to do next.
You will need to keep a library of documents that can be used again. These might be templates or other assets that people can use.
Design databases, spreadsheets, or other outputs to help with business decisions
Make provisions that business intelligence information is sent to users on time.
Activities to be handled.
Analyzing data: In-depth data analysis will help you identify the principles, reasons, or facts that explain what is happening.
Playing with computers: Computers and computer systems are used to program, write software, set up functions, enter data, or process information. This includes using hardware and software.
Gathering the information: Getting information from all relevant sources. This can be done by keen observation and selecting the required resources.
Interaction and great communication: You need to give information to people who work with you or work for you. You can talk to them on the phone, write them a note, send them an email, or talk to them in person.
Interpreting the information: Explaining what information means and how it can be used. Interacting with your team about the specific information and having a successful discussion.
Technology skills
Business intelligence analysts should have the knowledge to work with some software like 
Database Business management system software
Database use interface and query software
Web platform development software
Development environment software
Component-oriented development software
Available tools for business intelligence analysts
Business intelligence (BI) tools are types of application software that help you to understand large amounts of data from different sources.
This data can come from inside or outside your company, including books, journals, documents, health records, images, files, email, video, and other business sources.
BI tools make it easier to see patterns and trends in this data so that you can make better decisions for your business. Below are some examples of business intelligence analytics software
Microsoft Power BI
Tableau
Qliksense
Sisense
Dundas BI 
How to become a business intelligence analyst?
To become a successful business intelligence analyst, you must climb some steps.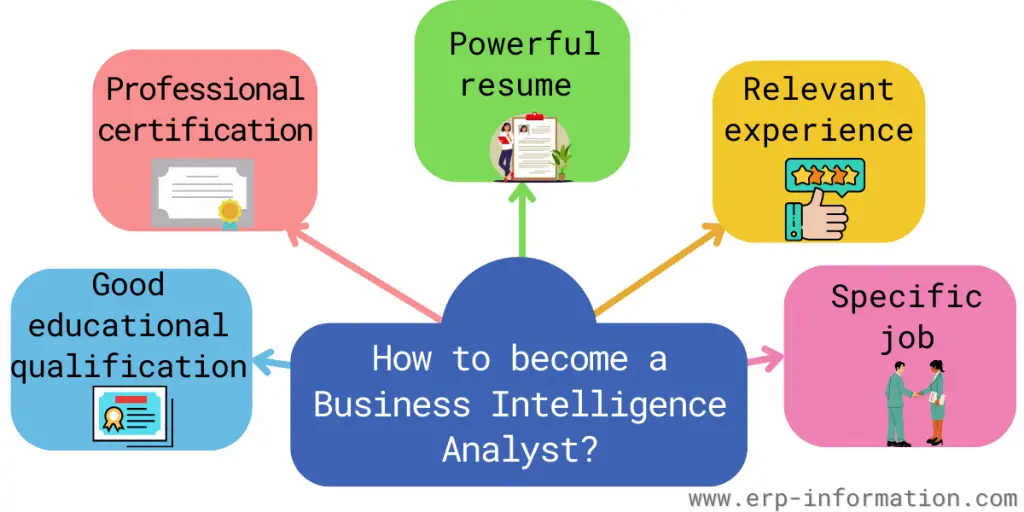 Educational qualification and certification
Bachelor s degree, Masters's degree. A bachelor's degree will give you the skills needed to be a BI analyst. Related degrees will help quantitative fields like finance, mathematics, or data science.
A Master's degree can help you get a job as a BI analyst. Therefore, it is a good idea to consider your experience when deciding what to study for your Master's degree.
Professional certification
If you're looking to boost your resume, several professional certifications are available in areas related to the business intelligence analyst role that can help showcase your talents and expertise.
These include Microsoft's Certified Solutions Expert for Business Intelligence certification, CBIP Certification for Business Intelligence Professionals, computer programming and language certificates, and tags of distinction such as business administration credentials.
Prepare a powerful resume.
With the ideal business intelligence analyst position in your sights, you have the power to craft a resume that stands above all others. Utilize online resumé builders as springboards – targeting specific keywords from job descriptions so recruiters can immediately recognize how uniquely qualified and experienced you are for their open role.
Gain relevant experience
If you're dreaming of a career as a business intelligence analyst, there's no time like the present to get started! Gain valuable experience in information technology (IT), management, or business by taking part in internships or applying for entry-level positions such as data analysis and business analytics.
Experience is essential in this field, so seize any opportunity while remaining mindful of your future goals – don't waste your precious time on anything less than what will benefit you most down the line.
Search for a specific job.
With the right education, experience, and certifications under your belt, it's time to begin searching for a job as a BI analyst. But first, take some time to read through each position you're interested in to know what skills employers need – ensuring you make an impressive impression on the hiring team.
Top-rated business intelligence companies in the US
Fidelity investments
Cigna
Wellgargo
JP Morgan chase $ co
AT $ T
FAQs
What is the major difference between business intelligence analysts and data analysts?
The job duties of a business intelligence analyst and a data analyst are mostly the same. The main difference is that a business intelligence analyst uses the information to decide how a company can improve. In contrast, data analysts put together reports and visualizations using data.
Conclusion
In conclusion, business intelligence analysts play an integral part in helping their organizations succeed and stay competitive. With their advanced skills in data mining, predictive analysis, and other methods, these professionals help uncover insights from data that inform vital business decisions.
They also monitor trends in the industry and keep up-to-date on the latest technologies to ensure their organization is always ahead of the game.
We hope this blog post is informative to those seeking jobs in business intelligence analysis and students who want to develop their careers in this field.