You've probably heard a lot about cloud solutions lately, but you need to figure out what they are and if they're right for your business.
Cloud hosting solutions can be confusing and overwhelming, especially when you need clarification on which is right for you.
We've created a list of the top 10 cloud solutions and their features to make it handy for you to find the perfect one for your business. With this, you can easily transition to the cloud and take advantage of all its benefits.
What are cloud solutions?
Cloud solutions are a type of computing that delivers software, storage, and other services to customers over the internet. Cloud solutions allow businesses to use resources as needed and to access the applications and data needed from any device with an internet connection.
Basic features of cloud solutions
Cloud solutions offer several basic features, including the following:
Scalability
Cloud solutions are designed to scale up or down to meet business needs. Cloud solutions allow businesses to add or subtract resources as needed. Cloud solution makes them a great option for businesses expecting rapid growth or fluctuations in demand.
Cost-effective
Cloud solutions typically offer lower costs than traditional hosting options. That is because you only pay for the resources you use, and you can often save on hardware and software costs.
Reliability and uptime
Cloud hosting solutions are highly reliable and have very high uptime. As a result, your data and applications will be available when you need them.
Flexibility
Cloud solutions are extremely flexible, which makes them a great option for businesses with varying needs. You can easily add or remove features, change plans, and more.
Security
This feature keeps data safe from unauthorized access or tampering,
List of top cloud systems
Methodology for ranking the top cloud hosting solutions
There are a lot of cloud service providers out there. It can take time to decide which one is right for you. This list has been curated based on the following considerations:
Market share
Global presence
Ease of integration
Scalability
Cost
Reliability
1. Amazon Web Services
Users turn to Amazon because it is a global firm that employs cutting-edge technologies. In addition, users may quickly learn the system thanks to various training materials. The drawbacks are that, over time, add-on solutions might grow costly.
They also need to provide support for a wide range of software applications. However, they generally only focus on a few potential options.
Services
Amazon offers many cloud-based services. They are categorized into
Compute
Amazon EC2 – Virtual servers in the cloud
Amazon Elastic Container Service (ECS) – Secure, reliable, and scalable application for container
Amazon Lightsail – Manages virtual private servers
AWS Elastic Beanstalk – Manages web apps
VMware Cloud on AWS – You can build a hybrid cloud without custom hardware
Storage
Amazon Elastic book store (EBS) 
Amazon Elastic file system (EFS)
Amazon Simple Storage Service (S3)
AWS storage gateway
Database
Amazon aurora
Amazon RDS
Amazon timestream
Networking &content delivery
Amazon API gateway
Amazon Cloudfront
Amazon VPC
AWS Cloud map
Analytics
Amazon Athena
Amazon Cloudsearch
Amazon EMR
AWS data exchange
Amazon augmented AI
Amazon DevOps Guru
Amazon Forecast
Security, identity, and compliance
Amazon Cognito
Amazon detective
AWS audit manager
AWS cloud HSM
Other details
2. Google Cloud
Google's cloud hosting solutions are good for those who want to use different software types because they are flexible and easy to use. However, a con might be that Google has a smaller market share than other companies.
Additionally, their support may not be as great as other options. Lastly, similar to Alibaba Cloud, they offer a free trial period which could entice users.
It offers services in 20 regions, 61 zones, and 200+ countries.
Products
AI and Machine Learning
API Management
Compute
Containers
Data Analytics
Databases
Developer Tools
Healthcare and Life Sciences
Hybrid and Multicloud
Internet of Things
Management Tools
Media and Gaming
Migration
Networking
Operations
Security and Identity
Serverless Computing
Storage
Other details
3. Microsoft Azure
Microsoft has established itself as a major cloud-managed service provider. Third-party systems utilize Microsoft Azure as a cloud hosting platform in the same way that Oracle and SalesForce can.
Familiarity with the Microsoft user interface is one of the biggest advantages, as with all Microsoft goods. They also have an excellent uptime of 99.9 percent+, which is fantastic because they can support and scale your growth strategy if you expect to expand.
This cloud service is excellent since it has a high level of security, and you only pay for what you use. On the other hand, Microsoft does not allow you to host your apps on various hosting sites. That is because they want to be the sole provider of services that you consume.
Products
Azure offers more than 100 products, some of which are
AI + machine learning
Analytics
Compute
Containers
Databases
DevOps
Developer tools
Hybrid + multicloud
Identity
Integration
Internet of Things
Management and governance
Media
Migration
Mixed reality
Mobile
Networking
Security
Storage
Web
Virtual desktop infrastructure
Other details
4. Alibaba Cloud
Alibaba is a cloud service provider that offers a free trial. It lets businesses see how the solution works and if it is easy to use before deciding if they want to commit.
The company has a multinational support team with representatives that speak various languages. That is good for companies that have locations around the world.
Alibaba Cloud has a lot of resources, like tutorials and training to help users improve their solutions. Some things might be hard to understand and learn how to do, but Alibaba Cloud has a lot of information that can help. Note that you need to know how to code to manage this console.
Services
It offers more than 100 services, some of which include
Elastic Computing
Database
Storage
Security
Enterprise Applications & Cloud Communication
Analytics
Artificial Intelligence
Media Services
Hybrid Cloud
Container & Middleware
Developer Services
Internet of Things
Other details
5. Oracle
Oracle is a software firm that caters to enterprises. It also offers cloud services, which allow businesses to utilize its programs without having to install them on their compIn addition, uters. Oracle's cloud solutions are scalable, which means they can handle more users as the company expands.
In addition, Oracle puts more money into research and development, allowing it to deliver high-quality answers that work most of the time.
Overall, Oracle is beneficial for businesses because it helps them make decisions based on data. The cloud infrastructure offered by Oracle can store a lot of data, which is helpful for businesses.
However, the pricing model is complicated, and there are extra costs that you might need to know at first. Additionally, Oracle only sometimes integrates well with other systems.
Services
Analytics and BI
Cloud Regions
Compute
Containers and Functions
Cost Management and Governance
Data Lakehouse
Database Services
Database Tools
Developer Services
Distributed Cloud
Integration
Machine Learning and AI
Multicloud
Networking
Observability and Management
SaaS Applications
Security
Storage
VMware
Other details
6. IBM Cloud
IBM Cloud's tools for businesses are exceptional, making IBM a top contender in the industry. With its beginnings as a hardware company, IBM has always had the superb infrastructure to efficiently handle things like storage cost and capability.
However, an element that trumps all of IBM Cloud is its secure uptime, essential in today's age where digital media dominates almost every other field.
Products
AI /Machine learning
Automation
Blockchain
Compute
Containers
Databases
Developer tools
IBM Cloud paks
Integration
Mobile
Internet of things
Logging and monitoring
Networking
Quantum
Security 
Storage
7. Rackspace cloud
Rackspace is a company that was one of the first to provide cloud solutions. As a result, they have been around longer than some of their competitors and have a more mature foundation in the cloud.
That means they can support a broad and diverse set of software solutions and host various technologies. Additionally, customers have been happy with their service and find it reliable. However, the costs for add-ons can add up, making their solution more expensive.
Solutions
Cloud technology
Multi-cloud, Public cloud, Private cloud
Cloud services
Cloud Adoption and Migration, Rackspace Elastic Engineering for Hyperscalers, Rackspace Elastic Engineering for VMware, Cloud Optimization, Onica by Rackspace Technology
Applications technology
E-mail and productivity, ERP, CRM, Digital experience
Application modernization, Cloud Native, Internet of Things and Edge, Application operations, SaaS life cycle management
Data technology
Databases, Next generation data platforms, unstructured data, analytic platforms
Data services
Data modernization, Artificial intelligence&machine learning, Analytics & business insights, data strategy & governance, data management
Security technology
Cloud-native security, application security, zero trust, network security, and data protection.
Security services
Security strategy, Rackspace elastic engineering for security, detection and response, advanced monitoring and resolution
Industries
Financial Services
Government
Healthcare
Manufacturing
Non-Profit
Education
SaaS & ISV
Consumer Goods
Media & Entertainment
Automotive & Transportation
Travel & Hospitality
Retail
Public Utilities
8. Salesforce
CRM software is excellent since it may be customized to your specific requirements. It can also connect to various other systems, making it an ideal choice for companies looking for much flexibility.
Another advantage of Salesforce is that, because it's cloud-native, it's more advanced than some previous products that have only recently begun embracing the cloud plaAs a result, technical assistance is better – something to bear in mind if you consider using Salesforce for corporate purposes.
Products
Customer 360
Genie
Sales
Service
Marketing 
Commerce
Tableau
Mulesoft
Slack
Platform
Net zero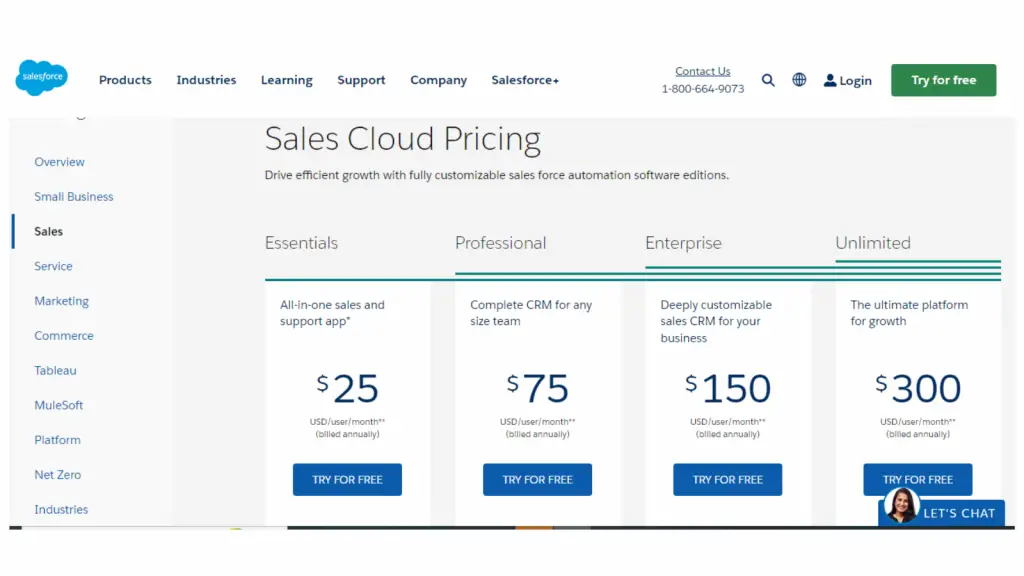 Other details
9. VMWare
10. MindSphere
This company provides cloud services that help connect different factory components for a more streamlined experience. If your data center is trying to connect to a manufacturing system or you're using robots, this company could be worth considering.
Conclusion
Cloud computing has become an increasingly popular way for businesses to manage their data and applications. In this roundup, we've gathered the ten best cloud hosting solutions that can help your business get started with the cloud.
These systems offer a variety of features and advantages, so be sure to read through our list and find the best option for your company.
Reference