Drop shipping has emerged as a popular and efficient e-commerce business model, allowing entrepreneurs to sell products without needing inventory management or fulfillment.
To streamline and optimize this process, dropshipping software is crucial in connecting online retailers with suppliers, automating order processing, and simplifying product management.
This powerful tool enables businesses to focus on marketing, customer service, and scaling their operations while minimizing overhead costs and logistical complexities. 
This post provides you ten best drop shipping software with features, pricing, pros, and cons of them.
What is drop shipping software?
Drop shipping software is a specialized tool or platform designed to automate and streamline various aspects of running a dropshipping business.
Dropshipping is an e-commerce model where online retailers sell products without holding inventory or handling fulfillment. Instead, they partner with suppliers who ship the products directly to the customers on behalf of the retailer.
Common features of drop shipping software
Product sourcing and import
The software allows retailers to get products from a wide range of suppliers and easily import them into their online store, complete with product descriptions, images, and pricing.
Inventory management
Drop shipping software helps retailers keep track of product inventory levels and availability from their suppliers, ensuring that their online store accurately reflects the current stock status.
Order processing and fulfillment
When a customer orders through the retailer's website, the software automatically sends the order details to the vendor. 
Price and stock updates
The software can automatically update product prices and stock levels based on changes from the suppliers, ensuring that the retailer's website remains up-to-date and accurate.
Supplier management
Drop shipping software enables retailers to manage multiple suppliers, compare their offerings, and choose the best options for their business.
Analytics and Reporting
The software may provide insights into sales data, product performance, and other key metrics, helping retailers make informed decisions about their product offerings and marketing strategies.
Here is the list of top drop shipping software.
1. Convictional
Convictional is a dropship automation platform that helps you source, onboard, and transact with wholesale vendors. It helps you to reduce operational costs, effort, and risk.
You can identify your customer's choice (Brands, Categories) with the help of the Convictional team. It provides integration to many online shopping platforms.
Features
Assortment strategy
Research & discovery 
Brand review and approval 
Vendor integrations
Custom onboarding flows
Product validation
Cancellation 
Refunds & returns
Payouts
Some screenshots of the Convictional
Orders
Item and billing
Overview of products
Likes
You will get well-designed automation 
It is easy to integrate the system  
It is very easy to sync products. So it is useful for buyers
It provides guides and assistance to setup process
Setting up new products is easy 
It is very straightforward.
Dislikes
One must be cautious when registering inventory to avoid any errors or discrepancies.
You must pay more attention to receiving your orders because they will give you scores.
Some features will not support the import and export platform.  
Third-party collection of shipping is not permitted on behalf of customers.
Certain challenges may be experienced during the onboarding process of the sales system for some vendors.
Uploading items may require more time than expected.
The option to download order reports is not available.
Other details
2. ShipStation
ShipStation is an e-commerce shipping solution that makes all your shipping process easy. You can have complete control over your orders at every stage. It gives access to the top carriers with the lowest rate. It is suitable for all sizes and shapes of products. 
Features
Order Management 
Order tags
Product reports
Shipment reports
Shipping 
Compare rates
Order tracking 
Branding 
Integrations 
Some screenshots of the ShipStation
Printing setup
Label printing setup
All orders view
Likes
It will help you to dispatch your order on time
It provides easy integration 
You can have a print label option 
It provides the topmost onboarding experience for customers
It provides you Schedule carrier pickups
Dislikes
Sometimes connect app does not work; you have to restart the system.
It will not pick the cheapest shipping solution automatically.
Sometimes goes offline without any particular reason.
The chat option is not useful for customer service.
You have to remove the plugin from your website to enable the customer to place orders for multiple recipients.
If you choose a basic subscription, you will not get many options.
It does not provide analytical and reporting features. 
Other details
3. Dropship.me
Dropship.me is a plugin used for dropshipping. This tool provides a complete marketing solution for selling your product online and helps you to focus on marketing money.
You can research and analyze current trends to choose the right product. It allows you to import selected products through your WordPress store.
Features
Handpicked products 
Edited images and titles 
Real-time customer reviews 
Pricing recommendation
Personalize store creation 
Likes 
It Allows you to find products that sell easily
You can plugin and import the products easily
You will find more customization options for product description 
It saves a lot of time 
You can try this tool with WordPress
You can edit your product image professionally
Dislikes
Supplier data looks outdated and inaccurate sometimes 
Sometimes It fails to update out-of-stock products
It is not good for bulk orders 
You may find duplicate labels of the same items on different categories 
Poor customer support. 
It provides the same description, title, and image for all users
It will not allow customers to auto-track orders.
4. Sellvia
Sellvia is a marketing e-commerce platform and SEO expert that makes your customers happy with the best US-based e-commerce supplier. It processes all orders within 24 hours. It has established direct connections with trusted manufacturers in drop shipping.
Features
Product page comparison
High-converting product page
Automated order placement 
Handy catalog
Sales boosting 
Attractive dashboard 
Easy tracking 
Screenshots of product orders view of Sellvia
Likes
It has an intuitive and user-friendly platform 
It integrates with Amazon 
It will also provide some online courses
It is good for your ad campaign 
Dislikes
You can't start selling on day one; you must promote the website 1st.
It is quite expensive 
It has limited shipping options
Uploading products on Amazon may take more time 
Other details
5. Cymbio
It is a marketplace and dropship automation platform that helps automate your operations and reduce manual labor. It has 800+ retail connections so that you can sell your products easily.
You can easily make partnerships with retailers and also sell the product globally. It boosts digital sales with automation and helps to set data protocol. 
Features
Multi-language Multi-currency 
In-depth reports and analytics
Pre-order support
Multiple return flows
Logistics
Warehouse support
Global reach 
Visibility and brand awareness
Some screenshots of Cymbio
Inventory
Add channel
Likes
It provides an efficient tech solution 
It offers a total solution for small businesses
It provides seamless inventory management
You can expand your business smoothly 
Dislikes
It does not integrate with Amazon and Fab
It will not allow you to print labels and packing slips
Backoffice doesn't have much order information
It gives less scope for image resizing, and the style 
Other details
6. Spocket 
Spocket discovers top dropshipping suppliers of original US/EU products. It allows you to order product samples right from the dashboard.
It syncs with your online store; all orders automatically appear in your app. It also integrates with all your e-commerce platforms.
Features
Easy selling
Upto date inventory 
Grate profit margin 
Super fast delivery 
Connection with your online store
Branded invoicing
Easy integration 
24×7 chat support
Bulk checkout
Screenshots of a product search of the Spocket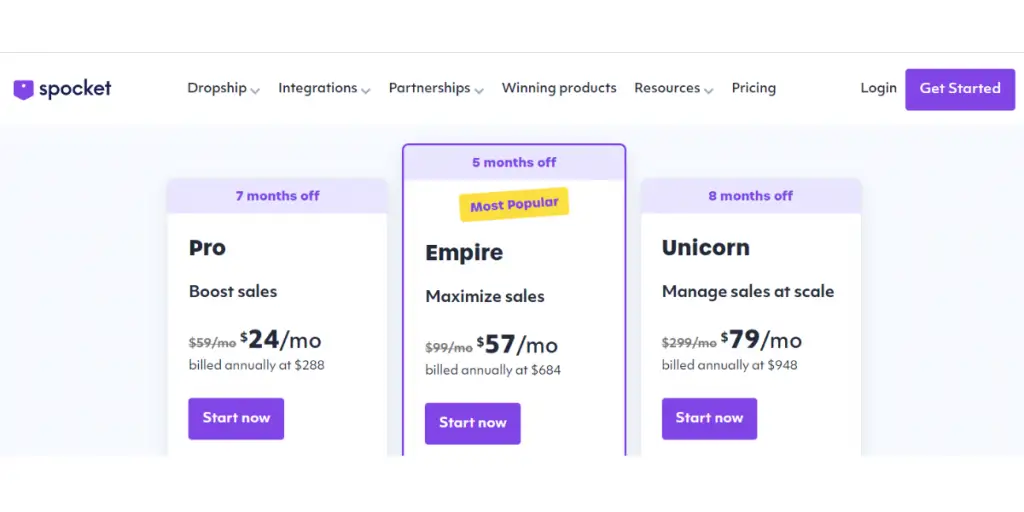 Likes 
It has products in every category
It offers some free samples 
It uses all major media platforms for marketing 
User-friendly interface
It provides app facilities
Dislikes   
Most of the products displayed are from China  
You could not change the product detail automatically
It has some US based Shipping companies; their cost is high 
It changes shipping prices quite often. Customers have to pay attention to it
You may lose money because of a subscription error
The pricing is expensive
Other details
7. Easyship
Easyship is all-in-one shipping management and one of the leading cloud-based shipping technology platforms that connect your store in minutes. It integrates directly with all major e-commerce platforms, and you can create as many stores as you want. There is no limit.  
Features
Shipping dashboard
Discounted shipping rate
Global fulfillment
Schedule pickup 
Analytics
Batch shipping 
Multiple user accounts
Open API
Flexible payment method 
24-hour support
Up-to-date tracking 
Some screenshots of the Easyship
Get a quote
Billing
Likes 
You can deliver international packages timely
It integrates with Shopify
Easy-to-use interface
The dashboard is easy to navigate 
Dislikes
It doesn't provide any contact details (like email or phone number)
It is expensive
Poor logistics service 
Difficult to take a refund  
It changes its pricing structure without giving any prior notice
Other details
8. SaleHoo
SalesHoo makes dropshipping easy by providing quality services. It helps you find a reliable supplier. You can discover innovative and profitable products. It is a source of fast-selling products and has more than hundreds of categories of branded products.
Features
Easy connections with Shopify 
Catalogs with the profit margin 
Useful dashboard  
Unlimited 24/7 support 
Access to search filters
Dedicated onboarding account manager 
Likes 
You can filter the list of merchants easily
SaleHoo provides immediate online help 
You can receive your refund without delay
It gives the research lab option to view potential products
You can eliminate unreliable or suspecting suppliers
Dislikes 
Australian shipping creates limits 
Unable to view available stock before joining
Some sources are not updated as thoroughly
You cannot find hot-selling items in the feeds
Some descriptions are not sensible  
Other details
9. AliDropship
AliDropship lets you sell products without manufacturing, storing, or shipping anything. It is easy to manage and perfectly optimized for your plugin. It is suitable for every type of entrepreneur. It allows you to create your own store and keep control over your store.
Features
Search & import
Free built-in themes
Pricing automation
Auto updating
WooCommerce support
Automatic order placement
Built-In image editor
Product customization
Inventory management
All-in-One dashboard
Likes 
It is a user-friendly software 
It provides full automation 
It allows you to import and sell products easily
It offers customizable templates and themes
It offers a wide range of products
You can easily edit product descriptions
Dislikes 
It has limited control over the quality and reliability of the suppliers
Without experience and with a small budget, you can not handle this website 
Product quality and shipping times are not constant 
You will be unable to control the website's design and functionality
It has limited payment options
10. Flxpoint
Flxpoint is a solution for end-to-end dropship automation. It automates your onboarding, integrates the process, and merchandises the operation.
You can directly connect with your dropship vendor automatically because it has 20+ pre-built connectors. Exchanging inventory and orders can be done through files, and it reduces manual time. 
Features
Distributed inventory 
Distributed order management 
Multi-channel listing management 
E-commerce invoice automation 
EDI support 
Self-service vendor portal 
File-based integration 
20+pre built vendor connection 
Some screenshots of the Flxpoint
Vendors sources
Orders overview
Orders
Likes
It helps you to manage your inventory 
You can aggregate all of our distributor data easily 
It allows you to order easily with automation
It offers custom rules to choose a vendor based on location or price
Dislikes
It takes more time to sync up quantities with different channels
It provides limited access to the "pre-built" connections
The onboarding experience did not meet up your expectations
It fails to update inventory or process orders
It offers so many things that it can be confusing
Other details
Conclusion
Drop shipping software has become an indispensable tool for online retailers operating within the dropshipping business model.
By automating and streamlining critical tasks such as product sourcing, inventory management, order processing, and supplier management, this powerful solution enables businesses to operate more efficiently and effectively.
We hope the list of software provided in the article helps you to choose a suitable one.
Reference