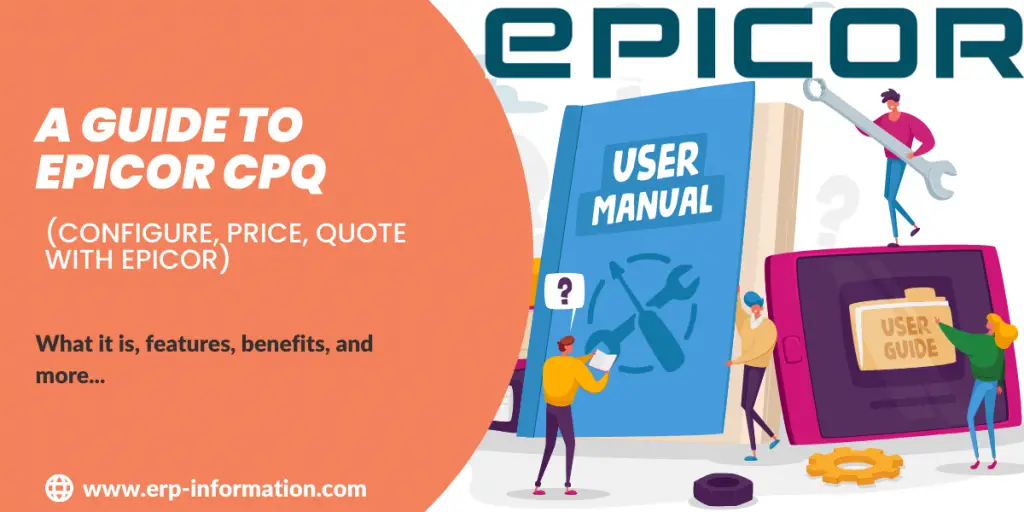 You may hear about Epicor CPQ but may not know how it works and how it is helpful for your business.
Even if you're familiar with it, you may not be aware of all the features and benefits it offers.
This comprehensive guide will introduce you to Epicor CPQ, its essential features, its benefits, and how it can help streamline your business processes.
What is Epicor CPQ?
It is a leading Configure Price Quote software solution that helps businesses streamline their sales quote. It can help businesses improve their accuracy and speed in creating quotes. It can also give them a better understanding of how pricing and product configuration decisions impact profitability.
History
The history of Epicor CPQ goes back to the 1990s when the company first developed a product called Price configurator. Price Configurator was a simple tool that allowed businesses to create accurate quotes quickly.
In 2001, Epicor released Configure Price Quote 2.0, which added support for multiple languages and currencies.
In 2021, Epicor acquired a company called KBMax, which helped to boost its CPQ offering with 3D visualization capabilities.
And now, it is made available as a cloud-based solution.
Note: Epicor, an industry-specific enterprise software solution, acquired KBMax, a leading provider of cloud-based configure, price, quote (CPQ), and visualization solutions, on May 27, 2021, to expand its CPQ and visualization capabilities.
The acquisition strengthens Epicor's position in the CPQ market and expands its product capabilities in product configuration, Guided Selling, quoting, and proposal generation.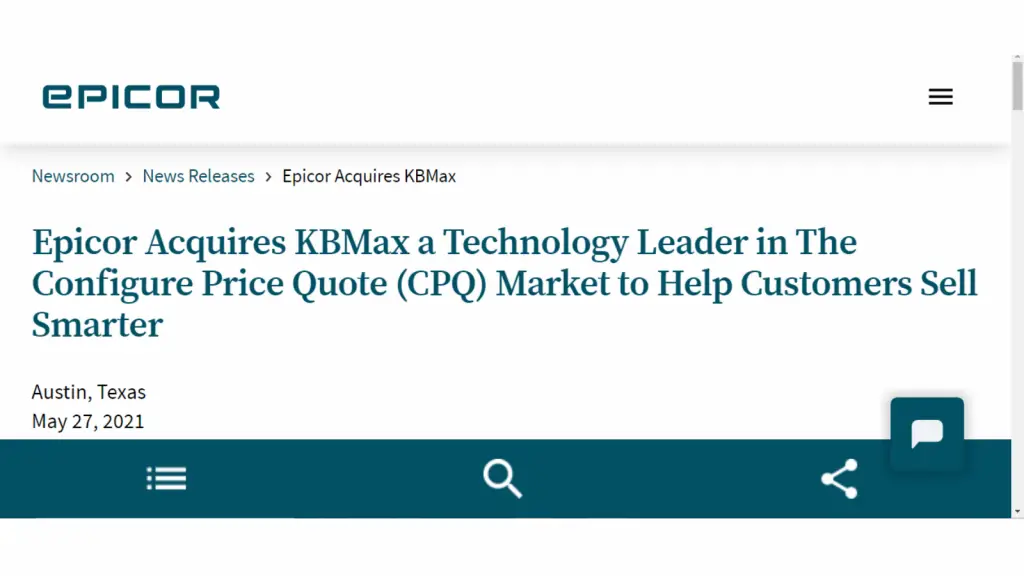 Today, This is a comprehensive solution that offers a wide range of features and benefits for businesses.
Important features
Visual configuration
3D Visualization – Businesses can easily configure products with the help of 3D visualization. It allows customers also to configure products according to their requirements based on the company's rules.
Good 3D experience – End-user will get a good 3D experience on-screen to purchase the product confidently.
View of the finished product – The customer can easily view his finished product inside and outside. For example, if the car is a product, the user can open the door and look inside the car.
No-code rules engine – Customers can configure the product and pricing without programming knowledge.
3D design application – Users can import their CAD files into the application and connect to the snap rules engine to make objects interactive.
Augmented reality – Users can view their custom products in real-world settings.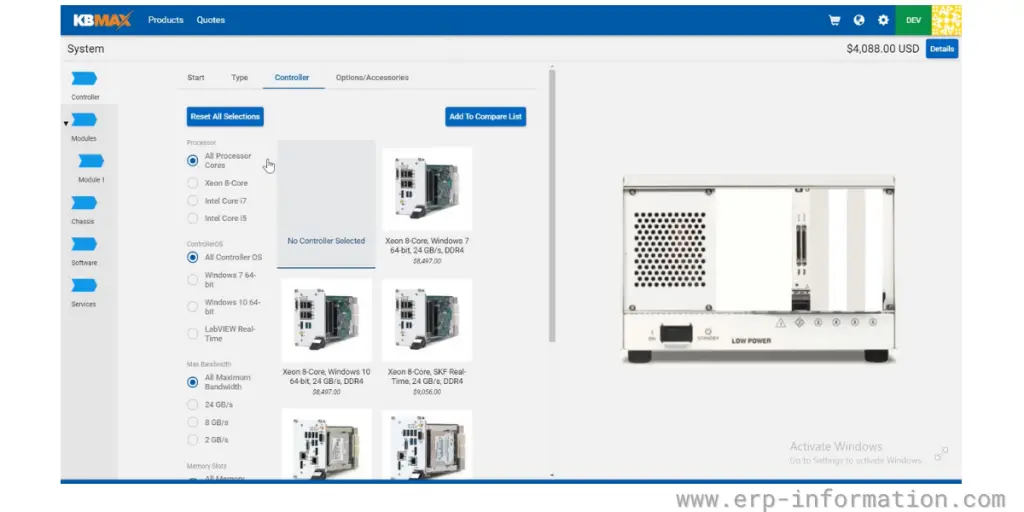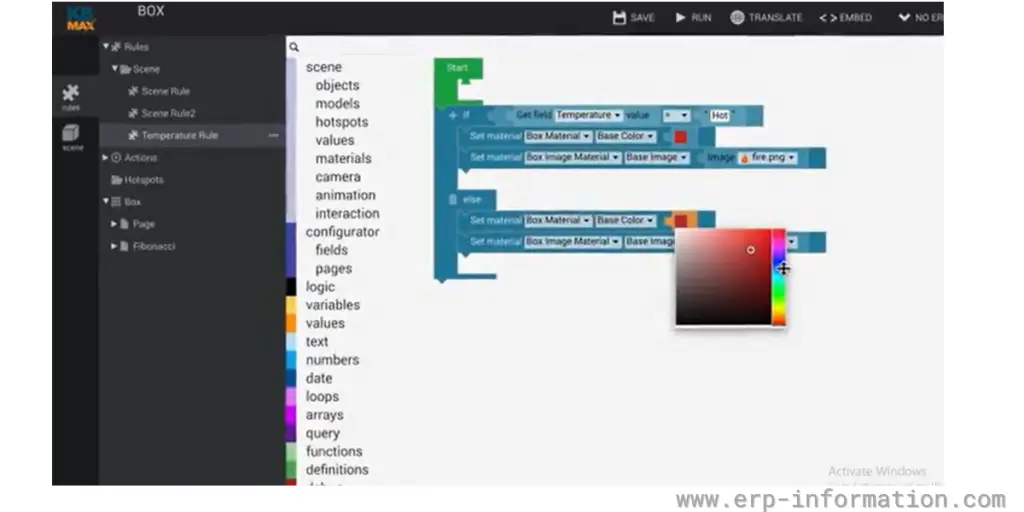 Dynamic pricing
Real-time price calculation – When customers configure the product, the price will vary automatically and accurately based on the company's pricing rules. Hence without the sales rep's help, customers can get an accurate and updated price in real-time.
Multi-currency support – It supports multiple currencies, which helps businesses to generate prices in different currencies—based on their geographic location.
Easily manageable pricing rules – Even though customers' products and pricing are complex, Epicor CPQ allows them to manage their one-time, recurring, usage, and discount pricing scenarios in a single place. In addition, users can easily connect to their data source and get pricing rules with its snap engine.
Quoting
Easy quote process – Epicor cpq allows your sales reps, distributors, and customers to configure products and get a quote automatically.
Unlimited power – You can create custom PDF and ms word documents for calculation. It also lets you control branding, logos, product images, pricing, terms, shipping, etc.
Automatic Documents – you can automatically create accurate visuals, sales-level CAD drawings, cut sheets, and Bill of Materials for your manufacturing team. KBmax helps to move the information throughout the company.
Powerful workflow – It provides a powerful workflow. Hence dealers and distributors can create accurate quotes and configurations before submitting them for approval and creating an order.
CAD and manufacturing automation
CAD automation helps sales reps to configure valid products in real time. It allows salespeople to generate CAD drawings for proposals, so customers don't have to wait.
Epicor lets you configure products and export CAD files for further customization.
Integration
The software is easily integrated with websites and apps like ERP, CRM, and other business software. Hence businesses can manage their sales process in a single place.
Advanced rule engine
The software provides an advanced rule engine, Epicor CPQ snap, which helps businesses configure products and pricing based on their business rules. So Companys will get control over configuration, pricing, quoting, and manufacturing outputs.
Cloud platform administration
This software is a cloud-based platform that provides easy administration and maintenance. As a result, businesses can easily manage their products, configurations, and users without needing to depend on custom code.
CPQ analytics
It provides insightful analytics so businesses can improve their sales strategies and close more deals. With the help of data, they can also identify cross-selling and upselling opportunities.
Visual configurator
It is a 3D design application that allows businesses to create interactive visuals of their products and real-time quoting.
Manufacturing automation
It helps businesses to automate their manufacturing process by connecting people, processes, systems, and order data. For example, with the help of CAD automation, sales reps can quickly generate valid product configurations and drawings.
Benefits
It helps customers to configure products easily.
Improved accuracy and speed in the quoting and ordering process
A streamlined quoting and ordering experience for sales and procurement professionals
Provides real-time pricing and availability information
The ability to integrate your key systems into the sales, engineering, manufacturing team, and customers
Integration with Epicor ERP solutions for seamless quote-to-order management
Automatic creation of CAD drawings, BOM, and cut sheets
A robust reporting and analytics feature helps businesses track and improve their quoting and ordering processes
Limitations
It is pure cloud-based software; hence done not offer offline capabilities.
You need to adjust the configurator logic to add new base layers.
How does Epicor CPQ work?
First, businesses need to set up CPQ rules for their Business process. Then, the Epicor CPQ snap engine organizes the entire sales and manufacturing process.
Next, it allows users or sales reps to configure products visually in real time with a visual configurator. People like sales reps, distributors, or end-users can use different versions of the same visual configurator.
Then, configured products or quotes will send to CRM for edits and approvals. Systems like ERP and PLM automate invoicing, discounts, taxes, and inventory.
Because of automated CAD drawings manufacturing team will become free, and they can concentrate more on their actual work. Only well-founded configurations will move to production with the help of rules-driven configurations.
Epicor salesforce integration
Epicor CPQ is a comprehensive and easy-to-use configure, price, and quote software solution that can help businesses streamline sales.
It integrates with Salesforce, making it easy for sales reps to create quotes and orders while keeping customer information up to date.
In addition, CPQ integrated with salesforce enhances the conversation rate by permitting end-users or sales reps to configure products visually in 3D or 2D in real time. So, businesses can improve accuracy and efficiency by providing a better experience for their customers.
Pricing
For pricing details, contact the vendor.
Other details
| | |
| --- | --- |
| Intended Users | Small, mid-size, and large businesses |
| Platforms | Web |
| Supports | Email, phone, helpdesk, 24/7 (Live rep), chat |
| Training | Online, videos, documentation, In-person |
| Deployment | Cloud, Saas, Web-based |
FAQs
What is CPQ?
Configure Price Quote is a business process and software solution that helps companies streamline sales quoting. In addition, it can help businesses improve their accuracy and speed in creating quotes. CPQ software can be integrated with ERP and CRM systems or used as a standalone solution.
What is CPQ process?
The CPQ process is the steps to configure and price a product. That can include anything from gathering customer information to calculating the final price. The cpq process begins with the customer's request.
Next, the customer provides information about what they are looking for, and the sales representative works to configure and price the product. Once the product is configured and priced, the customer can place an order. The cpq process is typically automated and can be completed quickly and easily with the right software.
Conclusion
Epicor CPQ is a comprehensive configurator that can help your business increase sales and optimize product configurations.
The software has robust features that can streamline the cpq process for you and make it easier to configure products quickly and easily.
Epicor Salesforce Integration allows you to connect with your customers in a more meaningful way, providing them with the ability to see their products in real-time.
The software is easy to use and provides a wealth of features and capabilities to help your business grow. With its comprehensive set of tools, Epicor CPQ is the ideal solution for businesses of all sizes.
Reference