A manufacturing order is a document, group of documents, or schedule conveying authority to manufacture specified parts or products in specified quantities. This order can be planned or released.
How do we create Manufacturing Order?
Both planned and released manufacturing orders can be created manually or automatically.
A manufacturing order contains basic information like order type, order documents, start date, finish date, order quantity, status, priority, start and finish points, etc.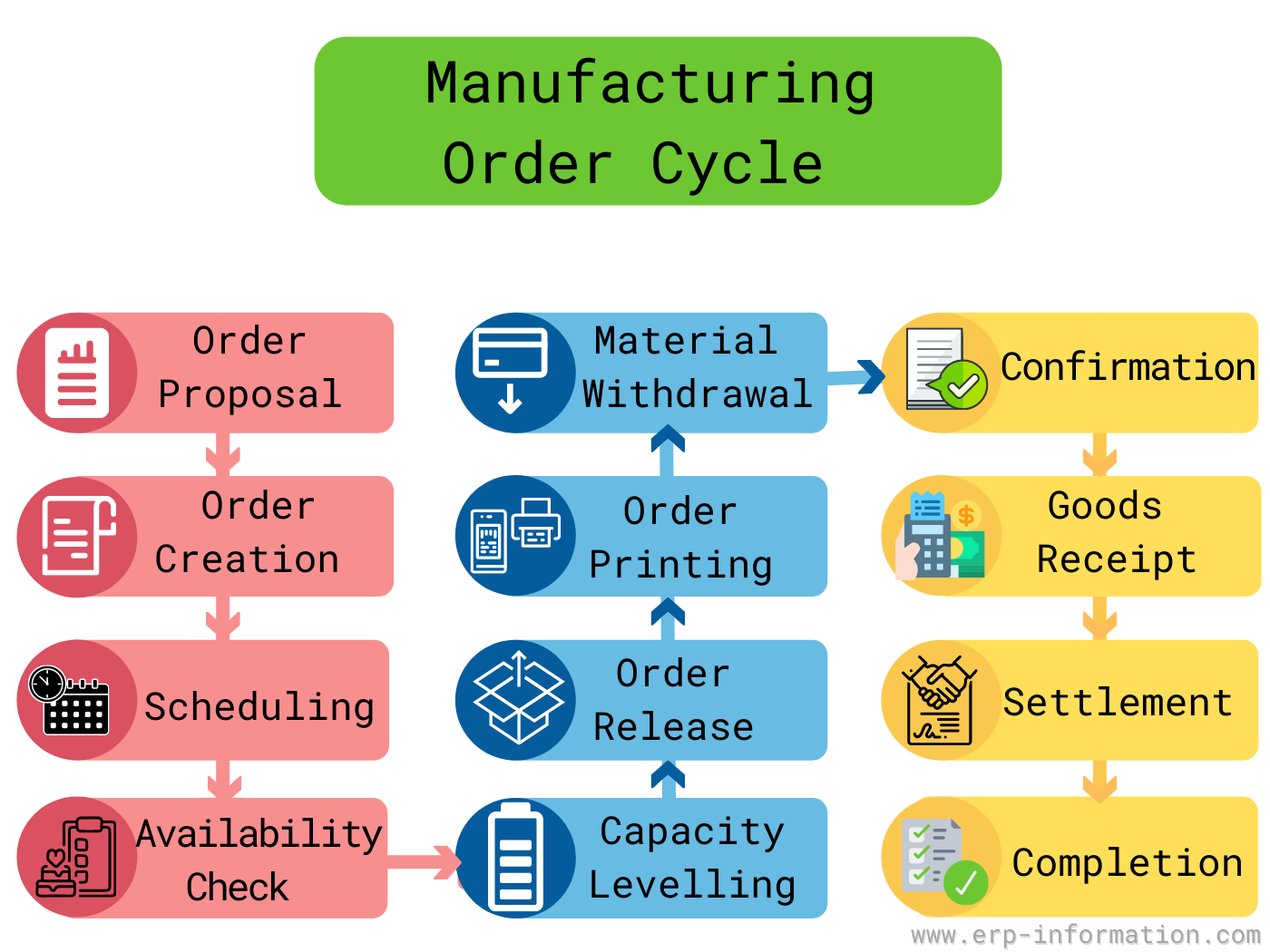 Manufacturing order management system
This system is crucial for every business to monitor and control sales and manufacturing order management.
What is manufacturing order management?
Manufacturing order management is the software that helps manage manufacturing orders both at a project and enterprise levels.
It manages the entire process starting from order creation to GRN (Goods Receipt Note) automatically.
The manufacturing order process starts from BOM (bill of materials) and raw materials need for the manufacturing. You will get all this information in the manufacturing order form.
Manufacturing order process
Typically manufacturing order process includes the following steps.
Order placement: Customer places an order online or over a phone call. The system automatically saves customers' details.
Order fulfillment: Corresponding department sends the sales details to the warehouse for an availability check. If ordered items are available in the warehouse, picking and packing the items begins. Otherwise, the production department manufactures the requested item, and then picking and packing starts.
Creation of GRN: When items are ready to deliver, GRN creation will be done.  
Shipment: Finally, order dispatches to the customer and sales items are recorded in the software as delivered orders.
Benefits of manufacturing order management system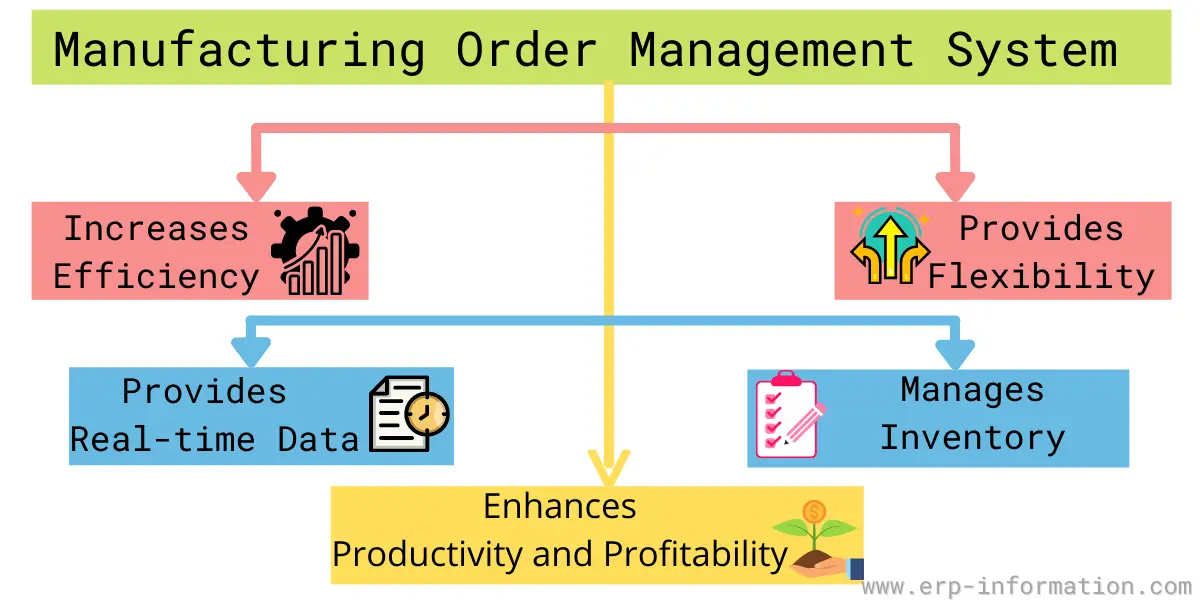 Increases efficiency
Manual work leads to errors, and you need to invest more in the workforce. But with an efficient order management system, you can avoid human errors and save money by investing less in human resources.
The system also helps to save time to give attention to your business growth and customer satisfaction and hence increases efficiency.
Provides flexibility
If you want to check your orders instantly, you can access the order details from anywhere, any device, and at any time, with the help of cloud order management software.
Provides real-time data
The system provides real-time updates on sales and inventory that help you to solve issues immediately. When you get real-time data, you can make better business decisions.
Manages inventory
The system enhances your inventory by providing real-time data about stock levels, stock-outs, billed items, and in production items. That helps the manufacture to avoid overstocks and under stocks.
Enhances productivity and profitability
Your order process becomes automatic because of the management software, and you will become free to analyze your data.
That helps you to plan your business growth with the help of real-time data. In this way, the system helps to increase productivity and profitability.
Manufacturing order form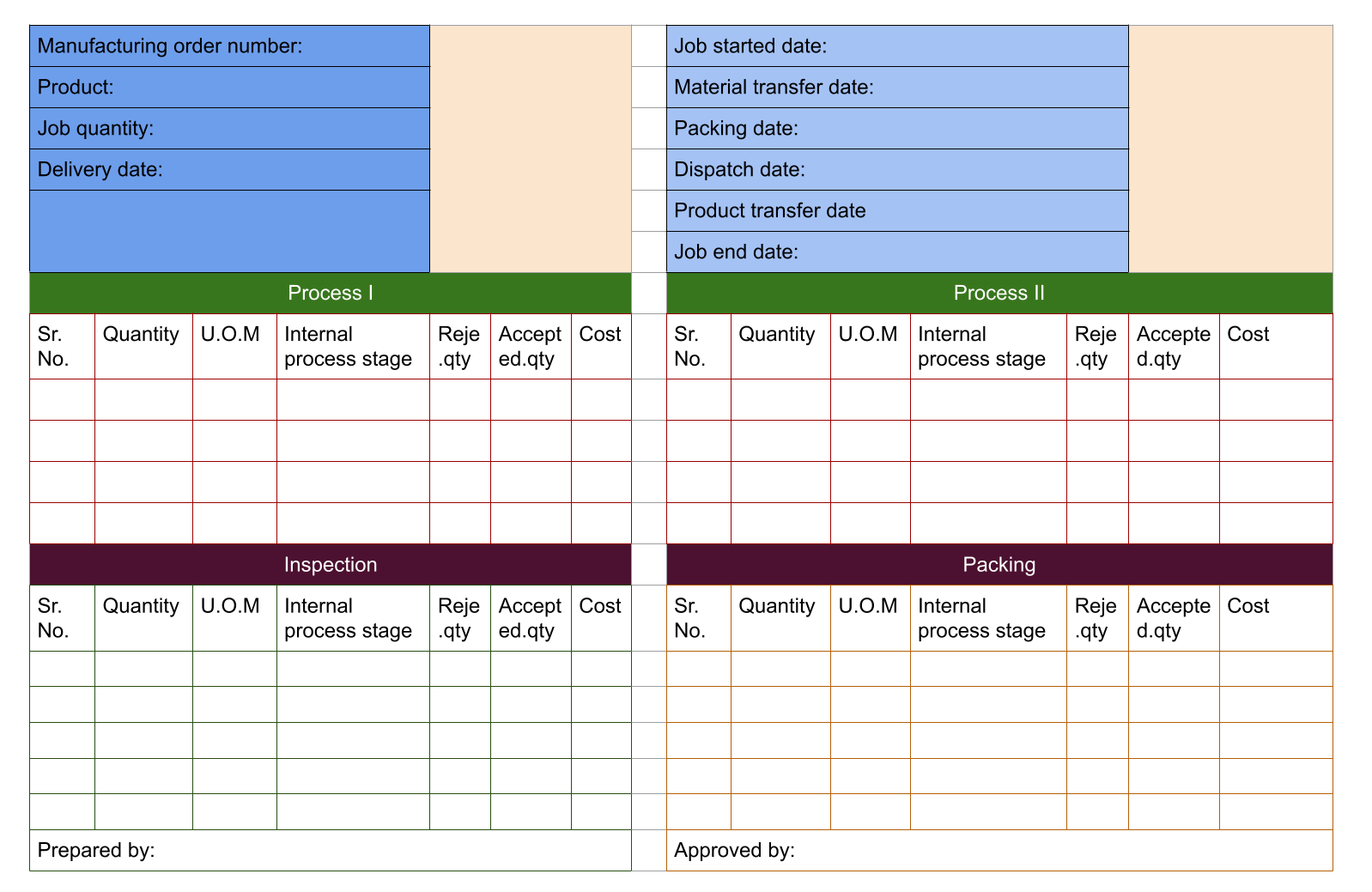 It contains the following details.
Manufacturing order number and date: In this field, order number and date have to be mentioned.
Product Name: Name of the product that you are going to manufacture.
Job quantity: Complete quantity of the order has to be specified in this field. For that, you can refer to customer order.
Delivery date: Here, you need to mention the date you will deliver the product on that date. In the customer purchase order, the expecting date of the product will be mentioned. The same date you can mention in customer delivery date.
Job start date: Here, specify the start date of the process.
Material transfer / raw material location date: Mentioned the date on which raw material should transfer.
Packing date: Mention the target date of packing
Finished product location/ material transfer date: Specify the date till on that date product is stored temporarily to complete all the documentation.
Dispatch date: Target date of dispatching the product
Job end date: Mention the date on which date the finished product reaches the customer location.
Manufacturing process: Process I and II AND inspection & packing contains the following fields.

Quantity
Unit of measurement
Internal process stage
Rejection quantity
Accepted quantity
Cost of the process
Get more definitions about Manufacturing order and other ERP-related terms here.