A manufacturing order is a document, group of documents, or schedule conveying authority to manufacture specified parts or products in specified quantities. This order can be planned or released.
How do we create Manufacturing Order?
Both planned and released manufacturing orders can be created manually or automatically.
A manufacturing order contains basic information like order type, order documents, start date, finish date, order quantity, status, priority, start and finish points, etc.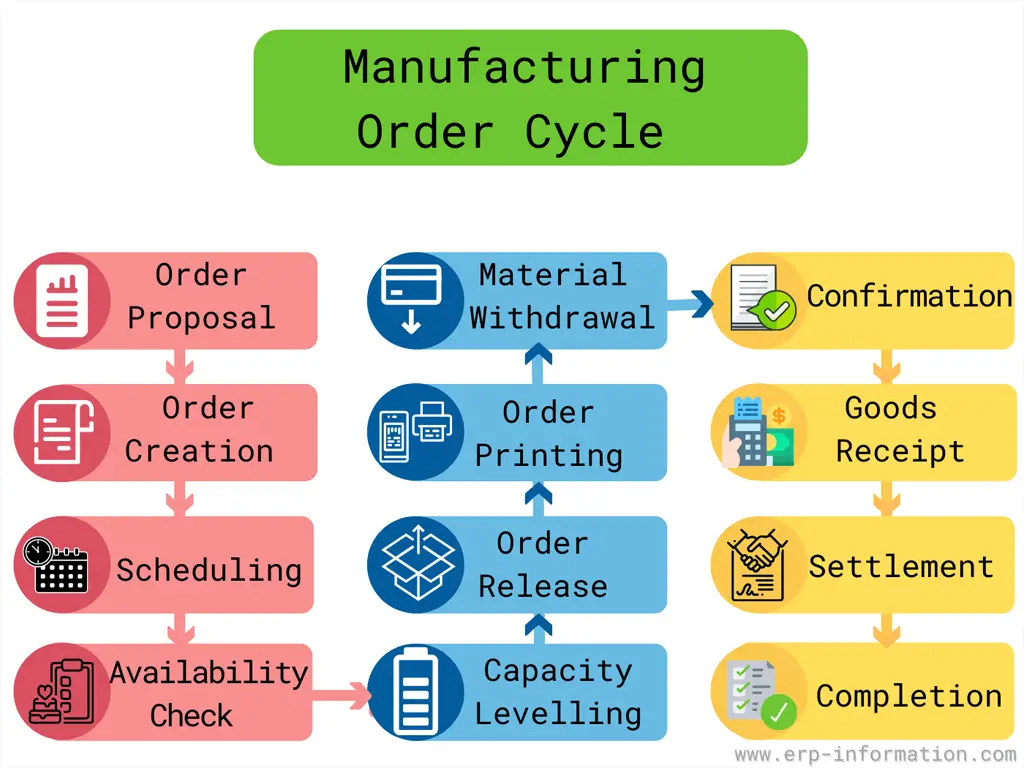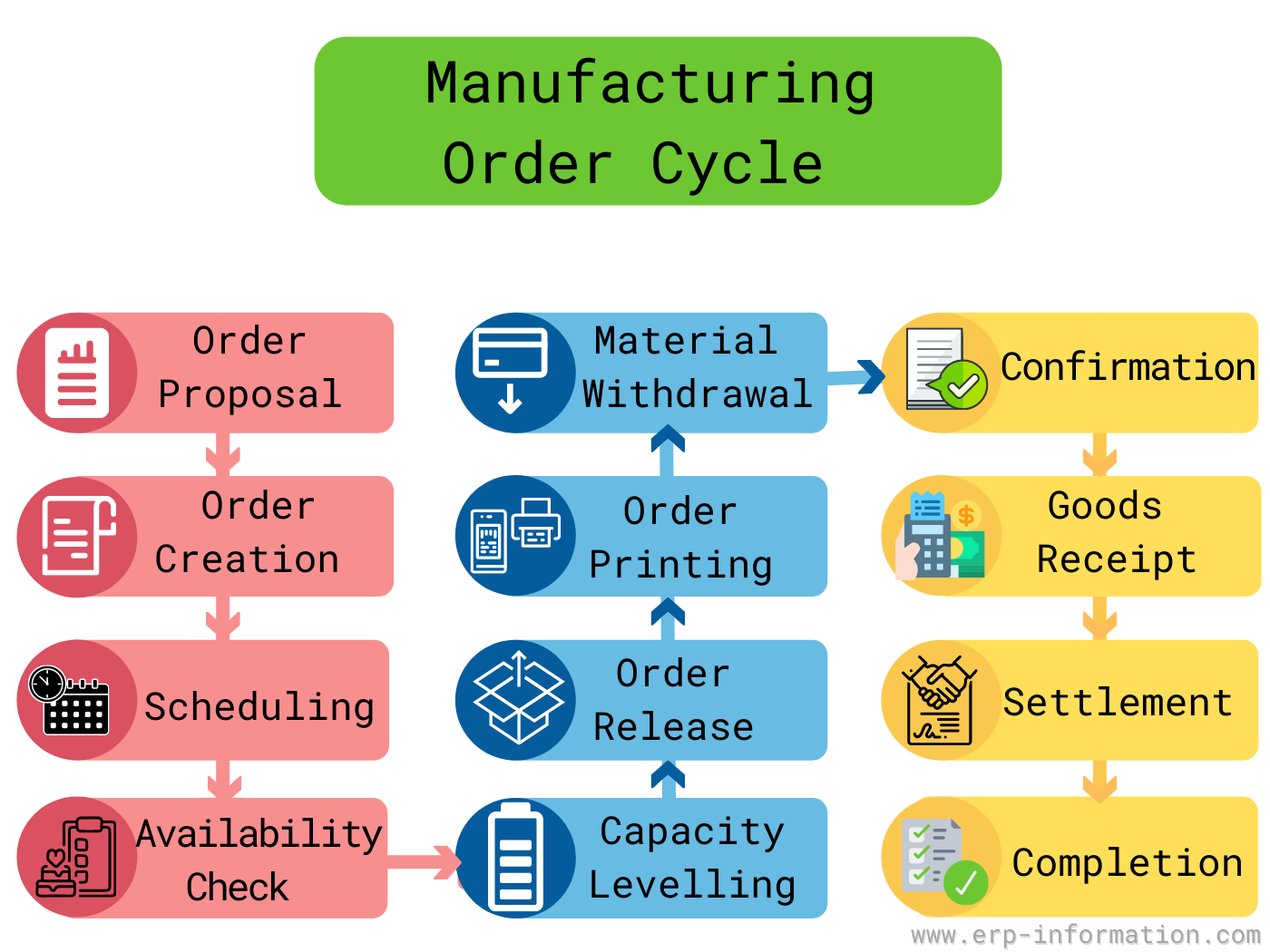 Manufacturing order management system
This system is crucial for every business to monitor and control sales and manufacturing order management.
What is manufacturing order management?
A manufacturing order management system is the software system for coordinating production orders from product planning, purchasing or transportation scheduling, and inventory management at a project and enterprise level.
It automatically manages the entire process from order creation to GRN (Goods Receipt Note).
The manufacturing order process starts from BOM (bill of materials) and raw materials need for the manufacturing. You will get all this information in the manufacturing order form.
(Manufacturers use MOM systems to synchronize supply and demand forecasts with projected business selling rates and ultimately give more accurate quotes to customers on future costs. On top of maximizing efficiency by transmitting information quickly across many different departments, MOM also allows companies to maintain an unbroken chain of documentation that can be archived more rapidly than paper records.)
Manufacturing order process
Typically manufacturing order process includes the following steps.
Order placement: The customer places an order online or via phone calls. The system automatically saves customers' details.
Order fulfillment: Corresponding department sends the sales details to the warehouse for an availability check. If ordered items are available in the warehouse, picking and packing the items begins. Otherwise, the production department manufactures the requested item, and then picking and packing starts.
Creation of GRN: When items are ready to deliver, GRN creation will be done.  
Shipment: Finally, order dispatches to the customer and sales items are recorded in the software as delivered orders.
Benefits of manufacturing order management system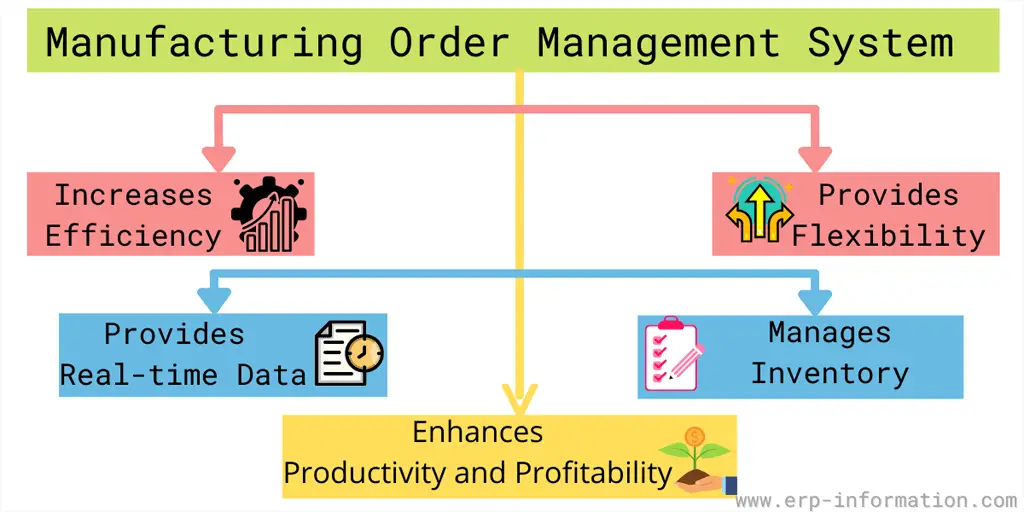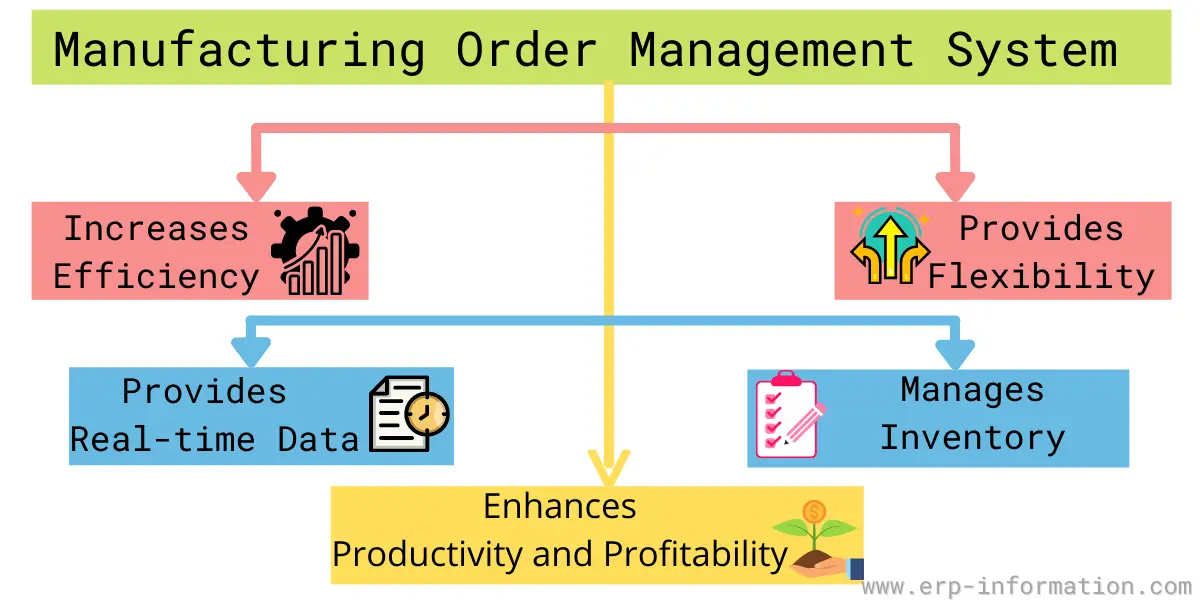 Increases efficiency
Manual work leads to errors, and you need to invest more in the workforce. But with an efficient order management system, you can avoid human mistakes and save money by investing less in human resources.
The system also helps to save time to give attention to your business growth and customer satisfaction and hence increases efficiency.
Provides flexibility
If you want to check your orders instantly, you can access the order details from anywhere, on any device, and at any time, with the help of cloud order management software.
Provides real-time data
The system provides real-time updates on sales and inventory that help you solve issues immediately. When you get real-time data, you can make better business decisions.
Manages inventory
The system enhances your inventory by providing real-time data about stock levels, stock-outs, billed items, and production items. That helps the manufacturer to avoid overstocks and under stocks.
Enhances productivity and profitability
Your order process becomes automatic because of the management software, and you will become free to analyze your data.
That helps you to plan your business growth with the help of real-time data. In this way, the system helps to increase productivity and profitability.
Manufacturing order form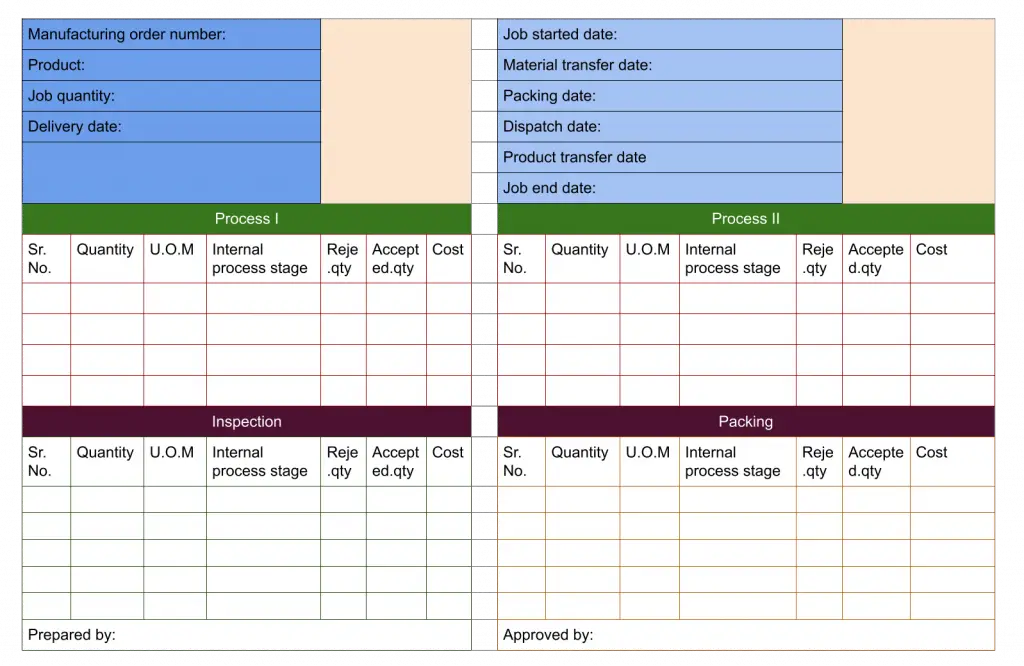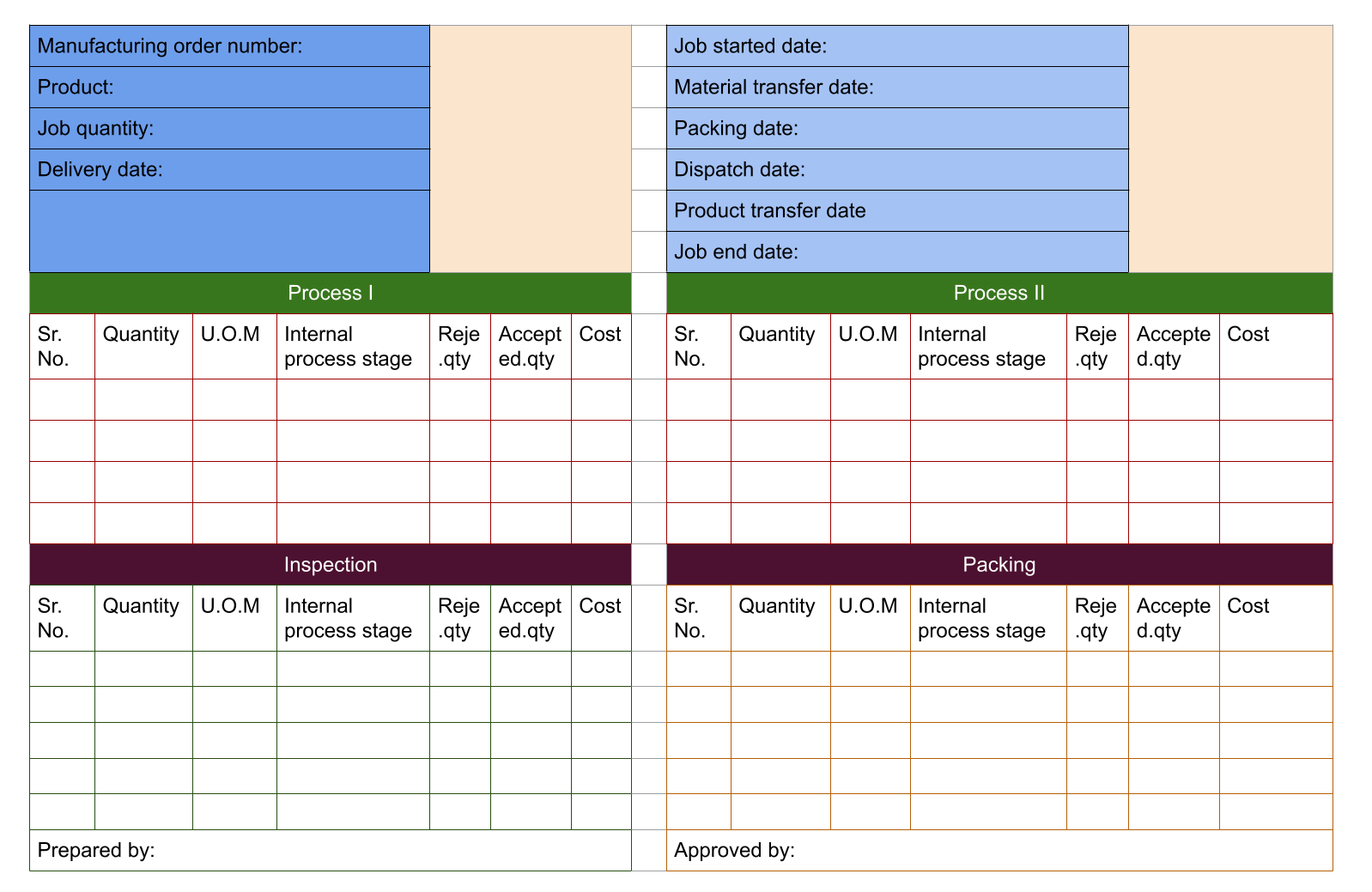 It contains the following details.
Manufacturing order number and date: The order number and date must be mentioned in this field.
Product Name: Name of the product that you are going to manufacture.
Job quantity: Complete quantity of the order has to be specified in this field. For that, you can refer to the customer order.
Delivery date: Here, you need to mention the date you will deliver the product on that date. In the customer purchase order, the expecting date of the product will be mentioned. The same date you can mention in the customer delivery date.
Job start date: Here, specify the start date of the process.
Material transfer / raw material location date: Mentioned the date on which raw material should transfer.
Packing date: Mention the target date of packing
Finished product location/ material transfer date: Specify the date until the product is stored temporarily to complete all the documentation.
Dispatch date: Target date of dispatching the product
Job end date: Mention when the finished product reaches the customer location.
Manufacturing process: Process I and II AND inspection & packing contains the following fields.

Quantity
Unit of measurement
Internal process stage
Rejection quantity
Accepted quantity
Cost of the process
FAQs
What is Manufacturing?
Manufacturing is the process of transforming tangible materials into a final product. In other words, it is converting raw materials into finished goods.
It typically involves machinery, tools, and labor to produce a finished product. The manufacturing process can be divided into several steps, including design, production planning, scheduling, fabrication, assembly, and testing.
When is the manufacturing order created?
A manufacturing order is a document that carries the authority to manufacture specific parts or products in quantities.
This planning is done before an authorized person releases it for implementation at your factory floor level immediately. Then, after some initial sampling has been taken and verified, the quantity can be good enough.
What is the difference between manufacturing order vs. work order?
A manufacturing order is created when a customer requests a product that has not yet been manufactured. A work order is made when a customer requests a product already manufactured and in stock.
A manufacturing order will include the specifications for the product that needs to be manufactured. A work order will consist of the required quantities and the delivery date.
Manufacturing orders must be processed in the order that they are received. However, work orders can be processed in any order.
What is manufacturing order processing software?
Manufacturing order processing software is a type of software that helps manufacturers manage the orders they receive from customers.
The software can help manage everything from the initial order to the final shipment, and it can track inventory levels and shipping schedules to ensure that orders are fulfilled on time. In addition, the software can help create purchase orders and invoices, and it can provide reports on how well the manufacturing process is performing.
Various manufacturing order processing software options are available, depending on the business's specific needs. Some popular options include:
• Microsoft Dynamics NAV
• Sage 100 ERP
• Epicor ERP
These software programs offer different features and benefits, so it's important to research which option would be best for your business.
What is the production order definition?
A production order is a document that lists the specific materials, parts, and tools required to produce a product. It also defines the sequence of operations to create the product.
A production order can be used as a guide for manufacturing personnel to ensure that all necessary materials and components are gathered before beginning production and that the steps required to produce the product are followed correctly.
Conclusion
Companies use manufacturing Order Management Systems to plan, track and control the manufacturing process. It is typically integrated with other business systems.
The Manufacturing Order Process is crucial for planning, tracking, and controlling the production of products according to specifications in an efficient manner while maintaining quality standards.
You will also like: